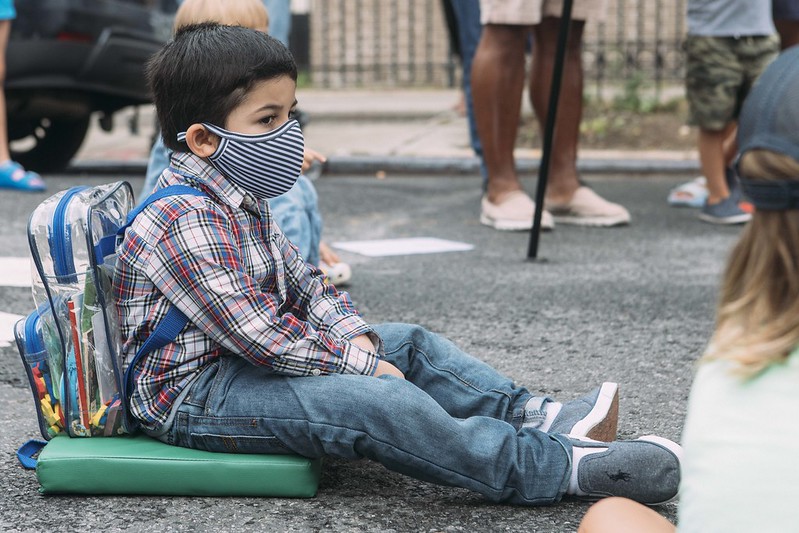 A student ready to learn during a pandemic (photo: Emil Cohen/City Council)
---
I've been scared for a long time now, but not like this.
My colleague, Sandra Santos-Vizcaino, was the first New York City teacher to lose her life to COVID-19. Today — Thursday, September 10 — I return to our same school without the confidence my district has the resources to provide the expensive equipment, testing, and contract tracing necessary to safeguard the lives of our students and the teachers, administrators, and staff.
Once there, I will face the greatest challenge of my teaching career: providing an excellent education to students suffering from pandemic-related stresses and academic decline. While I am eager to learn best practices to pull this off, our professional development funding has been decimated. Soon, it might be my actual job that's cut.
New Yorkers are tough, and city teachers like me are as tough as they come. But our communities are tapped out. While I will do everything I can for my students, I'm asking the federal government to do what it can for schools.
Congress must provide $250 billion in additional stimulus funds for education. Not only will this address the immediate health, safety, and academic challenges, but also the long-term effects the pandemic has had on learning across the country. These include support for new teachers entering in the next school year; incentives to expand learning time for students; and measures to help teacher candidates of color realize their passion.
But most importantly, we need these funds for student mental health and well-being. Students' social-emotional health was the number one concern in a recent scientifically-representative survey of New York City teachers conducted by Educators for Excellence. After meeting the basic needs (making sure every student has a teacher, that all are safe, and everyone can access remote learning tools), we must tackle the trauma students face so they can be in a place to learn.
But this is hard work. And it takes resources.
The pandemic has made supporting the whole child an unprecedented challenge, especially for teachers like me working with special needs students, often from low-income households. These students require stability in their learning in order to thrive, consistency they often lack in the rest of their lives.
For one example, one of my students living in a shelter shuts down at even the slightest change to his environment, severely restricting his ability to learn. Others struggle to communicate their needs verbally, and remote settings or ones that require facial coverings will make it difficult for their teachers to give them everything they need to learn.
These vulnerable students need resources to succeed, from counselors to work through the anguish of quarantine and the death of loved ones to prioritizing them for in-person instruction and individualized attention.
But the places teachers normally look for resources are tapped out. After crippling budget cuts at the local level, the State held back 20% of all schools' aid for July and August. The federal government is the last place to which we can turn.
Our representatives know we're all hurting. There have been several attempts at a further stimulus package for schools, but they keep falling through. As this school year begins around the country, I hope our politicians will begin to feel at least a fraction of my fear, so this desperately needed funding comes through in time. Without it, members of our school communities will die — and the wellbeing and futures of countless children will be irreparably harmed.
***
Deirdre Levy is a special education teacher in Brooklyn and a member of Educators for Excellence-New York.
***
Have an op-ed idea or submission for Gotham Gazette? Email This email address is being protected from spambots. You need JavaScript enabled to view it.