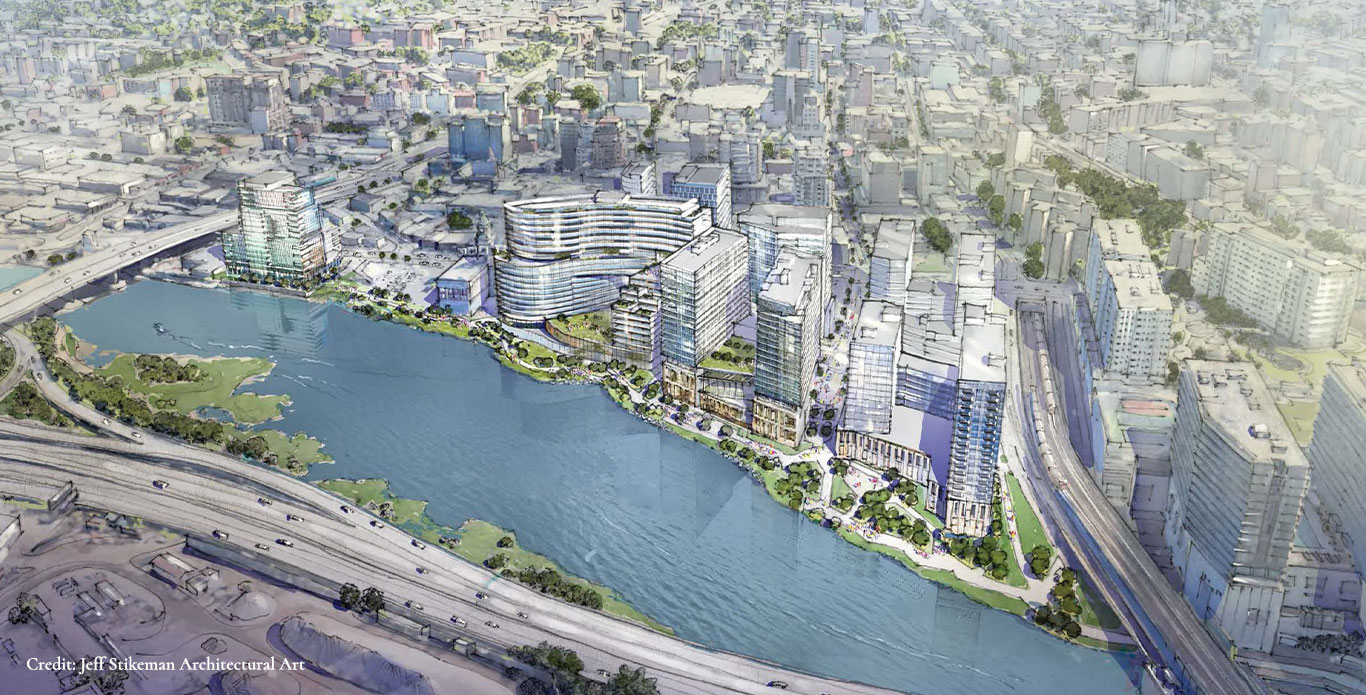 Flushing Waterfront development rendering
---
When faced with a crisis, whether 9-11 or Hurricane Sandy, New York has always rebuilt. The COVID-19 pandemic and resulting economic damage means that, now more than ever, we need to invest in our city.
But that doesn't mean that all development is created equal, or that all proposed projects should get a blank check under the guise of recovery. That is why we have a review process for developments seeking to benefit from city approvals – to weigh whose interests should be represented in deciding how to move forward.
The developers behind the plan for a new Special Flushing Waterfront District project, which is now before the City Council, have long claimed that their proposal to build up to 1,700 luxury housing units, over a million square feet of commercial space, and as many as 2,000 luxury hotel rooms will be good for Queens. Now they claim that their project will help Flushing bounce back from the economic consequences of the coronavirus.
Nothing could be further from the truth. Our unions represent the building service and hospitality workers who would be most affected long-term by this project, and we know that as-is, it is not good for frontline workers, for Flushing residents, or for New York City. That is why we oppose the rezoning the developers seek, and why we hope that the City Council will deny the current project.
The pandemic and its economic effects have hit building service and hospitality hard. Thousands of essential workers in building services – cleaners, superintendents and security officers who are 32BJ SEIU members – have risked their health daily to protect the rest of us. And thousands of them have lost their jobs, with some still out of work. Over 80% of Hotel Trades Council (HTC) members are currently unemployed, relying on unemployment insurance, union benefits, and any cash reserves they have to get by. A significant percentage of those unemployed hotel workers live in Queens, and many of them are Flushing residents.
Clearly New York needs more jobs. But real recovery and prosperity require creating jobs with prevailing wages and benefits, like our members have. Contrary to the developers' assurances, the current version of the Special Flushing Waterfront District plan does not include any credible commitments to make the building service and hospitality jobs their project promises into good jobs that will sustain workers and families. Allowing a mega-project like this to advance without a meaningful guarantee that the working-class people who operate it every day will earn livable wages and be able to afford healthcare would be irresponsible, and a major disservice to New Yorkers.
This project also offers few meaningful benefits for Flushing residents who are struggling to afford housing. Of the residential units planned, as few as 75—roughly 4%—would be set aside for low-income people to rent. This is a drop in the bucket in a neighborhood where 76% of residents are renters, and where two-thirds of those renters are "rent burdened" – paying a too-large percentage of their income for rent.
Throughout the review process, the developers of the Special Flushing Waterfront District have said they will build a similarly sized development as-of-right if the rezoning fails. We reject the notion that this is a choice between bad options, and we encourage decision-makers to do the same. The developers have spent $1.7 million lobbying city government to approve the rezoning, so we know that it is valuable to them. The City Council should stand up for workers and Flushing residents and say no to the rezoning unless those residents will truly share in its gains.
Hit harder than most communities in the country by the COVID-19 pandemic, the last thing that Flushing needs are front-line jobs without standards that protect essential workers, or housing beyond the reach of the majority of people in the neighborhood. We are not against development. But bad development masquerading as recovery will only hurt us worse. Queens deserves better than the current Flushing rezoning plan, and so does our city.
***
Kyle Bragg is the President of 32BJ SEIU and Rich Maroko is the President of New York Hotel & Motels Trades Council. On Twitter @kyle32bj, @32BJSEIU and @NYHTC.
***
Have an op-ed idea or submission for Gotham Gazette? Email This email address is being protected from spambots. You need JavaScript enabled to view it.