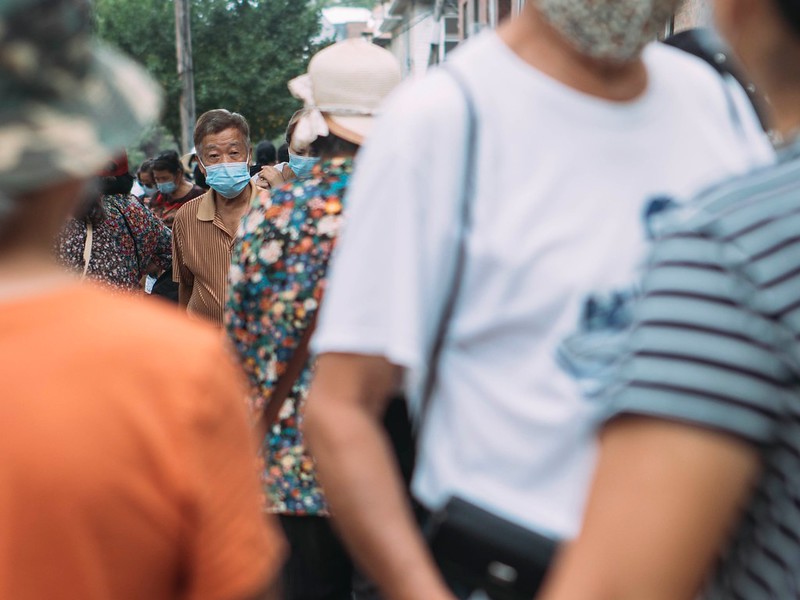 A line for food in Flushing (photo: Emil Cohen/City Council)
---
Pedro Rodriguez posted a video to Facebook of a homeless man bent over and lifeless in his cardboard shelter made up of several boxes, with one serving as the shelter's threshold where the elderly Asian man had neatly placed his shoes. Posted this past Saturday morning, Rodriguez's video ended with Fire Department responders lifting the man's torso and ascertaining he had died hours earlier. Rodriguez, who works at La Jornada, Flushing's largest food pantry, noted a growing presence of homeless people on downtown Flushing's Prince Street due to the coronavirus pandemic-induced economic and housing crises.
Just days earlier, the chair of the New York City Planning Commission, Marisa Lago, prefaced her vote to approve the highly controversial Special Flushing Waterfront District (SFWD) by congratulating the Queens Department of City Planning team and local property owners and developers for two decades of collaboration on a waterfront redevelopment proposal that will advance Flushing's future and help the city recover.
On Monday, the New York City Council's zoning subcommittee held a public hearing on the developers' SFWD proposal to waive rules regulating building heights and waterfront access to permit the development of a 29-acre, mixed-use luxury residential and commercial enclave complete with a private street network.
The Special Flushing Waterfront District applicant, FRWA LLC, is comprised of three Chinese transnational developers – F & T Group, Young Nian LLC, and United Construction – and they argue their proposed 3 million square feet of new development will not lead to residential displacement because the waterfront is largely vacant. This view, however, fails to recognize the developers' contributions to a speculative real estate market that threatens all forms of affordable housing in downtown Flushing.
A striking example is a modest, two-family residential property on Sanford Avenue that was pitched as a "prime investment opportunity" for condominium development and sold in May 2019 for $3.4 million.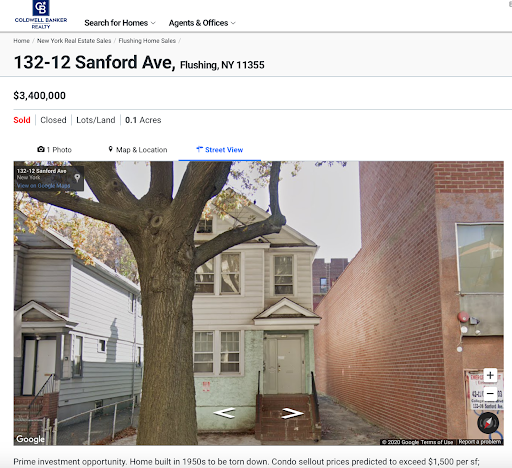 Private developers are loath to concede their projects facilitate (direct or indirect) displacement but it is especially egregious when city government planners and elected officials approve a massive, market-driven real estate development in Flushing (much less without a full environmental impact study and review) that will further jeopardize the neighborhood's diminishing affordable housing stock, putting thousands of working-class residents at risk of homelessness.
There could be no more stark relief of the human toll of Flushing's already acute affordable housing crisis than Rodriguez's heartbreaking video. The Department of City Planning's study of (pre-pandemic) downtown Flushing indicated a median household income of only $34,428. Last year, more than 84,000 applications were submitted to the Department of Housing Preservation and Development for a chance to secure one of the 231 affordable units in OneFlushing. Recognizing this severe housing shortage, the Municipal Art Society's report, Much Ado About Flushing, recommended "(T)he entire SFWD should be mapped as an MIH area," thus mandating the inclusion of significant affordable housing in any redevelopment plan.
The pandemic-induced surge of people in a quarter-mile long queue for a bag of groceries at La Jornada was covered extensively by the local media. Heeding the advice of City Council Member Peter Koo, a FRWA LLC representative reached out to La Jornada to donate turkeys for the upcoming Thanksgiving holiday, and to set up a GoFundMe page titled, "HELP FOOD PANTRY IN CRISIS LaJornada & SFWDistrict," which has, as of November 10, raised $36,088 of a $50,000 goal.
As much as these donations are needed, charity is not a sufficient response to systemic inequality and risk of hunger and homelessness. Rodriguez noted in his video that he was documenting "the first homeless dead of the season." Is it really necessary for more of Flushing's vulnerable populations to die in order to underscore the tragedy of an acute affordable housing crisis?
***
Tarry Hum is Professor and Chair of the Urban Studies Department, Queens College, City University of New York. On Twitter @TarryHum.
***
Have an op-ed idea or submission for Gotham Gazette? Email This email address is being protected from spambots. You need JavaScript enabled to view it.