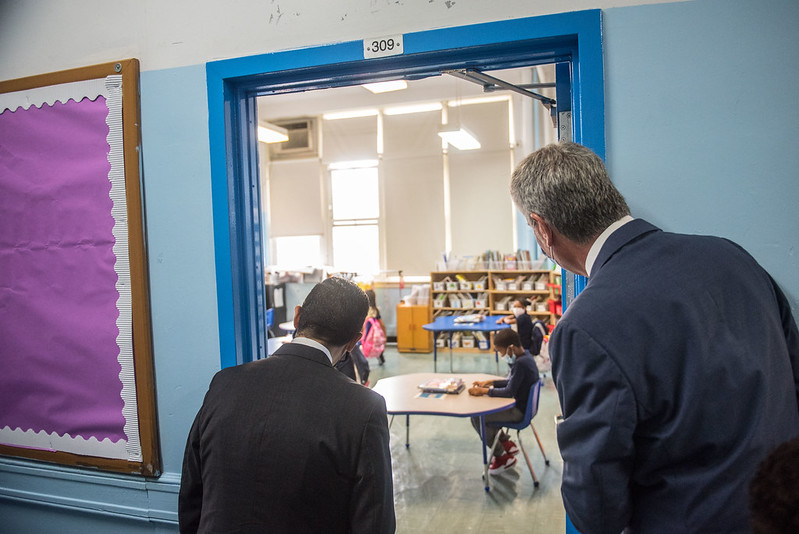 The mayor and chancellor at a school (photo: Michael Appleton/Mayor's Office)
---
Over 300,000 New York City students with disabilities still do not have the means to learn and receive services effectively online. And families can no longer emotionally endure being full-time caregivers, teachers, and therapists. The city needs a plan right now.
The pandemic has further widened the achievement gap between students with disabilities and their peers. Remote learning and teletherapy -- speech, occupational, and physical therapy, as well as counseling over a screen -- does not work for most students. Students need to be able to engage independently or need to have an adult available to support them.
Students with disabilities need consistent access to devices, broadband, and space for their learning environment. They need live and in-person instruction with licensed special education teachers. For effective teletherapy services, providers need more training on how to deliver quality services online. In their annual special education report (via Local Law 27) issued earlier this month, the New York City Department of Education conceded that it does not know how many students received any or all of their mandated services from March through June of this year when all school buildings were closed.
The city also needs to communicate clearly and directly with families on covid exposures, as well as school-based and system closures. Communications must be expedient, accessible, and multilingual. School closure has already been especially traumatic for students with disabilities and that continues to be further compounded by lack of timely information from the city and individual schools.
The constant disruption to students' routines, schedules, and access to their school communities often triggers behaviors that prevent learning from occurring. The city must provide immediate guidance to schools and educators on how they can address the social-emotional needs of students with disabilities, including students with significant developmental and intellectual disabilities.
All students need high-quality learning and social opportunities, but in the current environment, students with disabilities are especially isolated. A persistent lack of in-person interactions and community will have an irreversible, long-term impact on their academic progress, behavior, and future independence, education, and employment.
This year, remote and blended learning have created many educational gaps and provoked much analysis. The city needs to have a plan to provide in-person instruction and services for students with disabilities right now before it closes all school doors again.
***
Barbara A. Glassman is the Executive Director of INCLUDEnyc, a non-profit helping young people with disabilities, their families, and the professionals who support them; including a Help Line for assistance in English, Spanish, and over 200 languages. On Twitter @GlassmanBA and @IncludeNYC.
***
Have an op-ed idea or submission for Gotham Gazette? Email This email address is being protected from spambots. You need JavaScript enabled to view it.