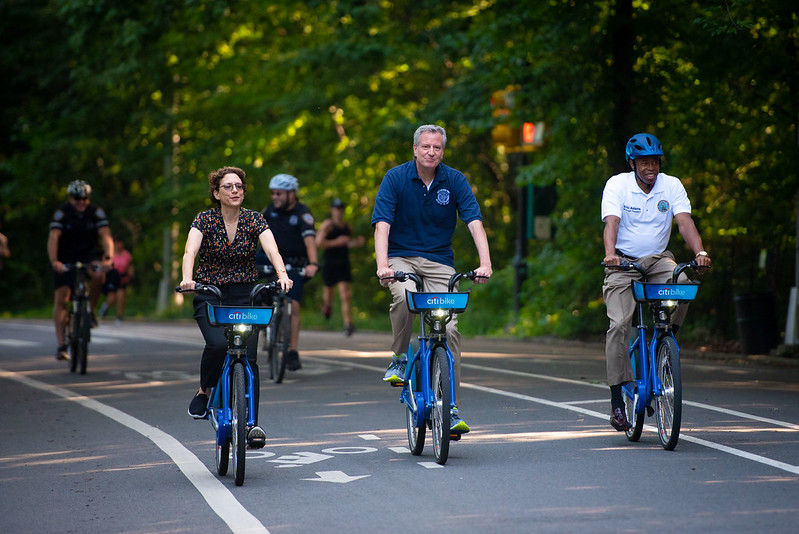 Mayor de Blasio on a CitiBike (photo: Michael Appleton/Mayoral Photography Office)
---
New York City is a Bike City in disguise. Bicycles are part of city culture, whether we recognize it or not. Let's give bike culture its rightful place by building safe, protected streets. Now.
Becoming a Bike City is not taboo. It is not radical. It is about necessity and safety -- for essential delivery workers, for commuters, and, increasingly, for students traveling to and from school, sometimes on their own bikes and sometimes on their parents'. Bike culture supports our economy and our working class. It helps our environment. It supports equity, inclusiveness, and accessibility. This is New York City, and we need options.
There is no denying that bike culture surged in 2020 and the city's transportation safety infrastructure was woefully inadequate to keep up. When stay-at-home orders were announced in March, essential delivery workers reported to work with their bicycles, e-bikes, and scooters. In order to work, delivery workers rode among cars, trucks, busses, and vans amidst a disjointed, incomplete, and unprotected bike lane network.
Sadly, the inadequacy is a matter of life and death.
On November 12, 35-year-old essential delivery worker Alfredo Cabrera Liconia was tragically struck and killed when a truck driver turned widely into the bike lane at Astoria Boulevard and Crescent Street in Astoria, Queens. Weeks before, federal, state, and local elected officials signed onto a letter urging the city Department of Transportation to install metal bollards along the Crescent Street bike lane, and along similar intersections, to prevent this exact type of tragedy. Permanent fixtures prevent drivers from entering bike lanes.
Earlier this year, on September 2, 50-year-old cyclist Salvador Chairez-Rodriguez tragically collided with an MTA bus in Woodside, Queens near 51st Street and 31st Avenue. There are limited bike lanes near that intersection but none are protected. In the immediate area are Bryant High School, PS 151, Woodside Houses, a senior center, and the Boulevard Gardens community. Creating a Safe Bike City is not solely for adult rider convenience. It means safety for all of us.
New York City's evolution into a Bike City is happening in real time and we deserve a thoughtful, coordinated cycling and pedestrian infrastructure in real time. This is how we commute, how we exercise with our families, and how we connect with others in open spaces while maintaining social distance. It's also how we express our right to protest. Alternatives to cars, busses, and subways have been healthy equalizers as we collectively avoid exposure to the novel coronavirus in confined spaces. However, more bikes and pedestrians without proper infrastructure means higher risk of injury. Our infrastructure needs are immediate.
I know the dangers of our roads first-hand. I have biked in all five boroughs for years and I've biked nearly every street in the Queens City Council district I hope to represent. I've been hit by cars, nudged, and "doored." I've been spat at, cursed at, and I've been stuck behind idling trucks. Many cyclists contend with this, yet cycling is not going away. Walking is not going away. We deserve safe options and the city must adapt.
New York does not have to be behind the ball here. We could be a standard bearer that inspires other cities and states that have yet to get up to speed to embrace varied, multimodal transportation. In this moment, the de Blasio administration should use what little time it has left to lay the foundation for a Safe Bike City in 2021.
The Department of Transportation should install safety fixtures that fully protect cyclists by preventing cars, busses, and trucks from entering bike lanes. Install metal bollards, Qwick Kurbs, physical barriers, and traffic signals to protect existing bike lanes. Build safe unloading ports for trucks to make deliveries and keep them away from bike lanes and CitiBike ports. Coordinate CitiBike expansion proposals, like the one currently debated in Astoria, Sunnyside, and Woodside, with installing new bike lanes to protect the expanded ridership.
The city should fully protect its bridges for cyclists and pedestrians. The Queensborough Bridge, for example, should be on the fast-track to re-open the south outer roadway for pedestrian-only passage, and to dedicate the north outer roadway to cyclists. Instead, it feels like the city is waiting for the next tragedy.
In 2021, we will have an opportunity to elect a new Mayor and City Council that will truly build a safe, affordable, equitable, and inclusive city. We will embrace a diverse transportation network that builds a more accessible and Safe Bike City -- for workers, for students, for all of us. But we shouldn't have to wait for new elected officials. Give bike culture its rightful safe place in New York City culture now.
***
Alex Rias is a City Council candidate in District 26 in Queens and a long-time commuter cyclist in all five boroughs. On Twitter @alexrias.
***
Have an op-ed idea or submission for Gotham Gazette? Email This email address is being protected from spambots. You need JavaScript enabled to view it.