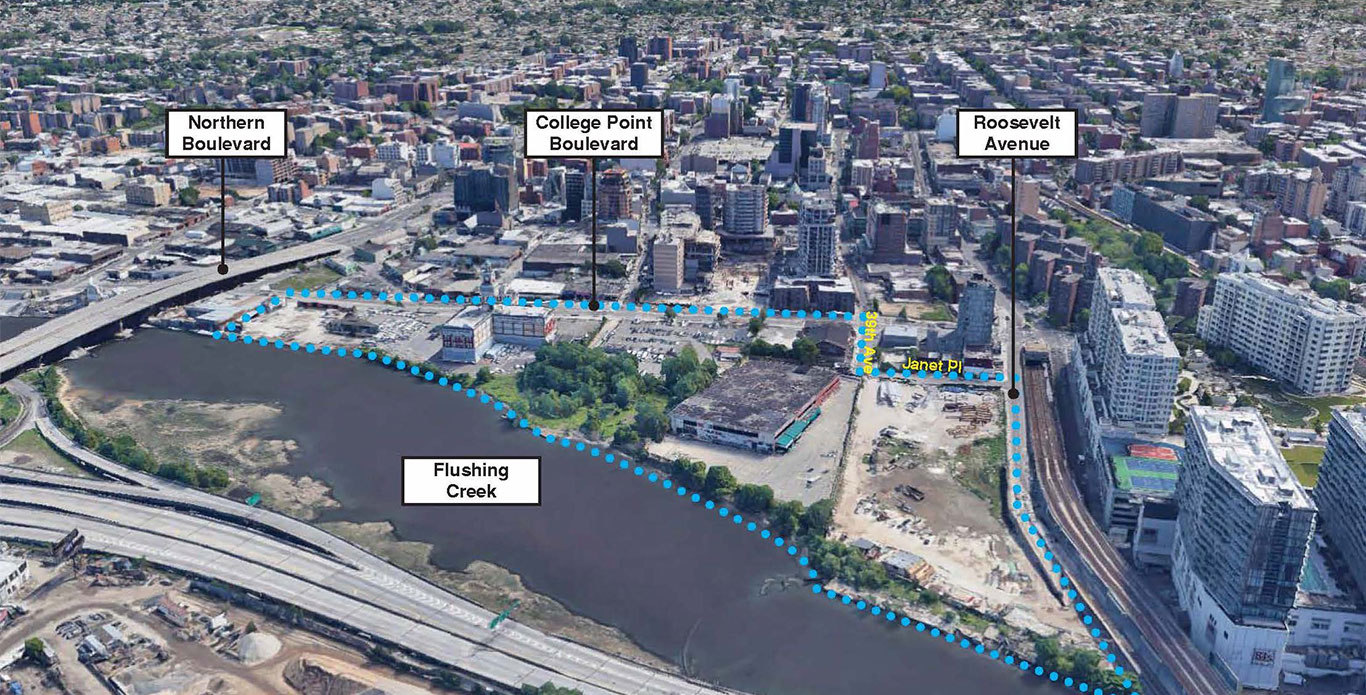 The current site of the proposed Special Flushing Waterfront District
---
To The Editor:
In "Separating Fact and Fiction About the Special Flushing Waterfront District," published earlier this week and in part an apparent response to my criticism of the Special Flushing Waterfront District (SFWD) in these pages, the property owners and applicants of the SFWD make one fact crystal clear, and that is that the developers do not represent community interests.
The developers continue to exaggerate the magnanimity of the proposed open space and waterfront access, which are the primary public benefits of the SFWD given the paltry number of proposed affordable housing units.
In a recent study based on information provided by the developers' environmental assessment statement, the Municipal Art Society (MAS) produced illustrations depicting minimal public space and a diminished pedestrian experience due to the massive building base walls of SFWD's proposed towers. Rather than the 6.6 acres of public open space as the developers claim, the MAS found the SFWD will create "just over three acres of new open space". Moreover, MAS concluded, "only 0.3 percent of the open space under the proposal is being provided voluntarily."
The SFWD applicants' disdain for advocates, who argue that private developers seeking relief from land use regulations should provide public benefit to the surrounding community, extends to elected officials. It is hard to ignore the developers' sarcastic instruction to those who "want to advance more affordable housing" to contact City Council Member Francisco Moya. Moya, chair of the Zoning Subcommittee, was featured prominently in several articles admonishing the developers for not doing enough to address the city's acute affordable housing crisis.
Moya and 11 of his colleagues clearly heard and agree with community concerns, as shown in an official statement issued the evening before a scheduled Zoning Subcommittee vote on the SFWD was postponed. The statement noted that the SFWD "ignores the real, urgent needs of the Flushing community" and approval of an "application without deep community benefits" would be "irresponsible" and "a grave mistake."
Rather than heed the advice of these elected officials, the developers wrote an opinion piece that sought to malign "the opposition," including the MinKwon Center for Community Action, a nationally recognized, Flushing-based immigrant rights and social justice organization. The developers' warning that the MinKwon Center is not "the town crier of Flushing," however, fails to diminish the city-wide mobilizations its organizers helped to catalyze to counter the fiction that the proposed SFWD will benefit Flushing's working class community.
Sincerely,
Tarry Hum
Professor and Chair of the Urban Studies Department, Queens College, City University of New York. On Twitter @TarryHum.
***
Have an op-ed idea or submission for Gotham Gazette? Email This email address is being protected from spambots. You need JavaScript enabled to view it.