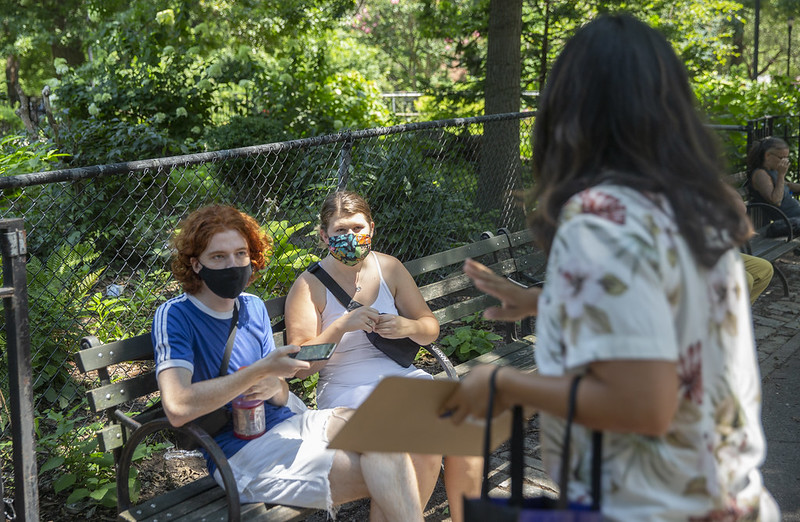 Small donations can power campaigns (photo: John McCarten/City Council)
---
We've never seen this many candidates before. There are more than 300 declared candidates for New York City Council running in 2021, along with more than 50 running for positions like Borough President, City Comptroller, and Mayor. There are 51 City Council districts, so on average, voters will have six or more choices for their ranked-choice vote just for their local Council member in the June primaries. These unprecedented numbers demonstrate an unqualified success for the city's campaign matching funds program that has recently been improved to lower contribution limits and increase public matching dollars.
In the middle of a global pandemic and widespread economic distress, matching funds are more important than ever. Here's how the matching-funds program works. For every dollar up to $175 a New York City resident donates to a political campaign, the city adds eight dollars up to a total of $1,400 per contribution. There are strings attached for candidates. Candidates who opt-in must participate in debates, abide by a spending cap, and open their spending to increased scrutiny. Executed as intended, it's a strong and balanced system benefiting smaller donors, candidates, and the public.
When the program was initially implemented in 1989 and altered several times, most recently through significant amendments in 2019, no one could have imagined the dual pandemic and economic crises that New York City would be facing for the 2021 city elections. New York State has no such program currently but will make one available for the 2024 elections. It's a good thing the city has this program in place right now.
Still about seven months before the June primaries, there are already 50 more Council candidates than in all of either 2017 or 2013, the last two city government election cycles. And if this year follows historical rates of matchable contributions, the New York City Campaign Finance Board will pay out millions in its initial December 15 public funds payment on their way to tens of millions of dollars this cycle.
These public fund payments are crucial. They provide salaries for campaign workers and rent for office space. A candidate might have just a few thousand dollars in the bank right now, but can be owed tens of thousands more under this system. With New York City's latest unemployment rate at over 13% and office vacancy rates at nearly 9%, these funds are a lifeline for campaigns and those who depend on them to be able to pay their bills and survive. And, of course, the funds pay for the distribution of important information via pamphlets, mailers, and digital advertisements that define and distinguish the candidates while informing the public. Community organizers have worked hard and hustled to raise funds from their neighbors. These public funds allow campaigns to swing into high gear.
Above all, each campaign represents a choice for voters as well as someone's dream to serve their community. This program expands both. This year, in Manhattan, there were 14 candidates for seven contested state legislative races in the Democratic primary. Eleven seats saw incumbents run unopposed. For 2021, enabled by the matching funds program, there are already 54 announced candidates for City Council across ten races in the borough. All but one district has multiple candidates. Even more candidates are likely to announce. It's clear that the availability of these public matching funds is enabling hundreds of New Yorkers to run for office and create more competitive elections.
The city's matching funds program has already been proven to work. In the 2019 Public Advocate special election, small-dollar contributions went from about 25% of all funds raised to more than 66%, according to data from City Council Member Ben Kallos of Manhattan. That race drew 17 candidates, a harbinger of what was to come for 2021. New York City's matching funds program means more candidates, better campaigns, and greater choices for voters at the ballot box.
***
Martin Rather is the Co-Founder of The November Group, a NY Political Compliance Firm. On Facebook.
***
Have an op-ed idea or submission for Gotham Gazette? Email This email address is being protected from spambots. You need JavaScript enabled to view it.