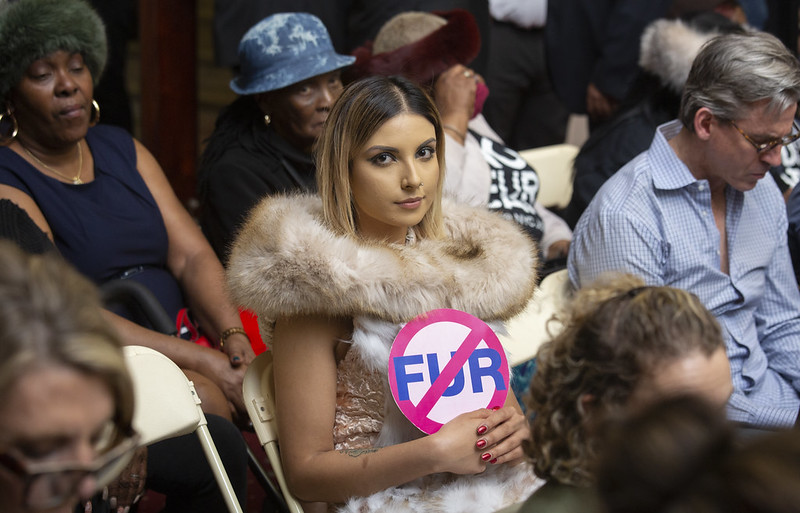 An activist at a City Council hearing (photo: John McCarten/City Council)
---
Word from European countries that they will be killing millions of minks because of coronavirus outbreaks jumping from animals to humans on farms is shockingly upsetting.

But the real offense here is that the minks were being farmed to be killed anyway for the fur industry and that atrocity doesn't really garner headlines anymore.

By now the world is aware that zoonotic diseases – diseases that spread from animals to humans such as COVID-19, Ebola, HIV, H1N1, Mad Cow Disease and Avian flu – have caused millions of deaths worldwide and yet humans continue to treat animals as a means to a human goal and not sentient beings worthy of their own rights to live their natural lives undisturbed.

The origin of the COVID-19 outbreak last winter has been linked to wild animal meat markets in China where bats and other wildlife such as pangolins were stacked together in cages waiting to be bought by patrons and consumed. Trade in wildlife is a primary contributor to zoonotic disease outbreaks, as is habitat destruction that expels wildlife from their natural ecosystems and overdevelopment.

Denmark is the world's largest exporter of mink furs. But the responsibility for the slaughter doesn't end with that country. There are mink farms in other countries as well as in the U.S., where the coronavirus has killed more than 15,000 mink.

But again, these minks were doomed anyway, fodder for the trade in their pelts to feed a fur industry that should be shuttered for good.

The way forward to prevent more zoonotic diseases and the needless killing of millions of animals is to take concrete steps to end the exploitation.

In the wake of the coronavirus outbreak, Denmark's leading fur auction house, Kopenhagen Fur, announced that due to the loss of minks for production it would shut its doors in a few years. The coronavirus was just one more nail in the coffin of an industry that was already on its way out. Many major fashion houses, retailers, and designers have already spurned fur, including Coach, Kors, Ralph Lauren, Gucci, Versace, Calvin Klein, Macy's, and Nordstrom.

And yet, the New York City Council is sitting on a bill that would end the sale of fur in the city. Council Speaker Corey Johnson introduced the bill in 2018 and spoke forcefully for its passage at a health committee hearing but the bill stalled when it was met with opposition from the fur industry and some religious groups.

Declining to pass the bill sends a message to the world that the caging and killing of mink will continue and that humans will aid and abet commerce and trade that causes needless animal suffering and fosters pandemics such as COVID-19, which has already killed more than 250,000 U.S. residents. It's time to pass the bill and ban the sale of fur in New York City.

***
Priscilla Feral is the president of Friends of Animals, an international, nonprofit animal advocacy organization incorporated in New York in 1957. On Twitter @foaorg.
***
Have an op-ed idea or submission for Gotham Gazette? Email This email address is being protected from spambots. You need JavaScript enabled to view it.