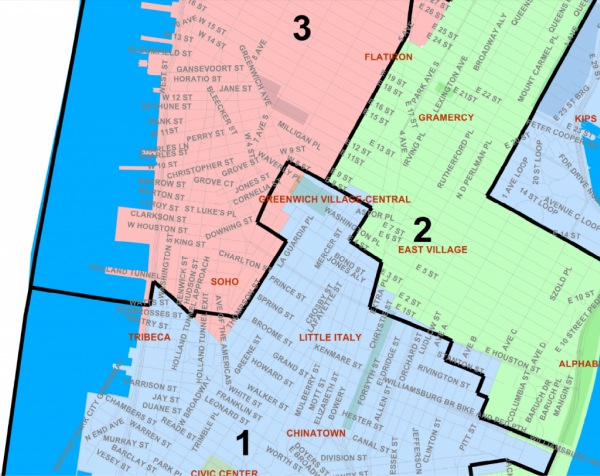 After many delays and revisions, the New York City Districting Commission has presented its final proposed new City Council district map to the City Council for approval. Every ten years, the City Council's lines, like those of every legislative body in the country, must be changed to reflect changes in population as determined by the Census. As the Council has ultimate authority over land use decisions and landmark designations, its decennial redistricting is of course of great interest to us.
One might expect pretty substantial changes in the boundary lines of the 1st, 2nd, and 3rd Council districts. These districts encompass the Village, East Village, and NoHo, among many other downtown and West Side neighborhoods, and each of these districts grew faster than the city as a whole (in fact, the 1st had one of the largest population increases of any district in the city, while the 3rd , consisting of much of the Village, Chelsea, and Hell's Kitchen, had the largest of all fifty-one districts).
But in spite of these dramatic population changes, the Commission proposes only very slight changes to the boundaries of the 1st, 2nd, and 3rd Council districts, unlike many others in the city. This means that residents of the Village, East Village and the other neighborhoods in these three districts would be among the most underrepresented in the City Council under the proposed new plan. In fact, residents of the 1st and 3rd Council districts, which include most of the Village, would actually be the most underrepresented in the City Council, and have the least voting power, of any residents in the entire city.
___
Andrew Berman is the Executive Director of the Greenwich Village Society for Historic Preservation.