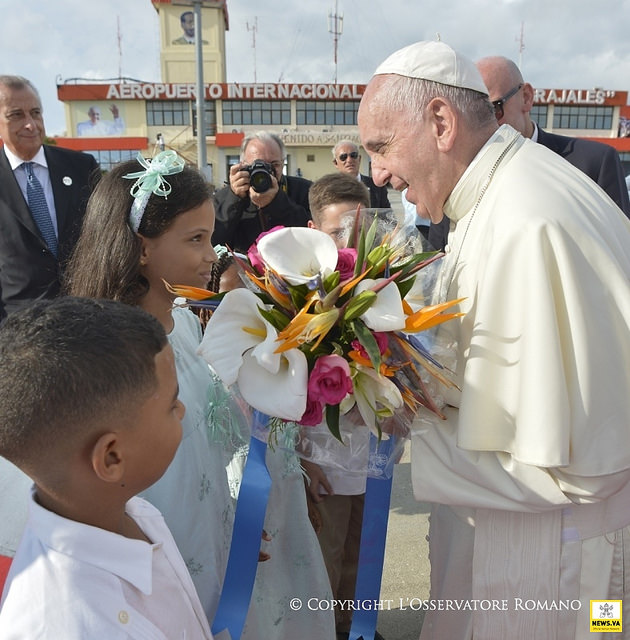 Pope Francis (photo via The Vatican on flickr)
---
Nothing Pope Francis does is by accident.
Read the schedule of the Pope's visit here and you'll see Pope Francis' view of New York City as a home to millions and a seat of international influence. In addition to connecting personally with New Yorkers, he'll leverage New York's status as an iconic global city to reinforce his papal priorities: climate change and poverty.
The People's Pontiff will visit an East Harlem grade school that is teaching students to be stewards of the earth. He'll greet thousands of New Yorkers in a drive through Central Park, New York's green heart where 400,000 people took their first steps in the largest-ever march for climate action. And he'll deliver the opening speech at the United Nations' Summit on Sustainable Development Goals, where world leaders will try to ramp-up global efforts to ensure that poor nations are lifted up and our resources and planet are protected through investing in renewable energy.
The Pope's visit to New York comes almost exactly on the anniversary of the historic 2014 People's Climate March, which transformed the way the American public, lawmakers, and world leaders understand climate change. No longer an abstract scientific phenomenon, climate change became an immediate threat to our people and our children.
World leaders jolted to action. In the year since the march, countries have been working diligently to reach an international climate agreement curbing the planet's dangerous warming. The United States and China agreed to reduce the carbon emissions that are driving climate change. President Obama announced limits on pollution from power plants and drilling. New York State mapped out a plan to get halve our energy from renewable sources within 15 years, and New York City committed to reduce greenhouse gas emissions by 80 percent in the next 15 years.
We've continued the momentum of the march by organizing the People's Climate Movement. Strengthening the ties between labor, faith, indigenous, and green groups, we're holding a National Day of Action on October 14. It will be an opportunity for those who have heard the Pope's call to push for big, meaningful solutions - like a global climate deal in Paris in December.
Pope Francis deepened the global climate policy discussion, penning an Encyclical articulating the moral crisis of climate change - that the poorest countries and communities who have contributed the least to climate change are the most vulnerable to its most dangerous effects.
The evidence is in the communities that have yet to recover from Hurricane Katrina and Superstorm Sandy, the high rates of asthma in the South Bronx, the Native Alaskan villages that are sinking into the once-frozen Arctic Ocean, and the farmers in California's Central Valley whose fields are parched to the point of cracking, to name only a few.
Pope Francis speaks about interconnectedness and brotherhood. Seemingly divided by political boundaries, we are connected by the natural world. We are not separated by oceans - there is no greater unifying challenge than rising seas.
Pope Francis is using the world's brightest spotlight to lift up the lives of people threatened by climate change, and to hold institutions accountable to their responsibilities. Long after His Holiness' visit, we'll be working to realize the changes he calls for here in New York, and across the country. We can get it done, but it won't be a walk in the park.
***
Eddie Bautista is the Executive Director of the NYC Environmental Justice Alliance and an organizer of the People's Climate Movement.
***
Have an op-ed idea or submission for Gotham Gazette? E-mail editor Ben Max: This email address is being protected from spambots. You need JavaScript enabled to view it.