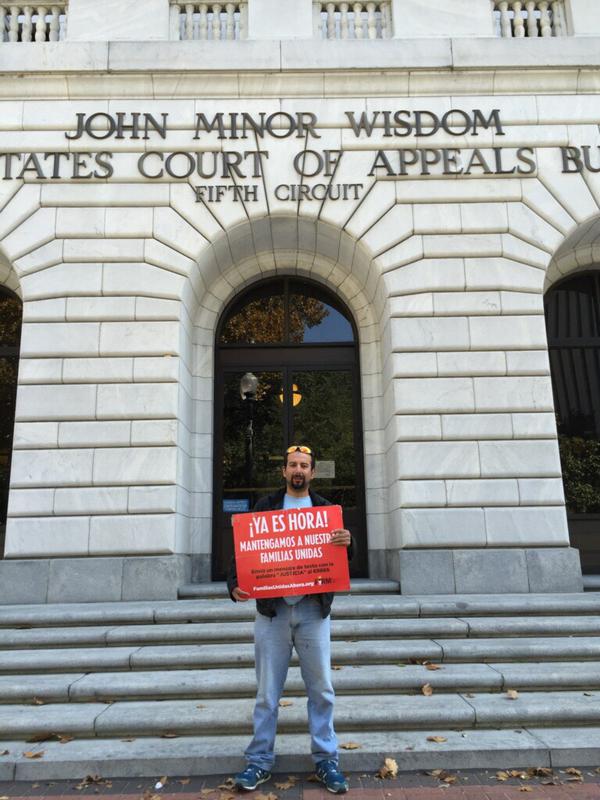 Mauricio Jiménez, the author (photo via Make The Road NY)
---
I came to the United States more than twelve years ago from my home in Ecuador. I had to leave my country, because, as a journalist who had written about criminals, I feared retaliation. Living here—first in Washington, D.C., and now in New York—hasn't been easy. In that time, I've been undocumented, experienced and witnessed employers stealing immigrant workers' wages, and seen—time and again—the injustices that immigrants face in this country.
Because of my experiences, I decided to join the fight for the rights of immigrants and workers. In recent years, I've joined my fellow immigrants to demand justice at the local, state, and federal levels on issues including wage theft, the minimum wage, and immigration reform.
This week, I've traveled to New Orleans to join immigrants from around the country to denounce another grave injustice against our community, which has serious effects in New York: a federal court is stalling on ruling on President Obama's immigration relief program, Deferred Action for Parents of Americans and Lawful Permanent Residents (DAPA). In response, immigrants like me from around the country are fasting this week to demand that the 5th Circuit rules quickly so that millions of immigrants can get the relief they need. We are now in the eighth day of our fast.
Last year, President Obama announced the DAPA program and related forms of immigration relief, which would benefit millions of immigrants by enabling them to come out of the shadows, get work authorization, apply for driver's licenses, and live without the fear of being separated from their families.
Since then, anti-immigrant Republican politicians filed a lawsuit to stop DAPA from taking effect, and they intentionally filed it in one of the most conservative courts—and appellate jurisdictions—in the country. Now, the 5th Circuit Court of Appeals appears to be playing a cynical political game and delaying issuing its ruling so that, if it rules against DAPA, the Department of Justice will not be able to have its appeal heard by the Supreme Court before the 2016 elections.
In other words, far-right judges are playing along with far-right politicians to prevent immigration relief from taking effect. The result is simple and disastrous: if they do not issue their decision immediately, millions of immigrant families will remain at risk of being torn apart, instead of living with the peace of mind they need.
This is personal for me and my community. For my family and friends, DAPA would make an enormous difference. We will not stand by idly and permit a court to keep our families in limbo. This week, we are showing that we are willing to put our bodies on the line to ensure that justice is done.
The Court must rule immediately so that the immigration relief provided by DAPA can move forward. We're going to continue fighting for DAPA until it's a reality, and then we will continue the fight for immigration reform that provides a path to citizenship for all 11 million undocumented immigrants, 500,000 of whom live in New York City. We will not stop fighting until we win.
***
Mauricio Jiménez is a Board Member of Make the Road New York, the largest grassroots community organization in New York offering services and organizing the immigrant community. On Twitter: @maketheroadny.