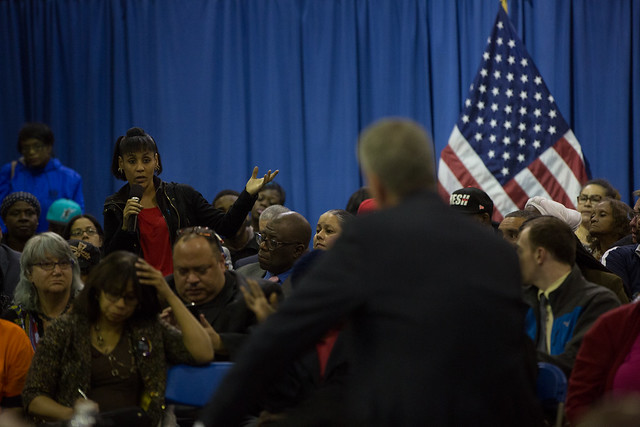 (photo: Michael Appleton/Mayoral Photography Office)
---
If you would have told New Yorkers seven years ago that the jails on Rikers Island would be closing, they would have not believed you.
Until recently, shutting down the infamous complex was roundly dismissed as a radical idea that was not likely to be achieved during our lifetimes. However, what was once a dream for many people is now closer to becoming reality due to the hard work of brave New York City advocates and a number of forward-thinking organizations who have worked tirelessly to shed light on the principal concerns that fueled the Close Rikers campaign.
We must continue to fight for the decarceration of New Yorkers by demanding bail reform and alternatives to incarceration for all who are awaiting trial or are sentenced to one year or less in our jails. Over the last year, community conversations about the plan to close Rikers jails have shifted to a debate about the location and heights of the new community facilities that will replace the jails on Rikers. As we continue listening and creating a dialogue with our neighbors, we cannot lose sight of our collective mission: to build a more humane justice system.
The question we must ask is: how can any new facility and its surroundings reflect who we are as a community?
Research on reducing recidivism and incarceration stresses the importance of a multi-faceted approach. Strengthening social ties through community programming, improving economic opportunity through job training and quality education, and expanding access to quality housing and healthcare all contribute to better outcomes for at-risk populations.
I know firsthand how important these programs are to help change lives and communities as a whole. In Mott Haven in the Bronx, the community I call home, I am part of a community-based organization that stresses the importance of education, civic participation, and economic development to people of all ages.
I have led educational programs, life-skills development trainings, and individualized support to get at-risk youth back on the right track. In fact, three young people who were once labeled at-risk and disconnected youth used these programs as an opportunity to redefine themselves into successful young adults who now give back to their community, and I later hired each of them as program directors. They have become some of Mott Haven's most vocal community leaders.
In the coming years, advocating for these programs will become critically important to overhauling a status quo that simply has not been working.
Additionally, according to the Independent Commission on New York City Criminal Justice and Incarceration Reform, New York City will save over $1.6 billion annually if the jails on Rikers close and a modern, smaller system replaces them. Our communities will need to decide how that money is spent.
Advocates must push to have savings from the closure of the Rikers jails reinvested back into the communities that have historically shouldered the cost of our unjust legal system. As the city looks to place jails in areas like Mott Haven, near my home in the Bronx, we must ensure that these projects include services and resources that have a positive effect on the community and reduce the incarcerated population. As a Bronx Neighborhood Advisory Committee member, this is exactly what I and other members have been advocating for as we advise city government on how to proceed.
The Bronx Neighborhood Advisory Committee is a diverse group of committed and dedicated Bronx residents who have been working diligently to secure true sustained investment in the Mott Haven community. We have spent months developing recommendations focused on improving quality of life by ensuring that our neighborhood receives services and investments in the areas of health, recreation, economic development, education, and housing.
Some of these recommendations include building affordable housing for Bronx residents, investing in youth by upgrading community centers in the surrounding areas and providing programming, and providing healthy food options for the residents of Mott Haven while also educating the community on healthy food practices to transform Mott Haven from a food desert into a healthy food oasis.
Doing so will help make our children more healthy and give them a real shot at success in the future while also giving Bronx community members an opportunity to participate in our economy, establish businesses, and help our community flourish.
As the city continues to seek community input on plans to open more humane jails in our neighborhoods, not only do we have an opportunity to bring real investments in our community, but the chance to be on the right side of history. We have an opportunity to fundamentally change our justice system and take a significant step toward ending the era of mass incarceration.
***
Althea Stevens is a Mott Haven community member and part of the Neighborhood Advisory Council, which has advised the city on its borough-based jails plan.
***
Have an op-ed idea or submission for Gotham Gazette? Email This email address is being protected from spambots. You need JavaScript enabled to view it.