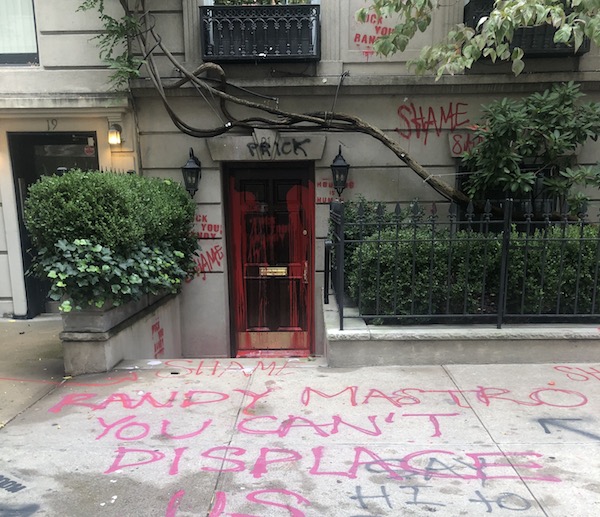 Vandalism at the home of Randy Mastro, the author
---
It happened two weeks ago in the dead of night. More than a dozen people wearing hoods and masks arrived on bicycles outside my family's Manhattan residence and proceeded to vandalize it.
In premeditated, coordinated fashion, the perpetrators spray-painted, in bright red and black using cut-out stencils, profanities and slogans, such as ""F**k You Randy," "Prick," "Randy Mastro You Can't Displace Us," "No Room For NIMBY's," "Shame," and "Housing Is A Human Right," on the front of our home, our neighbor's home, and the adjoining sidewalk. Not content with that obscenity, they threw eggs and buckets of red paint on our front door and put glue in the locks to make it impossible to re-enter.
Why did this happen? Apparently because of my advocacy on behalf of a client, WestCo, seeking to move homeless adults from a single-room-occupancy (SRO) hotel on the Upper West Side, the Lucerne, into a proper downtown facility, with better housing and more services, that is being converted into a permanent shelter. We thought of this resolution as a "win-win" for all concerned. Better for a neighborhood that found itself the "temporary" home to hundreds of homeless adults suddenly crammed into three nearby SRO hotels without the support services they need. And better for this vulnerable population that would be returning to a proper, full service shelter at this new downtown facility.
We had earlier petitioned Mayor de Blasio to act or else face a lawsuit. He went to visit the site himself and declared it "not acceptable." He then decided to make this move, which should have been uncontroversial but somehow caused a firestorm.
We were out of town at the time of this attack on our family's home. On the morning after, around 10 a.m., I learned of it from my next door neighbor, who emailed me that her property had been vandalized and forwarded photos of the damage.
Around the same time, one of WestCo's officers also emailed me, expressing concern for my family's safety and regret that I had been targeted in this vile way. She told me she learned about the vandalism from a website posting by an advocacy group called Open Hearts, which formed to try to keep the homeless men at the Upper West Side SRO hotel. According to Open Hearts' posts, an affiliated "minister" happened to be walking past my home in the early morning hours and witnessed the damage. Members of this group have repeatedly called me and my client "racists" and "NIMBYs."
Then came the next indignity. New York Times columnist Ginia Bellafante wrote that my advocacy as a lawyer had "ignite[d] the fury of protesters...who defaced" my family's home, as if I deserved to be victimized and brought this upon myself. She called the perpetrators of this vandalism "protesters on the other side of the debate."
But these weren't "protesters;" they're criminals who should be brought to justice. To terrorize the home of a lawyer's family because of his advocacy on behalf of clients is reprehensible. I suspect Ms. Bellafante would be far less sympathetic to "protesters" if they vandalized her home because they didn't like something she wrote. These are serious issues involving homeless people that deserve serious debate. There is no place in that debate for vandalism of a lawyer's family home or any other similar misconduct.
Sure enough, serious opinion leaders came forward to decry what had happened, which I appreciated. Unbeknownst to me at the time, the New York State Bar Association, through its President, Scott Karson, put out a public statement, "condemn[ing] the actions of all those responsible" and calling it "a despicable act of harassment for simply providing legal counsel -- a cherished principle of American jurisprudence...[A]cts of harassment, threats and intimidation against lawyers are an assault on th[e] right to counsel and must stop."
I also heard from many other leaders of the New York Bar and even local elected officials, although not the mayor, whose decision I've been publicly defending and will continue to defend. For example, Manhattan Borough President Gale Brewer, who's been an antagonist on this issue, nevertheless reached out to me personally to say she was "disgusted by the horrific act of what was written in front of your home." And my law firm colleagues and clients rallied round in extraordinary ways, for which I will always be grateful.
So maybe something good has come from this senseless act of vandalism targeting my home: A recognition that a line was crossed here that threatens not only a lawyer's family but also the very essence of our legal system -- the right to legal representation and zealous advocacy, free of "harassment, threats and intimidation." And a renewed focus on the serious issue of whether homeless adults should continue to be placed in inadequate SRO hotels or be housed in proper, safe shelters where they will get all of the services they need on-site. Of one thing, though, I am certain. If these thugs thought they were going to intimidate this lawyer, they picked the wrong guy.
***
Randy Mastro is the Chair of Citizens Union, a former New York City Deputy Mayor, and a current partner at the law firm of Gibson, Dunn & Crutcher.
***
Have an op-ed idea or submission for Gotham Gazette? Email This email address is being protected from spambots. You need JavaScript enabled to view it.