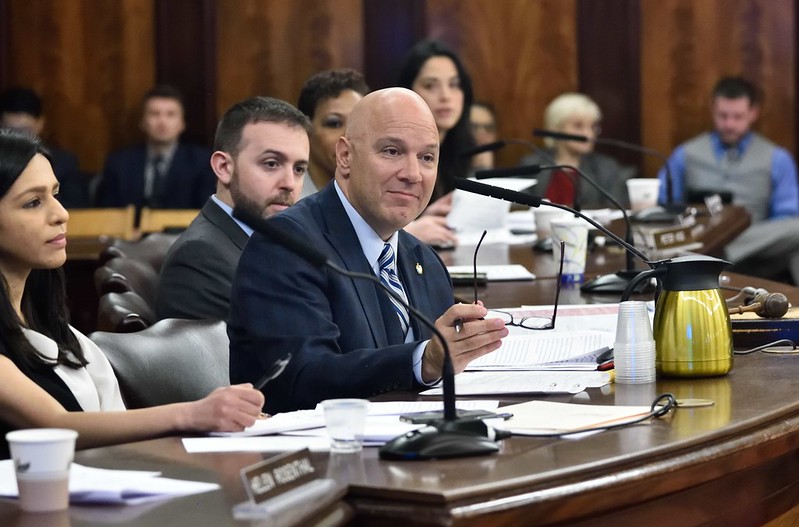 Council Member Paul Vallone (photo: John McCarten/City Council)
---
The City Council's committees on economic development and small business met last week for an oversight hearing to assess how the New York City Economic Development Corporation (EDC), the city Department of Small Business Services (SBS), and the Mayor's Office of Workforce Development have adjusted their programming because of COVID-19 and discuss what they're doing to promote equity across the five boroughs.
According to the New York State Department of Labor, unemployment rates have been especially high in the Bronx, Queens, and Brooklyn. The Bronx had the highest unemployment rate of all boroughs as of October, the most recent month for which the data is available. At 17.5%, the Bronx unemployment rate was higher than the citywide rate of 13.1% and the statewide rate of 9.2%. Council Member Mark Gjonaj, who represents parts of the Bronx and chairs the Council's small business committee, said the borough needs more career development resources.
"We've been at the top of what's bad and the bottom of what's good," Gjonaj said at the hearing. "I don't know how much more evidence we need that the borough of the Bronx needs and deserves more resources."
Gjonaj, as well as people who offered testimony in the latter part of the hearing, expressed concern about the digital divide, but Small Business Services Commissioner Jonnel Doris insisted that his agency is reaching everyone who needs help. "We did a survey," he said. "96% [of respondents] have reliable internet access." He also pointed out that one does not need internet access to reach the SBS; the agency is also accessible by phone. Even so, Gjonaj expressed concern that even if people without internet access could access SBS resources, they might not be aware that those resources exist.
Gjonaj also asked Doris how SBS would prevent unemployment rates from going back up now that cases of COVID-19 are rising. "We have the infrastructure," Doris explained, "because we've been through it, and we have those systems in place." Doris said in his opening statement that SBS was able to shift all 18 of its Workforce1 Career Centers to an online format by March 23, and that it's assisted more than 63,000 people since then.
"To date [since March] we have connected more than 7,500 New Yorkers with jobs with an average wage of $17.36," he said. In June, SBS also launched a free, virtual home health aide training program in response to an increased demand for these services during the pandemic, Doris said.
City Council Member Paul Vallone of Queens, chair of the Council's economic development committee, asked Justin Kreamer, Senior Vice President at EDC, how the agency is making sure opportunities reach people in outer boroughs who need them most.
"Broadly speaking, we do have a five-borough strategy, so we always have an eye out for equity," he said. "All projects that come in, we evaluate those on a case-by-case basis to make sure that they align with our values. If a project is based in one borough, our hopes is that the project itself would be something that would be accessible to residents in other boroughs as well." His answer was not detailed, but he offered to "follow up" with the chair with more information, an offer he made several times throughout the hearing.
Kreamer also said EDC, which is a nonprofit local development corporation essentially run by the mayoral administration, supports job creation in all five boroughs by investing in fast-growing industries, like technology, cybersecurity, and the life sciences. EDC runs the LifeSci NYC paid internship program, which began in 2016 and employs local college students from low-income backgrounds, he noted. "Roughly 41% of all participants in the program have been CUNY students, over two-thirds have been nonwhite, 54% have been TAP or Pell Grant-eligible students, and 33% of the participants have been first-generation college students," said Kreamer.
He also mentioned a cybersecurity bootcamp, run between the city and the private organization Fullstack Academy, that began about a year ago. He said that there have been about 105 students in that program so far and about 90% of them have gotten jobs. He did not mention that it costs between $15,980 and $17,910 to participate in the 17-to-26-week-long program unless a student receives scholarships, according to the program's website.
Amy Peterson, the Director of the Mayor's Office of Workforce Development, expressed enthusiasm about state legislation, recently proposed by the de Blasio administration, to change the Citywide Renovation Project Labor Agreement so that city contractors are required to hire workers from zip codes where at least 15% of the population lives below the federal poverty level or in NYCHA housing, with the goal of making similar modifications to other PLAs in other industries. Under the proposal, 30% of hours worked under PLA projects must be logged by people from high-poverty communities, and city contractors must also hire apprentices and pre-apprentices, especially who live in disadvantaged communities and public housing.
"When you look at neighborhoods that have poverty over 15%, you look at the Bronx," Peterson said. "We're clearly focused on the communities with the highest level of poverty." If the city gets federal stimulus money for infrastructure, she said, then new projects can occur under the new PLA.
While city officials who testified spoke to the desperate need for federal and state funding, the co-chairs of the hearing told them not to wait for it and to move ahead with projects even if the results are imperfect. "It's not waiting, but it's also being ready," Peterson said. "The place we don't want to be in is stimulus funding or state legislation and not being ready to use it immediately."
But by launching a new, albeit incomplete, workforce data portal, Peterson's agency and the Mayor's Office for Economic Opportunity have done what the co-chairs suggested and gone forward with the project. The goal of working.nyc.gov is to bring workforce development programs at different city agencies to one place. Currently, the website shows career development opportunities like skills training for NYCHA residents and high school equivalency exam preparation. Posting career development opportunities is just one function of the portal.
Another purpose of the workforce data portal will be to offer data visualizations about outcomes of workforce development programs offered by different city agencies. This data will include, but not be limited to, where people who participated in workforce development programs live, how much money they make, and how many of them have been able to find full-time and part-time jobs. This information will make it easier for people to assess the success of the programs.
Peterson said that the mayor's office has about half of the data it needs for this portal, but is still uploading data from the city's Human Resources Administration, as well as from some small agencies. "The idea is that this will be made available to the public in 2021," Peterson said, adding that the project was delayed because of the pandemic.
Vallone encouraged Peterson to make the data public as soon as possible even though it's incomplete so that it can be used to help navigate the current crisis. "I don't think anyone would be upset even if it's not completely 100% of the data at this point," he said. (He then moved on and she did not respond.)
Other than Vallone and Gjonaj several City Council members from the two committees were present on the digital hearing, but few spoke at all or asked any questions of those testifying.
In the latter part of the hearing, leaders from smaller career development agencies and nonprofits in the city each spoke briefly, explaining what their organizations, which often get city funding, do and their shifts to online programming during the pandemic. They also expressed their need for government funding and explained the challenges faced by the communities their agencies serve, especially people of color, immigrants, women, LGBTQ people, and people with disabilities.
Jose Ortiz, Jr., CEO of NYC Employment and Training Coalition, was among leaders briefly offering recommendations at the hearing. "We need to provide more resources for workforce development programming" in order to retrain people in the retail, hospitality, building maintenance, and transportation industries whose jobs are threatened by automation, he said. Ortiz also recommended improving broadband access and more support for small businesses.
"The human resources sector is in danger of budget cuts at all government levels," he stressed, "and they won't be able to do the increased work of aiding the economic recovery without resources."