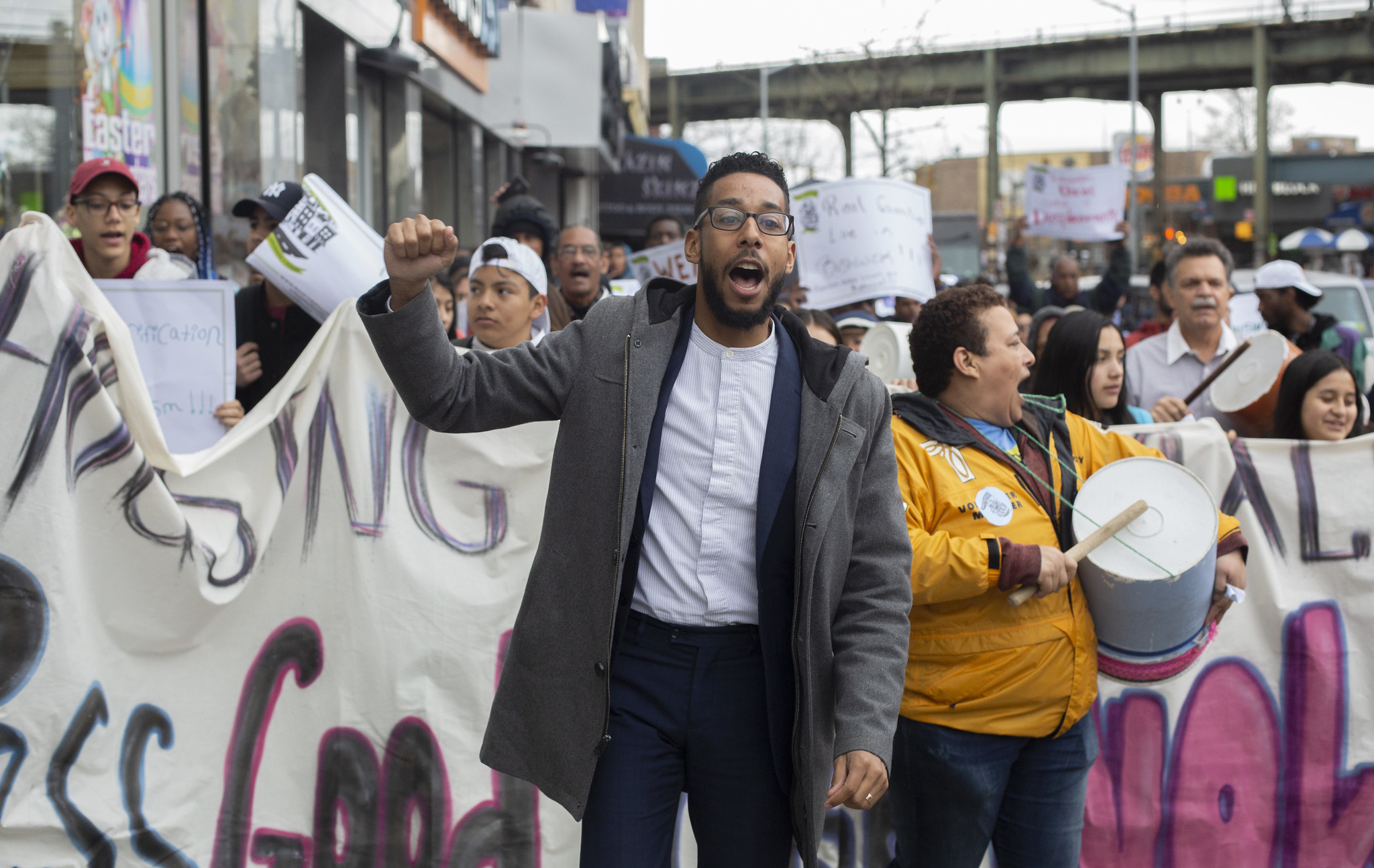 Antonio Reynoso (photo: John McCarten/City Council)
---
One of New York's most prominent immigrant advocacy groups is backing City Council Member Antonio Reynoso's campaign for Brooklyn borough president to replace the outgoing Eric Adams, who is term-limited.
Reynoso, a Democrat who is also facing term limits, was endorsed on Friday by Make the Road Action, the political arm of Make the Road New York, a nonprofit organization with more than 24,000 members that advocates for rights and services for immigrants. Reynoso is seeking the Democratic nomination in a crowded primary that includes two of his colleagues, Council Members Robert Cornegy and Mathieu Eugene, as well as Assemblmember Jo Anne Simon and others.
In its endorsement, Make the Road Action cited Reynoso's progressive record in office and, in particular, praised his support for defunding the NYPD, removing police from schools, and decriminalizing sex work. "Antonio Reynoso has been a deep and trusted ally for Black and Latinx communities in Brooklyn, and I'm so thrilled to be able to support him for Borough President," said Nilda Baez, a Make the Road Action member from Brooklyn, in a statement. "We know that he will continue to work alongside us to end the school-to-prison pipeline, prioritize deeply affordable housing, divest from criminalization and invest in our communities."
Though the race includes more than a dozen registered candidates, Reynoso, Cornegy, and Simon appear to be the frontrunners, with the strongest bases of support and political operations. Reynoso is angling to be the favorite among progressive elected officials, groups, and activists, and will be counting on organizations like Make the Road Action to provide all-important volunteers to get the word out about his candidacy across the borough with the most registered Democrats.
"I have been proud to stand with Make the Road Action over the years as we fight for social and economic justice for all New Yorkers, and I'm excited to have their support today," Reynoso said in a statement. "Make the Road Action knows how important it is to advocate for the immigrants and working people hardest-hit by this pandemic who are too often ignored by government aid. I'm ready to keep fighting on the frontlines with them and building power for immigrants, tenants, workers, people of color, and the LGBTQ community."
Reynoso has been endorsed by prominent progressives including Public Advocate Jumaane Williams and State Senator Julia Salazar. Cynthia Nixon, who ran an upstart campaign to challenge Governor Andrew Cuomo in the Democratic primary in 2018, has also backed Reynoso's campaign, as has the Teamsters Union.
The primary election, which is all but certain to determine the eventual winner given how heavily-Democratic Brooklyn is, will feature ranked-choice voting, a new system where voters can rank their preferences and helps assure candidates campaign more widely and that winners earn a broader base of support. The borough president has limited powers but does lead a staff of dozens and hold a bully pulpit, allocate capital budget funds, appoint community board members, weigh in on land use decisions, and act as a representative for the borough.
"We've been proud to partner with Antonio Reynoso in our efforts to end the school-to-prison pipeline in Brooklyn and across New York City," said Keith Fuller, another youth member of Make the Road Action from Brooklyn, in a statement. "We're excited to help him become the next Borough President so we can continue working with him in the urgent youth-led effort to remove officers from schools and invest in opportunities for all of us."