Former City Council Member Rafael Espinal in the 37th District (photo: John McCarten/City Council)
---
Darma Diaz is one of the newest members of the New York City Council, having recently won the election to represent Brooklyn's District 37, filling an unexpected vacancy at the beginning of December. But her election did not take place under normal circumstances and now the Democrat must defend the seat that she won unopposed in both the June primary and the November general.
District 37, which covers Bushwick, East New York, Cypress Hills, Ocean Hill, and Brownsville, had been without a City Council member for more than ten months this year after former office-holder Rafael Espinal resigned for a private sector job in January. The vacancy initially prompted a nonpartisan special election, which would have been held in April, but the coronavirus pandemic disrupted the electoral calendar. Governor Andrew Cuomo used his executive power to first suspend the election, and then postponed it to June 23, the same day as the primary election to select a nominee for the same seat. Finally, he cancelled the special election altogether and held only the 'regular' primary in June and general in the fall.
Cuomo sowed additional chaos and confusion by amending ballot access requirements, reducing the required number of ballot petition signatures to 30% of the normal threshold, which is 450 for City Council seats. Candidates would only have to gather 135 valid signatures. But, the city Board of Elections subsequently ruled that the executive order did not apply to the District 37 race, which meant that Diaz was the only candidate to qualify for the ballot while four other candidates were invalidated. Legal challenges by the candidates also eventually failed, leaving Diaz a free and clear path to office.
Three of those candidates are now running again in the June 2021 Democratic primary against Diaz and though she now has some advantage of incumbency as well as the backing of some other powerful forces, Diaz's hold on the seat could be in jeopardy.
A former district leader, Diaz was backed in her bid for office by the Brooklyn Democratic Party and its newly elected leader, Assemblymember Rodneyse Bichotte. The party also supported successful petition challenges against Diaz's opponents, which prompted broad criticism that she had effectively been installed in the seat in undemocratic fashion. The party is again in her corner for the upcoming election. "Of course, they are backing Darma Diaz," said Bob Liff, a spokesperson for Bichotte, in an email.
But Diaz faces tough competition, in a primary that will be decided by ranked-choice voting, among the first crop of city special and party primaries using the new system. She is being challenged by Sandy Nurse, a community organizer and carpenter; Rick Echevarria, a former official in the city Department of Housing Preservation and Development (HPD); Misba Abdin, a community activist; and Heriberto Mateo, former director of the city's Commission on Human Rights.
In a phone interview, Diaz said she's confident about her chances of reelection. "I have 30 years-plus of community service. My record stands for itself," she said. "I was prepared for a primary, I was prepared for a special. I will continue to act accordingly."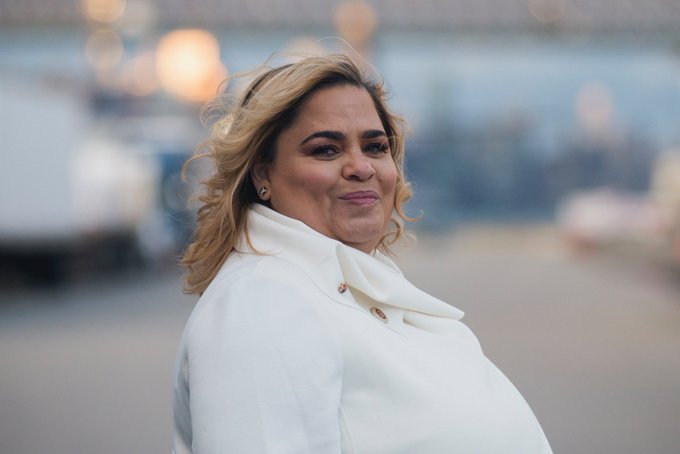 Diaz (pictured) previously served as director of housing services at a homeless shelter run by Overcoming Love Ministries. Before that, she worked as director of community relations for the State Assembly and also worked as an aide to Assemblymember Daryl Towns.
Diaz pushed back against the criticism levelled at the Brooklyn Democrats and by extension her campaign for the procedural means through which they kicked other candidates off the ballot ahead of the primary earlier this year. "I did not cut any corners. I followed the process known to me, from A to Z," she said. "I was last man standing because I did everything that I was supposed to do from day one. It's a shame that individuals running against me don't want to give me credit for my service."
Diaz has about six months to make an impact on the main issues in the district, which she said are "the lack of food equity, housing, safety, education and employment." And she intends to make her mark by holding Mayor Bill de Blasio's administration to its promises under the East New York rezoning of 2016, the first major neighborhood rezoning approved under the mayor's overarching plan to build and preserve rent-restricted housing in the city while also encouraging economic development and community improvements. Four years on, many of the pledges for housing and job creation have yet to be fulfilled.
Diaz conceded that the rezoning deal was "a little faulty" but was nonetheless proud to support it. "What this opportunity gives me is to have the follow-up conversation with the mayor on the non-deliverables," she said. "I think that within itself should show that I'm about the people, for the people, and just going from an advocate to being a decision-maker at the table and working towards securing deliverables that were committed to us."
She's also creating a housing task force to examine the district's needs and said she's reached out to state legislators about securing more money for affordable housing. "To bounce back, to make our community affordable, it's going to take creative thinking," she said.
Diaz did raise concerns about ranked-choice voting, saying, "there's going to be an educational issue" around informing voters in the district about how it works. A group of Council members sued to delay the rollout of the system, which will happen for a Queens City Council special election in February then other special elections in Queens and the Bronx before the June primary, arguing on similar grounds that it could disenfranchise Black and Latino voters without a sufficient education campaign. A State Supreme Court judge struck down the legal request. Diaz said she would support a delay "simply because our system is not prepared for it. Had covid not hit us and life was normal, I would have been OK with it. But the way it stands now, to me it's a disservice to our voters."
Of all the other candidates, Nurse appears poised to present the strongest challenge to Diaz, having been backed by a slew of prominent progressive elected officials including Congressional Rep. Nydia Velazquez, State Senators Julia Salazar and Jessica Ramos, Assemblymember Maritza Davila, and City Council Member Antonio Reynoso. Notably, parts of Salazar's district overlap with the 37th Council District.
Nurse also has the endorsement of the Working Families Party, which can help bolster a candidate's campaign operation and spend on the candidate's behalf, and several progressive advocacy groups and political organizations, some of which are part of the WFP, such as Make the Road Action, New York Communities for Change, Citizen Action of New York, Vocal NY Action Fund, the New Kings Democrats, and others. Many of the groups offer volunteers to knock on doors, make phone calls, and hand out campaign literature.
Nurse is running to Diaz's left on a host of issues including political reform.
"I'm running to really champion some issues that I think are possible to push forward with a brand new city government," Nurse said in an interview, "really running to guarantee housing, to champion a Green New Deal in New York City, to divest from the prison system, invest in our communities and to ensure our youth are nurtured and engaged and protected."
As with the other candidates, Nurse emphasized the need for housing and jobs in the district, connected issues that have been drastically affected by the coronavirus pandemic. Unemployment jumped to a record high of well over 20% across the city earlier this year before coming down to what is still-crisis level of roughly 13%. An eviction crisis is looming. And District 37, home to working class communities of color, has been hit hard. "Housing is the number one issue in this district. It's the thing that's impacting our young people, one in six of whom are very housing insecure," Nurse said.
Nurse is among those who have been critical of the East New York rezoning and believes it has only exacerbated the dearth of affordable housing in the district without delivering on the jobs front. "It speaks to what I think is a failed system of incentivizing large private developers in the real estate industry to build affordable housing for us by giving them all sorts of subsidies and tax breaks or rezoning large swaths of land for upscale market rate housing," she said, echoing a common refrain against the mayor's rezoning approach.
Earlier this year, Nurse was an organizer in the "defund the NYPD" movement, pushing for a significant reduction in the city's police department budget -- something she would have a more direct say in if elected to the Council. For the last six months, after being bounced from her prior campaign but launching anew with her eye on June 2021, Nurse has been involved in food aid operations and helping families in dire need of assistance. "The lines are just getting longer and it's really starting to impact people that haven't traditionally had to step into a pantry line or receive food assistance," she said. It's the kind of work she would have done as a Council member, she said, and it's what was particularly necessary as the district lacked representation for months.
Nurse also has a background in local efforts to fight climate change, particularly composting food waste, and has been vocal with criticism of Mayor de Blasio's decision to cut the organics pick-up program amid this year's budget crunch.
She said she was "excited" about ranked-choice voting and how it can "allow a lot of different voices and visions to kind of come forward and be seen." And she seemed to dismiss any concerns that the Brooklyn Democratic Party may again attempt to throw people off the ballot on technicalities. "Machines are gonna machine, right?...If they want to spend time and money and resources on kind of suppressing democracy or engaging in dirty tricks around it, that's what they're gonna do."
Echevarria says his central concern is the district's affordable housing crisis, and the first step to addressing it is reorganizing the city's housing department. He saw first hand how the agency (HPD) functions when he spent a year working as director of the city's Tenant Interim Lease program. After he was fired, he sued the city in 2017, claiming that he was wrongfully terminated from the agency for blowing the whistle about corruption. The case was settled, according to his campaign website.
In a phone interview, Echevarria said that HPD has failed in its duty of oversight over the preservation of affordable housing, which is "plagued by decades of mismanagement and neglect, and corruption." He cited the "gross mismanagement" of various housing programs such as the Mitchell-Lama program, the Housing Development Fund Corporation cooperatives program and the Third Party Transfer program.
"I'm the only candidate that has run a housing organization in the district and worked in city government and the housing agency. So, resumé-wise, I don't think the other candidates quite compare to me in terms of my diverse experiences around housing issues," he said, pointing to his background which includes founding the Bushwick Housing Independence Project and working as a senior manager at CHANGER, an advocacy group. He was also critical of the East New York rezoning. "I would have opposed it...I don't believe in targeting low-income communities like East New York as the introduction for [Mandatory Inclusionary Housing]," he said of the de Blasio change to the city's land use rules that mandates a percentage of affordable housing in any new housing development when added density is allowed to the developer.
"I'm not a politician, I'm an activist, and I've been working in District 37 for over 20 years, maybe more," said Abdin, who is cofounder and CEO of Bangladeshi American Community Development & Youth Services, a local nonprofit. He criticized Diaz as just another product of the "nepotism" of the Brooklyn Democratic establishment.
He said his top priorities are education, public safety, and affordable housing, but he had particular gripes about issues of quality of life and crime. He said the community's needs have gone unfulfilled for decades, "and that's why crime is high, people are living in a very unsafe environment, the education system is failing." He called for more cops patrolling the streets in the district.
As a resident of East New York for more than 40 years, Abdin said he was dismayed to see how the recent rezoning has made a once crime-ridden neighborhood into an exploitable business opportunity. "This is a business for the developing companies, because they have no more space in the city. So they come into East New York, develop and make money. They [aren't] concerned about the community and neighborhood...After 20 years of people living and making this community safer, now developers come, they rezone, they want to kick everybody out, which is totally not fair."
Mateo's campaign is his second attempt at the District 37 seat, having unsuccessfully run in the 2013 primary, which Espinal won before winning the general election. At that time, Mateo served as director of the New York City Commission on Human Rights. He also previously served as president of Community School Board 19 and president of the Martin De Porres Day Care Center in Bushwick. "I'm running because I believe we need to have real leadership in this community," he said in a phone interview. "I've been living in this community almost all my life. I know the issues and the concerns."
Mateo said Diaz has been as "part of the machine all her life" and said she does not have a record of delivering for the district. "I've been fighting against the establishment for so many years, even though I was raised a Democrat," he added.
He stressed the need to build more affordable housing in the district and to save small businesses that have suffered during the pandemic. "The rent here is going too high to the sky," he said. If he wins, he said he would create an office dedicated to helping small businesses navigate covid relief assistance and city grant programs.
The Democratic primary is in June. The winner will be heavily favored to win the general election given the district's overwhelming Democratic voter enrollment advantage, though if she's unsuccessful in the primary, Nurse could potentially run in the general election only on the Working Families Party ballot line and, in a one-on-one contest versus the primary winner, have another formidable opportunity.
Inset Diaz photo via the City Council