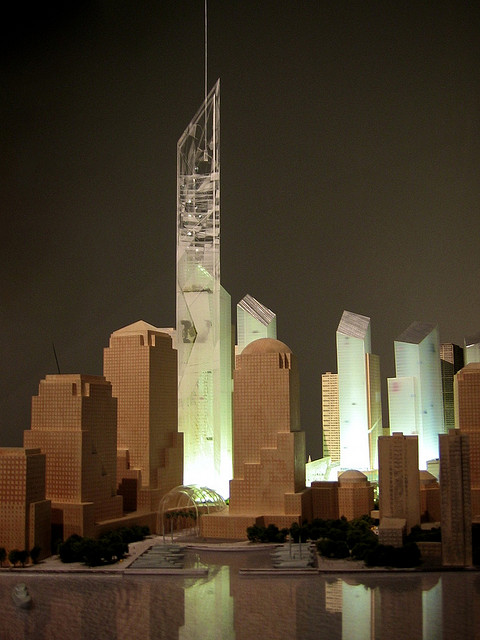 Gardens of the World by Studio Daniel Libeskind

The World Cultural Center by THINK
On February 4, rebuilding officials narrowed the nine plans for the World Trade Center site down to two.
The committee chose architect Daniel Libeskind, whose plan exposes the Twin Towers' original foundations and leaves the hole at Ground Zero for a memorial, and the THINK team of architects led by Rafael Vinoly and Frederic Schwartz. Their World Cultural Center plan includes two open steel latticework towers with a museum, an amphitheater and other cultural spaces at different heights.
In a four-hour meeting the night before, a selection committee with representatives from the city, the state, the Lower Manhattan Development Corporation and the Port Authority selected the finalists.
Lower Manhattan Development Corporation head planner Alex Garvin said the two plans were chosen because they create inspiring places for the memorial and a cultural district. Both designs also re-connect streets through the site in keeping with Mayor Michael Bloomberg's vision for lower Manhattan. And they both, said Garvin, create spaces that work well for private development.
During the next three weeks, the two design teams will modify their plans based on discussions with rebuilding officials and other key players -- including World Trade Center lease-holder Larry Silverstein, who has said that he doesn't approve of the designs. Officials will then select one finalist. "These plans must be adjusted to reality," said Garvin. "We understand that and so do the designers."
After the final design is selected, Garvin and Port Authority consultant Stanton Eckstut will combine it with transportation, infrastructure and land-use details to create a master plan.
According to Roland Betts, a development corporation board member, the architectural vision that is selected will undergo many changes as it is incorporated into the master plan, but its "core idea" will not be compromised. For example, Betts said, the central vision of the Libeskind design incorporates the original foundations or "slurry walls" of the towers to create a sunken memorial space; this concept would be preserved for the final plan.
"Over time, the best parts of the design will survive," said Port Authority Executive Director Joe Seymour.
The designs by Libeskind and the THINK team will remain on exhibit at the Winter Garden in the World Financial Center until the end of the month. Visitors can submit comments about the plans both at the exhibit and on the development corporation's website.
Gotham Gazette held online chats with THINK team architect Rafael Viñoly and fellow finalist Daniel Libeskind.
Click on the names above for a transcript of each discussion.