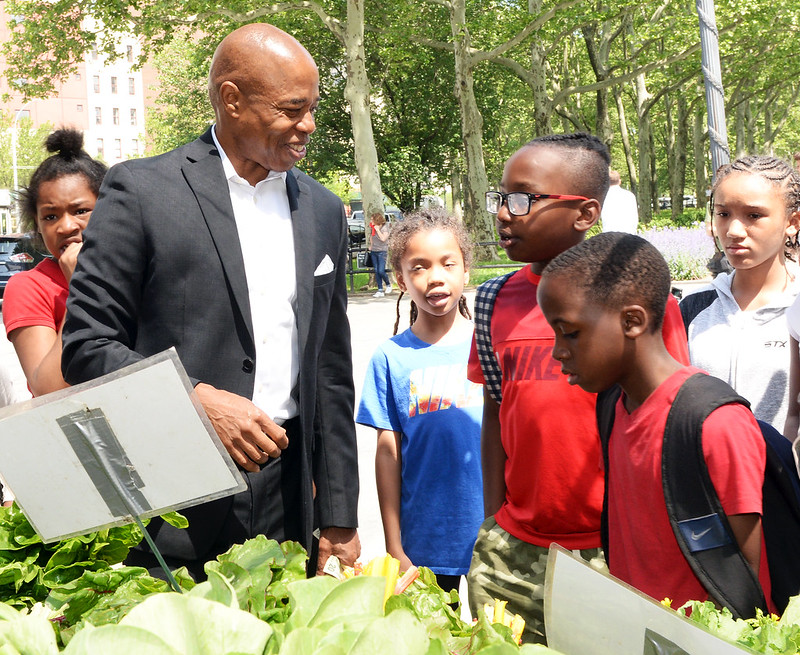 Eric Adams (photo: Erica Sherman/Brooklyn BP's Office)
---
Eric Adams doesn't just want to fix the problems created by the coronavirus pandemic but the historic inequities that have existed in the city long before it. In a sweeping new sketch of his vision for New York City released Sunday, Adams, the Brooklyn borough president who is running for mayor in the June Democratic primary to replace term-limited Mayor Bill de Blasio, offers more than 100 ideas to rebuild and improve the city and to rid its government of the many inefficiencies that he blames for causing social injustices.
Adams' plan, titled "100+ Steps Forward for NYC," lays out 106 proposals, including 20 "big step" ideas, that he will enact or advocate if he becomes mayor. Each one is followed by a brief description or short set of bullet points, with Adams promising in the introduction of the plan to release more detailed policy papers in the months ahead.
The "steps forward" include data-driven solutions for providing better city services, tax increases on the wealthy to generate revenue, a city hiring freeze and other agency mandates to create budget savings, police reforms, public safety measures, economic boosters, and solutions for housing, healthcare, hunger, and homelessness. Adams wants schools to be open year-round, green roofs on every city building, affordable childcare for every parent, and a Bus Rapid Transit system, among many other offerings in the newly-released agenda.
Most of the proposals do not come with dollar figures attached and many have broad, ambitious goals that require the detail Adams is promising to release in the near future. Some cannot be achieved under the mayor's sole authority but require partnership from the City Council or state government. And several of the proposals build on a recovery plan that Adams released in June of last year out of the borough president's office.
"The next mayor will take office one year from this week--but New Yorkers should not have to wait that long for a clear vision of a better future for their city," Adams said in a statement. "As a lifelong New Yorker who faced the same hardships many New Yorkers are facing now, I know what our city needs to recover and come back stronger than ever. For far too long, our City government's ineffectiveness and inattention to serious problems has led to great injustices, holding our city back from reaching its true potential. With these 100-plus steps and our other detailed plans to come, we will finally deliver on New York's promise of opportunity and prosperity for all."
The core of Adams' campaign message is about leadership as management, and one he has been stressing since he started to discuss his mayoral campaign years ago. He promises to create a smarter and more efficient city government with greater agency coordination and real-time performance monitoring with metrics visible to the public. It's one of the many big ticket items in the plan: he pledged to create a single data platform that could help create a more proactive government and save billions of dollars. He would also assign each agency a public performance score that is regularly updated. And New Yorkers would be able to apply for all city services and public benefits through a centralized portal called MyCity, helping to streamline city bureaucracy.
Adams' focus on such a governing strategy comes from his experience in the NYPD, where he worked for more than two decades before being elected a state senator then borough president. Adams was part of the police department in the 1990s when it developed the CompStat system for data-driven accountability and a more proactive approach to policing the city. He has said repeatedly he wants to implement that type of approach across city agencies, something he says should have happened long ago.
Recognizing the fiscal challenges presented by the coronavirus, which led to a massive drop in city tax revenue, Adams proposed saving $1.5 billion over two years by refusing to make any new hires as the municipal workforce reduces through attrition. He would also mandate a standing Program to Eliminate the Gap (PEG) to cut agency spending by 3-5% each year, overseen by a new Efficiency Czar who would also audit agencies and evaluate large city contracts (work that is already done by the separately-elected city comptroller). To fill the city's coffers, among other measures, he proposes raising $1-2 billion each year by imposing a "recovery share" on income tax for individuals making more than $5 million a year. The tax increase, which would need state approval, would be phased out after two years.
With the coronavirus having disproportionately impacted low-income communities of color, already prone to worse health care and outcomes, Adams intends to revamp the city's approach to public health, another issue he has focused on for years.
Adams' 100+ steps plan says that under his leadership the city would provide social services at city hospitals, provide housing assistance to indigent patients, expand preventative health services, create a unified citywide hospitals network, and standardize health care costs across the city.
Chiefly and more urgently, Adams wants to ensure a successful program to vaccinate New Yorkers against the coronavirus and would use the successful network built under the city's Census outreach program to achieve that goal, he says.
As a former NYPD captain, public safety is a top priority for Adams. He has shown a more moderate approach to police reform than some of the other Democratic candidates in the race, stressing the need for better policing but not at the expense of a proactive and appropriately aggressive NYPD.
Adams' new plan says he would save $500 million by civilianizing parts of the police department and cutting overtime costs, investing those funds in the city's community-based Crisis Management System instead. He also has a targeted plan for gun violence, a response to the large spikes in shootings and murders seen in 2020. Adams would reinstitute the anti-crime unit disbanded by NYPD Commissioner Dermot Shea into a new anti-gun unit while also increasing funds towards the Crisis Management System, which funds local activists to work in communities to quell gang conflict and keep guns out of the hands of young people. He also proposed a tri-state commission to prevent illegal guns from being brought into the city.
As much as Adams wants to ensure the city is safe, he is also intent on reforming the NYPD, a chief concern for every mayoral candidate following the Black Lives Matter protests last year against police brutality after the death of Minnesota resident George Floyd in police custody, and other such incidents around the country, including some in New York City.
Adams' plan would increase the number of Black and Hispanic officers within the police department and train NYPD supervisors in executive leadership academies outside the department. He would also publicly release a list of police officers with records of complaints and violent incidents that are being monitored by the department. Under his plan, community boards and precinct councils will be able to approve and even veto the appointment of precinct commanders and community affairs officers.
Adams has been a business-friendly borough president and it's an approach he will continue as mayor, he has said. He proposes giving businesses that pay the Commercial Rent Tax a tax break for two years, expanding the Relocation Employment Assistance Program and establishing "tax-free Tuesdays" to encourage people to shop at stores in person by waiving sales tax. He would also cut down bureaucratic hurdles for small businesses and eliminate all filing and registration fees. And he wants to expand the Earned Income Tax Credit for low-income workers.
In his new agenda he promises to create a citywide job training and placement program, create jobs by investing in green infrastructure, and to extend the Summer Youth Employment Program to the entire year. His plan would also help households without bank accounts get access to banking while providing incentives to community-based banks in low-income neighborhoods.
He also reiterates his support for allowing legal permanent residents and non-citizens with work authorization to vote in municipal elections.
On housing, Adams would break from the approach that has defined Mayor de Blasio's tenure. Adams would focus rezonings for more housing density on wealthier neighborhoods and also eliminate the policy of community preference for affordable housing, something experts say would help desegregate the city. He wants to convert city office buildings into fully affordable housing and change zoning rules to allow hotels and private office buildings to convert to housing. His plan would also raise $8 billion for public housing by selling air rights over properties owned by the New York City Housing Authority (NYCHA).
His most significant proposal on education is also likely to be the most controversial. Adams wants to institute a full-year school year, and though his plan states it would create more flexibility for parents, it offers few details. He would give homeless families local preference for schools and prioritize capital funds to low-performing communities. He also promises to provide childcare for all parents who cannot afford it, though he does not provide a cost estimate or income threshold.
As Mayor de Blasio's plan to improve the city's bus system has been too limited to significantly address the problems at hand with slow speeds and traffic congestion, Adams vowed to create a Bus Rapid Transit system and build more busways across the city. He would also build a citywide network of electric bikes and scooters and invest city funds in expanding bike share programs, the new plan says.
Adams pledged strong action on climate change including by retrofitting city buildings and installing solar panels on all of them, establishing a citywide organics collection program (which was recently scrapped by de Blasio), speeding up the conversion of the city's bus fleet to electric vehicles, and creating a green economy curriculum for city schools.
Adams is among those considered "top-tier" candidates in the very crowded and diverse mayoral primary, which will take place in June and include the implementation of ranked-choice voting for the first time.