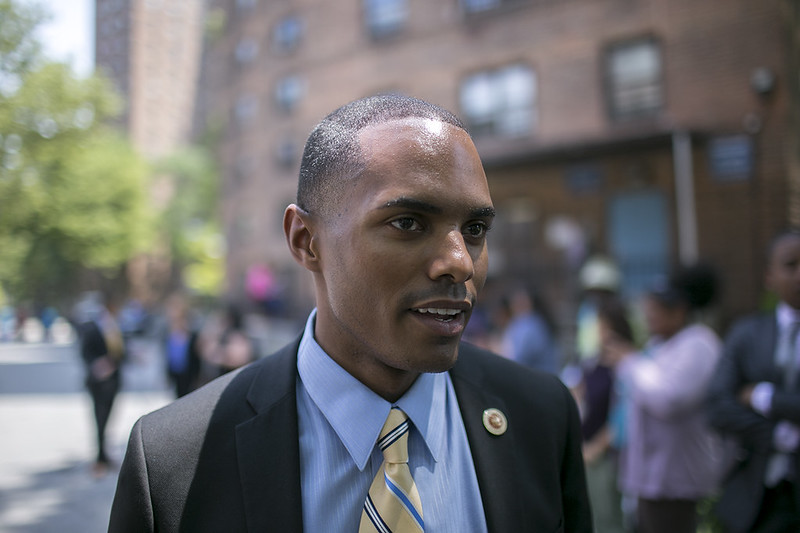 Rep. Ritchie Torres (photo: William Alatriste/City Council)
---
Ritchie Torres, a Bronx Democrat, was sworn in early this month among the new class of the House of Representatives, becoming the first openly-gay Afro-Latino member of Congress. After seven years advocating for his district on the New York City Council, Torres now takes to the halls of Congress to exert whatever influence he can for his constituents, particularly through a plum committee assignment not often given to freshman lawmakers. One of his chief priorities remains the state of public housing in New York City and he is optimistic that with full Democratic control of the federal government, the New York City Housing Authority will finally get its due.
The future of NYCHA is a deeply personal issue for Torres, who grew up in public housing and went on to chair the City Council's public housing committee. "My highest priority is affordable housing. I would not be where I am today but for affordable housing and the stability it gave me and my family," Rep. Torres said in an interview.
NYCHA houses more than 400,000 New Yorkers, largely people of color, and is a crucial lifeline for families in a city with a housing affordability crisis. But, owing to decades of disinvestment by the federal government, the state, and the city, as well as mismanagement by city government and its chosen NYCHA leadership, public housing developments across the city have fallen into a state of deep disrepair. Tenants have been forced to live with problems that include rat infestations, mold, lead paint, broken elevators and other key infrastructure, and a lack of heat and hot water.
NYCHA Chair and CEO Gregory Russ estimated in January last year that repairing and maintaining the aging infrastructure will cost as much as $40 billion, and watchdogs have warned that many NYCHA towers could soon be so dilapidated that repairing them is more expensive than building anew.
The housing authority is currently under federal monitorship over a lead paint crisis spanning many years, though that oversight and the threat of receivership did not come with additional federal dollars. Various partial NYCHA rescue plans from de Blasio, Russ, and Russ' predecessors have shown limited results, in part because the mayor has not put his political capital behind them. But the federal government has also been largely missing in action.
Enter Torres. And his Democratic colleagues.
On the City Council, Torres led the Committee on Oversight and Investigation and the Committee on Public Housing before that, and has spent years holding the de Blasio administration's feet to the fire over its repeated failures at NYCHA, while consistently calling for more state and federal funding. As a member of the House, he is now among those who hold the authority's purse strings after he was appointed to the House Committee on Financial Services, which includes public housing within its purview.
In an interview with Gotham Gazette, Torres acknowledged that NYCHA has a tough path ahead. The authority is dealing with multiple crises and while de Blasio's administration brought its operating finances into far better shape, much of its capital costs remain unresolved. The mayor and NYCHA leadership have sought other avenues for funding through the NYCHA 2.0 plan, which would implement about $24 billion worth of repairs over ten years. But in that slow-moving plan are measures that have proved controversial including the sale of air rights, allowing private development on NYCHA-owned land through the infill program, and converting properties to private management through the federal Rental Assistance Demonstration program (RAD).
Torres insists, however, that the best solution is more federal funding. Currently NYCHA only receives about $1.5 billion every year, a drop in the bucket compared to its needs. Just last week, according to a Brooklyn Paper report, Democratic U.S. Rep. Nydia Velázquez introduced the Public Housing Emergency Response Act to provide $70 billion for public housing nationwide, including $32 billion for NYCHA alone. But, while Torres also said that the federal government should not "micromanage" the agency, he believes any additional assistance should come with adequate oversight so that the mistakes of the past are not repeated.
This interview has been edited and condensed for clarity.
GG: Congratulations on being sworn in. Glad to see you're safe after the insurrection at the Capitol.
Rep. Torres: "It's been a much more eventful week that I had a plan for...I never thought that as a freshman member, my first order of business would be to defend democracy itself."
GG: I saw your account in the Daily News. My only question was, did you get a safety briefing when you were sworn in? An evacuation plan for such a situation?
Torres: "No...We're living in a dangerously unprecedented time for which the normal rules no longer apply."
GG: What do you think you can do for NYCHA now that you're in the lion's den so to speak?
Torres: "There are four exclusive committees in the United States Congress. Ways and Means, Appropriations, Energy and Commerce, and Financial Services, and for a freshman member to be appointed to an exclusive committee is a rare occurrence. I specifically sought to be a member of Financial Services so that I can continue the advocacy for public housing that I began in the City Council. For me, the New York City Housing Authority is a singular institution in the life of America. It is the largest provider of affordable housing in the country...If NYCHA were a city unto itself, it would be the largest city of low-income Black and brown Americans in the United States. But the federal government has so systematically starved public housing of funding in New York City, that it has $40 billion worth of capital needs. So for me the highest priority is to ensure that NYCHA gets its fair share of federal funding, that it gets enough federal funding to address the humanitarian crisis. I spent seven years in the Council shining a spotlight on the humanitarian crisis in public housing. I'm now, as a congressman, I'm on a mission to secure funding to address the crisis. But for me, my goal is not simply to rebuild public housing in the same form. There's a historic opportunity to reinvent public housing as the greenest city in America. Imagine public housing with rooftop gardens, energy efficient retrofits, electric heating systems, rooftop solar panels. Public housing can become the gold standard of sustainable affordable housing in the United States. NYCHA can become the gold standard of sustainable affordable housing in the United States."
A spokesperson for Torres confirmed after this interview that he supports the Green New Deal for Public Housing Act, legislation that was introduced by U.S. Rep. Alexandria Ocasio-Cortez of New York and Vermont Senator Bernie Sanders. The bill would invest about $172 billion over ten years to retrofit more than 1.2 million units of public housing to make them energy efficient. Torres spokesperson said in a statement, "The Congressman looks forward to signing on the legislation once it is reintroduced in this session of Congress."
GG: This will require billions and billions of dollars. Do you think the federal government will provide more than the $1.5 billion or so it does every year?
Torres: "I do because all the stars are aligned politically. We have the makings of an FDR moment: a Democratic presidency, a Democratic House, and a Democratic Senate. And there are going to be opportunities to make massive investments in public housing, in NYCHA, through both a future stimulus package and a future infrastructure package. There's a widespread recognition in Congress that housing is infrastructure and that housing is a human right. So that newfound appreciation for housing, I think works to the advantage of NYCHA, more funding for NYCHA."
GG: If the federal government provides funding, is that going to obviate the need for NYCHA infill or the RAD program? Do you think all of that is still necessary? Is it going to work in concert?
Torres: "It's up to the city to decide here. I'm not here to micromanage what the city should do. There is a value in creating affordable housing apart from the revenue it generates. But there's no substitute for federal reinvestment in public housing. It is a moral imperative. It's an existential imperative for not only NYCHA, but the City of New York. NYCHA is the core safety net of deeply affordable housing in the city of New York."
GG: Talking about RAD, do you agree with the de Blasio administration's request to give over two-thirds of NYCHA stock to private management? [NYCHA Chair Greg Russ made that request to the state Legislature in December, estimating that it could help raise $25 billion for repairs]
Torres: "Historically, I've been supportive of RAD because I saw it as the best tool for securing billions of dollars in federal funding for NYCHA housing. But with a Democratic Senate and a Democratic House and a Democratic president, we're going to be in a position to directly fund public housing in the traditional form in which it exists. But I'm open to exploring reforms that can ensure public ownership in the context of RAD...It's something I'm thinking through at the moment."
GG: What about infill and the sale of air rights?
Torres: "I think the federal government has to be careful not to micromanage local and state governments. Our overriding role is to provide federal funding to state and local governments, which are on the front lines of administering public services."
GG: Do you generally agree or disagree with the infill program? There's some criticism that it's going to privatize public property?
Torres: "It depends on the context. If you're creating 400 units of affordable housing on public housing land, am I going to oppose? No. If you're creating luxury towers on public housing land, I would have concerns. If you're creating affordable housing on public housing land, then that seems to advance the social good."
GG: Considering the years of not just underfunding, but also rife mismanagement at NYCHA, do you think there need to be additional controls?
Torres: "Yes, of course. NYCHA needs more money and better management. But my singular focus is on more money."
GG: Something like the federal monitor? Do you think there needs to be permanent oversight?
Torres: "Everything's on the table. I'm a policymaker so I'm going to take a hard look at both, not only funding but the management of public housing, of course.
GG: Do you have any legislation in the works already?
Torres: "We do but I never share them in advance."
GG: What's your first priority?
Torres: "My highest priority is affordable housing. I would not be where I am today but for affordable housing and the stability it gave me and my family…For me, affordable housing is more than brick and mortar, it's the foundation on which you build a better life for yourself and your family. So I'm a huge proponent of the Section 8 program. Housing is a human right and Section 8 is the best tool for implementing housing as a human right...Every American in need should have access to a Section 8 voucher, which ensures that you pay no more than 30% of your income toward your rent."
GG: President-elect Biden has promised to vastly expand Section 8.
Torres: "We're gonna be on the same page when it comes to Section 8 expansion...Section 8 is a uniquely powerful tool for bringing deeply affordable housing to families in need. In addition to housing, I'm on a mission to put more money in the pockets of families struggling during COVID-19: expanding the child tax credit, the earned income tax credit, providing hazard pay to essential workers, sending a stimulus check of $2,000 a month. I have a particular passion for the child tax credit. The structure of the child tax credit is so regressive that it leaves behind a third of American families, the poorest families in America. And in the South Bronx, two-thirds of American families are excluded from the full benefit of the child tax credit. So if we were to extend the child tax credit to the poorest families, then families in the South Bronx and elsewhere in the city would receive up to $300 per child every single month. Research has shown that extending the child tax credit would cut child poverty by 40% in the span of a single year...We should send a message that where you live, your zip code, should be no barrier to how far you can go in America."
GG: Can New York City, can New York State, can America build more public housing? And will it? Shouldn't there be more NYCHA developments built in the city?
Torres: "We certainly should build more deeply affordable housing. We have to see to it that the housing we create is deeply affordable to the poorest Americans, the poorest New Yorkers. So that to me should be where the focus is, creating deeply affordable housing; deeply, permanently affordable housing. Should NYCHA run the housing? I think the priority should be to create deeply and permanently affordable housing regardless of whether it's publicly or privately operated."
GG: We haven't talked about lead.
Torres: "The consent decree by the settlement is an unfunded mandate. The federal government mandates $3 billion worth of lead abatement in public housing without fully funding it."
GG: So you're saying the city's hobbled by that?
Torres: "Yeah. What's the value of a mandate without funding? Especially in a time of fiscal crisis, when New York City is teetering on the brink. So we have to hold the federal government accountable for funding the mandates that it imposes on public housing authorities, especially on an issue as critical as lead abatement."
GG: Do you think some of this lets the state off the hook? That they haven't done enough to fund NYCHA either?
Torres: "It's a federal mandate. The federal government should fund federal mandates, especially when the price tag is $3 billion. Only the federal government can run a deficit and only the federal government has the resources to fund $3 billion worth of lead abatement."
GG: Do you think the state should be offering up more money either way?
Torres: "Of course. There should be more funding for NYCHA at every level of government, but at the moment, the only level of government that has money is the federal government."
GG: Who do you think should be the next mayor of New York City?
Torres: "I will make a decision. So stay tuned."
GG: I'm sure if you do, one of the things you'll be urging them to do is pay attention to public housing.
Torres: "No question about it. Yes...The next mayor has to center public housing. Much more so [than de Blasio]."
GG: If you had to give the mayor a grade on public housing?
Torres: "You know the answer to that question. You've seen my hearings. You know the answer to that question. It's a mischievous question to ask."
Note - this article has been updated with a reference to legislation introduced by U.S. Rep. Nydia Velazquez.
Note - this article has been updated to clarify that Torres supports the Green New Deal for Public Housing Act.