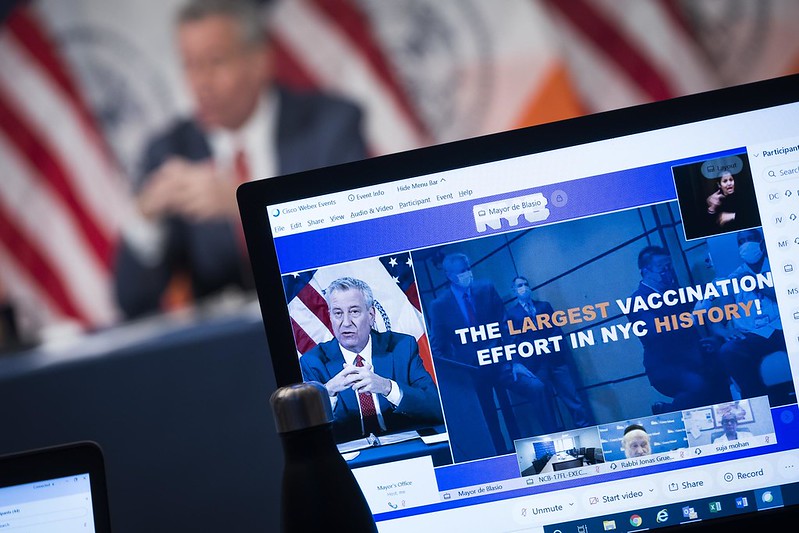 Mayor de Blasio vaccine promises (photo: Ed Reed/Mayoral Photography Office)
---
Three weeks after New York City received its first batch of COVID-19 vaccines, and more than five weeks after officials knew when they were coming, only a third of the half-million doses had been dolled out, raising questions about why the city wasn't more prepared to step into "the light at the end of the tunnel."
That has been a favorite phrase of Mayor Bill de Blasio since he signaled the city was on the verge of receiving the life-saving, pandemic-ending treatment over a month ago. But in the weeks since, the roll-out has been plagued by limited access to the vaccine and limited buy-in from the first groups eligible to take it. The situation has led to the latest round of blame and bickering between de Blasio and Governor Andrew Cuomo, fellow Democrats who are notorious for their public disagreements.
Since December 14, the city has received roughly 487,000 doses of covid vaccines developed by the pharmaceutical companies Pfizer and Maderna, of which about 150,000 (31%) have been injected into willing participants as of the end of the day Wednesday, according to the city's online dashboard. Included in the first phase of vaccinations are hospital and urgent care workers, EMTs, and nursing home residents and staff. The universe of eligibility was recently expanded beyond those groups by the governor, who is keeping tight control on distribution. In total the groups number an estimated 2 million statewide, with 917,000 in New York City.
The mayor has offered a wide range of excuses for the rocky start with a fair share of finger-pointing to higher powers at the state and federal levels, some of which appears legitimate but seems to have come too late to improve the first phase of vaccine distribution. His other explanations are vague and conflict with statements he and the city's top public health officials made weeks earlier about how well-prepared the city would be.
"We understand that in the first few weeks there was tremendous caution and care about making sure people understood how to use the vaccine, the refrigeration issues," de Blasio said on Monday, January 4, after a holiday weekend when fewer than 7,000 doses were administered across the five boroughs despite the hundreds of thousands of doses in stock. "There was a lot of care to make sure things were done right and safely to make sure that we saw good responses from the folks who were vaccinated," the mayor said, without providing specifics.
While the state dictates the parameters of eligibility and closely controls vaccine distribution, the New York City Department of Health and Mental Hygiene is responsible for coordinating citywide vaccine delivery. It does it through the city's very loose network of public and private hospitals, which have facilities equipped to store the sensitive new treatment, and through over 100 hubs scattered throughout the five boroughs. Generally, hospital employees will receive vaccinations at their place of work, while unaffiliated healthcare workers -- roughly 50,000 of them -- may visit one of the hubs, as well as the public hospitals, run by New York City Health + Hospitals, according to a spokesperson for the mayor.
On Wednesday, following criticism that many providers were not offering the vaccine on nights, weekends, and holidays, de Blasio announced two 24/7 vaccination sites would be opened in the Bronx and Brooklyn by Sunday. The mayor said new online and phone sign-up systems were in development but not yet operational. The day before, his press secretary, Bill Neidhardt, said the administration was scouting city-owned property in all five boroughs to house "mass vaccination sites," as part of a new goal set by the mayor to administer 1 million doses by the end of January.
In a December 9 press release, the administration indicated some of that work was already underway: "The Health Department is prepared to stand up and operate temporary sites for additional capacity to supplement hospital vaccinations," the mayor's office stated. "The City is additionally prepared to launch sites citywide in coordination with emergency response partner agencies to offer vaccinations, ensuring access and availability citywide."
Both the Pfizer and Moderna covid innoculations require two doses administered weeks apart and both must be kept refrigerated, though the Pfizer vaccine, which the city received about a week before Moderna's, requires "ultracold storage" at temperatures close to negative 80 degrees Celsius.
While after the first week New York City's vaccination rate was more than double the national rate, by week three, the city's public hospital network, Health + Hospitals, had only administered a third of its doses, falling into the bottom 10% of hospitals statewide, according to state data.
"There are no holidays. There are no nights. There are no weekends going forward. Everything has to be on a 24/7 basis," de Blasio told reporters on Tuesday when asked about the particularly low figures around New Year's Day, when just 147 doses were administered. "Going forward everyone's getting a clear message from me and I'm responsible."
De Blasio has largely attempted to focus press and public attention on his 1 million-dose January goal and calls for Governor Andrew Cuomo to loosen state rules around which categories of people are eligible to be vaccinated. He acknowledged the city's rollout "should have been better on January 1," but otherwise has taken limited responsibility for the slow pace.
Despite the mayor's recent claims about refrigeration concerns, in early December — before the first doses had arrived — his health commissioner and Health + Hospitals system leadership assured city lawmakers that all but one of New York City's 55 hospitals had access to ultracold storage.
"New York City Health + Hospitals has been preparing for quite some time over the past several months in anticipation of receipt of the vaccine of which we are incredibly excited," said Dr. Andrew Wallick, Health + Hospitals' ambulatory care chief medical officer, in testimony before the City Council's committees on hospitals and health in a joint oversight hearing on December 4. "We have outfitted each of our 11 acute facilities with ultracold storage...We plan to follow our flu vaccine model where we will have a centralized hub, if you will, at each of our 11 acute facilities."
A few days later, New York City Health Commissioner Dave Choksi confirmed that 44 hospitals citywide had ultracold storage in-house and ten others had access to the vaccine through those storage facilities. As of December 9, five days before the first vaccine doses arrived in New York, only one hospital in New York City did not have access to an ultracold facility, Choksi indicated at a press briefing with the mayor.
The mayor's repeated statements that the city's slow pace was in part based on the need to ensure the vaccine had no major negative side effects flies in the face of repeated city assurances, throughout December, that the vaccine was safe -- assertions made based on federal approval of the vaccines and the advice of top city health advisors. "Leading scientists have confirmed that it is a very good vaccine in terms of safety and ability to protect against COVID-19 illness," Choksi said on December 14, the day of the first inoculation in New York City and the United States, while with the mayor. "I, myself, have poured over the studies, including what was released last week."
Even as some have joined de Blasio's calls for Cuomo to open up more eligibility for the vaccine, there has been widespread criticism of the de Blasio administration's vaccination efforts from Cuomo, members of the City Council, and others.
"Vaccination in New York City is basically only occurring during regular business hours," City Council Member Mark Levine, chair of the Council health committee, tweeted on January 3. "Very little on weekends. Almost none on holidays. We are in a war-like situation. We need to be vaccinating TWENTY FOUR-SEVEN. We are losing precious time."
"Vaccinating as many New Yorkers as quickly as possible is job number one right now but the pace of vaccinations so far is unacceptable, despite what the administration told the Council in December about being prepared," said City Council Communications Director Jennifer Fermino, in a statement to Gotham Gazette. "We are holding a hearing on this critical issue to determine if the city is doing everything in its power to vaccinate people efficiently and to find out what needs to be done to pick up the pace." The Council has scheduled its second joint oversight hearing focused on the vaccine rollout for January 12.
On Monday, de Blasio again said the city's slow start was the result of deliberate care and caution, which he said was necessary to build public trust in the new vaccine. "The issues were addressed, the refrigeration was handled properly. The vaccine was handled properly. Those who got the vaccine had a good experience. Almost no instance of a negative reaction. That has allowed trust to build," he told reporters during a press briefing.
"That's allowed people to see and feel comfortable in the vaccine. Getting it right in the first few weeks was the trendsetter," he added. The mayor says the city will now aim to provide 100,000 more doses by the end of the week, ramping up to 400,000 doses per week by the second half of January.
But rapid roll-out had been the name of the game for de Blasio, Choksi, and others in the days leading up to the first doses' arrival. "Remember the vaccine shipments are going to be coming in weekly. So, we're going to be quickly able to get more and more. But we have to get going right away," de Blasio said December 3. "The important thing is to work through each category of people, but move it fast and then go on to the next priority category," he said a week later.
Early on, health officials did warn the effort could take some time to ramp up. "The initial week to two weeks we will see [a] more limited number of doses and there will be a plan with respect to exactly how those will be allocated," Choksi said on December 3. "But as the supply increases we expect within a few short weeks that we would be able to cover everyone that is in that top priority group."
Vaccine eligibility is controlled by the state based on guidance from the federal Centers for Disease Control (CDC) and consultation with New York City. Under the direction of Governor Cuomo, the first tranche of vaccines has been reserved for healthcare workers with direct patient contact. The doses have been shipped to hospitals where many of those people work. State officials estimate roughly 2 million people fall into the first phase of eligibility statewide, over 900,000 of whom are in the city, meaning there are more eligible recipients than doses in the initial shipments. Officials have recognized the possibility of roughly 20-30% of those eligible may initially decide not to take the vaccine.
Residents and staff in nursing homes are also part of the first phase and have been receiving vaccines through a federal public-private partnership program with pharmacies, which too has been saddled with delays.
New York City's slow roll-out mirrors the state and nationwide trends to varying degrees. Governor Cuomo has been criticized for taking the mass vaccination plan out of the hands of counties, which have been preparing for such an event for over a decade (at least since the H1N1 outbreak in 2009), and for keeping the initial group of eligible people too limited. In turn, Cuomo has blamed the management of local leaders, like de Blasio, and hospital administrators. This week he outlined penalties for hospitals that don't immediately use their allotted doses, including fines and blacklisting from future shipments, while also imposing even steeper fines and threatening criminal charges to those who knowingly break the priority distribution protocols.
De Blasio and public health officials say they are limited by the discretion of the priority populations, many of whom could take the vaccine but have not yet opted to. The mayor this week called on Cuomo to expand eligibility to other groups -- as demand in the broader population certainly outpaces the current supply of vaccines in a state of roughly 19.5 million -- particularly to all first-responders and people 75 years of age and older.
Yet in December, de Blasio appeared to brush off the possibility that the city's inoculation rate could be slowed or halted by low buy-in from the public. "I don't think we're going to have a leftover problem. I think we can say that. I think there's going to be honestly tremendous need, tremendous interest and speed of execution," he said on December 3.
This seemed to fly in the face of the city's own polling, which in October indicated that only 53% of New Yorkers would be willing to take the vaccine, according to Dr. Jane Zucker, who leads the city health department's Bureau of Immunization, in her testimony at the December 4 City Council oversight hearing. Twenty percent said they would be unwilling to take the vaccine and 27% said they were unsure, she said.
"There is such a contingency plan," Choksi said at the mayor's press briefing the day before. Through the citywide immunization registry "we'll be monitoring in real time exactly how doses are being distributed as well as the actual uptake of the vaccine. So for finding that there are places that are not able to use their initial allotments, we can shift around demand and then also shift around subsequent supply of the vaccine for future weeks. So that is an integral part of our planning for both the initial phases, as well as beyond that."
On Wednesday of this week, de Blasio announced the city would open pre-registration for seniors who will be eligible in the next phase of vaccination.
"I am pleased that the Mayor has now announced they will begin pre-registering seniors shortly, but I remain troubled that the City did not plan for this earlier," said Comptroller Scott Stringer, who made a similar proposal Tuesday, in a statement on Wednesday. "We can't reopen our economy or get people back to work without widespread vaccination. Lives and livelihoods are at stake."
"We're all anxious to get the vaccination to 1B, 75 year old New Yorkers, and essential workers," wrote Cuomo's communications director, Peter Ajemian, in a statement Thursday referring to the next phase of distribution (1A is the first). "However, we must establish competent administration because if a government fails to administer 1A vaccines, what makes anyone think they can competently administer 1B?"
Neidhardt, the mayor's press secretary, defended the city's work. "We've vaccinated tens of thousands of people," he wrote in a statement posted to Twitter. "We've set up over 125 hubs. Are we perfections? No. Are we going to let that get in the way of saving the lives of first responders and the elderly? That seems like a horrible argument to make."
For the city to meet the mayor's new goal of 1 million doses by the end of January, it will also need a steady supply of the vaccine. On Tuesday, de Blasio sent a letter to Vice President Mike Pence calling for a number of provisions, including increased production under the Defense Production Act and a fair share of doses coming to New York City, which is administering them to out-of-state residents who work in the five boroughs.
The letter also includes a request for technical assistance and financial support to providers and FDA approval to pre-fill syringes, indicating that the city's limited person-power is contributing to delays, despite assurances from Choksi a day earlier that the city had 13,000 untapped members of its Medical Reserve Corp ready to assist in vaccinations. Nevertheless, this week the city also put out inquiries for volunteers to help staff vaccination centers.
"If multiple doses could be drawn by the pharmacist and given to a nurse to administer ahead of time, the pace of vaccinations could increase, as would the savings of staff time," the letter reads.
"As we're announcing more and more sites, obviously we have to have a staffing plan to go with," de Blasio said Thursday.