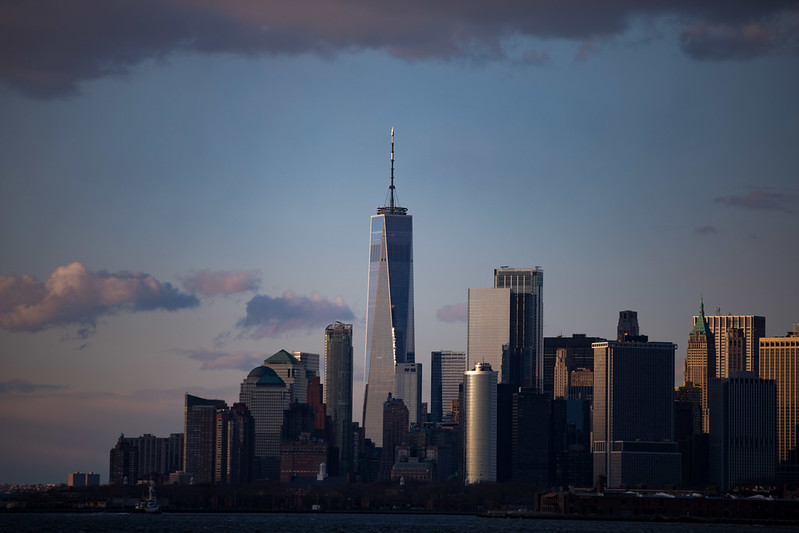 Lower Manhattan (photo: Benjamin Kanter/Mayor's Office)
---
The six Democratic candidates running for Manhattan Borough President in this year's election appeared Thursday night at a forum hosted by the West Side Democrats. The five Democratic candidates running for City Council District 6, based on the Upper West Side, also appeared before the club, following the borough president hopefuls. Both primaries are among those happening for all of city government in June and will feature the first full citywide round of ranked-choice voting, which applies to special and party primary elections.
Forum participants answered questions focused on a range of issues, including public and private housing, homelesssness, transit, land use and development, small businesses, the city's Open Streets program, concern over federal aid, and more.
Candidates vying to succeed term-limited Gale Brewer for Manhattan Borough President include Lindsey Boylan, former deputy secretary for economic development and housing in Governor Andrew Cuomo's administration; Kimberly Watkins, president of Community Education Council 3 in Harlem; City Council Member Mark Levine of District 7; Elizabeth Caputo, former chair of Manhattan's Community Board 7 on the Upper West Side; State Senator Brad Hoylman of District 27; and City Council Member Ben Kallos of District 5.
Participating candidates appeared consecutively and were given three minutes to introduce themselves, then six minutes to answer questions pre-submitted by West Side Democratic Club members. The candidates were asked mostly the same set of questions during the forum, which was moderated by club members Pablo Zevallos and Rachel Landis.
In his opening remarks, West Side Democratic President Richard Oppenheimer reflected on Wednesday's attempted insurrection at the U.S. Capitol, calling it "a moment of darkness and light" for democracy. Most of the candidates commented on the riot, as well, agreeing that peaceful transfers of power at all levels of government are necessary components of a healthy democracy.
Lindsey Boylan
"I came to New York, interested in urban planning, wanting to be the next Jane Jacobs and think about how to make cities work for people," said Boylan, discussing her decision to run for borough president. For Boylan, equitable urban planning has never been more important than it is now in the midst of a pandemic that has devastated the city's local economy on top of all the challenges the city already faced.
"The borough president's job is all about how to use all the tools at our disposal to make this borough, and as a result the city, more equitable, livable, and sustainable. I've been doing that my whole career," said Boylan, noting two decades of experience managing public spaces, primarily the Bryant Park Corporation, 34th Street Partnership, and the Chelsea Improvement Company, as well as her more recent position in the Cuomo administration. Boylan left that position in 2018 and recently accused the governor of having sexually harassed her repeatedly, a charge he denied.
In 2020, Boylan ran an unsuccessful Democratic primary challenge to Rep. Jerry Nadler.
At the forum, Boylan criticized Mayor Bill de Blasio's Mandatory Inclusionary Housing program for its failure to address the city's critical need for affordable housing via "luxury bonuses." When asked about single-room occupancy housing, Boylan said, "This is a critical way that people live in the city. And we're not offering any alternatives." She referenced recent housing lotteries in which applications far exceeded the number of available units as evidence of the city's need for "deeply affordable housing."
Boylan also expressed her disapproval of "large-scale luxury redevelopments" and "piecemeal development of public spaces and green spaces." When asked about Speaker Corey Johnson's recently-introduced comprehensive planning legislation, Boylan was cautiously supportive, saying, "I do think we need comprehensive planning…I'm still exploring whether or not I think this is the right avenue for it."
Kimberly Watkins
Watkins, a local parent education leader, pitched herself as "the schools candidate," touting a five-point plan that will address the biggest issues facing the public school system, "starting with the abolishment of mayoral control" of city schools.
Watkins said that her "people-centered platform" is focused on solving "the funding and resource issues for schools," as well as the overlap between public education and other major sectors like affordable housing and the jobs market.
On affordable housing, Watkins expressed support for single-room occupancy housing, saying, "I think they're great. We need more innovation in terms of increasing home ownership." Watkins voiced criticism of the Obama-era program called Rental Assistance Demonstration (RAD) in which NYCHA privatizes building management of its properties while maintaining ownership and bringing in new revenue. "I also want to fight RAD, figure out a way to improve public housing without privatizing it," she said.
When asked about comprehensive planning legislation, Watkins voiced support for the concept, saying, "I really think getting behind the idea of broader planning is a positive thing for our city," although she did not endorse Johnson's proposal in specific terms. Watkins added, "What I would like to see us do more of is have the conversation sort of expand out from the individual community board, to neighboring boards, or potentially even the full borough."
Mark Levine
"I'm running for [borough] president to fight on behalf of the west side, this borough, and the city. It's a fight that I've been engaged in my entire adult life," said Levine, who represents a district including parts of Washington Heights, West Harlem, and the Upper West Side. A former teacher who is now the chair of the Council's health committee, Levine touted his success as a non-profit founder of a community credit union, which resulted in "$25 million in micro loans to low-income families." He also cited his first-term work as chair of the City Council's parks committee, in which he "fought to deliver millions of dollars to green space," as an example of his qualifications.
He praised Morningside Heights, one of the neighborhoods in his district, for working with him to develop community-driven planning. In the wake of heated debates over development that played out all over the city this past year, and are ongoing, Levine voiced steadfast support for comprehensive planning, promising that "if it doesn't happen city-wide, then I'm going to push it as a borough-wide, comprehensive plan." On urban planning overall, Levine said he believes in "balanced development, which protects the integrity of neighborhoods, but prioritizes creating more affordable housing."
Levine highlighted improving transportation as a key aspect of his policy platform. Noting that the ridership of buses tends to include lower-income people, seniors, people of color, and those with disabilities, he said, "I'm a huge advocate of investing energy and resources into buses to speed them up. I think that's probably the biggest bang for the buck." One of his goals is to see every bus line outfitted with transit signal priority (TSP) technology, which turns lights green when a bus approaches a given intersection and "shaves 21% off the travel time," he said. Levine also said he has plans to push a bill to create free bus fare in New York City, saying this will "boost ridership and get people on mass transit" post-pandemic.
When asked about the pandemic-era Open Street program, Levine said, "It's a policy that should remain." He also voiced support for a vacancy tax on property owners in hopes of lowering rents and reviving the small business sector.
Elizabeth Caputo
Caputo, citing her experience as the longest serving chair of Community Board 7 in Manhattan and other leadership roles she's held, said, "I'm running because we need strong innovative leadership right now." She went on to criticize "career politicians," pitching herself as a "bridge-builder."
When asked how she would improve garbage collection in the city, Caputo told the West Side Democrats that "composting and equity, how trash and sanitation gets built in those neighborhoods, would be a huge priority of mine as borough president." She cited her work creating a task force to provide services and support to NYCHA residents, including sanitation, as an example.
Caputo said that one of her chief priorities as borough president would be improving transportation through increased Select Bus Service. "I work every day working on safer, cleaner, greener, and more equitable forms of transportation all over the world," Caputo said, referring to her full-time position at World Economic Forum, where she runs its U.S. government engagement. Caputo called for more Select Bus Service and promised, "Mass transit is the greatest equalizer of our city, and I'm going to be the candidate that brings it back and makes it equitable for everyone."
When asked about the crisis over the more than 200 men sheltering at The Lucerne Hotel on the Upper West Side, Caputo said, "I'm the only candidate who has actually represented this district for the last 10 years, where we have had a quality of life and homelessness crisis for a very long time."
"Those men and those people who have lived in Lucerne have a right to stay there," she said.
Caputo also voiced her support for the Open Streets program, citing her track record as a transportation and safe street advocate in securing bike lanes for both Amsterdam Avenue and Columbus Avenue, as well as bringing Citi Bike to the neighborhood.
Brad Hoylman
"I've been proud to sponsor some of the most consequential legislation in Albany over the last few years with our new Democratic supermajority," said Hoylman, the only openly LGBTQ candidate in the race for borough president, and until this year the only openly LGBTQ state senator in New York. He went on to cite his work as a state senator, including the Child's Victim Act, which allowed child sexual abuse victims to pursue charges against their abusers going back decades, and a number of other bills.
"I have a record of getting things done in Albany," Hoylman told attendees before highlighting small businesses, public spaces, affordable housing, revitalizing the arts, and economic equity as key aspects of his platform in the borough president race.
On revitalizing small businesses that have taken a severe economic hit during the pandemic, Hoylman said he has sponsored legislation called "Save Our Storefronts" that "would allow tenants to pay a percentage of their revenue to their landlord with support from the state of New York to make up the difference." Hoylman continued, "I piloted that at Grand Central Station, where we saved a number of small businesses that couldn't pay rent." He complimented outgoing Borough President Gale Brewer for her "landmark legislation" regulating retail zoning on the Upper West Side, which his new legislation expands upon.
"We certainly need to get rid of the commercial rent tax below 92nd Street, at least during the pandemic," he added.
Hoylman also adamantly opposed the idea of moving the current residents out of the Lucerne Hotel, saying, "We cannot move New Yorkers like they are chattel."
"It certainly has a lot of merit," said the state senator when asked if he supported comprehensive planning legislation, championed by Council Speaker Johnson, who represents an overlapping district with Hoylman. "Community-based planning is really the heart of the borough president. I'd like to replicate and actually have every community board, should they choose, institute a 197-a community based planning process. There is no more important time than now to get planning right. We risk either becoming a burnt-out shell from the 1970s or Disneyland for the super rich."
Ben Kallos
City Council Member Kallos represents parts of the Upper East Side, Midtown, El Barrio, and Roosevelt Island and is the co-chair of the Council's Progressive Caucus. He's been known for a focus on campaign finance reform, among other issues, during his two terms in the Council.
At the forum, Kallos said his firsthand experience with a variety of challenges, from the stigma associated with food assistance programs to the affordable housing crisis exacerbated by sudden rent hikes, have influenced his progressive policies and focus on trying to solve problems through legislation, citing his several laws and resolutions on campaign finance reform as examples.
Noting that he has refused money from developers, corporations, and lobbyists since his initial bid for City Council in 2013, Kallos said that as borough president, he will "prioritize a worker-led recovery."
On housing, Kallos criticized Mayor Bill de Blasio for failing to build affordable housing in his district on the Upper East Side. "All the affordable housing initiatives that have happened in my district, I've had to do working with everyone but this administration," Kallos said, touting 1,000 new units of affordable housing during his Council tenure. That is why he's been a long-time supporter of legislation for comprehensive city planning, he said. A bill to mandate such planning was recently introduced to the Council by Speaker Corey Johnson and other members.
According to Kallos, solving the city's homelessness crisis has been one of his chief goals since he was elected to public office. He co-founded the East Side Taskforce for Homeless Outreach and Services (ETHOS) in 2016 with Borough President Brewer, which connects city agencies with non-profits and faith-based centers providing services to the unhoused and to build new supporting housing on the Upper East Side. "They're going to the same school my daughter will go to, and that's a city I want to live in," he said of children who have received housing support via this taskforce. Kallos also expressed support for getting unhoused people out of shelters and into hotels, explaining that when a hotel the size of The Lucerne (the west side hotel that has been the focus of controversy over its housing homeless men offered departure from group shelters during the outbreak) in his district opened to homeless people, he greeted them "with open arms," adding "they are still there, and they can stay there forever." He also wants to go a step further, citing an opinion piece he co-authored arguing that the city should buy and lease the 10,000 vacant apartments in the city to unhoused people.
"This is personal for me," said Kallos, who said he heavily relies on public transportation and biking to get around the city, when asked if he saw more opportunities for Select Bus Service on the Upper West Side. According to Kallos, he "created a new technology system" that uses "bus time transponders to track every single bus in the system" and leverage traffic improvements.
Kallos said he is the only candidate in the race who has ever led a community-based rezoning, citing work to stop development of super-tall buildings in the Sutton Place neighborhood. Kallos voiced his support for a resident-led rezoning proposal in Morningside Heights, focused between 110th and 125th Streets, that would reduce density along the side streets and increase density along the avenues, and create affordable housing as dictated by Mandatory Inclusionary Housing. "You better believe that if I'm the next borough president, we will get this rezoning done," he said.
Kallos also emphasized that he's "the only candidate in this race who voted to defund the police," referring to his vote against the current city budget, which he and several other members who voted in opposition said didn't go far enough to reduce NYPD spending, while several others voted against it because they felt it went too far.