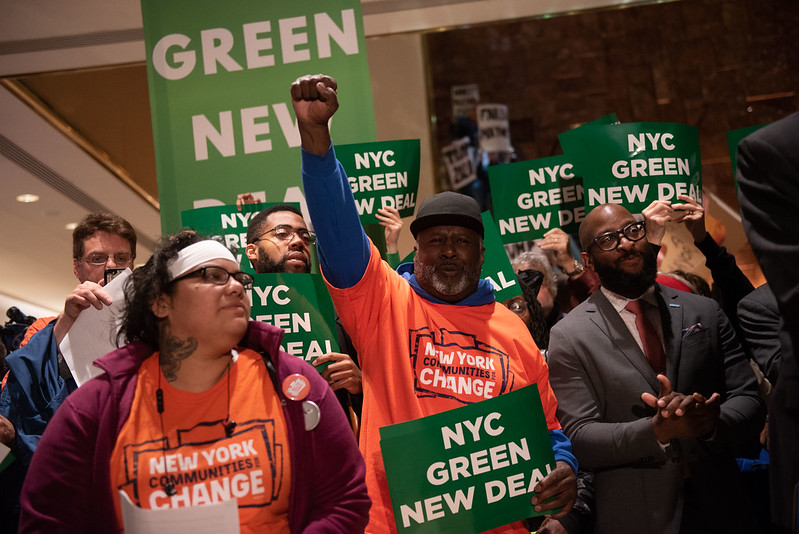 An NYC Green New Deal event (photo: Michael Appleton/Mayor's Office)
---
A coalition of climate-conscious groups is calling on candidates running for citywide and City Council positions in this year's full slate of city government elections to sign a pledge to create a Green New Deal for New York City, with specific policy proposals.
The pledge asks that candidates who sign both advocate and vote for Green New Deal policies at the city level. The recommended policies aim to end fossil fuel infrastructure, create more green jobs by upgrading buildings' systems, and grow environmentally-friendly transit options. The organizations behind the pledge — Sunrise NYC, New York Communities for Change, and Food & Water Action — are seeking to ensure a groundswell of support for those policies and publicize candidates' positions on environmental policies.
"The Green New Deal must be a priority for any contender serious about becoming the next mayor of New York City," said Matthew Miles Goodrich, a member of Sunrise NYC, in a recent announcement. "This pledge makes clear that candidates cannot simply pay lip service to the threat of the climate crisis, but must champion legislation, enforcement, and financing of Green New Deal policies to bring the City into the 21st Century. New Yorkers deserve good, green jobs now."
In the 2021 mayoral race, several candidates -- Shaun Donovan, Kathryn Garcia, and Scott Stringer -- have released climate- and resiliency-focused plans as their first detailed policy proposals.
New York City government has taken several steps in recent years to combat climate change and create a more resilient city, but efforts have been too slow, many activists argue, and a number of resiliency projects promised after 2012's Superstorm Sandy or since have barely begun or have not been started at all.
In 2016, New York City emitted 52.0 million metric tons of carbon dioxide, with buildings responsible for 71% of these emissions, leading the City Council and Mayor Bill de Blasio to sign the Climate Mobilization Act in 2019. The act sets limits on greenhouse gas emissions for an array of building types with the goal of reducing emissions 40% by 2030. It has been called the main plank of a New York City Green New Deal by de Blasio and others, but the groups behind the new pledge want much more done, and as quickly as possible, in order for the city to really lay claim to its own Green New Deal combining job-creation, reducing emissions, and creating a more resilient city.
The organizations are still planning to push the term-limited de Blasio and the current Council for immediate action throughout 2021, they say.
In order to further curb emissions, improve air quality, and create more jobs, the pledge calls for policies including paying to replace all gas stoves from public and rent-regulated housing and implementing composting citywide.
In creating new eco-friendly jobs, the advocates intend to combat inequality in the city by prioritizing hiring from low-income communities of color and maximizing union jobs with high labor standards.
Additionally, the policy proposals call for massively expanding bus service in underrepresented communities and advocating for the federal government to subsidize low-income car-dependent vehicle owners to purchase electric, environmentally-friendly cars through a "cash for clunkers" program that they want the federal government to subsidize.
The pledge also calls for supporting environmentally-conscious transportation by increasing city funding for mass transit and electrifying the city's vehicles and MTA busses.
To curb reliance on fossil fuels in the city, the pledge calls on candidates to oppose all new gas infrastructure, including siting of new pipelines and power plants, support banning gas hook-ups in new developments and major renovations, and moving city government's electrical power purchasing to 100% renewable energy generated in New York State by developing publicly-owned wind and solar power and transmission into the city.
"New Yorkers need a climate plan that meets the scale of the crisis. Any genuine effort to combat climate change starts with an immediate halt to any and all proposed fossil fuel projects in the five boroughs," Alex Beauchamp, Northeast Region Director at Food & Water Action said in the announcement. "After years of slow, incremental change, it's time for a Green New Deal for New York City."