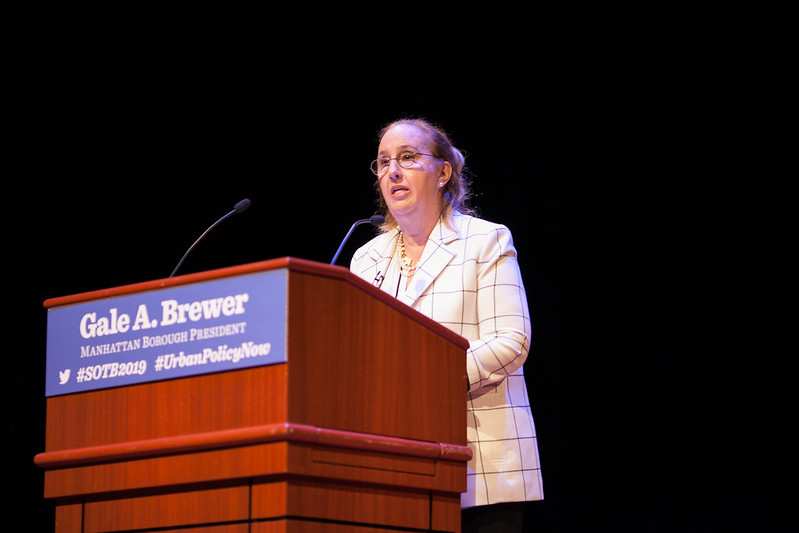 Gale Brewer (photo: Gale Brewer on flickr)
---
The five Democratic candidates running for City Council District 6, a seat based on Manhattan's Upper West Side, appeared Thursday night at a forum hosted by the West Side Democrats. The six Democratic candidates running for Manhattan Borough President in this year's election also appeared before the club. The primaries will be in June and will feature ranked-choice voting.
Forum participants answered questions focused on a range of issues, including public and private housing, homelesssness, transit, land use and development, small businesses, the city's Open Streets program, concern over federal aid, and more.
The five candidates for City Council District 6 are Gale Brewer, the term-limited Manhattan Borough President and former City Council District 6 representative seeking to retake that seat; Sara Lind, a member of Community Board 7 and an attorney; Jeffrey Omura, an actor, activist, and labor leader; Zack Weiner, a screenwriter, actor, and film producer; and David Gold, the executive director of a non-profit and a former litigator.
Gale Brewer
Brewer kicked off the District 6 portion of the forum with discussion of her 12-year experience on the City Council following the terrorist attacks of September 11, 2001, which she said prepared her to tackle the current coronavirus pandemic. "Between the zoning, small business, schools, all the issues of affordable housing, I think I can contribute with some knowledge, so we don't make mistakes of the past," Brewer said.
With 12 years in the City Council and eight years as Manhattan Borough President, Brewer is considered the candidate to beat in this race. There has been some grumbling about her desired return to the Council, though, in terms of it blocking the way for new leadership in the area to flourish.
Asked about helping small businesses crushed during the pandemic and generating tax revenue for the city, Brewer said her numbers-driven approach as a "data nerd" coupled with her goal of increased transparency for the city budget, including capital and expenses, will prove pivotal in setting policies to help the local economy. She listed a series of solutions, such as budget cuts, including removal of non-essential services, eradicating the commercial rent tax below 92nd Street, prioritizing "mom and pop" tenants via unspecified zoning regulation, and legislation that would create a database tracking empty properties.
"I have perhaps more land use experience than anybody I know," said Brewer, when asked about her view on City Council deference to the local member on land use proposals that need Council approval. Brewer did not directly answer the question on member deference, but went on to express her full support for City Council Speaker Corey Johnson's new comprehensive planning proposal, pointing to the inadequacy of 197-a plans as seen in Columbia University's expansion into West Harlem despite community protest. "That [community] board did a 197-a plan and Columbia University just rolled all over them," Brewer said.
"I have perhaps more land use experience than anyone I know," said Brewer, reflecting on her career. She highlighted a bill she spearheaded to create a city charter revision commission in 2018; while the charter commission generated modest reforms, she admitted it was a "disaster" on land use policy because "members appointed by the mayor were a hundred percent against [comprehensive planning]." She continued, "Comprehensive discussion planning is what's needed," again referring back to the new Council proposal, which the charter commission did not pick up at the time to present to voters on the ballot along with what it did advance.
Brewer described herself as a "strong advocate" for open space, which she called a "silver lining" of the pandemic in terms of enabling socially distanced outdoor activities, but that regulation of it is also in need of reform, referring to incidents where police officers unfairly enforced social distancing rules on the Upper West Side. She also said that she believes more streets should be closed off to vehicle traffic, and that she is a long-time supporter of bike lanes.
Asked if she would seek the City Council Speaker role if elected to her former seat, Brewer said, "The answer is I hope to get elected to the City Council, and then we'll see. I'm not ambitious to be the Speaker. I'm ambitious to get the work done."
Sara Lind
Lind, a former corporate and immigration attorney, as well as a community board member for District 7, has made housing a main focus area of her campaign for City Council. She said at the forum that she will pursue "bold action" to address the range of issues that COVID-19 has worsened, including the lack of affordable housing, homelessness, climate change, outdated transportation, and public education.
Citing her diverse professional experience, which includes working as a policy consultant for the CIA, a liaison to the 20th Precinct of the NYPD, and a member of the city-wide participatory budgeting committee, Lind said she has learned that "no neighborhood is immune from city-wide problems."
Lind discussed various strategies for achieving her vision, such as employing "creative zoning and pedestrian enhancements" along Broadway, "driving foot traffic to the street, which will create a thriving retail and arts and culture district."
"It is possible to end homelessness. We know this because other cities in the world have done it," Lind said. She spotlighted her housing plan as designed to achieve this goal, starting with moving away from the shelter system, which "perpetuates homelesnes" while costing "billions of dollars." As alternatives to the shelter system, Lind suggested "permanent affordable housing for everyone," "addiction and mental health treatment," and more broadly, rent-regulating some currently market-rate apartments to make the city affordable for everyday people. Lind has been vocal about boosting affordable housing in affluent neighborhoods to off-set burdens placed on low-income and communities of color and proposed to upzone portions of the 6th Council District so that more housing can be built.
When asked how she would raise revenue for the city, Lind said that she would prioritize investment in a Green New Deal. "If you put that investment into building new environmentally-friendly housing, updating our transportation systems, building out a sustainable, resilient city, you also create jobs, and that boosts the economy," she said. She also said that the city needs to reform its property tax system "so the wealthiest among us are paying their fair share."
Asked about the problem of idling police vehicles on pedestrian sidewalks, Lind said she would encourage the Department of Transportation to enforce traffic rules rather than having the police enforce themselves.
"I absolutely support a comprehensive planning process," Lind said when asked about City Council member deference, because "piecemail decisions" fail to "tackle problems at a city-wide level." Additionally, she said, "I think that everyone should, of course, listen to the member from the district because they know the district best," but added, "I would not always defer to members."
Jeffrey Omura
If elected, Omura would be the district's first openly gay City Council memebr, as well as the first Japanese-American to win elected office in New York State, he said. A self-described "artist, activist, and labor leader," Omura cited his experience as a union officer for the Actors' Equity Association, negotiating "record-breaking wage increases" and helping secure a "$15 billion indirect art relief found in the most recent federal relief package" as part of a coalition of organizers.
When asked how he would create revenue for the city in lieu of additional federal aid, Omura proposed a "multi-pronged approach," including sales tax on goods and services sold online, taxing digital advertising, which he pointed out has become a large and profitable business, and "legalizing and taxing marijuana." Omura suggested a tax on vacant luxury apartments and expressed tentative support for Municipal Assistance Corporation bonds; the MAC closed in 2008 after the $10 billion worth of bonds that were sold to keep the city afloat during the financial crisis of 1975 were paid off. Omura also said," We need to start taxing our ultra millionaires and our billionaires on their wealth."
Omura expressed concern about the survival of small businesses, saying "we need to make sure that they have access to PPP loans," in reference to the pandemic federal relief program. "We also need to avoid minimum rent provisions in mortgages," which prevent landlords from lowering rents, he said, and suggested incentivizing small business owners with "tax breaks to business owners who have three or fewer locations so that it can compete with large chain stores."
Omura spoke in favor of installing transit signal priority software at all intersections to reduce traffic and pollution and help buses move faster. Noting that car ownership has risen during the pandemic, he suggested creating a parking permit system that would prioritize parking for residents instead of commuters. He also said that he is in favor of expanding bike lanes and resdesigning streets such that pedestrian traffic is increased along commercial corridors.
On Council member deference, Omura said that he is supportive of comprehensive planning, saying, "we need to include the community in all of our planning processes." He added that his experience as a union leader qualifies him to galvanize community input in planning decisions.
Zach Weiner
Weiner, a screenwriter, actor, and film producer, said the most important issues facing the Upper West Side are homelessness and vacant storefronts, which he aims to solve via a "four-pronged plan."
Weiner struck an optimistic tone on the prospect of additional federal aid to the city, saying, "I'm really hopeful that the Democrats, now that they control the Senate, thank god, are going to be bailing us out and doing what they need to do and what should have been done nine months ago and provide relief to businesses that had no other options right now but to close."
But Weiner pointed out that many stores that were forced to close were struggling prior to the pandemic, which is why he is advocating for an initiative called "start-up retail," describing it as a "revenue-sharing agreement between entrepreneurs and landlords, where the entrepreneur will be able to pay for the utilities and pay 10% of their revenue to the landlord." The initiative would include short-term leases, which is a growing trend in the real estate industry, according to Weiner. This will reduce barriers to entry for aspiring entrepreneurs, he said.
David Gold
"I'm running because we're at a rare moment when there's not only a need for real change, but also a hunger for real change, and I think we need to think really big and really creatively about it," said Gold. A lifelong New Yorker who grew up on the Upper West Side, Gold told the West Side Democrats, "I share your values and I have the skills to fight for them."
Gold spotlighted two aspects of his policy platform: The first is called "democratic resource allocation," which would function similarly to participatory budgeting but on a larger scale, addressing systemic issues like the demise of local businesses and housing insecurity. The second involves pushing New York City as a leader of a nationwide movement to "remove the right wing bias from our federal election system, to get rid of the electoral college, and make Congress democratic."
When asked how he would generate revenue for the city in the absence of federal aid, Gold said, "It's exactly the anti-city federal election system that's preventing us from getting the aid that we need at a time to handle a crisis that's not of our own making. So, we need to change the federal election system in the meantime."
Gold added that his proposed democratic resource allocation could be applied to the issue of empty storefronts, characterizing it as a participatory system that would collect residents' views on which kinds of businesses should receive additional aid and which "have it too easy as it is." The results would take effect via the property tax system. According to Gold, "It would also be a way of saving scarce resources because it wouldn't actually require an increase in revenue to save businesses."