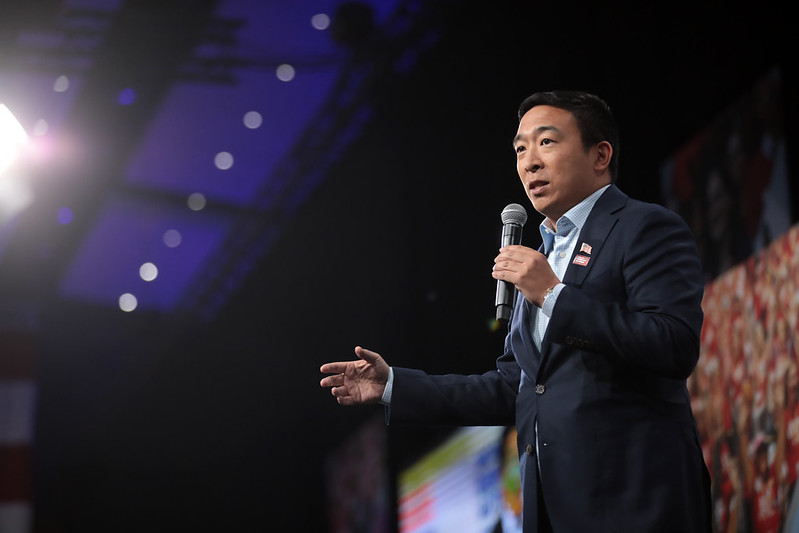 Andrew Yang on the presidential campaign trail (photo: Gage Skidmore)
---
Entrepreneur and former Democratic presidential candidate Andrew Yang announced that he is officially running for Mayor of New York City on Wednesday in a campaign video posted online. Yang followed the launch with a Thursday morning press conference in Upper Manhattan, after which he was slated to attend events in three other boroughs.
"New York City always felt like the center of the universe," Yang says in the video, which was directed by famed Hollywood filmmaker Darren Aronofsky. Yang appears with his wife, Evelyn, and two young children, interspersed with shots of him speaking with everyday New Yorkers, eating a slice of pizza, riding a skateboard, and playing a piano on the Coney Island boardwalk. Yang grew up in upstate New York, where he owns a home, and has lived in the city for 24 years, he says. "I came of age, fell in love, and became a father here," he says of the city.
Yang is joining a crowded and diverse field of Democratic candidates seeking the party's nomination to replace the term-limited Mayor Bill de Blasio. The primary -- likely to determine the city's next mayor given Democrats' massive voter enrollment advantage -- will feature two important firsts: it is happening in June and will feature ranked-choice voting.
Yang is running as an outsider candidate and has the advantage of broad name recognition, a large social media following, and the likely ability to raise massive amounts of funding for his campaign, as he displayed during his aborted presidential run. In the lead up to making it official Yang has all but acknowledged his plan to seek the mayoralty and created a lot of strong feelings about his run: excitement among supporters, trepidation among competitors, and many questions from the news media and other interested parties.
He's also had some bad initial headlines as he teased his mayoral bid. City & State reported that he hasn't voted in the past four mayoral elections. Then Politico New York found that he was among the wealthier New Yorkers who fled the city during the pandemic, temporarily relocating to his second home upstate. His defense of the move, in an interview with the New York Times, prompted widespread criticism that he was out of touch with the majority of working New Yorkers. "We live in a two-bedroom apartment in Manhattan. And so, like, can you imagine trying to have two kids on virtual school in a two-bedroom apartment, and then trying to do work yourself?" he said. He later explained that he made the move to help one of his sons, who is autistic.
Yang is attempting to quickly amend any negative initial impressions by relying on his significant base of supporters, his exuberant personality, and his signature universal basic income (UBI) proposal – which earned him popularity during the presidential race as he talked about lifting people out of poverty and combatting changes in the economy – but tailored for New York City. He will pitch the updated version of the idea, which he notes has been championed by Dr. Martin Luther King, Jr. and others in the past, in an announcement at Morningside Heights Park in Manhattan on Thursday morning, according to the campaign. Yang is also launching his campaign with several other eye-catching ideas: city control of the subways, a pledge to "name a civilian Commissioner of the NYPD," new specialized high schools with a revamped admissions process, and more.
Yang's UBI proposal, which he called the Freedom Dividend in the presidential campaign, originally entailed giving every American adult $1,000 each month with no strings attached. Running for mayor, he has tweaked that idea and is proposing to spend $1 billion annually to give the 500,000 New Yorkers who most need it an average of $2,000 and up to $5,000 each year. Undocumented immigrants and those with past criminal convictions would qualify, his proposal says.
In his launch, Yang also advanced a proposal for a "people's bank," which will automatically enroll those who receive the universal basic income. In the campaign video, newly-inaugurated U.S. Rep. Ritchie Torres from the Bronx praised the proposal. "Your advocacy for universal basic income is so critical," Torres said in conversation with Yang. "The surest way to end poverty is to put money in people's pockets. It's that simple." At the Thursday press conference, Yang revealed that Torres is serving as the co-chair of his campaign along with Martin Luther King III.
Queens Assemblymember Ron Kim, a progressive who strongly advocates for raising taxes on the wealthy and a larger social safety net, is also seen in the video with Yang. Kim is one leader of the city's large Asian population that Yang, who is the son of Taiwanese immigrants, may be able to excite about his mayoral campaign. The city has never elected an Asian person as mayor.
Yang will have a lot of work to do to catch up to the rest of the Democratic field, some of whom have been angling for City Hall for years, have far more experience with municipal government, have millions of dollars in the bank, and have been working in communities across the city during the emergency of the pandemic and years prior. They include Brooklyn Borough President Eric Adams, Comptroller Scott Stringer, City Council Member Carlos Menchaca, former counsel to the mayor Maya Wiley, former federal housing secretary Shaun Donovan, former nonprofit executive Dianne Morales, former sanitation commissioner Kathryn Garcia, former veterans services commissioner Loree Sutton, former Citigroup executive Ray McGuire, military veteran and entrepreneur Zach Iscol, and others.
But Yang is likely to roll out many ideas for the future of the city and have the strengths to make up any ground on campaign funding and familiarity with voters. The question will be whether he can convince enough of them to choose him to lead the city in the next phases of its recovery. That conversation will include Yang's resume, which includes his presidential bid, but also his work in start-ups, nonprofits, and leading a Manhattan test prep company where he found financial success. Other Yang ventures have sputtered, but he has found a large following talking about the struggles of everyday people, those struggling to find work and pay the bills, and those leery of a future economy more dependent on automation.
Though his launch video is brief, Yang did touch on a series of issues that are likely to be central to the mayoral race. He is seen with Kim at a restaurant, discussing the plight of small businesses that have shuttered because of the coronavirus, and pledged to help bring the local economy back. He spoke with two Black New Yorkers about the police killings of Breonna Taylor and George Floyd, which prompted months of protests in the city and reinvigorated police reform movement last year. He stressed the need for high-speed internet across the city, a lack of which has been one of the main obstacles to remote learning as schools closed during the pandemic. His wife prompts him to pursue smaller class sizes in part by hiring more teachers. Yang said he wants to "take back control of our subway," seemingly a reference to altering the structure of the Metropolitan Transportation Authority, a state-run entity. He even joked about saving the Knicks.
On his initial campaign website, Yang has several policy-focused pages with mostly broad language, promising detailed plans in the coming weeks, but some do offer specific proposals and his "relief for our small businesses" page has a number of planks, including passage of the Small Business Jobs Survival Act, which has, in different iterations, been in the City Council for decades and would in its current form mandate new lease renewal terms to help protect small businesses. Yang also has a number of education-focused proposals, including "at least two specialized schools in each borough and holistic admissions to specialized schools, combining students' SHSAT performance with other forms of evaluation - grades, interviews, essays, and more."
Yang's first full day as a mayoral candidate will be full: he's scheduled to appear on The Breakfast Club radio program in the morning, followed by the launch event in Morningside Park, then a visit to a Bronx food distribution center, lunch with Queens Borough President Donovan Richards, a walking tour of Brownsville, Brooklyn with Assemblymember Latrice Walker, an interview on NY1's Inside City Hall with host Errol Louis, and finally a virtual town hall with New Yorkers.
Ben Max contributed to this article.
This article has been updated several times since it's publication with additional information about Yang's campaign launch.