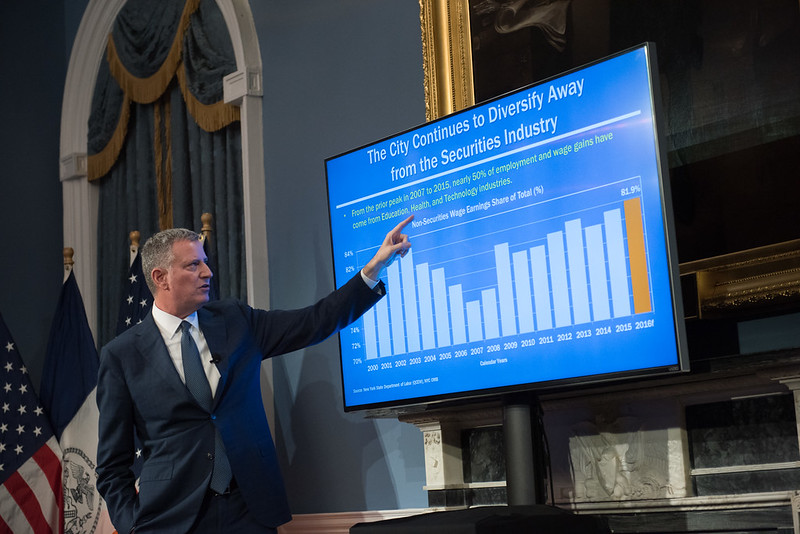 De Blasio in 2017 (photo: Michael Appleton/Mayor's Office)
---
Mayor Bill de Blasio released a $92.28 billion preliminary budget for the 2022 Fiscal Year on Thursday, expressing optimism that the city will receive additional federal funds but warning of cuts from the state.
The mayor's budget plan for next fiscal year, which begins July 1, is more than $4 billion larger than the budget that was adopted last year for the current fiscal year, and reflects a nearly $20 billion increase from the last budget he inherited from former Mayor Michael Bloomberg. But it is lower than the $95.3 billion budget that he had proposed in January last year, when the city's economy was at a peak and warnings of the coronavirus had yet to be heeded.
The mayor said his chief priority in the newly-released budget plan is ensuring the city's recovery from the pandemic and he highlighted new spending that includes direct covid response measures, closing gaps in education caused by the pandemic, and maintaining essential city services. "Everything is about building the framework to get to recovery. That's what we're going to focus on," he said.
The budget plan will be the subject of City Council hearings, followed by the mayor's executive budget, released after a new state budget due by April 1. Both the city and state fiscal pictures will continue to depend on what comes out of Washington, D.C., among other key factors like economic recovery that may be spurred by the covid vaccine rollout.
The coronavirus pandemic decimated the city and has led to an expected sum of $10.5 billion in revenue losses for fiscal years 2020-2022, de Blasio said Thursday. About $1.5 billion of that drop has happened since November. Property taxes, a typically steady and crucial element of the city's revenue, are expected to decline by $2.5 billion alone in fiscal year 2022. Despite job gains in the past few months, unemployment, which reached a high of more than 20%, remains at about 12.1%.
That leaves the city with an expected $5.25 billion budget gap for next fiscal year (FY22), which de Blasio said would be covered through a combination of measures including additional federal stimulus funds and fighting off potential cuts from the state. He said he will mandate a Program to Eliminate the Gap (PEG) to cut $1.4 billion in costs at city agencies, along with a citywide savings plan. The mayor's office will set an example by cutting its own spending by 13%, de Blasio said. "We want people to see we're tightening our belt. We expect every city agency to tighten their belt," he said. Overall, the efforts will account for $3.6 billion in reductions between fiscal years 2021 and 2022, he said.
The mayor also plans to reduce the city's workforce, though he has no current plans to carry out mass layoffs that he had warned about for much of last year, he said. Instead, de Blasio said the city will reduce headcount by about 5,000 workers by through attrition, mandating that for most agencies, they can only make new hires for one position for every three vacancies, saving $349 million through fiscal year 2022. The city has already cut the workforce by 7,000 since January 2020, he said. Additional savings will come from the city pension system – $430 million this fiscal year and $300 million next fiscal year, the mayor outlined, through measures to more immediately use pension investment gains and reduce the expected rate of return on the pension funds so there is less strain on the city budget to make up the difference.
Another $1 billion is meant to come from unspecified labor savings.
There was some good news for the city on Thursday. In total, the city has spent $5.9 billion on the response to the pandemic, of which $1.3 billion had not been covered so far by reimbursement from the Federal Emergency Management Agency (FEMA). But just prior to the mayor's presentation, U.S. Senator Chuck Schumer of New York, soon to be the Senate majority leader, announced that the incoming Biden administration had agreed that FEMA would fully cover emergency costs for New York and provide another $2 billion to the state and city.
About $1 billion of that, de Blasio said, is owed to the city alone and would help prevent cuts that he had planned for the budget. De Blasio said the city will no longer have to cut $150 million for Fair Student Funding to schools in the next fiscal year and will not have to delay the expansion of free pre-school for three-year-olds, which would have meant a $44 million cut.
There remains, however, the risk that the state's own fiscal woes will end up harming the city. Governor Andrew Cuomo has repeatedly cited a $15 billion deficit for the state, without taking into account the second round of fiscal stimulus delivered in December. Without additional federal aid to fill the state's budget hole, Cuomo has warned that he will have to cut $8 billion in aid to localities, with a $4 billion hit to New York City.
"This is the hidden danger here, massive potential state cuts that we have to be ready to guard against, and we need that stimulus in particular to help us do it," de Blasio said Thursday. Even pre-pandemic, Cuomo has often sought to cut funding to the city or offload costs for shared entities like CUNY, Medicaid, and the MTA. The city's fiscal picture has been far stronger than the state's for a number of years. De Blasio and allies have beaten back some of those attempts but not others.

As de Blasio estimated Thursday, the second stimulus package included $4 billion to fund K-12 schools in New York State, and the city expects $2.3 billion from that sum. But, because the language of the legislation was not clear, the mayor is worried that the state could choose to cut from other areas, a process called supplanting. "We've already spent a huge amount of money to get schools back open and to support remote learning and to support free devices for kids who needed them," he said. "We deserve this federal funding to make us whole and to help us move forward and we need to fight for it."
Instead, he urged the state to increase taxes on the rich, noting that 120 billionaires in New York have seen their net worth increase by $77 billion even as working and middle class families have suffered. "If you want to avoid cutting the vital services that cities and counties and towns provide to their people, here's a solution," de Blasio said. "Tax the wealthy. The wealthy of New York State have never been taxed at the level they should. They have not paid their fair share."
To fight the pandemic, the city has budgeted about $200 million for the vaccination and test and trace programs in FY22 (which could be reimbursed by the federal government). "What matters most, well, unquestionably defeating covid, that's what matters most. We are throwing in the kitchen sink to put covid in the rearview mirror," de Blasio said, noting that those costs will likely grow.
Other spending the mayor outlined Thursday includes $62 million in the current fiscal year for the Learning Bridges child care program for students in 'hybrid' learning, expansion of WiFi in homeless shelters at a cost of $14 million in the current fiscal and $3 million in the next fiscal year, $52 million in the current fiscal for food relief, $35 million in the next fiscal to fund social and emotional learning programs, $10 million in extra funding in each of the current and next fiscal years to bolster the 311 city helpline, and $132 million in the next fiscal year to restore 70,000 Summer Youth Employment Program slots, though advocates have called for many more.
The mayor also announced measures that will be music to the ears of homeowners. He said the administration has reached an agreement with the New York City Council to reform the city's tax lien sales process to save homeowners struggling during this pandemic from hardship while also maintaining $1 billion in revenue for the city. He said the Council will vote on the reforms later this month.
Additionally, he said again that "there's no way in hell" he will raise property tax rates. "That would be wrong, it would be counterproductive, it would hurt so many homeowners and everyday New Yorkers who are struggling through the covid crisis," he said. Noting that property tax assessments are still set to increase because of state law, he said the city will create a new rebate, using federal stimulus funds, for owners of 1-3 family homes with a market value of less than $500,000. The rebate will affect 293,000 families, he estimated.
The preliminary budget for next fiscal year also includes an increase in capital spending for infrastructure needs. The ten-year preliminary capital strategy is $118.8 billion with a major focus on affordable housing, Vision Zero projects, and climate change and resiliency construction.