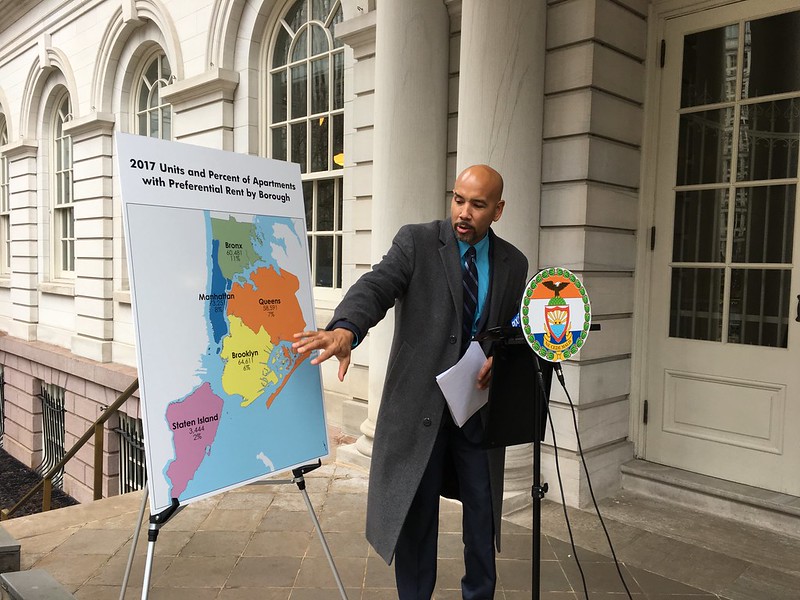 Ruben Diaz Jr. outside City Hall (photo: Diaz Jr./Flickr)
---
After Borough President Ruben Diaz Jr., a Democrat, announced that he would retire from government at the end of his third term, it opened up the Bronx as fertile ground for votes in the 2021 New York City mayor's race. Diaz Jr. had long hinted at and prepared for a run for mayor, and was considered a top contender. Without the threat of his charisma and popularity in the race, candidates who are running immediately saw a better opportunity to compete for the hearts, minds, and votes of more than 650,000 Bronxites who are registered Democrats. The Bronx has, more often than not, been overlooked and underserved, and Bronx leaders, activists, and elected officials are hoping that will change as the borough faces some of its hardest times yet while offering mayoral contenders potential help toward building a winning coalition.
Among the top Democratic candidates, in a field that is as wide as it is diverse, none is of the Bronx, though several claim ties to the borough and many have been attempting to make inroads there. Of the three elected officials in the race, two are from Brooklyn. Other candidates have served the borough in their nonprofit or government roles, whether elected or appointed, but they do not call the Bronx home. The Democratic candidates include Comptroller Scott Stringer, Brooklyn Borough President Eric Adams, former counsel to the mayor Maya Wiley, City Council Member Carlos Menchaca, former Citigroup executive Ray McGuire, former federal housing secretary Shaun Donovan, former sanitation commissioner Kathryn Garcia, former veterans services commissioner Loree Sutton, former nonprofit executive Dianne Morales, entrepreneur Andrew Yang, and more.
Out of the five boroughs, the Bronx is fourth in population (1.4 million), registered voters (867,716), registered Democrats (17.3% of the city's total as of November 1) and, in past mayoral elections, voter turnout.
In the Democratic mayoral primary election of 2017, when Mayor Bill de Blasio was reelected to a second and final term, 71,084 Democratic Bronx voters cast a ballot, about 14.7% of the total votes cast. In the general election that year, the Bronx accounted for 149,717 votes, or about 12.8% of all votes. In 2013, the last time there was an open contest for mayor, 96,779 Bronx Democrats voted in the primary election, 13.9% of all votes. In the November general that year, the number of votes rose to 141,157 or about 12.8% of all cast.
"So it's sort of natural that it gets a little less attention than the other three bigger boroughs," said Jerry Skurnik, a former aide to Mayor Ed Koch who closely studies voting trends as a political consultant at Prime New York, in a phone interview.
There's a certain chicken-and-egg quality to the Bronx's importance in the Democratic primary.
Perhaps because it offers fewer votes, the borough tends not to be a targeted focus of candidates. Or perhaps because candidates fail to get their message out to Bronx residents, voters aren't excited to vote for them. There is also the inseparable issue of the fact that the Bronx has the city's highest unemployment rate, the worst health outcomes in the state, among the highest poverty rates in the country, and other devastating conditions that both cry out for more attention but also contribute to less political engagement.
It's all part of the perception that Bronx elected officials and activists want to fight as they say candidates need to do more than offer broad citywide proposals and should be pledging borough-specific ideas, particularly for the neighborhoods most impacted by the coronavirus.
"I think historically, the Bronx has been an overlooked borough and I think that still presents itself today, even in this mayoral race," said recently-elected Assemblymember Kenny Burgos, who represents District 85, which includes Longwood, Soundview, Clason Point, Shorehaven and Rikers Island. "I think candidates can sometimes look to quote-unquote voter-rich areas like the Upper West Side and parts of Brooklyn. But, frankly, you're looking to represent the entire city and the Bronx has faced issues that can be unique to the city, the Bronx has voters, the Bronx has engaged individuals."
There is, of course, no "Bronx vote," and the borough itself is diverse – the population is 56.4% Hispanic or Latino, 29% Black, 8.8% white and 3.7% Asian, according to the American Community Survey's 2019 data. While there are whiter and wealthier sections of the borough, especially in its northwest, much of the Bronx is home to middle- and lower-income Black and Hispanic residents. There are 75 NYCHA developments in the Bronx, with 41,831 apartments and roughly 94,773 residents as of 2019.
Diaz Jr. is likely one of the most sought-after endorsers in the mayoral race across the entire city. As is his close friend and ally, State Assembly Speaker Carl Heastie of the Bronx, who is one of the most powerful elected officials in the state.
Some of the candidates have begun outreach efforts to Bronx elected officials, local business groups, clergy, and advocacy organizations, even if the pandemic has forced them to do so virtually most of the time.
One of the first public actions Wiley took when exploring her candidacy was tweeting a photo of herself having lunch with Heastie in the Bronx. Donovan launched his campaign from the South Bronx, where he began his career working for the nonprofit Community Preservation Corporation. Yang launched his campaign in Manhattan but with the endorsement of new Bronx Congressional Rep. Ritchie Torres and recently toured Burgos' district with the Assembly member. Yang has made several trips to the Bronx, according to his campaign. Last month, Wiley toured the South Bronx with Shams DaBaron, a homeless advocate. Several of the candidates rallied in the Bronx for Kevin Riley's City Council campaign ahead of a December 22 special election that Riley won.
This past Saturday, McGuire had a five-stop day in the Bronx, including separate district visits with City Council Member Rafael Salamanca and District Leader Marjorie Velázquez.
In January, Bronx State Senator Gustavo Rivera backed two candidates in the first-ever New York City mayoral race ranked-choice endorsement – announcing Stringer as his first choice and Morales, who has done extensive social services work in the Bronx, as his second. Morales frequently cites her work leading Phipps Neighborhoods on the campaign trail. Several candidates also made appearances at Hunts Point market last month as produce workers went on strike for increased pay.
On February 3, Stringer, who is the only mayoral candidate who can boast of actually having received votes from Bronxites before, held a virtual town hall for South Bronx residents in his government capacity. Early on in his campaign, Stringer announced the endorsement of new Congressional Rep. Jamaal Bowman during a press conference in Bowman's Bronx district. This came after he previously announced the endorsement of other Bronx officials including State Senator Alessandra Biaggi and Assemblymember Amanda Septimo.
One of the factors differentiating how candidates approach the Bronx, Skurnik speculated, is its powerful Democratic Party machinery, which continues to employ significant heft in the city's political landscape. For instance, the Bronx County Party plays an important role in the internal election of the City Council Speaker and its members are often rewarded with plum committee assignments. Heastie, the Assembly Speaker, is the former head of the Bronx Democrats, now run by his close ally State Senator Jamaal Bailey, and able to flex political muscle larger than most others in New York.
According to New York Magazine, Wiley is the only candidate who has met with Heastie so far. A representative for the speaker did not return requests for an interview for this article. Diaz Jr. was not made available to comment.
"The Bronx has probably more of a top-down political leadership than the other boroughs," Skurnik said. "Elected officials are more likely to go along with what the county leader, what the majority of the district leaders want to do, and they haven't decided yet." He said the Democratic candidates may be waiting for the party's cue to decide whether they will run against them or with their support. Given Stringer's alliances with the anti-establishment Biaggi, Rivera, and others, he has clearly made his ties known and does not appear in contention for support from Diaz Jr., Heastie, and the County Party.
"I believe that the Bronx is critical to the success of any mayoral candidate," State Senator Bailey, who was elected the leader of the Bronx Democratic Party in September, said in a December appearance on the Max & Murphy podcast. "I believe that any mayoral candidate who is very serious about being the next great mayor of our city has to not only appeal to the borough of the Bronx, but they have to actually do something for the borough of the Bronx."
There are a few wildcards in the election. Ranked-choice voting (RCV) will necessitate candidates to make broader appeals to the electorate in constituencies that may not be their traditional bases of support. "I think RCV is going to help at least keep the Bronx in the game among many more candidates," said Michael Benjamin, a longtime observer of Bronx politics and former state legislator from the borough who now sits on the New York Post editorial board. "I think RCV requires you to then reach out to everyone and to try to become either the first choice or their second choice, and the Bronx is open without a Bronx-based candidate."
The Bronx is ideologically, racially, and economically diverse. It's home to a majority of Hispanic residents, more so than any other borough and while reliably Democratic overall, as Skurnik pointed out, "The Hispanic vote has been one of the more elastic votes." Hispanic turnout tends to be higher if there is a Hispanic candidate on the ballot, he noted. Only two of the leading Democratic candidates could benefit from that – Menchaca is Latino, of Mexican heritage, and Morales is Afro-Latina, of Puerto-Rican heritage.
Prior to the pandemic, the Bronx was the fastest growing borough in the city, having experienced rapid economic development, a construction boom, and dropping unemployment, to a low of 4.6%. The coronavirus upended that success. Most new development ground to a halt and as jobs evaporated, unemployment in December hit about 15.1%, after peaking at 25% in July, according to the U.S. Bureau of Labor Statistics. It's unclear how many Bronxites have left the workforce altogether and are therefore not reflected in the unemployment numbers. More than 121,000 Bronx residents have tested positive for Covid-19 and there have been 5,522 confirmed and probable deaths, according to city data as of February 7. And while that number may be lower than in Brooklyn or Queens, the deaths per 100,000 residents was the highest in the Bronx across almost every category of population.
"The Bronx was hardest hit in a lot of ways," said John DeSio, vice president at Risa Heller Communications and a former staff aide to Borough President Diaz Jr. for over a decade. "So I think when people are talking about these broader issues like economic development and housing in the post-COVID recovery, the Bronx is part of that…People in the Bronx feel like [the candidates] need to do more to specifically outline how you're going to help the Bronx come back on these issues."
As DeSio noted, any discussion about building new affordable housing where it's needed or improving education outcomes in low-income communities is naturally going to be salient to the Bronx. But he said voters will gravitate to those candidates who can speak specifically to the borough. "To be mayor is to be mayor for the entire city, not just the areas where you were able to win," he added. "And I think that part of a serious plan to run has to include what you're thinking about the Bronx, what you're thinking about Staten Island, even though these aren't necessarily massive voter holds."
Some, like Lisa Sorin, president of the New Bronx Chamber of Commerce, want a strategic plan for small businesses and jobs creation. "We're not just a headline in the paper about, 'the Bronx is the highest hit COVID, the largest unemployment,' all this negative, which sells," Sorin said in a Zoom interview. "But the truth of the matter is that real help is needed and we are sharing that message out strongly."
She said the NBCC has been meeting with candidates to encourage them to articulate plans for the Bronx's revival. "There's a piece of the puzzle that's missing and we need to make a little noise about it. Just don't pity us, do something about it," she said.
One such plan was created for the South Bronx by the nonprofit Diego Beekman Mutual Housing Association, which runs an affordable housing complex in Mott Haven. The Diego Beekman Neighborhood Plan, first proposed in 2017, is a broad community-based blueprint for addressing economic inequality, investing in affordable housing and local businesses, and reducing crime and preserving public safety.
Arline Parks, CEO of Diego Beekman, said the plan is more important than ever and would address longstanding problems exacerbated by the pandemic. "You don't really see mayoral candidates talking about the Bronx as they should," she said. "In particular, the southern tip of the Bronx and the policies that need to reimagine this community so that it is not an impoverished community but investments are made that give South Bronx residents economic opportunity and public safety."
Parks was disappointed that only Stringer and Adams had reached out to her organization so far. "Whoever is going to win New York City, they definitely have to engage the Bronx," she said.
In the same interview, Andrew Reicher, executive director of Urban Homesteading Assistance Board (UHAB), said the next mayor needs to follow community voices in planning rather than de Blasio's "top-down, ignore-the-community, impose-it-from-above approach." "The issues that [the neighborhood plan] tackles are issues that were of concern to the community and the solutions were ones that the community looked at and said, 'Yeah, that's what we want.'"
The proposals include creating affordable housing for low- and middle-income families, targeted investments in physical infrastructure, jobs training programs, building a new retail center, establishing a new Business Improvement District, and more.
The campaigns, of course, are not oblivious to the importance of the Bronx even as they acknowledged the challenge of winning over its voters.
A person affiliated with one mayoral campaign, who wished to remain anonymous, said it's precisely because of the perennial nature of some of the borough's woes that campaigns may fear making bold promises to voters. "It's like a bomb going off in a graveyard," they said of the pandemic's effects on the Bronx. "This is the sort of problem that is going to take years to change. It's not going to turn around quickly and there's institutionalized issues that the next mayor is going to have to tackle…That combination of things can scare off candidates actively campaigning there because it's very hard to just show up and say, 'I have a solution to what is obviously a potentially intractable problem or set of problems.'"
As Stringer enjoys support from Bowman, Biaggi and others, Yang may also have something of an advantage in the borough with Rep. Torres serving as co-chair of his campaign. Chris Coffey, co-campaign manager for Yang's campaign, said in a phone interview, "Certainly, when Ruben Diaz Jr. was running, he would have had hometown hero status, and the fact that he's not running means that we believe the Bronx is wide open."
"The Bronx has just come off a very robust campaign season, where they've elected some new members of Congress as well as new members in the City Council and the state legislature, so obviously the Bronx is definitely socially aware of their importance," said Lupé Todd-Medina, a spokesperson for McGuire's campaign. "And I believe that all of us that are working certainly on a citywide campaign can appreciate that."
"There are a lot of educated voters there and they are selecting their representatives not based off where you are in the spectrum of the Democratic Party," Todd-Medina added. "They're not deciding based on geography, where you come from in the district or in the borough, but rather they are selecting based off their actual needs…The residents there are energized and they're plugged in. They're watching."
The mayoral candidates' interest in the Bronx highlights the lack of a candidate from the borough and the fact that the Democratic field is heavy on Manhattanites and Brooklynites. While he now lives downtown, Stringer's longtime base is on the Upper West Side. Yang, Sutton, and McGuire also live in Manhattan. Adams represented central Brooklyn in the state Senate before becoming borough president; Menchaca represents Sunset Park and Red Hook in the City Council; and they are joined in the borough by long-time residents Morales, Garcia, and Donovan.
Yuridia Peña, a spokesperson for Donovan's campaign, and Aicha Bamba, the campaign's political director, said they are focused on looking at the Bronx "in a totally different light."
"It's probably the most important borough, and I'm not just saying that because I live here and I love it here," Bamba said. "We're building up in the Bronx because it is oftentimes the borough that people consider the worst of the boroughs. It's always looked at as less than…This community that has literally built itself up through and been resistant through the burning and also uplifted itself."
Bamba agreed that voters in the Bronx, just as across the five boroughs, feel disenfranchised and let down by the failed promises of past administrations. "We want them to know that they are important and they're valued for more than just a vote," she said. "They're valued as people. Their problems are important."