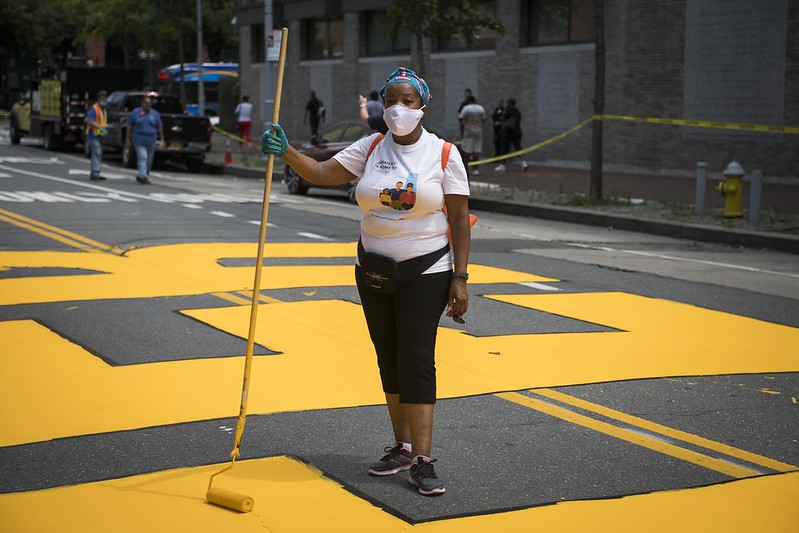 Painting a Black Lives Matter mural (photo: Ed Reed/Mayor's Office)
---
"Black women get it done," Maya Wiley, the former counsel to Mayor Bill de Blasio and 2021 mayoral candidate, declared in a January 22 video that featured a coalition of prominent Black women who are supporting her campaign. It was the launch of her formal effort to woo a core constituency in the Democratic base who time and again have turned out in higher rates in elections and could be a crucial factor for Wiley to become the first Black woman ever elected Mayor of New York City.
It's become a common refrain that Black women are at the heart of the Democratic Party and will reliably cast a vote for a Democrat, regardless of the candidate, rather than a Republican, which is why they're also often taken for granted. But Black women are not a monolith and the Democratic primary in New York City is a far more complicated undertaking for any contender, particularly with ranked-choice voting at play for the first time in a citywide race. Candidates will have to cobble together different blocs of voters as they find themselves competing in the most diverse mayoral field in city history.
Wiley, a civil rights activist and attorney, is one of several Black women in the mayoral race but is by far the most prominent and best funded, and she is among the top tier of candidates overall. Since serving under the current mayor, who was powered to victory in 2013 by Black voters and white progressives, Wiley has led the Civilian Complaint Review Board, a police oversight agency, and was a professor at the New School. She also built a national following as an MSNBC commentator, giving her a fair share of name recognition, especially among white liberals, when she launched her bid for mayor. Prior to working for de Blasio, Wiley had an extensive career as a civil rights attorney with the NAACP Legal Defense Fund, among others, and, briefly, as a prosecutor in the office of the U.S. Attorney for the Southern District of New York.
She has sought to present herself as one of the more progressive candidates in this year's mayoral race, with a heavy emphasis on police reform and accountability, but has often taken a measured, unspecific approach to issues, though her campaign has begun releasing more detailed policy plans, including on job-creation and the "care economy," which Wiley has stressed is heavily reliant on Black women. If she wins, she would be the first woman, and only the second Black person to become the city's top executive.
"I am unapologetically a Black woman," Wiley said in a recent appearance before the Association for a Better New York, where she unveiled the "care economy" plan, when she was asked about her experiences in the several positions she has held. "I am unapologetically an activist. I'm unapologetically a partner, because I don't believe activism is about rolling over. I believe activism is about calling together. And so listen, learn, lead in partnership."
Since its launch in January, the "Black Women for Maya" coalition has grown to more than 800 members, according to Wiley's campaign. It includes accomplished actors such as Tichina Arnold, Gabrielle Union, and Yvette Nicole Brown, several established academics including Deborah Archer, Brittney Cooper, and Melissa Harris-Perry, political commentators like Heather McGhee, organizers, activists and more. Over the last few weeks, the coalition has been holding weekly volunteer events to continue building support and raise funds for Wiley. Earlier this month, Wiley hosted a fireside chat to take questions from potential voters and coalition members. Her campaign is also built with Black women in charge including her campaign manager, Maya Rupert, and her digital director, Tericka Lambert.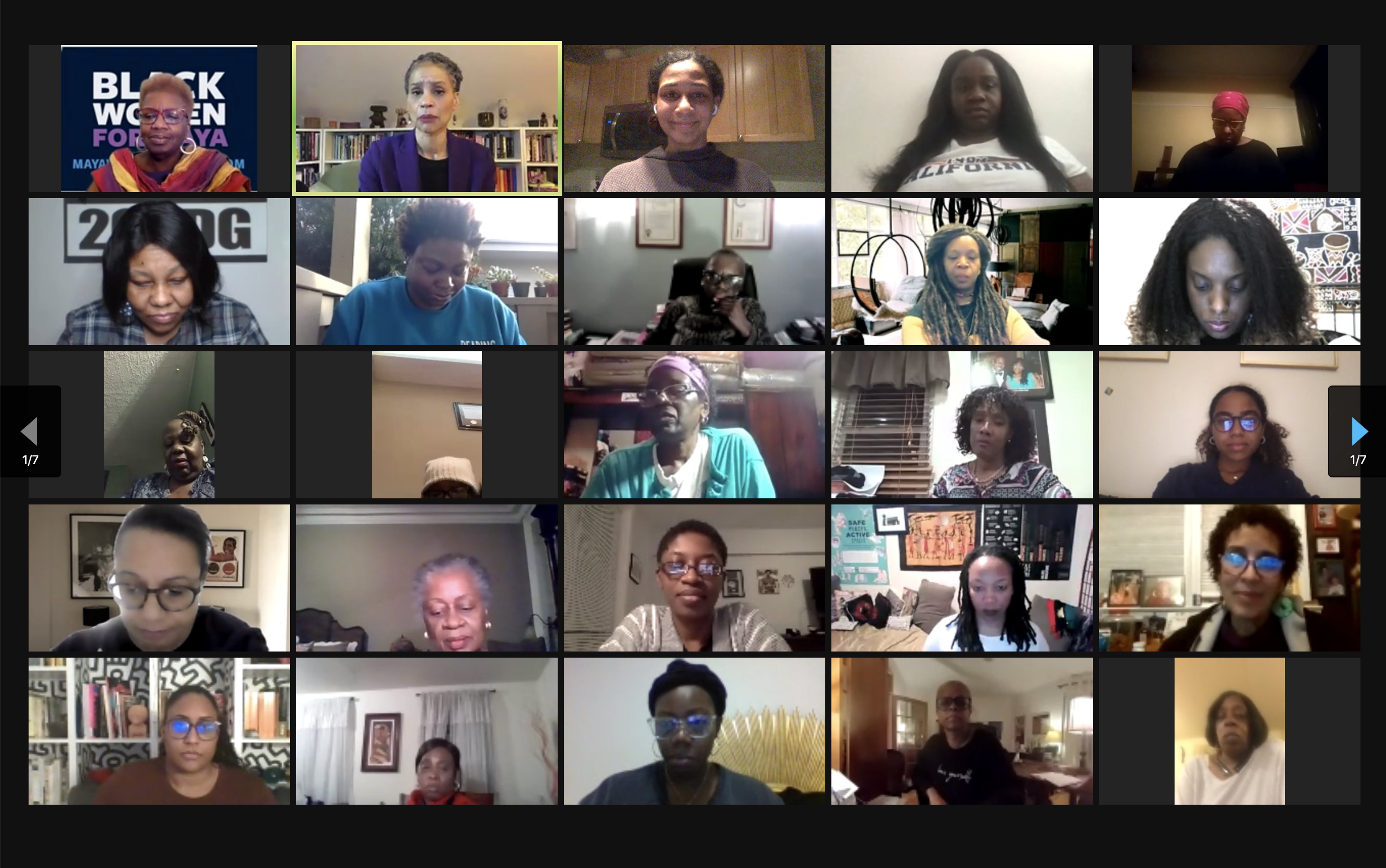 "Black women for Maya" Zoom
"I am honored to have received the support of so many of my fellow strong, Black women," Wiley said in a statement to Gotham Gazette. "They see this campaign as one that can be transformative for this city and their lives, but one that also has the experience and understanding needed to lead us out of the crises we face, which also disproportionately hurt women, and women of color. As mayor, not only can I empathize with what our city's women, and especially women of color are going through, I feel it too, because I've lived it."
"Black women know that in every crisis, we are always the cavalry," she continued. "We are the essential workers of this economy, the backbone of the Democratic party, the care-takers of our communities, and the creators of our country's arts and culture. While this campaign is for the betterment of all New Yorkers, our strength and power is rooted in the many Black women that lead it, shape it, and support it. Our campaign is a growing movement, and I am running to be the next Mayor of New York City because I want every last Black woman and girl in this city to see themselves in the seat of power."
In the last competitive Democratic primary in 2013, out of the 645,902 Democrats who cast a vote, 181,483 or 28% were Black voters, according to an analysis by the CUNY Mapping Service. Bill de Blasio won the largest share of Black voters, about 32.8% in that primary. In the 2021 Democratic primary, Black voters are again expected to be between a quarter and a third of the electorate, meaning Black women voters could account for at least 13% of primary voters, likely more, as Black women are typically well more than half of the Black Democratic vote.
On Friday, Wiley was endorsed by 1199 SEIU, the city's largest labor union, which represents hundreds of thousands of health-care workers, many of whom are women of color. The union was instrumental in helping de Blasio win the primary in 2013. "This is what we mean when we say support Black women," Gabby Seay, 1199's political director, told the New York Times.
"1199ers make history because this is a union made up of the people who always have but rarely got credit - Black women," Wiley tweeted about the endorsement, responding to a supportive tweet by Seay. "And Latinas too!" The candidate has added the "#WinwithBlackWomen" hashtag to her Twitter profile.
"For Black women who are strategic voters, they're looking at the candidate who can best articulate a vision for issues that affect them in their communities and, quite honestly, New York as a whole," said Dr. Christina Greer, professor of political science at Fordham University.
This past week, Dr. Greer moderated a mayoral candidate forum hosted by Community Voices Heard Power that was focused on Black women. At the forum, Wiley and six other leading candidates -- including Dianne Morales, who identifies as Afro-Latina -- weighed in on issues of health care, vaccine access, housing, police reform, and the city's recovery from the coronavirus pandemic. "Our communities are not a monolith. There is no one answer that is going to magically conjure the Black women vote," said Afua Atta-Mensah, executive director of Community Voices Heard, at the start of the forum.
In a phone interview on Wednesday, Atta-Mensah reiterated that the purpose of the forum was to change the narrative and urge candidates to take Black women's voices more seriously.
"What Black women and our communities are looking for is that this renewal or revival of the city is not on our backs," she told Gotham Gazette. "It's not this...performance of celebrating Black women in their leadership in word, but indeed wanting Black women to be the ones in communities of color that suffer the burden of how we come back…I think people are very keen to hear not just [candidates'] love for Black women and their belief in affordable housing but how that's going to happen, and how those policy priorities reflect the poetry."
She also praised Wiley's performance at the forum and said she was encouraged by her overt focus on Black women. "I think it's powerful," Atta-Mensah said.
"Let me just start by saying I've been Black all my life," Wiley said in her introductory remarks at the forum. "And that included when I was a little girl in a segregated, underfunded, overcrowded public school." Wiley spoke of growing up as the child of civil rights activists and becoming an attorney to fight for those very rights. "I am running not just as a civil rights lawyer and a lifetime racial justice advocate. I am running because I believe that it is our dignity, and that means dignity in our communities," she said.
Wiley is running with a focus on police reform and reconceiving public safety through community investment in a campaign that is unfolding in the wake of last year's resurgent Black Lives Matter movement, a response to the police killings of George Floyd and other unarmed Black people.
"The only thing I need to do besides stay Black and die," Wiley said later during the forum, "is make sure that we do the hard work that needs getting done and not work at worrying about the politics of the usual but making sure it's a path for the people."
In another virtual discussion on Thursday, hosted by Queens Assemblymember Alicia Hyndman for Black women running for office, Wiley refined her point. "One of the things we need right now, in a city in historic crisis, is to recognize that we aren't just the pack mules that carry the burden, but we're the precious cargo," Wiley said. "And that means that it is our communities that deserve the attention, the support, the investment, and the recognition that we actually solve problems. We lead."
But Wiley will still have to work hard to win Black women's support broadly across the city and throughout the Democratic primary set to culminate in June and in all likelihood determinative of the next mayor in an overwhelmingly Democratic city. Wiley is trying to shrink campaign fundraising gaps with better-funded candidates including Comptroller Scott Stringer, who is white, and Brooklyn Borough President Eric Adams, who is Black, both of whom have been raising money for years ahead of this run. Former Wall Street executive Ray McGuire, who is Black, quickly catapulted himself into the top tier of fundraisers in the race by bringing in well over $5 million as he seeks to make up name-recognition ground.
Like Wiley, Adams and Stringer are participating in the city's public matching funds program, which matches the first $250 of every contribution from a city resident at an 8-to-1 ratio. Both Adams and Stringer have already qualified for public funds and have received millions of dollars, while Wiley narrowly missed the threshold and will have to wait another month before the next round of payments. She is likely to receive at least $2 million in matching funds in mid-March. McGuire is not a participant in the program, allowing him to raise more from large donors. Other candidates including entrepreneur Andrew Yang, former Obama cabinet secretary Shaun Donovan, former city sanitation commissioner Kathryn Garcia, and Morales, a former nonprofit executive, have said they will also soon hit the matching funds threshold, but they would not receive the influx of public funds until mid-April.
The SEIU endorsement was a needed shot in the arm for Wiley's campaign. "Maya's priorities are our priorities – from investing in and fairly compensating our caregivers to rebuilding our economy through job creation and training," said George Gresham, the union's president, in a statement. "We believe that Maya is uniquely positioned to join the ranks of Shirley Chisholm, Stacey Abrams, and so many other women who have continued to serve as the backbone of our communities, and of political fights nationwide."
It's unclear how voters will view Wiley and her competition at this stage in the race, and most voters may not even be paying attention yet. "As we've seen, Black women tend to vote thinking of the group, not necessarily individually," said Dr. Greer. "If that's the case, Scott Stringer and Eric Adams have been public servants for much longer than anyone else in the race and they have a different set of connections and relationships with community groups and organizations that the other candidates just don't have."
Morales, who has also centered police and public safety reform in her mayoral bid, has been campaigning furthest to the left in the race and is eclipsing Wiley's progressive positions, but Wiley may be eyeing a broader swath of the Democratic electorate. McGuire, Morales, and Adams all appear to be making concerted attempts to connect in Black communities — McGuire recently received the endorsement of Gwen Carr, mother of Eric Garner, the unarmed Black man killed by NYPD officers on a Staten Island street in 2014, while Adams has received endorsements from a long list of Black elected officials, clergy, and others. Stringer and Donovan have also made clear they are trying to appeal to Black voters and other voters of color, and Garcia held a digital event Sunday on "her agenda for Black women." Garcia had been the only candidate of the eight mostly seen as in the top tier who did not participate in the "Follow Black Women" event hosted by Community Voices Heard Power. Multiple candidates have cited their ties to Vice President Kamala Harris, the first Black woman elected to one of the nation's two highest offices.
"I am totally sure that the next mayor is going to be determined by Black women voters here in New York City," Yang said at the Follow Black Women forum.
George Arzt, a veteran Democratic consultant, said Wiley can appeal to a broad audience and that she should be able to build a coalition of Black women and white progressives. "On paper, you would say, yes," he said. But he agreed that Adams and McGuire are her main competition for Black voters and said he is interested to see how she does when she speaks at Black churches and makes other campaign appearances beyond the Zoom forums, where he said she has at times struggled to stand out.
"She has competition on all sides," said Neal Kwatra, founder of Metropolitan Public Strategies, a consulting firm, about Wiley. "She's got Andrew Yang and Scott Stringer, who she's going to have to compete with for white liberal votes presumably. She's got Ray McGuire and Eric Adams and Dianne Morales, who she's going to have to compete with for a lot of African-American and Latino voters."