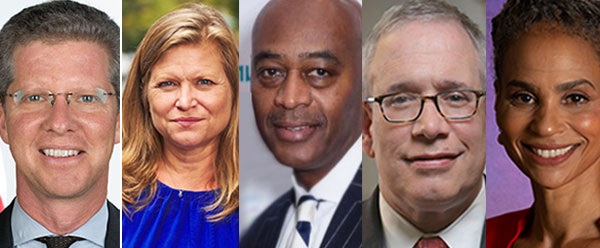 (l-r) Shaun Donovan, Kathryn Garcia, Ray McGuire, Scott Stringer, Maya Wiley
---
Robin Hood, a philanthropic organization dedicated to fighting poverty in New York, held a virtual forum on Thursday afternoon with five leading Democratic candidates for mayor. The discussion was centered on poverty and economic mobility and featured a combination of standard campaign talking points, ideas attuned to the themes at hand, and some sharper exchanges between candidates than often occur at the countless forums, in part due to the inclusion of a "cross-examination" round where each candidate got to directly ask another candidate a question.
Participating candidates were former federal housing secretary Shaun Donovan, former city sanitation commissioner Kathryn Garcia, former Citigroup executive Ray McGuire, Comptroller Scott Stringer, and former counsel to the mayor Maya Wiley.
The event was a part of Robin Hood's annual No City Limits conference, and focused on the economic aspects of several other issues, like education and housing.
Robin Hood CEO Wes Moore opened the forum with framing about how the coronavirus pandemic, and the resulting financial crisis, have created obstacles for the city to overcome, which he said the next mayor will have to contend with when he or she takes office on January 1.
"The covid pandemic has fueled widespread unemployment, housing instability, hunger, and for many New Yorkers these hardships existed long before this crisis even started," he said. "For many New Yorkers, the only thing that happened was these hardships were exposed and exacerbated. But, despite the challenge, New Yorkers have been and will always be resilient."
Moore then introduced the two moderators, journalists Brigid Bergin and Elizabeth Kim of WNYC and Gothamist.
The discussion started off with a question from the moderators about education after the pandemic, with a focus on low-income students and students of color. (McGuire joined after this portion of the event.)
Donovan, who was the first to answer, said that some of his ideas to help students compensate for remote learning and the learning loss from the pandemic are to implement universal broadband, make libraries open 24/7 so they can be maintained as community hubs, and to create "education recovery coordinators."
These coordinators would work with teachers to help students catch up academically and from the "emotional and social trauma" that they have undergone during the pandemic.
"First of all, what we need to do is ensure that we're helping those students recover," he said.
Garcia cited the need to prepare for some students who may have basically lost an entire year of their education due to the pandemic and talked about adding counselors to schools, as well as increasing emphasis on music and the arts.
Stringer said the city needs to increase mental health care in schools and spoke of his "NYC Under Three" childcare plan and moving "bureaucracy money into classroom money."
Wiley touched on trauma-informed care for schools in communities with high rates of gun violence and Pathways in Technology Early College High School, or P-TECH, to partner schools with technology firms.
When asked a follow-up question about closing the connectivity gap that results in some students lacking access to technology needed to participate in remote schooling, Donovan called it an affordability issue at its core.
Garcia agreed that broadband is needed to solve this issue, but said that part of it is also that some students don't have the physical devices themselves.
"This is unacceptable that we don't have great schools in every neighborhood," she said in response to a voter-sourced question about general inequality within New York City schools. "I'm a product of the public school system and our neighborhood school was the center of both our educational life but also our social engagement. Those are where you made your friends, where your parents were."
Stringer mentioned his idea of an "internet passport" for parents who can't afford access to technology and that the students who lack access must be identified so they can be provided with the necessary devices. Wiley talked about the need for universal broadband and cited work she did to expand its offering while in the de Blasio administration.
The moderators later asked the candidates if they would support eliminating Gifted and Talented, or G&T, tests for elementary school programs, which have been given to children as young as four years old and tend to benefit white students over students of color.
Garcia, Stringer and Donovan said they'd support such an effort. However, Garcia and Stringer said that specialization programs don't have to be entirely eliminated — they just have to be equally accessible for students of all backgrounds.
Garcia said she "certainly wouldn't give a four-year-old a test" to get them into a specialized program, but that every elementary school needs to have some form of enrichment program because not all students learn at the same speeds.
She said she also would use District 15 in Brooklyn as a model for working with parents to eliminate admissions screens in junior high schools.
Wiley didn't explicitly say that she would eliminate the G&T exam, but implied she would.
"I co-chaired the School Diversity Advisory Group that came up with two separate reports and literally 200 pages of recommendations. I stand by that report," she said. "We have to eliminate discriminatory admissions policies and practices and we have to allow more innovation and meet our goals. We set them in that report, I stand by them."
Donovan said he would eliminate certain screens, including middle school screens and others that consider time and attendance, which he said have been proven as discriminatory.
He went on to say that the city needs a mayor who will aggressively work toward integration, which he said he worked on as federal housing secretary, and that schools need to hire more teachers that look like their students.
Candidates were then asked about housing and homelessness, particularly what they would do to ensure that all New York City children are raised in high-opportunity neighborhoods.
McGuire said that he wants to prevent homelessness by extending the eviction moratorium, repairing existing homes that are in disarray including ones in public housing, providing rent subsidies, and creating support services that will help people transition from being homeless to having a home.
Wiley said that she would focus her efforts on making affordable housing actually affordable, while Garcia said that she would increase affordable housing specifically in neighborhoods with good public transportation and local schools, so that the residents would have easy access to the things they need.
"We know that housing heals and we also know that healthy neighborhoods are diverse neighborhoods, particularly economically," Garcia said. "That being in a neighborhood with the financier and the butler and the teacher makes it so the kids group up with more opportunity. And so we need to ensure that we are putting our affordable housing in neighborhoods that are rich in transit and rich in opportunity and have really strong schools, which is why I have supported the Soho-Noho rezoning effort."
Donovan brought up his "15-minute neighborhoods" plan that would ensure that every family has a good school and other necessities "within 15 minutes from their front door."
Stringer said that he has identified 3,000 vacant lots in the city that can be turned into 40,000 low-income housing units, so that people experiencing homelessness can be moved into permanent housing. He also spoke about supporting shelters that house victims of domestic violence.
The discussion moved on to higher education, primarily the City University of New York, CUNY, the city's public university system.
Donovan said that he would make CUNY community colleges tuition free and create a CUNY Center for the Future of Work that would connect students to jobs.
Garcia discussed making connections between CUNY and the private sector to ensure that every single student can get at least one paid internship and a good first job.
McGuire said that he was "flattered" to hear some of the other candidates discuss ideas that he put out earlier in his campaign, garnering some smiles from the attendees.
"Education is the way that I got here from the other, other side of the tracks and the support of my mother, going to the educational institutions that gave me the foundations that I could go and compete and be here with you," he said.
After the discussion of higher education, the moderators transitioned the forum into the cross-examination portion, in which each candidate got to ask another one a question. The candidates were assigned their partner before the start of the event and came prepared with something to ask.
Stringer asked Garcia about what the city's food security program, which she had led last year, needed to be doing that it wasn't doing already.
Garcia cited food silos in public schools, senior centers, and emergency food banks, and that food infrastructure isn't distributed evenly across the city — for example, not all neighborhoods have farmers markets with fresh produce — which she said needs to change.
McGuire asked Donovan about abusive and racist stop-and-frisk policing that former New York City Mayor Michael Bloomberg implemented while Donovan worked for him as housing commissioner and what specific actions he took to combat the tactic.
Donovan explained that as housing commissioner he did not have direct involvement in policing strategy, but pivoted to work he said he did on breaking the cycle of incarceration during his time with both the Bloomberg administration and the Obama administration.
Garcia asked Wiley which program or policy from the current mayoral administration she feels was ineffective and she would remove.
"Well, let's just talk about the failure to have sufficient police oversight," Wiley responded. "Complete failure. We saw that this summer. I'll put the public back in public safety, ensure that we have a police commissioner who is on mission to protect the public, including from police officers who decide the offroad when it comes to the rules of the road, and we'll make sure that the rules of the road are clear."