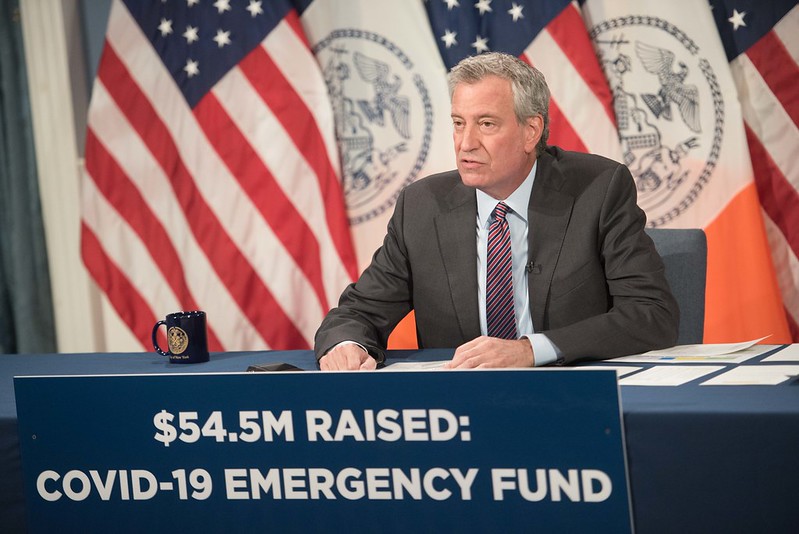 Mayor de Blasio announces Mayor's Fund fundraising (photo: Michael Appleton/Mayor's Office)
---
One year after the de Blasio administration established the COVID-19 Emergency Relief Fund to support some of the individuals and businesses most acutely impacted by the pandemic, the Mayor's Fund to Advance New York City has spent approximately $62 million on programs ranging from one-time payments to undocumented immigrants to grants for survivors of domestic violence. Though a significant sum was raised and moved out the door to key causes, some signature programs, like the domestic violence survivor grants, had a much smaller reach than others, like purchasing food for hospital workers.
The city began raising private dollars for the covid emergency fund last March when hospitals were filling up, businesses were shuttering, and more than 1 million New Yorkers lost their jobs. The emergency relief effort, part of the Mayor's Fund to Advance New York City, a charity run by the mayoral administration to support special programs, has raised a little over $63 million in sum. The emergency fund has allowed the city to disburse money outside the city budget, which has been deeply constrained by pandemic-related revenue losses, and with less red tape and fewer strings attached, a lifeline for what de Blasio has called an "endless need."
"It's the worst economic crisis in 90 years, since the Great Depression -- that's what we're dealing with right now -- and there just aren't enough resources to go around to help people," de Blasio said at a press briefing last July when he and First Lady Chirlane McCray, who de Blasio named to chair the Mayor's Fund back in 2014, announced the fund had raised more than $50 million. "We've got to find more anywhere we can so that folks can get back on their feet."
At the time the city had raised $54.5 million from over 9,500 contributors, including over $5 million in in-kind donations. The money and other items of value, much of which came through large-scale public-private partnerships, was carved up to go to some of the most urgent cases -- "healthcare workers and essential staff; local small businesses; displaced hourly workers, including immigrant workers; and families, youth, and other vulnerable New Yorkers," according to a June 30 audit by the accounting firm RSM. At the end of the year, 299 donors had each given over $5,000.
By February, the emergency relief fund had raised a total of $63.6 million and had spent or committed $62.1 million, according to the mayor's office in an update provided to Gotham Gazette upon request.
While the Mayor's Fund, and by extension the COVID-19 Emergency Relief Fund, falls under the New York State Charities Law and IRS regulations, it is almost entirely separate from the city budget and as such is not subject to oversight by the City Council. The fund must submit financial statements to the city comptroller but its spending falls outside New York's government procurement rules. That position makes it easier for the city to move the money quickly and with discretion, but it also limits accountability.
After several requests over the course of weeks, the mayor's office finally on Tuesday pointed Gotham Gazette a list of many donors to the emergency relief fund as highlighted by one major foundation funder of the immigrant-relief effort. The list includes those who had given at least $5,000, with many prominent individuals, foundations, and corporations included. The full list of donors to the Mayor's Fund for the emergency relief effort has still not been provided.
The largest chunk of funding -- $21.1 million spent by early February for services in immigrant communities -- was supported mostly by an initial $20 million donation from Open Society Foundations. It was intended for one-time payments to up to 20,000 undocumented New Yorkers and their families who could not access federal stimulus money through the CARES Act, according to a press release last April. According to the fund website, the Mayor's Office of Immigrant Affairs partnered with 34 community-based organizations to reach over 76,000 individuals without CARES aid or unemployment insurance.
A July 14 press release states additional funding came from SOMOS Community Care, Trinity Church Wall Street, Amalgamated Bank, and Robin Hood for a burial assistance program for immigrant families. In total, the fund raised $22.9 million for immigrant services, according to a mayoral spokesperson on February 3.
Another large portion of the larger sum -- $19.8 million -- went to food services for frontline hospital workers and other essential personnel, the spokesperson said. The program, known as NYC Healthcare Heroes, came through partnerships with the Debra and Leon Black Family, Aramark, Robin Hood, and the American Red Cross, to provide 400,000 packages with meals and cleaning products, according to the July 14 release.
Another $400,000 went to New York City Health + Hospitals, the city's public hospital network, for PPE. It came from "Cedar Mills LLC in honor of Peg Broadbent, former CFO of Jefferies Group LLC who died due to complications from COVID-19," states the release, referring to the multinational investment bank Jefferies.
The COVID-19 Emergency Relief Fund also contributed $7.4 million to Summer Bridge 2020, part of the city's Summer Youth Employment Program.
But other heralded programs received far less from the fund.
At the July announcement of the $54.5 million fundraising milestone, McCray highlighted the importance of one-time "micro grants" for individuals experiencing domestic violence, which is said to have spiked during the pandemic.
"Domestic violence is too often minimized or ignored, and the pandemic has brought new horrors for those who shelter in place with an abusive partner," McCray said. "Violence inside the home has a devastating and long-term effect on children and families for generations. These micro-grants will help mitigate some of the safety, economic and housing challenges exacerbated by COVID-19."
Calls to New York's domestic violence hotline from April to October increased 19% over the year before, according to McCray in an op-ed last fall.
By mid-February, the city had distributed grants to 377 clients of an average size of $1,200, according to the mayor's office, amounting to roughly $450,000 total. In a February 3 email, a City Hall spokesperson said $664,000 of the COVID-19 Emergency Relief Fund had gone to the program. No other funds were allocated in the city budget.
In order to be eligible to receive a grant under criteria designed by Sanctuary for Families (SFF), a domestic violence service provider, clients had to be engaged with their own service providers who were responsible for filing for the grants with SFF. Applicants had to demonstrate that the grant was for a one-time expense and that other public support couldn't cover it.
McCray also highlighted the Restaurant Revitalization Program, which provided short-term payroll aid for restaurants committed to paying minimum wage on top of tips. The program, created by NYC Opportunity and the Human Resources Administration in partnership with One Fair Wage, a national wage advocacy group, has reached 99 restaurants with grants up to $30,000, according to the program's website. Of the over $2.3 million awarded, $1.4 million has come from the COVID-19 Emergency Relief Fund.