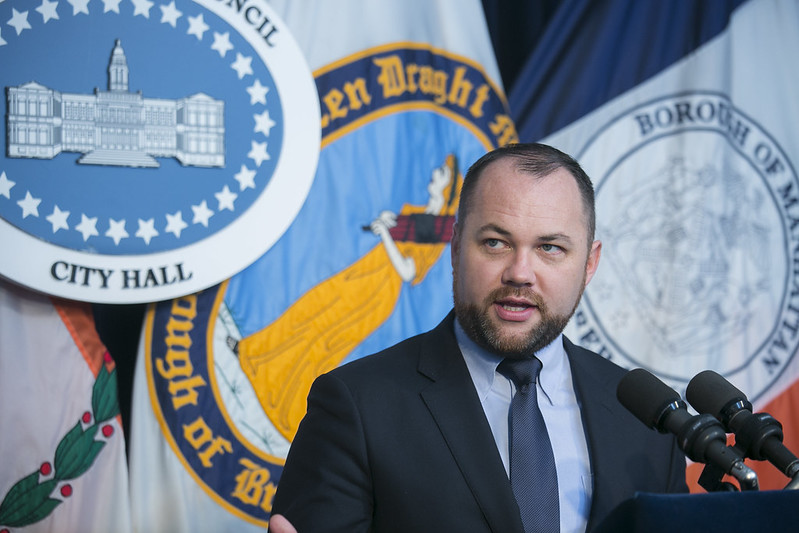 Corey Johnson (photo: City Council)
---
New York City Council Speaker Corey Johnson, a term-limited Democrat, announced on Tuesday that he is running for Comptroller, making a late entry into and shaking up a race that is well underway and already features several sitting elected officials seeking the Democratic nomination.
Johnson, who represents District 3 on the west side of Manhattan and has had a citywide perch as Council speaker, was considered a top potential contender for the mayoralty before he dropped out of the race in September, citing mental health challenges. He admitted then that he had been suffering from depression for months, after negotiating a particularly challenging budget and leading the Council during the peak of the pandemic. Johnson said he has received mental health care and is ready to launch this citywide campaign with just over three months until the primary.
"I have one mission: to better the lives of New Yorkers," Johnson said at his announcement, in Madison Square Park on Tuesday morning, promising to be a "champion for the most vulnerable."
The comptroller is the city's top fiscal officer whose duties include auditing city agencies, reviewing and registering city contracts, providing oversight of the city budget, enforcing prevailing wage and living wage laws, and serving as fiduciary to the city's five pension funds that hold assets worth $240 billion.
There are several candidates running in the June Democratic primary, which will for the first time be decided with ranked-choice voting, to replace current City Comptroller Scott Stringer, who is term-limited and running for mayor. They include Brooklyn City Council Member Brad Lander, Manhattan State Senator Brian Benjamin, Brooklyn State Senator Kevin Parker, Queens Assemblymember David Weprin, finance executive Reshma Patel, compliance and investment expert Terri Liftin, business journalist Michelle Caruso-Cabrera, and military veteran and entrepreneur Zach Iscol.
Johnson enters the race as one of the likely frontrunners, with significant name recognition and a healthy campaign fund that he raised when he was still a mayoral candidate. He had raised $859,000 and spent about $274,000, and had $585,000 in cash on hand as of January 11, the last campaign finance filing deadline. His campaign also claims $608,000 in funds eligible to be matched under the Campaign Finance Board's public matching funds program, which matches contributions from city residents at an 8-to-1 ratio. That means his campaign could receive as much as $4.8 million in public funds when the next payments are made.
Johnson, the first openly gay and openly HIV-positive speaker of the City Council, has often emerged among political observers as a favored alternative to Mayor Bill de Blasio, whose popularity sank during his second term. A vociferous cheerleader for the city, Johnson has shown himself to be affable and full of candor, including about his HIV diagnosis and struggle with drugs and alcohol. Pre-covid, his energy, enthusiasm, and authenticity won him many fans among city government watchers, momentum that he was planning to carry into a mayoral race.
But the pandemic hit and everything changed, with a city on lockdown, and public health, economic and fiscal crises unfolding. Johnson became a target of activists on the left last year during budget negotiations after promising and failing to make major cuts to the NYPD budget. Protesters vandalized his boyfriend's apartment building and largely laid blame for the budget deal at his feet, though he had explained that many Council members of color had been part of the negotiations and guided him with regard to how much NYPD budget reduction to seek.
At Tuesday's announcement, Johnson touted his accomplishments as speaker, including his successful push to fund the Fair Fares program that provides half-price Metrocards to low-income New Yorkers, the passage of legislation to prevent tenant harassment and crackdown on bad landlords, his streets master plan law, and others. But he chiefly boasted of his skills at negotiating the budget with the de Blasio administration and beating back cuts to the city's social safety net.
"I went into every budget negotiation repeating my motto: 'Do the most good for the people who need it the most.' I fought against balancing our budget at the expense of our children and our seniors, at the expense of the homeless and the hungry," he said, positioning himself as the candidate best able to provide city budget oversight as comptroller.
"To recover from the COVID-19 pandemic, we will need someone with experience, someone who knows the city's budget inside and out, someone who has spent years as a leader making tough decisions and getting things done. And that is why I am in this race," he added.
Johnson also addressed questions about his mental health. "I was honest last September when I said this is not the right moment for me to continue in this campaign, I need to take some time to take care of myself. And I've done that. But I'm not feeling where I was last September. I feel great. I feel better," he said.

Several of Johnson's colleagues endorsed him at Tuesday's announcement including Council Members Vanessa Gibson, Mark Treyger, and Helen Rosenthal, who also sought the comptroller's seat before dropping out herself. U.S. Representative Ritchie Torres from the Bronx, who was previously a Council member, also endorsed Johnson, as did the Hotel Trades Council, a politically-influential labor union that Johnson has been close with for many years.
As Johnson enters the race, Benjamin, Lander, Weprin, and Iscol -- who recently moved from the mayoral to the comptroller race -- have been pacing the field in money raised, while Benjamin, Lander, and Weprin have been accumulating the most endorsements from elected officials, activist groups, and labor unions.
Gibson praised Johnson for creating the first-ever subcommittee on the city's capital budget, which she previously chaired and is now led by Rosenthal. Gibson described Johnson as "someone who is not new to this work, but someone who is true to this work. He is committed, he is dedicated, and he has invested his life right here in the city of New York."
Rosenthal said Johnson has the critical thinking and relationships with other elected officials to be a successful comptroller, a position almost always used as a springboard to run for mayor.
Treyger, who chairs the Council education committee, commended Johnson's "budget mastery" in ensuring that the de Blasio administration puts more resources towards fair student funding, school infrastructure, paid parental leave for teachers, and pay parity for early childhood educators. "He knows every corner of the budget and he showed discipline and vision even before the crisis struck," he said.