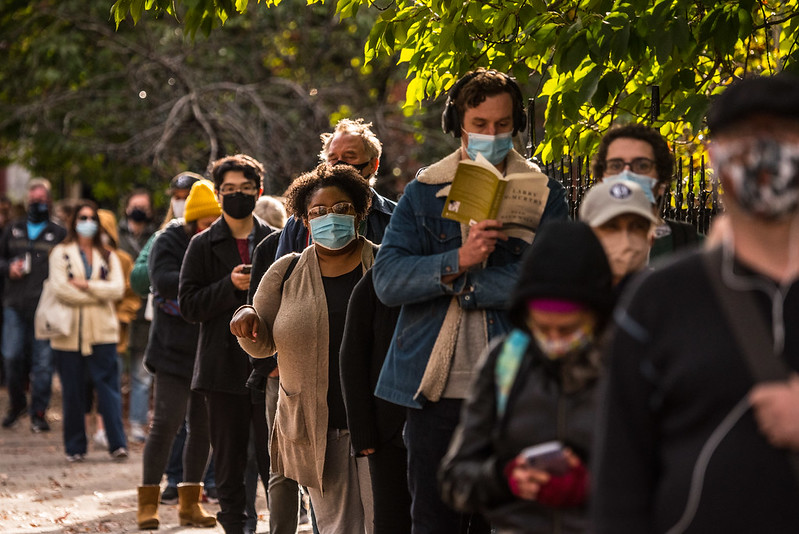 Voters on line to vote (photo: Michael Appleton/Mayor's Office)
---
In 2013, when Bill de Blasio emerged victorious in the Democratic primary and went on to win his first term as mayor, there were 3.14 million Democrats registered to vote in the city. Since then, nearly 620,000 more voters have registered as Democrats, bolstering the party's rolls for the upcoming June primary, the election likely to determine de Blasio's successor and the first-ever citywide contest using ranked-choice voting.
A crowded field of Democrats has emerged, with a top tier of eight, more than half of whom have never run for any elected office before and only two who are current elected officials. It's another wide open, competitive race, with a series of factors involved that make its contours as unpredictable as the outcome is important to the future of the city. One especially key piece of the equation is what the electorate will look like, and how the candidates, the coronavirus pandemic, the shift from a September to a June primary, the implementation of early voting and ranked-choice voting, the exceptionally large number of candidates running for City Council seats, and several other factors will all impact who turns out and in what numbers.
New York City's closed primaries, where only registered members of a party can cast a vote, tend to see low turnout. But, because Democrats outnumber Republicans seven-to-one, the primary will all but decide who the next mayor will be. In 2013, only 691,801 Democratic voters (22%) cast a ballot in the primary and de Blasio won the nomination with just 282,344 of those votes. In 2017, when de Blasio was comfortably reelected and faced nominal opposition, only 480,569 votes were cast in the primary and the incumbent received 343,054.
In 2013 de Blasio exceeded expectations, coming from behind in a crowded primary by winning support from a broad coalition of voters. According to an analysis by the CUNY Graduate Center, Black communities in Central and Western Brooklyn, Southeast Queens, Upper Manhattan, and the North Bronx all voted for him in heavy numbers, as did white liberals in Brownstone Brooklyn, "white ethnic" enclaves in Greenpoint and Long Island City, and Orthodox Jews in Brooklyn. He also won a fair share of Hispanic voters in several parts of the Bronx and Upper Manhattan.
The 2013 primary vote itself was demographically diverse, according to that analysis. Of the total votes, 44.1% came from white voters, 28.1% from Black voters, 22.1% from Hispanic voters, and 5.2% from Asian voters, according to the CUNY analysis. Turnout for de Blasio -- who received just over 40% of the primary vote and therefore narrowly avoided having to compete in a runoff (which have been eliminated by ranked-choice voting) -- largely followed a similar pattern to overall turnout: of his total, he is believed to have received 43.9% from white voters, 32.8% from Black voters, 20% from Hispanic voters, and 3.3% from Asian voters.
Of the total votes in that primary, Brooklyn accounted for 32.6%, Manhattan 28.6%, Queens 21.5%, the Bronx 13.9%, and Staten Island 3%.
De Blasio won 46.3% of the Brooklyn vote, 40.9% of the Manhattan vote, 34.9% of the Queens vote, 38.1% of the Bronx vote and 34.3% of the Staten Island vote.
The Upper West Side delivered 33,935 votes in the 2013 primary, of which 14,357 went to de Blasio. The neighborhoods of Brooklyn Heights, Fort Greene, Park Slope, Carroll Gardens, Crown Heights, Prospect Heights, Bushwick, Bedford Stuyvesant, together accounted for 82,230 votes, and de Blasio won 41,835 of them.
He also outperformed his competitors in neighborhoods with large Orthodox Jewish populations. In Borough Park, of the 8,796 votes cast, 3,879 went to de Blasio, who used to represent the area in the City Council. Williamsburg and Greenpoint residents together cast 16,351 votes, including 7,159 for de Blasio. The Orthodox Jewish vote, estimated at as many as 80,000 voters, has proved crucial in previous primaries and candidates, as well as sitting elected officials, make concerted efforts to court support from what is known as a swingable bloc. Entrepreneur and former Democratic presidential candidate Andrew Yang, the perceived early frontrunner in this year's primary, has been making overtures to the community while Brooklyn Borough President Eric Adams has been building relationships there for years. There is also a smaller but sizable Orthodox Jewish population in Queens.
Zooming back out, a Siena poll of likely Democratic voters from August 2013 -- a month before the mayoral primary that year -- found that 45% considered themselves liberal, 35% moderate, and 14% conservative. Just over a third, 34%, were from a union household. In terms of religious identification, 24% were Catholic, 28% Protestant, and 15% Jewish, while the remaining 29% identified with other religions. A larger portion of likely voters, 31%, had an annual income of less than $50,000, compared with 27% who earned between $50,000 and $100,000, and another 27% who earned more than $100,000.
Exit polling from The New York Times of Democrats who actually voted in the primary showed similar patterns. As was expected, 54% of those voters were women. About 63% were of the age of 45 or older. More than half, 56%, were college graduates. About 24% said they were very liberal, 36% said they were somewhat liberal, and 30% said they were moderate, and 10% said they were conservative. Nine percent of voters identified as gay, lesbian, or bisexual. Thirty-four percent said they belonged to a union household.
Fast forward to the 2018 midterm elections. Turnout swelled in the city and across the state, though New York still held two separate primaries, in June for congressional races and in September for state and local races – primaries have since been consolidated to June. Besides growing resentment toward then-President Donald Trump, a wave of progressive activists and organizations rallied to encourage voting, especially in a series of competitive Democratic primary challenges by progressives against more moderate state senators.
It was also the election that saw Alexandria Ocasio-Cortez elevated to Congress, defeating the longtime Democrtic stalwart Joe Crowley in the June primary, and which saw most members of what had been the state Senate's Independent Democratic Conference defeated in September. With Governor Andrew Cuomo also facing a primary challenge that year, from actor and education activist Cythia Nixon, and competitive primaries for lieutenant governor and attorney general, turnout was up. In New York City, 897,959 Democrats cast a vote in the state primary (598,045 voted for Cuomo and 299,914 for Nixon), an increase of more than 200,000 votes from the 2013 New York City primaries that included the open mayoral race as well as races for other seats throughout city government.
In 2020, because of the high-profile presidential race, turnout in the primary remained relatively stable despite the fact that all the candidates besides Joe Biden had withdrawn from the race. Of the 847,683 votes cast in the city, Biden won 533,229. Notably, that primary was held amid the pandemic over an effort by Cuomo and others to cancel it because Yang, who had suspended his presidential campaign, sued to make sure the vote occurred. Yang is of course now running for mayor in this year's Democratic primary, has the highest name recognition in the field, and has led the early polls.
In the eight years since de Blasio won the last wide open Democratic mayoral primary, the electorate has clearly shifted somewhat, but it's not clear how much, or what can happen in the final months before June's vote to influence who turns out and in what numbers. One of the open questions about the 2021 primary raised by recent New York election cycles is how much the ascendent far left of the Democratic Party will influence the mayoral and other races. For example, the growing New York City branch of the Democratic Socialists of America, which has over the last two years elected six state legislators, is not endorsing in the mayoral race but is working to elect six endorsees to the City Council.
Recent polling of the 2021 mayoral race by Fontas Advisors and Core Decision Analytics, a lobbying and opinion research firm, respectively, also offers a glimpse at the forecasted electorate. The firms estimate that 36% of likely Democratic primary voters will be white, 33% will be Black, 20% will be Hispanic/Latino, and 6% Asian. Those would be decreases from 2013 among white and Latino voters and increases among Black and Asian voters.
They also estimate 2021 Democratic primary voters will overwhelmingly be women, 61% in fact, which they say is in line with recent city primaries.
Most campaigns and other experts believe the primary electorate will expand, giving greater voice to communities that have otherwise been less engaged in previous municipal elections, in part due to ranked-choice voting, which encourages campaigns to pursue more voters in the hopes of being their first, second, or third choice. Candidates are expected to make broader appeals outside what would be their traditional bases and the diversity of the top tier of candidates themselves may also spur more voters to the polls -- Yang, for example, is the son of Taiwanese immigrants and, in vying to become the city's first Asian-American mayor, is hoping to expand the Asian electorate. Maya Wiley and Dianne Morales are both seeking to become the first woman and woman of color elected mayor; Kathryn Garcia the first woman elected mayor; Eric Adams and Ray McGuire the second Black mayor. Scott Stringer and Shaun Donovan, two white men, round out the top eight Democrats. Both of them, among others, are hoping for major support from the white progressive strongholds of the Upper West Side and Brownstone Brooklyn.
The city election comes on the heels of a presidential election that, despite fears that the coronavirus would depress turnout, saw more voter participation than ever before as the state took measures to greatly expand access to absentee ballots, among other steps.
The Demcoratic primary electorate has been multicultural for decades, but it's become increasingly more liberal, said Jerry Skurnik of Prime New York, a consultancy that closely studies voter rolls and turnout. "The white Catholic vote has gone down in the Democratic primary in the last 10 years now. That's the reason why it's gotten more liberal and more progressive," Skurnik said. "Basically, more moderate, conservative Democrats have either stopped voting, no longer live in the city, or are no longer Democrats."
Part of the change is organic, with younger people moving into the city and becoming newly-registered voters. Though younger voters vote at lower rates than older ones, they tend to vote for progressives when they do participate. Skurnik predicted that turnout will increase from recent mayoral primaries, expecting at least 800,000 votes among Democrats in June. (There will also be a Republican mayoral primary among several candidates.)
"If you look at the turnout in primary elections, it's correlated with income and education. So the home-owning brownstone neighborhoods are going to turn out more," said John Mollenkopf, director of the Center for Urban Research at the CUNY Graduate Center.
More women tend to turn out in the Democratic primary voters than men. "Overall, I would say probably about 58% of the primary voters will be women," Mollenkopf said, "and they tend to be older. The median age is in the upper 50s."
Besides younger professionals registering with the Democratic Party, there has also been growth among various immigrant communities that may not be large enough to swing the mayoral race but will likely play a key role in City Council races, Mollenkopf said. For instance, there has been "tremendous growth" of South Asian voters and several City Council races in Queens feature diverse slates that include South Asian candidates. That may also lead to increased overall turnout but in a counterintuitive way. "Usually turnout is driven by the top of the ticket...To what extent will turnout be driven by the bottom of the ticket as opposed to the top of the ticket?" Mollenkopf wondered. "Normally, the bottom of the ticket does not have much impact. But this [election] is unusually competitive."
Luke Hayes, campaign manager of Rank The Vote NYC, which successfully advocated for the passage of ranked-choice voting by popular referendum in 2019 and is now working to educate the electorate about the new system, said the post-Trump era has encouraged greater participation. Where primary voters tended to skew older, now "the kind of surge in turnout we're seeing is from a broader array in terms of age groups, across the board," said Hayes, who has run campaigns for successful insurgent progressives including now-State Senator Alessandra Biaggi and now-Rep. Jamaal Bowman (both of whom have endorsed Stringer after he endorsed them in their upstart bids).
Ranked-choice voting and an extremely large and diverse slate of mayoral candidates is also likely to animate more voters, Hayes pointed out. By necessity, candidates may be campaigning in districts that they would otherwise overlook and, because of the flexibility of virtual campaigning, may be reaching more voter s than they could physically meet. "I think we're seeing candidates start to expand who they're talking to and I think that really has a great effect," Hayes said, "because more voters are getting interactions with more campaigns, instead of just having that one candidate come to your door, that one candidate call you." In other municipalities that have implemented ranked-choice voting, studies have shown that turnout increased and more women and people of color are elected to office.
The first competitive mayoral election in eight years has prompted competing interests who are hoping to influence the Democratic primary. On the one hand, there are groups like Make the Road Action, the political arm of immigration advocacy organization Make the Road New York, which is attempting to get New Yorkers in communities of color, especially progressives, to turn out in greater numbers. "I think we see opportunities among voters who for a long time were ignored as quote-unquote low-propensity voters, and who were often voters that political parties and political campaigns ignored come campaign season," said Daniel Altschuler, managing director of Make the Road Action. "There's just a broader pool of folks who have begun in the last couple of cycles to get into the process. Not just in presidential years and not just in general elections, but in local elections and local primaries."
He was also enthusiastic that ranked-choice voting would help more Black and brown New Yorkers make an impact on the race. "It's a really positive development for democracy in New York City," he added.
On the other hand, the city's moneyed class has been making attempts to persuade moderate voters to beat back what they see as a wave of anti-business sentiment that they say de Blasio fostered and that has been expressed by many of the candidates seeking to replace him, not to mention many running for City Council positions. According to a New York Times report, billionaire real estate developer Stephen Ross has been speaking with fellow corporate leaders to convince them to spend millions in independent expenditures on the mayoral race.
"The impact of the presidential election, and what happened on January 6...and what's happening in Albany right now, are all keeping the public's eye on the importance of who's running our government," said Art Chang, one of the many Democratic mayoral candidates and a former leader of a voter engagement organization. "I don't know that I've ever seen the interest level this high in a mayoral election at this point before."
He believes that one of the trends in this election will be higher turnout among Asian-Americans, who have tended to vote at lower rates than their overall representation in the population. He pointed to the increased activism in Asian-American communities, particularly in the wake of rising anti-Asian hate crimes during the pandemic, highlighted most direly by the recent mass shooting in Atlanta but also several horrific incidents in the city.
"As time has gone on, there's a new generation of Asian-American activists and we're beginning to see, I think, a lot more activity there which I think is very hopeful for this election," he said.