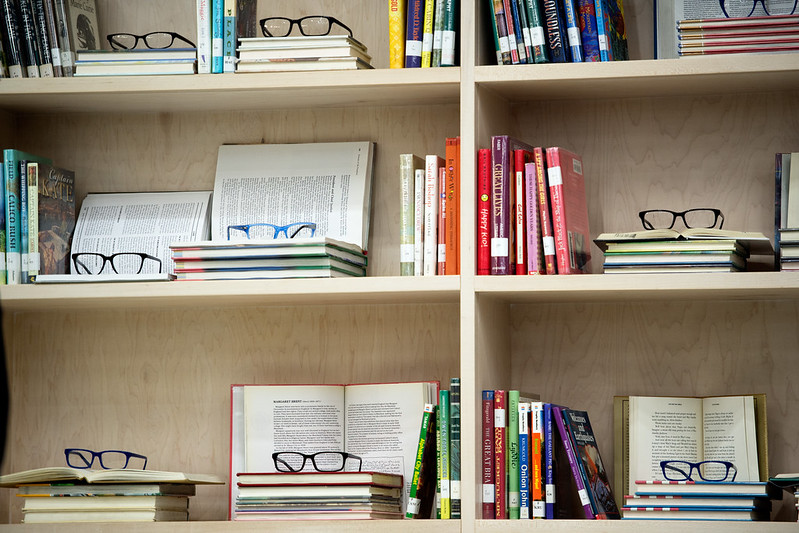 A Warby Parker event (photo: Demetrius Freeman/Mayor's Office)
---
This past week, advocacy group Tech:NYC and glasses company Warby Parker, among others, co-hosted a forum with seven leading Democratic candidates for mayor, who appeared one at a time to answer questions from Business Insider columnist Josh Barro about the city's future and their agendas.
The participating candidates, in order of appearance, were entrepreneur Andrew Yang, former sanitation commissioner Kathryn Garcia, Brooklyn Borough President Eric Adams, former federal housing secretary Shaun Donovan, former Wall Street executive Ray McGuire, Comptroller Scott Stringer, and Maya Wiley, a civil rights attorney and former counsel to Mayor de Blasio. The event was co-hosted by AT&T, Bowery Farming, Etsy, Harry's, Via, WeWork, and Zola, among others.
The questions, somewhat uniform to each candidate, focused on issues relevant to the tech and business communities, such as how to attract business to New York City in the post-COVID-19 economy, the failed Amazon 'HQ2' deal, housing development, and expanding broadband access.
Andrew Yang
Barro asked Yang as a businessman how he thought that businesses choose to locate in New York, and how as mayor Yang would make them more interested in the city. Citing his experience in start-ups, Yang argued that the location of companies depends on where their employees would like to be. He said that "if there's one thing that makes the world goes around for founders, it's talent."
To make the city more attractive to employees, Yang honed in rectifying quality-of-life issues such as "getting schools open to garbage pick up to public safety concerns." He reiterated his oft-cited stance that the city must restore its "value proposition" to business owners and others alike to make some of the challenges of the city, like cost and commutes, worth it.
Barro asked why "garbage is piled high on the sidewalks" and why the city has not moved to containerized pick-up. Yang called out the cuts to the Department of Sanitation budget, saying that "if you've noticed more trash on the street, that's why," and saying that is something he would restore funding to.
Barro moved on to 'HQ2,' which was slated for Queens before activists and elected officials who opposed the Amazon deal pushed the company to back out, and the role of subsidies in attracting major technology companies to New York City. Saying that "Manhattan has a natural draw," Yang acknowledged the role of subsidies in attracting companies to the other boroughs.
Yang said that he supported 'HQ2' for Queens, and falsely said, "I'm one of the only mayoral candidates who's said on the record that losing Amazon was a mistake for the city." Barro pressed Yang on whether the "billions in subsidies" that Amazon would have received would have been worth it. Yang said it wasn't great policy. "You can't just let them walk away," Yang said, citing the many thousands of jobs the campus was slated to create and support of the service industry it would have provided.
Barro then asked if changes to corporate structures that allow for remote work, accelerated by the demands of the COVID-19 pandemic, affected the city's ability to attract tech companies. "New York City is fundamentally a place-based economy," Yang said, and "the New York City advantage will still be there." Barro pressed Yang further on the difference of attracting workers versus attracting firms, asking Yang how his strategy to attract companies would change. Yang admitted that the city will have to "compete and make its case" in a way it did not have to in the past, adding that he is exploring "incentives" for workers to commute to the city five times a week, mentioning gift cards to New York City bars and restaurants as a possibility, and making investments to increase tourism.
Barro asked Yang about reducing the sky-high costs of the city's capital projects. Yang said he would have the city "be more disciplined" about having contractors focus on the quality of their work rather than sub-contracting. He also mentioned he would streamline bureaucracy, saying that it was not user-friendly for small businesses.
Asked how many housing units the city should build over the next ten years, Yang did not present a specific figure, saying only that it would be in "the tens of thousands" for his first term and that he would want to increase the rate of housing development in the city. Seemingly underprepared to discuss housing development goals, Yang pivoted to his pledge to reduce street homelessness "by 50%" over his first term, and said he would want to convert some vacant hotels into affordable and supportive housing.
Barro concluded by asking Yang if he had connected with any of the other mayoral candidates, to which Yang responded that he was "a huge Kathryn Garcia fan" and that she was someone he "admired a great deal."
Kathryn Garcia
Asked why she is the best candidate for mayor, Garcia told Barro that "understanding how the city works is absolutely critical, because then you can actually fix things" and "know where the pain points are." She said her managerial experience in various roles in city government made her the strongest potential next leader for New York City.
Barro asked Garcia about the city's garbage situation, asking if it was possible to "get it off the sidewalks and into closed containers," to which Garcia said it was fully possible, and that part of that effort would require the city "rethink the public realm" about how street space is used. She mentioned that as sanitation commissioner she had launched a pilot program for commercial corridors that is being implemented.
Asked how she thought public spaces were being underutilized, Garcia advocated that "you need people walking the streets of New York, spending money" and that public space management efforts should look at "Open Restaurants, Open Culture, but also thinking about greening the city," with references to two recent pandemic-era public space programs launched by the city.
On attracting companies to the city, Garcia said she would focus on a "liveable city," as companies "locate where they have really strong labor forces."
"We have to do way better" building housing, Garcia said, adding that her efforts would target "unlocking the private sector by getting rid of the bureaucracy" and building between 20,000 and 30,000 units a year. Citing that "time is money in construction" and that "we don't actually do good planning," Garcia said she would increase community input and reduce bureaucracy. Barro challenged her on this point, asking how she would resolve situations where increased considerations would conflict with expeditiousness, citing her support while working under de Blasio for special construction permits for hotels. Garcia sidestepped the first part of the question, only defending her support of special permits for hotels.
On expanding broadband access, Garcia said she would target lowering costs, facilitating rule changes to make the expansion of broadband easier in communities, and having the city connect residents to broadband themselves if companies did not create broadband access where the city would like.
Eric Adams
Adams said that he is the best candidate for mayor because of his life experiences from growing up in poverty, experiencing police brutality, becoming a police officer himself, and his diabetes diagnosis that he went on to beat through a healthy lifestyle. As "someone who has gone through a lot," Adams said he was in the best position to help other people "going through a lot."
On how companies should be "respectful" in the city and be good neighbors, something Barro brought up as Adams has discussed it in the past, Adams said he would challenge corporations to think on the question "how do I involve myself in the communities put in place long before me?" such as working with the Department of Education to teach children life skills. On how he would actually accomplish these partnerships, Adams pointed towards working with specific organizations and not "demonizing companies" and creating "this synergy that we are in this together."
Examining his stated plan to name an "efficiency czar" to make city government work better, Barro asked how Adams' approach to reducing waste differed from past tactics under Bloomberg and de Blasio. Adams argued that "the city is dysfunctional" because "agencies are not aligned" and pointed to his record in the NYPD using data and technology as part of the department's modern evolution. When pressed by Barro on how agencies would operate differently, Adams cited his mother saying "What gets measured, gets done. If you don't inspect what you expect, it's all suspect," and said he would want real-time data for examining basic city services.
Barro gave Adams the same question he gave to Yang on whether the city should push for tech companies to locate in boroughs other than Manhattan and whether Adams would support subsidies to make that happen. Adams denied that the city needed a subsidy program, and turned to discussing quality-of-life issues. To "build the proper environment" for companies to locate all over the city, he would focus on providing services such as access to transportation, public safety, and high-speed internet, he said.
Barro brought up the defeated Industry City rezoning in Brooklyn, an expansion and development proposal promising thousands of jobs and more economic activity along the Brooklyn waterfront that was ultimately defeated by local activists and City Council Member Carlos Menchaca. "It's really unfortunate that we could not seal the deal in Industry City," Adams said, adding that on development projects in general he would want to focus on being inclusive but also on "how can we get to a yes." On whether or not local Council members have too much power to kill projects in their districts, Adams argued that for projects that affect the entire city, one member of the City Council should not have the power to shut them down, an informal practice known as "member deference" where the full Council defers to the local member whose district the proposal is slated for.
On housing, Adams told Barro that asking how many units of housing to add was "the wrong question" and that the city should audit its current housing to see where there are vacancies or lack of use and go from there. Barro pushed back, saying that even with auditing vacant housing more housing must be developed because of the city's growing population, on which Adams deflected and instead pressed his desire to identify unused housing.
Shaun Donovan
Barro opened his conversation with Donovan, the former head of housing in the city and nationally under Mayor Bloomberg and President Obama, on housing. Donovan said the city should add 50,000 units per year, a very large goal, and touted his "15-minute neighborhoods" plan to ensure every New Yorkers lives in a great neighborhood with access to everything they need.
On rezonings, Donovan said he was open to upzonings for more housing, such as what the de Blasio administration is currently attempting in SoHo. He added that there should be a "citywide land use budget" to "make sure every community is doing its fair share," through looking at ways to add density and using citywide inclusionary zoning.
After Barro asked what he would do differently to add housing from his time under Bloomberg, Donovan said the scope of the city's housing problem is wide enough that "changing the trajectory" for the city takes years. He also said he was proud of the Bloomberg legacy on upzoning wealthier communities.
On lowering the cost of construction, Donovan discussed "building differently" such as using new technologies and having an administration "that brings innovation to every phase of what government does."
On attracting increasingly mobile workers and firms to New York City, Donovan called himself "an urban optimist" and that the question was about whether or not specifically New York City could manage the challenge. New York City can become the "tech center" of the world, he said, and he would make it happen through his specific plans and by focusing on quality-of-life issues.
Ray McGuire
McGuire argued that he was the best candidate for mayor because of his private sector experience, where he was one of the top executives at Citi and on Wall Street more generally, saying that "this is not the time where someone gets to the mayoral spot to learn how to manage or lead."
On attracting businesses, McGuire said that the city should "incentivize businesses to do more business here, not less" and that he would work on uniting business interests with the rest of the city, rather than pursuing divisive measures such as increasing taxes.
To move "job centers out to the outer boroughs," McGuire supported using subsidies, which he referred to as incentives. McGuire said the collapse of the Amazon 'HQ2' deal was a mistake and that the project would have been a big net positive for the city, even with the subsidies.
On expanding broadband access, McGuire said it's essential for education, and pointed to his economic comeback plan, which would include efforts to create universal broadband access.
To improve the efficiency of the city's capital projects and "to bring costs under control," McGuire said he would "bring all constituents to the table." He said that he "wasn't in anyone's pocket" and that his "sole focus" is on what is best for the city, that he's not "focused on sub-agendas." He referenced de Blasio's tagline of the "Tale of Two Cities," saying that now New York City was a "fractured city."
Calling his answer "nonspecific," Barro pushed McGuire to elaborate on what made his leadership skills unique. McGuire said that, having led a global business, he was the only candidate with the skills to unite the diverse constituencies of New York City and focus on "shared prosperity."
On housing, McGuire said he would like to increase the city's housing units by 10%, or 350,000 units. Barro asked McGuire for a timeline on such development, which McGuire side-stepped, pointing to lowering construction costs and the economic benefits new construction would bring.
Scott Stringer
Stringer said he should be the next mayor in part because he is a "real seasoned government leader, who has vision and experience."
Barro asked Stringer how he would seek to regain jobs lost in the COVID-19 pandemic, confronted with "an economy that may be permanently different in certain ways," citing business travel as something that may permanently decrease.
Stringer replied that he would focus on small businesses, including by directing $1 billion from the city's federal stimulus money to them. He would provide tax incentives for new businesses to locate in the city in "vacant corridors" and would make sure small businesses are not "fined and fee-ed into oblivion." He said small business owners would not need to hire an expediter to get projects approved in the city and he would create a tech platform for small businesses to use to efficiently navigate city processes.
Asked what he would do differently from Bloomberg and de Blasio on the issues of inefficiency in small business processes, Stringer lambasted de Blasio by saying "what he didn't do was govern." Saying "you gotta manage this town," Stringer said that he would focus on actually accomplishing goals that the city sets for itself.
On attracting tech companies to boroughs other than Manhattan and the role of subsidies in those conversations, Stringer said "it's exciting that we're spreading our economy out," that "if we build it, they will come," that he would focus on quality-of-life issues such as transportation, and that attracting businesses relies on the "value proposition" of what the city can offer businesses.
On how many housing units he would seek to create as mayor, Stringer said "as many as possible," but he said key to his vision is creating enough "low-income housing" to actually meet the need in the city. Looking at the legacies of Bloomberg and de Blasio, he said, "We've had mayors talking about these big numbers, but they have not helped people get housing." His efforts would focus on housing that targets those close to homelessness and would focus on true affordability. He would create 10,000 units of low-income housing and "catalogue" the vacant parcels the city owns for potential developments.
Maya Wiley
Saying that the COVID-19 pandemic "pulled the curtain back" on the issues the city faced, Wiley said that the challenge for the next mayor would be to "create a more unified city." Doing this requires "very different leadership" to pursue "transformative policy," Wiley said, adding, "I'm not a politician, and I think that's the point."
On expanding broadband, Wiley pointed to her work on universal broadband when working for de Blasio at City Hall by soliciting input from outside groups such as Girls Who Code, and by unifying the efforts of different agencies to work on the project. When Barro pushed Wiley for concrete steps for accomplishing universal broadband, she said she would focus government efforts on the "last mile problem in highly, highly, underserved areas" by "asset-mapping" current city resources that could be used to provide universal broadband. She would also pursue public-private partnerships, and look at technological innovations, she said.
On small businesses, Barro asked about why Wiley's platform would have the city increase the number of restaurant health inspections, but to have those inspections announced in advance. Wiley said sometimes the city's efforts to protect health can backfire by "jeopardizing the business rather than serving the public," and that her plan would maintain restaurants' compliance with health code violations while
Adding to her response, Wiley said she would streamline small businesses' interactions with the city and grow their relationship with the city. She would want the city to be more proactive in their assistance to small businesses, so that they work together to solve problems rather than having the city shutting down actions after the fact. As an example, she mentioned having the city release blueprints for COVID-19-safe outdoor dining vestibules, rather than punishing restaurants for non-compliant vestibules after those businesses spent thousands of dollars "that they don't have" on them. This would be "business-friendly, without sacrificing the issues we have to protect for the public," she said.
Barro asked Wiley if there were other "big pilots" such as Open Streets she would want to pursue as mayor. "City government is a city unto itself," she replied, and said that it is important to "recognize where government needs to partner with itself" better. To that end, she mentioned her plan to create an Office of Public Space Management, which would unite different agencies to create a centralized approach.