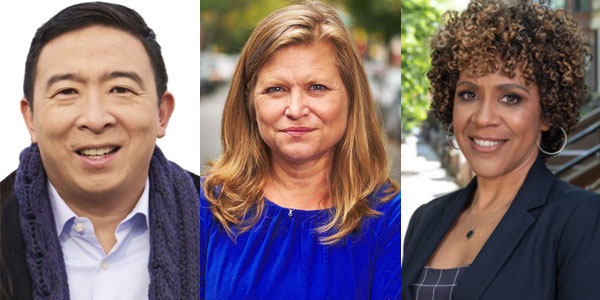 Andrew Yang, Kathryn Garcia, Dianne Morales
---
The top tier of the Democratic primary field in this year's race to be the next Mayor of New York City just became all the more competitive as several candidates received much-needed infusions of public matching funds on Thursday through the city's campaign finance program.
The New York City Campaign Finance Board's voluntary public funds program matches small dollar donations to encourage candidates to reach out to a broader swathe of voters and to avoid the pitfalls of fewer wealthier donors influencing elections. In recent years, the program has been strengthened, matching up to the first $250 of every campaign contribution from a city resident to a mayoral candidate at an 8-to-1 ratio. The new matching ratio also comes with a lower maximum individual contribution limit of $2,000. This is also the last election cycle that candidates can opt into the older system which provides a 6-to-1 match for the first $175, and has a contribution limit of $5,100.
Of the top eight Democratic candidates, six are participating in the new system – Brooklyn Borough President Eric Adams, Comptroller Scott Stringer, former counsel to the mayor Maya Wiley, former sanitation commissioner Kathryn Garcia, former nonprofit executive Dianne Morales, and entrepreneur Andrew Yang. Former federal housing secretary Shaun Donovan has chosen the lower match with higher contribution limits while former Citigroup executive Ray McGuire is the only top candidate funding his campaign entirely from private donations.
As of last month, Stringer, Adams, and Wiley were the only candidates to have received public funds, giving them a resource advantage as the race headed into its final several months. They received additional funds on Thursday, while Garcia, Morales, and Yang were awarded their first public funds payments, crucially netting them well over $2 million each with just over two months until primary day, June 22 (early voting will be June 12-20). Yang received over $3 million.
The payments were based on the last campaign finance filings from March 15, with the Campaign Finance Board having gone through its vetting process and making its determinations and payouts now.
Donovan, who had $718,000 on hand as of last month's filing, had earlier seemed to meet the qualifying threshold for public funds, but the CFB initially withheld any payments to his campaign. The Board was investigating whether Donovan's campaign is coordinating with an independent expenditure committee called New Start NYC, funded with $2 million from Donovan's father. On April 22, the CFB finally approved a nearly $1.5 million payment to his campaign. "After reviewing additional information, including statements from Shaun and Michael Donovan, the Board voted to approve a public funds payment to the New Yorkers for Donovan campaign today. The campaign will be subject to an ongoing, post-election audit, just like all campaigns in this election," said CFB Chair Frederick Schaffer, in a statement.
"We are grateful for the CFB's swift action to resolve this issue, as well as to the thousands of New Yorkers who donated their hard-earned dollars to support our campaign of ideas," said campaign manager Brendan McPhillips, in response to the payment. "This decision upholds New York City's unique, progressive campaign finance system as a model for the nation."
The other campaigns celebrated the payments as they touted them both as a show of support from voters and as a crucial assist in expanding their reach in the lead-up to June voting.
Adams had nearly $7.6 million in cash on hand as of March 15 and received another $317,295 in public funds on Thursday.
Stringer had more than $6.8 million and got another $589,230 in public funds based on the last filing.
"We're building a multiracial, intergenerational, people-powered coalition to go the distance and win this race. And we're in the public matching system because campaigns should be about the people and their needs—not big corporations or wealthy donors," said Tyrone Stevens, a campaign spokesperson. "This latest round of public matchings to our campaign speaks to our building momentum and adds to our campaign's resources. Scott is a true progressive who has what it takes to win this race and be ready on day one at City Hall."
Wiley, who got her first public payment of $1.9 million last month and had $1.65 million on hand as of the filing including that payment, received an additional $906,437 in public funds on Thursday.
Yang, the apparent frontrunner in the race, made the biggest fundraising leap despite his late entry into the race. Since declaring his bid and starting to raise money, Yang has shown prodigious fundraising prowess, in large part building off of his network established during his presidential campaign, during which he raised over $40 million.
In mid-March, Yang had just under $1.3 million in cash on hand. On Thursday, he received a whopping $3.7 million in public funds. In a statement he said, "Let's go New York! I am so proud of the outpouring of support from New Yorkers across the city that helped us unlock over $3.7 million in matching funds today. These funds will be critical to getting our message out to every New Yorker about our vision for building a vibrant, hopeful, and thriving city over the next four years. Our people powered campaign is just getting started — I can't wait to keep meeting and talking to all of you in the weeks ahead!"
Garcia -- who along with Wiley, Donovan, McGuire and Morales has never run for elected office before -- had about $393,000 on hand at last month's filing. On Thursday she received a big boost with a public funds payment of $2.26 million.
"The public finance system gives candidates like Kathryn—a public servant who has never run for office—the opportunity to compete against political insiders and millionaires," said Monika Hansen, campaign manager, in part, in a statement. "Kathryn doesn't come from a family with millions to funnel to her campaign through a Super PAC. Instead, she has the enthusiastic support of New Yorkers in all five boroughs. Today's announcement is yet another testament to the energized, people-driven campaign Kathryn is building across all five boroughs, and a clear sign that New Yorkers are hungry not for politics as usual, but for experienced, crisis-tested leadership."
Morales, who is running a progressive grassroots campaign relying on small-dollar contributions, was at the bottom fundraising rung within the top tier last month and had just about $260,000 in her campaign account at the March filing. But on Thursday, she received a major needed boost with nearly $2.25 million in public funds for her campaign.
"New Yorkers are ready to radically reimagine what our City can be. These funds will expand the reach of our organizing power and help fuel this movement, a movement to transform our City into one of dignity, care and solidarity," Morales said in a statement. "I'm so humbled by every single dollar and every drop of support that New Yorkers have given to this campaign so far. We have a responsibility to continue fighting for these communities who have been historically marginalized, made vulnerable by oppressive systems, and ignored by the establishment in power. The People have made a decision that something must change, they have found inspiration and hope in this movement -- we will not let them down."
Note - this article has been updated to note that Donovan's campaign received a nearly $1.5 million public funds payment on April 22.