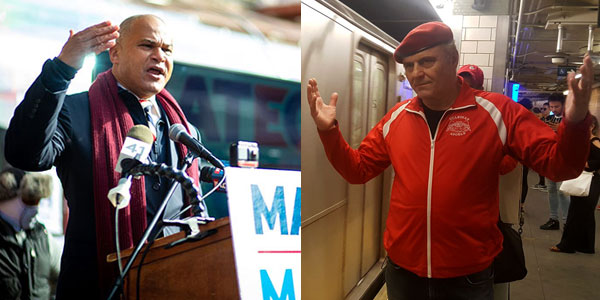 Fernando Mateo, left and Curtis Sliwa
---
With under 50 days until primary day, June 22, the race to become the next Mayor of New York City has been picking up steam, though far greater attention continues to be on the crowded and competitive Democratic primary, in large part because it is likely to choose the next mayor based on the party's very heavy (nearly 8 to 1) voter enrollment advantage. But New York had two mayors elected as Republicans who led the city for five terms from 1994 through 2013, and there is a competitive GOP primary this year, open to the roughly 566,000 Republican voters in the five boroughs (compared to almost 3.8 million Democrats and 1 million independents).
The Republican mayoral primary race has narrowed into a one-on-one contest between Guardian Angels founder and radio personality Curtis Sliwa and advocate and businessman Fernando Mateo. Former Wall Street executive Sara Tirschwell, who had been leading in fundraising, was knocked off the ballot when it was being finalized based on the Board of Elections' assessment of her petition signatures and, according to The New York Post, after an ally of Mateo's, Robert Morgan III, filed a challenge against her designating petitions.
At a mayoral forum hosted by the New York City Hospitality Alliance last month, Tirschwell insinuated Mateo led the efforts to remove her from the ballot and repeatedly confronted him on the matter. During the forum, Tirschwell exclaimed, "The Republican Party operatives behind candidate Mateo would prefer to protect their petty thiefdoms than give their rank and file members the opportunity to vote for me."
After being officially eliminated from the race, Tirschwell released a statement again claiming Mateo and his allies targeted her ballot access. She stressed their actions were exemplary of the very issues she ran to solve and endorsed Sliwa, who supported her claims and she said had treated her with respect.
In the weeks that remain, the competition between colorful and controversial candidates, Mateo and Sliwa, will likely be fierce, especially given the verbal sparring between the two at mayoral forums that have already occurred. There are scheduled to be two official, televised debates between the two, per the New York City Campaign Finance Board, on May 26 and June 6. While Sliwa is likely better known to New Yorkers, Mateo had a major fundraising advantage as of the March campaign finance filings.
Though all acknowledge the winner of the Republican primary will have a very steep climb to victory in the general, some cite parallels between the city's current troubled state and the city during the years Rudolph Giuliani and Michael Bloomberg were elected. Giuliani, who'd had a high-profile career as a federal prosecutor, positioned himself as a law-and-order candidate during a time when the city's murder and other crime rates soared. In 2001, Bloomberg ran for mayor in the wake of the September 11 terror attack, when New York City's future was seen as uncertain.
This year, mayoral candidates from both major parties must address the pandemic-driven economic and fiscal crises, as well as a surge in gun violence that also appears related to the fallout from the virus' socioeconomic impact. Murder increased 36% in 2020 over 2019, for example.
With the city in economic and public safety trouble, there's opportunity for Sliwa and Mateo to make their case, and for the winner of the primary to pitch conservative Democrats and independents to vote Republican. There still may not be enough votes to prevail, however, and neither shares the profile or funding capabilities or sense of viability that carried Giuliani and Bloomberg. The latter spent over $100 million to secure a third term in 2009.
Still, whether it is Sliwa or Mateo who faces off the Democratic nominee in what will be an extended general election given the move of the primaries to June, there will be an important debate over the future of the city leading up to the fall election.
Sliwa's claim to fame is the 1979 founding of the now-international volunteer crime-prevention group The Guardian Angels. He has used his long-time experience as a self-appointed crime fighter to position himself as a Giuliani-esque candidate who's tough on crime. The Brooklyn native is also well-known as a radio 'shock jock' on WABC radio and was formerly on NY1 television.
When asked during a mayoral campaign interview if he'd like to apologize for racist and misogynistic commentary in the past, Sliwa replied, "I don't doubt there's anybody else in this race who has done more commentary than yours truly, both in radio, television, and other forms, in which sometimes you're going to say things that are somewhat regretful." He did not offer an apology. Sliwa resigned from his position as a WABC talk show host to run for office.
In that interview with Gotham Gazette, Sliwa said he'd been an independent for most of his adult life, and noted he previously served as the chair of the New York Reform Party until the party lost ballot access in 2018 and dissolved, though the party Sliwa chaired was not affiliated with the national Reform Party.
Sliwa said he just registered as a Republican in February 2020. He recently announced his plan to create an 'Animal Welfare' party line and is currently trying to gather 3,000 signatures for a second petition to qualify for the general election as a candidate on the new line. The party's sole purpose is to make New York City a 'no-kill animal shelter' city similar to Los Angeles and Austin.
Sliwa said he did not vote for Donald Trump in either the 2016 or 2020 presidential election, a contrast to Mateo who did support Trump in both those elections. Sliwa has been both supportive and critical of Trump on various issues. He has been endorsed by the Brooklyn and Staten Island Republican Party affiliates.
Mateo is most well-known for his work as President of the New York State Federation of Taxi Drivers and the Bodega Association of America. On the campaign trail he regularly cites founding a job training program for incarcerated non-violent offenders on Rikers Island and the founding of the national Toys for Guns program that aimed to help get guns off the streets. For the latter, he received the Points of Light award from President George H.W. Bush in 1991.
Mateo has talked openly about his adverse upbringing and has claimed the public school system "failed him" and at age 15, he dropped out of high school. At 17, he opened a small carpeting business in the Lower East Side that eventually grew into a multi-million dollar contracting business. Mateo and his wife are the current owners of rooftop bar and restaurant Zona De Cuba in the Bronx. They are also previous owners of the Washington Heights restaurant La Marina, which was shut down after a series of scandals involving health code violations and a drug bust. Mateo has repeatedly claimed that new arrivals to the neighborhoods nearby flooded the city with complaints about the restaurant and that it was also victimized by the police department.
Mateo has leveraged his advocacy and small business ownership experience to position himself as a blue-collar New Yorker who would advocate for small businesses as mayor.
During this race, Mateo's alleged illegal fundraising for Democratic Mayor Bill de Blasio has come up repeatedly, including from Sliwa. He criticized Mateo on the subject at a recent WABC radio mayoral forum, calling Mateo a "de Blasio Republican." In a recent interview on the Max & Murphy podcast, Mateo denied the allegations and stated, "I don't even know what the definition of straw donor donations are, what I do know is that it's illegal, and I've never done anything illegal."
Mateo has repeatedly called himself an "urban Republican," which he explained refers to his life's work being based in highly Democratic neighborhoods throughout the city, often communities of color. Mateo is of Dominican descent.
"They are the neighborhoods that need the most help," he said. He claims he offers often "misguided" Democratic neighborhoods an alternative way to succeed. In efforts to differentiate himself from his opponent, he accused Sliwa of "infiltrating the Republican Party" because he'd only recently registered as a Republican.
"I've been a Republican since I'm 18 years old and I've voted in Republican races for 30 years," he said on Max & Murphy. "I've never switched parties. I never danced with any other party." He voted for former president Donald Trump in both presidential elections, but stopped supporting him after the capitol riot in January, he said. Mateo is backed by the Republican Party affiliates in Manhattan, the Bronx and Queens.
Both candidates acknowledge their low odds of prevailing in the general election, but readily state they are up for the challenge regardless. At the recent WABC mayoral forum, Mateo said, "We know that Republicans aren't really liked in this city. We know that most people say that a Republican stands no chance to win in New York City, but they also said that to Rudy Giuliani, [George] Pataki, and Bloomberg, and they governed the city for 20 years and 12 years together. Those were the best 20 years that I remember we had in this city. We all know our city's unsafe. We all know that our city needs a lot of help. And guess what? That's where the Republicans have to step in and make our city better, we have always done the right thing by our city and we will continue to do the right thing in this city."
In public appearances, both Mateo and Sliwa have been highly critical of de Blasio. In an interview with Gotham Gazette, Sliwa explained why he's running for mayor. "The same reason you have so many Democrats," he said. "And it's because of the disastrous mayoralty of Bill de Blasio. He has so wrecked this city."
Both candidates were asked to give the term-limited outgoing mayor a letter grade for his tenure, to which Sliwa responded "E-minus" and Mateo responded "Triple F." Mateo claimed this was the appropriate grade given de Blasio's "corrupt administration, lack of leadership and for being oblivious to what's going on in New York City."
The two Republicans share similar campaign policy platforms centered around quality of life issues, public safety, and economic revitalization. For both of them, public safety is viewed as a foundational necessity for the city's recovery from the pandemic-induced fiscal crisis. They both pledge more support for the NYPD and a more aggressive police department, though both also recognize that the police department has to ensure racial fairness and proper use of force.
In a recent Max & Murphy podcast interview, Sliwa said, "The only way we're going to get the city back on track is if there is a degree of public safety. If we don't have that, New York City will never recover economically."
As outlined on his campaign website, Sliwa's current campaign policy agenda boasts two published plans: property tax reform and business regulatory reform. The first promises to provide economic relief for low- and middle-income city residents. This comes with his proposal to end property tax breaks for entities like Columbia University, large private hospitals, and Madison Square Garden (an area where Sliwa sees eye-to-eye with Democratic candidate Andrew Yang). On his site, the plan states, "Can you believe these billion dollar-backed organizations have gone decades without paying a penny in property taxes? By finally making private, wealthy universities and businesses pay their fair share, I will deliver millions of dollars in tax relief to NYC residents, while keeping NYC's budget balanced." He would also institute a property tax exemption for older people with income below $75,000.
Sliwa's Right to Business Plan would aim to eliminate the currently prevalent bureaucratic barriers that make it challenging for residents to start and keep open businesses. The plan promises to enact a small business loan program that would offer low-value loans for new business owners. He'd also issue a two-year moratorium on all permit and licensing expenses while streamlining the processes of each with set time limitations. On his site, the plan states, "All permit and licensing applications will receive a final determination within 60 days. No business should be left waiting in bureaucratic perpetuity." Additional points include a revival and expansion of the NYC Business Express initiative and the creation of an Entrepreneur and Small Business Council. This council would be composed of appointed industry leaders who'd advise him on maximizing the effectiveness of partnerships between government and business.
Furthermore, Sliwa has outlined plans to "reinvigorate" the NYPD in public appearances. He recently stood outside One Police Plaza, the NYPD's headquarters in Lower Manhattan, and officially announced this plan to 'Refund the Police.' Sliwa said he'd use the funds drawn from his plan to make New York City's wealthiest private landlords pay more taxes to replenish the police department's budget (which has not in reality been depleted). Sliwa is promising to hire an additional 3,000 officers on top of the NYPD's roughly 36,000 current headcount, more use of the stop-and-frisk tactic, and a more strict response to protests.
"In many ways, we're going back towards the late '70s, '80s and early '90s when we were 'fear city,'" Sliwa said on Max & Murphy. "So I really fear that we're not taking the measures necessary to stem the incredible rise of violent crime and the incredible unsafety—lack of safety—that exists in a lot of the subways and a lot of the streets on a daily and nightly basis."
Sliwa told Gotham Gazette he would reimplement and reform the NYPD's controversial anti-crime plainclothes units that were the subject of many complaints for brutality in the past and were disbanded last year by Police Commissioner Dermot Shea. Sliwa also supports implementing special units in each precinct composed of mental health experts who would respond simultaneously with officers in cases involving mental health issues.
Though Mateo has not officially released any policy proposals on his campaign website, he has touched on his priorities during various public appearances. Pet issues of his include public safety and regulatory reform for small businesses.
He is also especially focused on strengthening the NYPD, and would do so in part by adding thousands of officers to the force to ensure at least two are at every subway station at night. Mateo said he would take a "top-down approach" to reforming the NYPD that would hold higher-ups accountable for any abuse of power. He vowed to hire police officers and chiefs who are "respectful to New Yorkers" and "believe in social justice." On that he added, "But I will also let New Yorkers know that we must respect our law enforcement officers. They can't be taunted or spat at or have water dumped on them. That is unacceptable."
Mateo has also repeatedly mentioned he'd seek to adjust state bail reforms to ensure anyone threatening violence or committing violence is kept incarcerated at a judge's discretion, pre-trial. In the recent Max & Murphy interview, he added, "Anyone that gets caught with a firearm in New York City, must do time. Enough of this bail reform freeing people that are carrying illegal guns ready to kill, ready to assault, ready to rock someone. That's unacceptable."
Both Mateo and Sliwa do not support the plan to close down Rikers Island and build four new borough-based jails. Both also said they'd appoint a new NYPD Commissioner to replace current Commissioner Dermot Shea.
Another priority for Mateo is supporting struggling small businesses with tax breaks and the reform of city agencies. At the recent candidate forum focused on the hospitality industry, Mateo repeatedly stated that unlike Sliwa or Tirschwell, he understood from experience "the pain and suffering" that restaurant owners go through to pay rent and taxes and in dealing with the city's overbearing inspectors. He's offered broad solutions to these problems with statements such as, "With me, you're going to welcome inspectors because that inspector will not be there to shut you down." He stressed that the city would serve as the "insurance company" that small businesses need to succeed.
In an interview with Gotham Gazette, Mateo offered the approach he'd take to address the city's homelessness crisis. He said he'd build housing in vacant industrial parks in every outer borough that provided the city's homeless population a "decent" living situation with food banks and mental health services. "I would have whatever they need contained in the community that they would be living in until they were able to transition out," he said.
Watch Gotham Gazette's interview with Curtis Sliwa here.
Watch Gotham Gazette's interview with Fernando Mateo here.
Listen to the Max & Murphy podcast interview with Curtis Sliwa here.
Listen to the Max & Murphy podcast interview with Fernando Mateo here.
***
by Emma Seiwell
@GothamGazette