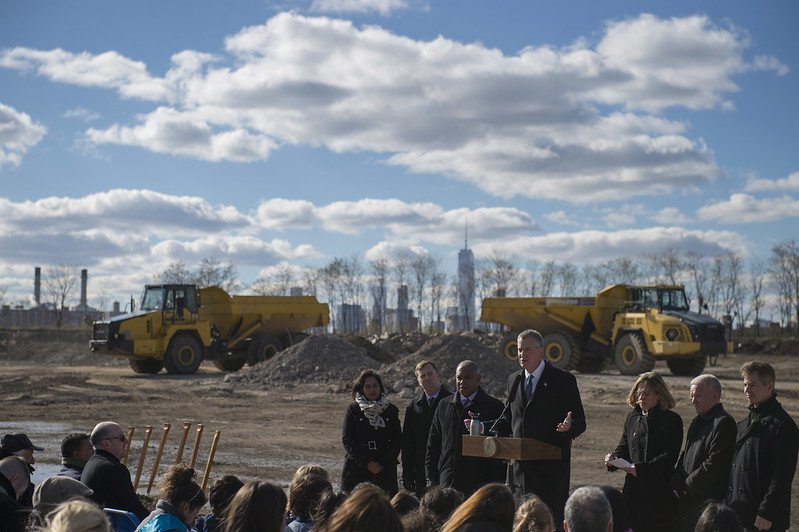 Mayor de Blasio at a housing construction site (photo: Ed Reed/Mayor's Office)
---
Last year, as the pandemic crushed the economy and public life, annual new housing construction in New York City dropped by 4,600 units to 20,200, the lowest since 2015, according to the city Department of City Planning. While new affordable housing kept pace with previous years and overall housing production picked up in the latter half of 2020, building permits remain relatively low in the first several months of this year, portending an uncertain future for the city's housing stock.
New York has faced a housing emergency for years before the onset of the pandemic, with low vacancy rates and a large portion of residents rent-burdened. The number of units on the rental market more than tripled last summer and remains more than double what it was pre-pandemic. But the ratio of new jobs to housing has remained high since the Great Recession and there is broad agreement among city planners and developers, among others, that more housing is a critical need in the near- and long-term.
"New housing, especially affordable housing, is key to an equitable recovery. Since construction resumed last year, New York's housing production has been resilient, with ongoing significant levels of development, permits issued and a large amount of housing in the pipeline," wrote Joe Marvilli, a Department of City Planning (DCP) spokesperson, in an email. "DCP will continue to prioritize affordable housing, economic development, health and other facilities that meet community needs."
A number of factors contributed to the dip in new housing, including an economy in freefall and a statewide construction halt on market-rate housing last spring. While the freeze on construction was lifted and economic conditions are improving, the fate of tax abatements in Albany and the attitude of incoming city lawmakers' toward development could make the difference between a slow ramp-up to pre-pandemic levels and an explosion of housing production.
"Maintaining this average rate of production in the teeth of the pandemic is, in one sense, very good – perhaps, even surprising – news," said Carl Weisbrod, an urban development consultant and former head of the Department of City Planning and City Planning Commission, in response to the latest housing construction figures. "On the other hand, if New York City is to significantly address its housing shortage, it must up the game on housing production."
While low compared to recent years, the number of new housing built in 2020 was buoyed by ongoing affordable housing production, especially in the Bronx, which continued through the construction freeze (from March 30 to June 8) thanks to an exemption for "essential" projects. New housing in the Bronx was stable between 2019 and 2020, with roughly 4,400 units completed each year, according to the Department of City Planning, while Brooklyn, Queens, and Manhattan saw completion numbers dip. Seventy percent of the new housing in the Bronx was considered affordable.
East New York, the first neighborhood to be rezoned under Mayor Bill de Blasio's signature affordable housing initiative, Housing New York, had the most units finished of any neighborhood in 2020 at around 1,000, due largely to the completion of several fully-affordable buildings on Fountain Avenue.
The city is advancing rezonings in the SoHo-Noho section of Manhattan and in Gowanus, Brooklyn, to allow new housing construction and residential conversions in more affluent, amenity-rich neighborhoods. Under legislation enacted in 2016 known as Mandatory Inclusionary Housing (MIH), a certain percentage of new units in the rezoned areas would be required to be affordable (there are different ratios of market-rate to rent-regulated units that can be applied depending on affordability levels). A number of other neighborhoods and swaths of the city have been discussed for such rezonings to foster more housing and community improvements under the next administration.
"We came up with a target of about 25,000 units a year...and that's what we've been able to do despite the pandemic," said Jeremy House, a spokesperson for the city's Department of Housing Preservation and Development (HPD). In 2020, HPD financed the construction or preservation of roughly 29,500 units, more than the 26,260 the year before. He said the city is on pace to reach 300,000 affordable units by 2026, Housing New York's twelve-year goal. To date, the city has financed almost 178,000 apartments, according to HPD's website. The full scope of changes to the affordable housing landscape is hard to determine because HPD does not track how many units exited affordability.
There were about 3.5 million housing units citywide in 2017, according to the HPD's latest available Housing and Vacancy Survey.
On top of the unhalted affordable housing construction, "[w]e have made real progress on affordable housing during the de Blasio administration in large measure due to the allocation of substantially more capital dollars to affordable housing, in part due to [Mandatory Inclusionary Housing]," said Weisbrod, referring to the 2016 legislation that requires a certain level of affordability when rezonings for more housing are approved, whether for a single plot of land or a larger area. Other programs like legal services for tenants facing eviction "have also helped reduce the number of affordable units falling out of the affordable housing stock – a not insignificant data point," Weisbrod added.
As the city continues to finance affordable housing under the mayor's plan, key questions include how much overall housing will be produced in the city in the near-term and beyond, and whether city government can help encourage a building boom that may contribute to a more affordable city with space for everyone who wants to live in it.
"It was wise for government official s to recognize the critical need for affordable housing by ensuring those projects could continue moving forward last year," said Basha Gerhards, senior vice president for planning at the Real Estate Board of New York (REBNY), the city's largest association of developers. "We absolutely need more affordable housing. However, it's important to understand that we also need more housing overall and we need City and State policies that can practically facilitate efforts to increase the number of below market rate units as part of that housing growth."
According to the Real Estate Board of New York, since the end of the 2008 recession, the city added over 858,000 jobs but only 125,000 newly constructed units, a rate of .15 new units per job. Pre-pandemic, the population was expected to grow by over half a million by 2040.
In the last decade, New York has trailed behind 17 other major U.S. cities in terms of housing units permitted per resident (25.3 units per 1,000 residents), according to an analysis from Citizens Budget Commission. The city added 206,000 units to the housing stock in the last decade, just over 20,000 per year. In this year's mayoral election, former federal and city housing secretary Shaun Donovan, has said the city should be building about 50,000 units of housing per year, the largest number cited by any candidate.
The need for affordable housing has increased in the past two decades. From 2002 to 2017 median rents increased 37%, while renter income grew only 20%, according to a presentation from DCP and HPD. While the New York City Housing Authority (NYCHA) accounts for 8% of the city's housing stock, it makes up 79% of rentals under $500 per month. Close to 50,000 individuals stay in city Department of Homeless Services shelters each night, with tens of thousands more in other shelters or types of temporary housing.
Coming out of the first year of the pandemic, encouraging employment figures and businesses reopening mean the landscape is ripe for new housing growth, experts say. According to the Bureau of Labor Statistics, New York City's seasonally-adjusted unemployment rate dropped below 12% in March for the first time since March 2020. Last month, private-sector employment topped 3.5 million, an increase of about 42,000 from the month prior, according to a recent report from city Comptroller Scott Stringer's office. "Private employment remains 578,000 below pre-pandemic highs of February 2020, but has grown by 324,000 since the shutdown of April 2020," according to the report.
While after an early-pandemic dip median asking rent has been relatively stable since last fall, the number of available units has dropped, which the comptroller's report suggests indicates "a stabilizing market." The number of available rentals fell to 55,000 in February, far greater than pre-pandemic levels but significantly lower than the decade-high of 75,000 reached in August. "Some of the decline may be due to landlords pulling apartments from the market in anticipation of a stronger demand in the future," the report warns.
With robust vaccination efforts, businesses reopening, and jobs increasing, the city is poised to begin increasing housing production. But whether and when it will reach pre-pandemic levels depends on more than just improving macroeconomic factors.
"There is going to be a slow and steady ramp up, it's not going to be like this one 'aha' moment," said Alicia Glen, a former Deputy Mayor for Housing and Economic Development who spearheaded the Housing New York plan, in an interview.
"But I also think because of a bunch of regulatory things that are happening -- the...expiration of 421a -- and the very, very toxic anti-development politics which have taken root, you're going to see an overall slowdown in production," she added.
By the end of 2020, the number of units with active permits issued in any year was around 89,000, roughly the same as previous years, according to the Department of City Planning, though Glen believes much of that could evaporate before units are completed. "People could have filed for lots of plans but nothing counts until you have foundation permits and it's real. There's a big fall off between what DCP will have and what will actually happen, generally speaking."
In the current fiscal year (FY21) through March, the number of new housing units permitted, either in new construction or alterations to existing buildings, stood at roughly 21,400, a 10,000-unit drop in permitted units from the year prior and the lowest it's been since at least fiscal year 2018, according to the city Department of Buildings. Foundation permits in 2020 dropped by about 500 to roughly 1,300 from the year before.
"Of course developers want to advance new projects that will deliver more housing, including affordable housing," said Gerhards of REBNY. "But we need to remember that even before the pandemic created new economic challenges, virtually all below market rate housing construction in New York City relied on both private sector financing and some form of property tax benefit to address immense construction costs and the City's inequitable property tax system that disincentives the creation of rental housing. It's going to be crucial for elected officials and policymakers to keep that in mind as we move forward."
Also on the table are proposals to convert distressed hotels and office buildings into housing, to legalize and advance ways to create livable basement housing ("accessory dwelling units"), and more.
Developers are concerned about the expiration of the 421-a tax abatement program, which is set to lapse in June 2022 and provides incentives for building affordable housing, though it has been questioned for its efficiency. At least one leading candidate in this year's race for mayor, Comptroller Stringer, has called for an end to the program.
"Not sending signals that that is going to be renewed is having a real deterrent effect," Glen said. Critics of the program have called it a give-away to developers, who they say would build the housing anyway, and that it often does not lead to housing that is affordable enough for New Yorkers with the lowest incomes. But, according to Gerhards of REBNY, the last time 421-a expired there was a massive drop in permit filings until there was a new program.