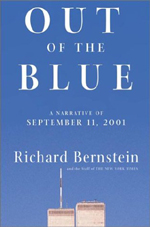 Richard Bernstein tells the story of September 11 from the context of the emergence of radical Islamist movements.
September 11 has spawned more books than any other single news event in history. Amazon.com lists nearly seven hundred 9/11-related titles in stock. Ingram Book Group, the country's largest book distributor, will release 150 new 9/11 books in the fall of 2002.
"It's definitely a high-water mark for the industry," said Charlotte Abbott, Book News Editor at Publishers Weekly. Abbott believes some publishing houses, many of which are located in New York City, are driven not just by sales, but by a sense of obligation. "I think they wanted to help in some way," she said. "It is only natural that publishers would respond."
Many of the books originated in numerous news organizations that have turned their reporting and photography into anthologies. Books by Reuters, Magnum Photographers, Life, The New York Times, and others chronicle the events of September 11 from the instant the first plane hit throughout the rescue and recovery operations.
The events also inspired a series of memoirs from such people as former Fire Commissioner Thomas Von Essen, former Police Commissioner Bernard Kerik, and former Mayor Rudolph Giuliani whose forthcoming book is entitled Leadership. Biographies like Let's Roll and Father Mychal Judge: An Authentic American Hero pay homage to individuals who died on September 11.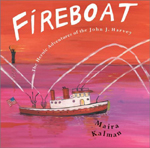 Fireboat explains the events of September 11, 2001 to children.
A number of books related to 9/11 try to answer the overarching questions -- how and why the events occurred –and arrive at different conclusions. Richard Bernstein's Out of the Blue explains the 9/11 attacks in the context of the emergence of Islamist movements. Breakdown by Bill Gertz and The Cell co-authored by ABC journalist John Miller attribute Al Qaeda's success to massive intelligence failures. In 9-11, Noam Chomsky finds fault in the United States' foreign policy.
Communicating the event to children and young adults created an additional challenge for authors and publishers. The editors of The New York Times compiled a young reader's edition of the newspaper section "A Nation Challenged." A book called Fireboat: The Heroic Adventures of the John J. Harvey is aimed at a 9-year-old audience and recounts the story of the "the largest, fastest and shiniest fireboat of them all."
What makes the events of September 11 unique, argue book publishers, is that they touch on nearly every aspect of contemporary culture: politics, economics, art, science, and religion. "No other has had so many tie-ins," says Nancy Stewart of Ingram Book Group told Publishers Weekly "In a sense, it was a very comprehensive disaster."
For more information
• New York Times Book Review 9/11 Reading List
• A Year Later: How Book Publishers Have Been Affected (Publishers Weekly)
---
The List
You can sort the list by clicking on the categories at the top of the list.
Title
Author
Editor
Publisher
Subject

---

110 Stories: New York Writes after September 11
Ulrich Baer
New York University Press.
Anthologies: Poetry, Prose, And More
A compendium of stories and meditations on September 11 from New York's vibrant community of prose and fiction writers.
19 Varieties of Gazelle: Poems of the Middle East
Naomi Shihab Nye
HarperCollins Juvenile Books
Children/Young Adults
Responding to the stigma attached to people of Arab and Middle Eastern descent following September 11, the author collected four dozen samples of her poetry for a new volume. The poems largely deal with the experiences of Arab Americans.
9-11
Noam Chomsky
Seven Stories Press
Political/Historical Background
Chomsky, a vocal critic of United States foreign policy, weighs in on the causes of 9-11 in this slim volume compiled from various interviews he has given following the September 11 atrocities. Counterpunch.org calls the booklet "an essential read not only for those who wish to resist the attempt to curb freedom and democracy but also everyone who wants to learn about the background to the 9-11 terrorist attacks", while Front Page Magazine's David Horowitz dismisses it as "anti-American ravings."
9-11: Artists Respond September 11th 2001 Volumes 1 & 2
Chaos, Dark Horse, DC Comics & Image
Anthologies: Poetry, Prose, And More
Various comic book artists and writers contributed to this collection of stories about September 11. All proceeds benefit relief organizations. Rambles.net calls the volumes "dramatic, thoughtful, powerful, and in some ways healing."
9-11: Emergency Relief
Alternative Comics
Anthologies: Poetry, Prose, And More
More than 80 comic book artists collaborated on this graphic novel whose proceeds will benefit the American Red Cross. The book collects the cartoonists' personal accounts of the September 11 attacks.
911: The Book of Help
Michael Cart, Marianne Carus, Marc Aronson
Cricket Books
Children/Young Adults
More than 20 prominent young adult authors contributed to this collection of essays, poems, and stories about September 11. Ages 12 and up.
A Nation Challenged: A Visual History of 9/11 and Its Aftermath
Mitchel Levitas, Nancy Lee, Lonnie Schlein
Times Books.
Photography
The editors of the New York Times juxtapose photographs and prose from their September 11 coverage.
A Nation Challenged: A Visual History of 9/11 and its Aftermath (Young Reader's Ed.)
Scholastic Trade
Children/Young Adults
A young adult version of A Nation Challenged. Combines photos, commentary, statistics, and graphics geared to a teen audience.
Above Hallowed Ground: A Photographic Record of September 11, 2001
Studio Books
Photography
Photographic account of the September 11 terrorist attacks from the perspective of New York City police officers.
After the World Trade Center: Rethinking New York City
Michael Sorkin, Sharon Zukin
Routledge
Rebuilding
A collection of essays on the past and future of the World Trade Center site from a prominent New York social critics and urbanists. What kind of downtown should emerge from the rebuilding process? That question is at the heart of this volume. The answers, though varied, each "call for a more democratic New York, one where the voices of all the people can be heard, not just the economically and politically powerful."
Afterwords: Stories and Reports from 9/11 and Beyond
Washington Square Press
Anthologies: Poetry, Prose, And More
A collection of pieces from Salon.com that tackle September 11 from a wide range of perspective, from "an in-depth interview with controversial social critic Noam Chomsky, to a female Pakistani-American journalist's meeting with a Taliban leader and his wives, and essays on how sheer horror gave way to heartening solidarity, macabre spectacle, and kitschy sentimentality."
America from the Heart: Quilters Remember September 11, 2001
Karey Bresenhan
C & T Publishing
Anthologies: Poetry, Prose, And More
This book features quilts made in response to 9/11. Proceeds will benefit the Families for Freedom Scholarship Fund.
American Ground: Unbuilding the World Trade Center
William Langewiesche
North Point Press
Historical Accounts
Originally appearing in installments in The Atlantic Monthly, this book documents the effort to clean up the site of the World Trade Center.
American Jihad: The Terrorists Living Among Us
Steven Emerson
The Free Press
Political/Historical Background
Emerson argues that U.S.-based militant Islam groups threaten the country. Moreover, he contends that Muslim charitable organizations are fronts for international terrorists. The New York Times writes, "His information should be taken seriously--just not at face value."
Among The Heroes: United Flight 93 and the Passengers and Crew Who Fought Back
Jere Longman
HarperCollins
Historical Accounts
A "clear and forceful book"about United Flight 93 from the New York Times reporter who originally covered the story. The author weaves the stories of various passengers, crew members, and terrorists into his narrative.
Before and After: Stories from New York
Thomas Beller
Mr. Beller's Neighborhood Books
Anthologies: Poetry, Prose, And More
Drawn exclusively from submissions to mrbellersneighborhood.com, this collection highlights true stories from New Yorkers written in the days and weeks preceding and following September 11.
Bravemole
Lynne Jonell
Putnam Publishing Group
Children/Young Adults
An allegorical retelling of 9/11 revolving around a community of moles that must defend itself against belligerent dragons. Ages 4-8.
Breakdown: How America's Intelligence Failures Led to September 11
Bill Gertz
Regnery Publishing
Political/Historical Background
The author argues that the September 11 attacks succeeded in large part because of mismanagement of U.S. intelligence agencies and meddlesome oversight from Congress. Rush Limbaugh calls Gertz's discoveries "shocking" and lauds him for performing "a great service for the people of this country. "
Brotherhood
McCourt and Rudolph Giuliani and Tom Von Essen Frank
Sterling Publications
Tributes And Stories About Victims
A tribute in photographs and words to the firefighters who dies on September 11. An unbroken list of their names traces the bottom of each page.
Faces of Ground Zero: Portraits of the Heroes of September 11
Joe McNally, Little, Brown, and Co
Photography
150 photographs of survivors from LIFE Magazine's Joe McNally. Includes a foreword by Rudy Giuliani .
Fallen Heroes: A Tribute from Fire Engineering, September 11, 2001
Pennwell Publishers
Photography
A book of photographs from September 11 honoring the firefighters who lost their lives in the World Trade Center collapse.
Father Mychal Judge: An Authentic American Hero
Michael Ford
Paulist Press
Tributes And Stories About Victims
A biography of the beloved fire chaplain who died while administering the last rites to a victim on 9/11.
Fireboat: The Heroic Adventures of the John J. Harvey
Putnam Pub Group Juv
Children/Young Adults
Geared to a pre-school to Grade 3 audience, this book explains the events of September 11, 2001 by recounting the story of the John J. Harvey, "the largest, fastest and shiniest fireboat of them all."
Firehouse
David Halberstam
Hyperion
Tributes And Stories About Victims
Originally an article for Vanity Fair, Firehouse chronicles Engine 40 and Ladder 35, which lost 12 men on September 11. Halberstam "does an extremely deft job of simultaneously rendering his portraits and moving the reader ever deeper into the horror of their fate."
Here Is New York: A Democracy of Photographs
Scalo
Photography
A comprehensive collection of amateur and professional photographs of New York on and after September 11. Since opening its New York exhibition, Here Is New York has established itself as a not-for-profit organization dedicated to archiving and exhibiting these images around the world. This book contains nearly a thousand pages. The net proceeds from the book will be donated to charity.
How Did This Happen? Terrorism and the New War
Gideon Rose, James F. Hoge, Jr.
Public Affairs
Political/Historical Background
A series of essays by distinguished scholars and foreign policy experts seeks to answer this question. The essays explore the various circumstances that contributed to 9/11, including tensions in the Middle East, diplomacy, and the state of the military.
It's A Free Country: Personal Freedom in America after September 11, Vol. 1
Danny Goldberg, Victor Goldberg, Robert Greenwald
Akashic Books
Civil Liberties
A collection of pieces examining the Bush administration's "war on terrorism" and its implications for civil liberties. Includes a foreword by Cornel West, interviews with Congressman Barney Frank and Nat Hentoff, and pieces by Michael Moore, columnist Robert Scheer, cartoonist Matt Groening, Howard Zinn, and many others.
Longitudes and Attitudes: Exploring the World After September 11
Thomas L. Friedman
Farrar Straus & Giroux
Political/Historical Background
Pulitzer Prize-winner and New York Times columnist Thomas Friedman examines the state of global politics after September 11 in this collection of columns and unpublished journal entries. Curledup.com calls the book "thoughtful and highly recommended."
Messages to Ground Zero: Children Respond to September 11, 2001
Shelley Harwayne (Compiler),
New York City Board of Education, Heinemann
Anthologies: Poetry, Prose, And More
This volume collects artwork, poetry, and letters written by New York City schoolchildren following 9/11.
Militant Islam Reaches America
Daniel Pipes
Norton
Political/Historical Background
In a series of essays, Daniel Pipes discusses the emergence of militant Islam and its arrival in western nations. The Washington Post calls it "engagingly written" but accuses Pipes of taking "simultaneously contradictory positions about the scale of the threat posed by militant Islam."
New York September 11
powerHouse Cultural Entertainment, Incorporated.
Photography
Members of the Magnum photography collective document the events of September 11, 2001 and the immediate aftermath. The Onion calls it "a deeply individualistic book, somewhere between journalistic record and personal catharsis."
New York September Eleven Two Thousand One
Giorgio Baravalle, Cari Modine eds.
Photography
This book memorializes the victims of the September 11 attacks by listing their names in a multipage spread. Also included are numerous photographs, as well as essays, poems, and reflections by notable contributors such as Noam Chomsky, Richard Dreyfuss, Robert F. Kennedy Jr., Thomas Friedman, Bill Moyers, Salman Rushdie, and Julian Schnabel. Proceeds will benefit the International Red Cross.
New York's Bravest
Mary Pope Osborne, Steve Johnson (Illustrator), Lou Fancher
Knopf
Children/Young Adults
An homage to the firefighters who died on September 11, this picture book for 4-8 year-olds serves tells the legend of a heroic 19th century fireman.
On That Day
Andrea Patel
Tricycle Press
Children/Young Adults
A picture book for pre-schoolers to second-graders that tries to make sense of the calamitous events of September 11. To be released September 2002.
One Nation: America Remembers September 11, 2001
Little Brown & Company
Photography
Featuring an Introduction by Rudolph Giuliani, the editors of Life magazine have compiled this collection of photographs as a tribute to the victims and survivors of the attack on the World Trade Center.
Out of the Blue: The Story of Sept. 11, 2001, From Jihad to Ground Zero
Richard Bernstein and Staff of The New York Times
Times Books
Political/Historical Background
Drawing largely from The New York Times' coverage, Bernstein constructs a narrative of the events of September 11 while placing them in the context of the emergence of radical Islamist movements.
Pilgrimage: Looking at Ground Zero
Kevin Bubriski (Photographer), Richard B. Woodward (Afte
PowerHouse Cultural Entertainment, Incorporated.
Photography
Photographer Kevin Bubriski made four trips to Lower Manhattan from his home in Vermont in the weeks following September 11. His photographs attempt to capture the gamut of emotions that New Yorkers experienced as the dust began to settle. Foreword by the Dalai Lama. To be released September 2002.
Poetry After 9-11: An Anthology of New York Poets
Dennis Loy Johnson et al.
Melville House Publishing
Anthologies: Poetry, Prose, And More
A compilation of mostly unpublished work from prominent New York poets. Some pieces provide eyewitness accounts of the tragedy, while others offer more abstract reflections upon its ramifications for life in New York.
Portraits 9/11/01: The Collected "Portraits of Grief" from The New York Times
Howell Raines, et al.
Times Books
Tributes And Stories About Victims
In the months following September 11, 2001, The New York Times published a widely acclaimed section devoted to illuminating the personal lives of as many victims as possible. These "Portraits of Grief" are collected in this single volume.
Report from Ground Zero: The Story of the Rescue Efforts at Ground Zero
Dennis Smith
Viking Press
Historical Accounts
A retired firefighter documents the rescue and recovery efforts in Lower Manhattan.
Running Toward Danger: Stories Behind the Breaking News of 9/11
Rowman & Littlefield
Historical Accounts
The story of 9/11 told by the journalists who covered it.
September 11 Photo Project
Michael Feldschuh.
HarperCollins.
Photography
The culmination of a three-month exhibit in SoHo, this book collects work from more than 500 photographers. These photographs are now on a nation-wide tour.
September 11, 2001: American Writers Respond
William Heyen
Etruscan Press
Anthologies: Poetry, Prose, And More
William Heyen asked numerous writers and poets, some renowned and some obscure, to submit pieces that would illuminate how September 11 has affected us as individuals and "shaken our senses of identity and security."
September 11: A Testimony
Prentice Hall.
Photography
Drawing together worldwide reportage of September 11 and its aftermath, the staff of Reuters aims to provide a comprehensive view of the tragedy.
September 11: An Oral History
Dean E. Murphy
Doubleday
Historical Accounts
A collection of eye-witness oral accounts of the September 11 attacks compiled by a writer for The New York Times.
Strong Of Heart: Life And Death In The Fire Department Of New York
Thomas Von Essen
ReganBooks
Memoirs
In a memoir that "manages the neat trick of not joining the avalanche of bargain-basement pieties about Sept. 11," former Fire Commissioner Thomas Von Essen reconstructs the disaster amid the backdrop of his 31-year experience with the New York Fire Department.
The Age of Sacred Terror: Radical Islam's War Against America
Daniel Benjamin, Steven A. Simon
Random House
Political/Historical Background
The authors discuss how and why the 9/11 attacks succeeded, why the United States failed to prevent them, and why radical Islam poses a threat to western nations.
The Age of Terror: America and the World After September 11
Strobe Talbott, Nayan Chanda, eds.
Basic Books
Political/Historical Background
A collection of essays examining foreign policy in a post-September 11 context. Publishers Weekly calls the book "comprehensive and thoughtful" and "sure to feed some readers' newly whetted appetites for information on the post-post-Cold War world".
The American Spirit: Meeting the Challenge of September 11
Time, Inc., Home Entertainment.
Photography
Second in a two-volume series, The American Spirit revisits some of the survivors whose stories appeared in the previous volume, One Nation. Photographs document the recovery of the World Trade Center site. Also included are essays by James Bradley and David McCullough and an introduction by George Bush.
The Cell: Inside the 9/11 Plot, and Why the F.B.I. and C.I.A. Failed to Stop It.
John Miller and Michael Stone, with Chris Mitchell.
Hyperion
Political/Historical Background
ABC journalist John Miller recounts his 1998 meeting with Osama bin Laden. He and co-author Michael Stone attribute Al Qaeda's success on September 11 to significant intelligence failures on the part of the United States. Though it lacks footnotes and is of "questionable historical value," Miller and Stone support their arguments with ample anecdotal evidence.
The Day Our World Changed: Children's Art of 9/11
Robin F. Goodman, Andrea Henderson Fahnestock
Abrams,Harry N Inc.
Children/Young Adults
A collection of artwork from New York City-area children and teenagers. Proceeds will benefit the New York University Child Study Center and the Museum of the City of New York.
The Day the World Came to Town
Jim Defede
Regan Books
Historical Accounts
This "astonishing collection of touching stories"documents the experiences of the residents of Gander, a Newfoundland town that attended to thousands of airline passengers whose flights were diverted on September 11.
The Heart of a Soldier: A Story of Love, Heroism, and September 11
James B. Stewart
Simon & Schuster
Tributes And Stories About Victims
The story of Rick Rescorla, a decorated soldier and the head of security at Morgan Stanley who helped 2,700 people reach safety on September 11 before dying in the collapse.
Understanding September 11th: Answering Questions About the Attacks on America
Mitch Frank
Viking Childrens Books
Children/Young Adults
Intended for readers age 12 and up, this volume attempts to explain the basic issues involved in the September 11 attacks. Utilizing a question-and-answer format, the author addresses questions such as "What is terrorism?" and "Why did the terrorists target the United States?"
What We Saw: The Events of September 11, 2001--In Words, Pictures, and Video
Simon & Schuster
Historical Accounts
Drawing from the CBS News archives, this book documents the events of the September 11 through photography, essays, and eyewitness accounts. It includes a full-length DVD.
What Went Wrong? Western Impact and Middle Eastern Response
Bernard Lewis
Oxford University Press
Political/Historical Background
A respected scholar of the region discusses why and how the Middle East fell from the forefront of civilization to a state of relative disarray. Ultimately, Lewis stacks the blame solely on the Arab and Muslim nations themselves. Publishers Weekly calls Lewis' arguments "inconsistent" and "recycled."
Why Terrorism Works
Alan M. Dershowitz
Yale University Press
Political/Historical Background
The renowned civil liberties attorney argues that "religiously inspired, state sponsored terrorist groups" pose the most significant threat to the world today. He searches for a way to stem this threat while preserving individual freedom. Elie Wiesel describes the book as "written with great clarity and perception."
With Their Eyes: September 11"The View from a High School at Ground Zero
Annie Thoms
HarperTempest, Publisher.
Children/Young Adults
With Their Eyes collects the firsthand accounts of the World Trade Center attack from students at nearby Stuyvesant High School.
Writing in the Dust: After September 11
Rowan Williams
Wm. B. Eerdmans Publishing Co.
Theology/Spirituality
An Anglican scholar and the recently appoint archbishop of Canterbury ponders what it means to be a Christian following the September 11 attacks. The essay is less a political manifesto than a catalyst of contemplation and reflection.