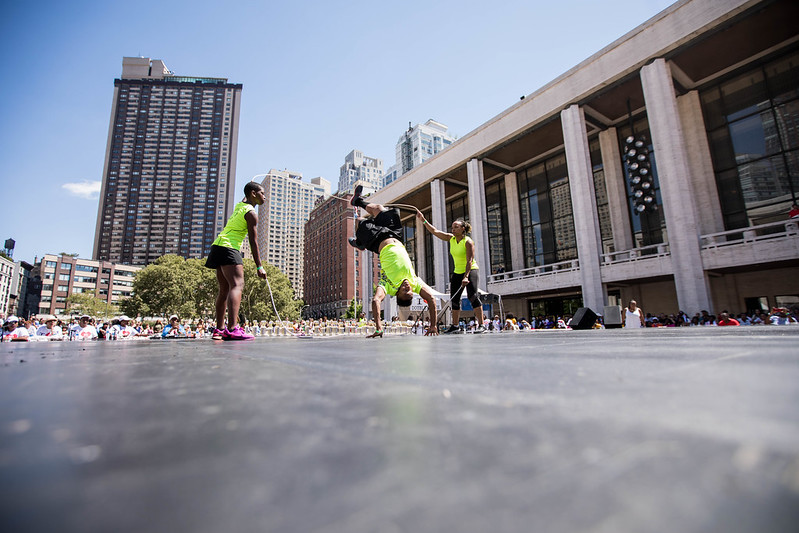 The Upper West Side (photo: Benjamin Kanter/Mayoral Photo Office)
---
Six Democratic candidates are running in the primary for City Council District 6, a seat based on Manhattan's Upper West Side, including Central Park, Lincoln Square, and a part of Clinton. The current Council member, Helen Rosenthal, is term-limited and cannot seek reelection. The primary wil take place in June, with early voting June 12-20 and primary day June 22. Because the district is so heavily Democratic, the primary winner is all but certain to win the seat and take office in January.
Manhattan's Upper West Side is home to some of the city's wealthiest and upper middle-class residents. Nearly two-thirds of the residents are white with smaller Black, Hispanic, and Asian populations. About 25% of households in the district have an income of $200,000 or more, and the poverty rate is 18% compared to roughly 40% citywide. The district's population is highly-educated overall, with more than two-thirds of the population having graduated from college. Schools in the area are likewise some of the highest-ranked in the city. There is some public housing and rent-regulated housing in the district, though overall rents are some of the highest in the city.
The area, long-considered a liberal bastion, is regularly home to some of the highest voter turnout numbers in the city. The district is not only seeing a competitive City Council primary, but an important focus area for candidates for boroughwide and citywide positions, which are also on the ballot this June and fall.
The six Democratic candidates running in the Council District 6 primary are Gale Brewer, the term-limited Manhattan Borough President and former City Council District 6 representative seeking to retake that seat; Maria Danzilo, a private attorney; Sara Lind, a member of Community Board 7 and an attorney; Jeffrey Omura, an actor, activist, and labor leader; Zack Weiner, a screenwriter, actor, and film producer; and David Gold, the executive director of a non-profit and a former litigator.
Although Brewer is considered the candidate to beat in this race, she has encountered stiff competition, particularly from Lind, who has amassed the most campaign contributions of the candidates and won notable endorsements from various women's and housing groups. In fact, the Jim Owles Liberal Democratic Club, which focuses on LGBTQ and many other issues, endorsed Lind early on in the campaign, surprising many, and Brewer drew criticism when she asked for a recount, a request the club declined.
The race has been focused on key issues including homelessness and affordable housing, small businesses, public safety, education, and the broad category of "quality of life," encompassing clean and safe streets, transit, and more. The district is also one of the city's most busy and renowned cultural enclaves — from the Lincoln Center and the American Museum of Natural History to Fordham University and Beacon Theater, the Upper West Side is studded with historic and cultural landmarks. The neighborhood is also flanked by Central Park and Hudson River Park, not to mention it's home to a slew of popular restaurants, lively nightlife, and upscale shops.
However, the pandemic has hit the small business owners in the neighborhood hard, with many shutting down operations and leaving behind swaths of vacant storefronts — a problematic trend ever before covid hit.
Amid the race, the six candidates addressed important district and city issues and pitched their candidacies during a recent debate hosted by Manhattan Neighborhood Network (MNN) and moderated over Zoom by Gotham Gazette executive editor Ben Max. The debate, which will air and be available online sometime in early May, highlighted key differences among candidates as they discussed quality of life concerns, small businesses, education, land use and real estate development, affordable housing, crime, public safety, sanitation, transportation, and more.
Candidate Qualifications and Accomplishments
Asked about their specific qualifications at the beginning of the debate, including accomplishments in service of the public, Brewer pitched herself as an experienced leader with robust public sector experience, serving 12 years in the City Council and eight years as Manhattan Borough President.
"We have done almost 200 uniform land-use review procedures in this borough presidency," said Brewer, who anticipates that the havoc wreaked by the pandemic will make land-use experience all the more important. Brewer cited zoning legislation she passed during her tenure in the City Council that limited storefronts on Amsterdam Avenue and Columbus Avenue to a maximum width of 40 feet and aimed at limiting the number of banks and chain stores. She also cited legislation she successfully spearheaded that requires property owners to register storefronts with the city and makes the data publicly available to people, among other things.
Brewer also acknowledged that her attempt to return to the City Council after being Borough President is "unusual."
Public safety is a chief concern for Danzilo, whose full plan outlines various proposals she says would restore the community's sense of security, which Danzilo says the pandemic has disrupted. Her plan calls for rebuilding trust between the NYPD and communities through reviews of the police force's technology, restoration of cuts made to the police academy, and more. Her plan also calls for increased funding for the NYPD to address mental health, as well as strategies to prevent hate crimes.
During the debate, Danzilo emphasized support for small businesses, saying, "I'm from a family of small business owners." She cited her professional experience as a lawyer: "I managed multi-million-dollar budgets" and "helped to develop good policies around protecting the rights of artists, creators, and others."
Gold, a lawyer, runs a nonprofit called Democraticsm aimed at making the federal election system more democratic. In his opening remarks at the debate he emphasized his experience "working with laws and regulations and analyzing how they apply to the real world."
One of Gold's signature policies is called "democratic resource allocation," which would function similarly to participatory budgeting but on a larger scale, addressing systemic issues like support for small businesses, racial inequality, and housing insecurity. Another of his chief policy ideas is to push New York City to become a leader of a nationwide movement to eradicate the electoral college system.
Also an attorney, Lind began her debate remarks by describing her experience at a private international law firm, where she "represented corporations and worked on billion-dollar deals" but also "represented asylum seekers on a pro-bono basis." Lind cited her range of diverse public sector experience, including her roles as a liaison to the 20th Precinct of the NYPD and a member of the citywide participatory budgeting committee.
In her role as a member of Community Board 7, Lind also said she was successful in making NYCHA "our top budget priority." She also successfully advocated for the implementation of a protected bike lane on Central Park West, she said. Lind has made housing the main focus of her campaign for City Council, putting forth a rezoning plan to increase the neighborhood's housing supply, including some affordable housing, and provide supportive and permanent housing for people experiencing homelessness. Another of her policies would "reimagine" parts of Broadway, transforming "empty storefronts" into a "grand boulevard with bustling stores, attractions, and foot traffic."
Omura's experience in governance began within the Actors' Equity Association, where he negotiated record-breaking wage increases for actors and stage workers, he said. As an activist in the arts sector, Omura also said he was one of the creators behind the #BeAnArtsHero campaign, "organizing the national arts community to collectively lobby Congress for direct arts relief," an initiative that ultimately helped secure $15 billion in arts relief in the federal stimulus package that was passed in December.
As a candidate for City Council, Omura is hoping to channel his organizing and negotiating experience into his 'Arts & Culture Recovery Plan,' which would allocate funds to support struggling artists, repurpose vacant storefronts into performance spaces for artists, and more. He also wants to reform property taxes, provide rent relief for small business owners, and bring about a Green New Deal to fight climate change.
"I have not been waiting to get elected to get things done," said Weiner, who quickly jumped into discussing problems facing the district and identified homelessness and vacant storefronts. In his opening remarks, Weiner spotlighted his 'Start Up Retail' plan, a revenue-sharing agreement between business owners and landlords, where business owners will pay for utilities and a portion of their revenue to the landlord in place of rent.
On homelessness, Weiner decried the lack of public safety for unhoused people living at the Lucerne hotel, citing that at least three residents at the hotel have died. This provoked Weiner to create a "transparency" website about the budget of ThriveNYC, the de Blasio administration's mental health program, to show that mental health resources have not been adequately invested.
District Issues, Ideas on Key Topics
Asked what they thought the top two needs or challenges were in their district, Lind, Omura, Weiner, Brewer, and Gold identified housing and homelessness as one of their main concerns, although they identified different solutions for tackling this issue.
Lind, who noted she sees housing and homelessness "as basically the same issue," spotlighted her plan to rezone underutilized areas of the district to build affordable and supportive housing so "people of all income levels can get housing in this neighborhood." Some of the affordable units would include supportive housing to help reduce the city's reliance on shelters, which Lind noted "are not stable, and they don't work to end homelessness."
Omura proposed converting "empty commercial real estate in Midtown and the Financial District" into residential housing. He also voiced support for converting basements and attics "in all five boroughs" and "turning those into rental units," which he estimated would increase the city's housing supply by more than 200,000 units. Like Lind, Omura decried the city's "broken" shelter system and emphasized moving unhoused people into permanent supportive housing. But unlike Lind, Omura appeared to be more focused on housing solutions outside the district than within it.
Pressed to explain the role of District 6 in increasing the city's housing supply, Omura said, "When we're talking about affordable housing, it's not a district-by-district issue; it's something we have to address across the board."
"Homelessness is not the same as a housing crisis," said Weiner, apparently responding to a point Lind had made. "Homelessness is in large part a mental illness crisis," added Weiner, who clarified that he was referring to street homelessness after the moderator noted this characterization wasn't accurate of those in the shelter system. Weiner said that none of the City Council member's annual discretionary budget was being used toward NYCHA, which he pledged to change. He also said he would use that budget to fund "health outreach" for unhoused people on the streets, but did not say more on this policy proposal.
"The issue is we need to have small opportunity housing for those who are homeless," said Brewer. "Bellevue shelter should be closed," she added, for example, of the massive East Side shelter. Instead, Brewer called for "a small facility that has services, where they feel comfortable and where they can have support for the long-term." Brewer called for mental health and addiction treatment as part of this effort.
Gold said he would tackle the housing crisis by "addressing our property tax system and raising money to help people pay rent and also become homeowners," but did not describe his housing agenda further.
Lind, Omura, Brewer, Danzilo, and Gold also emphasized small businesses as one of their top priorities in the district.
Lind proposed rezoning Broadway to include "pedestrian areas, seating, greenery, a bus lane, so that we drive foot traffic to support our small businesses."
Asked Lind how she would rally public support given that her rezoning plans would involve significant changes to the district, Lind said, "I'd like to pilot the use of citizen assemblies, which are randomly selected groups of people that are demographically representative of the community and that use a moderator that is trained in facilitation to come to a consensus around these issues."
Lind also called for streamlining "some of the processes for small businesses to stay open" on a city-wide level.
Omura made a similar point about small business owners, adding, "We need to give them a break on the commercial rent tax. We need to streamline regulatory hurdles."
Brewer cited her tenure in the City Council, where she passed zoning regulation to limit storefronts on Amsterdam Avenue and Columbus Avenue to a maximum width of 40 feet. Brewer said she would "make sure that's enforced," adding, "I'd like to see that on Broadway also."
Brewer called storefront vacancies on the Upper West Side a significant issue and cited legislation she helped pass in 2019 to create a public database to track storefront vacancies. "If we get that data, we'll know where our problems are, and we can hopefully work with entrepreneurs," she said.
Brewer proposed imposing a vacancy tax, which would require action from Albany. Pressed to explain her point of view, given that the pandemic has worsened the issue of storefront vacancies and likely made landlords more eager to rent them out, Brewer differentiated between storefronts that were vacant because of the pandemic versus storefronts that have been vacant for long stretches of time. "I know one on Broadway and 86th Street has been vacant for I don't know, six or seven years," she said. Owners should fill stores with entrepreneurs as much as possible, Brewer argued, "but if nothing is working after this pandemic, then you need to fill that store. You're not getting a tax break."
"We should be giving emergency relief to small businesses," said Gold, who echoed Brewer's concerns about losing small businesses to large chain stores. Gold spotlighted a key aspect of his policy platform called "democratic resource allocation," which would function similarly to participatory budgeting, allowing residents "to decide what kinds of things are most important to us, and what kinds of things we want to support and shift resources accordingly."
Danzilo said the city's post-pandemic recovery was her top issue of concern, including support for small businesses. "The tech industry is a challenge for this neighborhood and for small businesses," she said. "We've got Amazon, people are buying online — it's really hurting our small businesses." She also emphasized public safety in her response, saying the city needs "to make sure that we are providing safe and clean streets and a safe and clean transit to our offices, so people can go back to work," but she did not offer specific policy proposals.
In the next round of questions, Max asked candidates to explain their plans for affordable housing and development in the district.
Weiner, Brewer, and Omura voiced support for the Mitchell-Lama program.
Weiner focused most of his response on funding for NYCHA, noting that residents have to raise money for repairs and maintenance. He referenced Lind and her previous assertion that she had helped steer funding toward public housing through the community board, saying, "I'm not sure exactly how the budgeting is working from the community board, Sara, but my impression from them is that not much is making it actually into the projects." He reiterated his plan to utilize the discretionary budget to forward his housing and homelessness goals.
Brewer used her response time to identify various housing issues in the district rather than put forth specific policy proposals. She was critical of NYCHA properties being turned over to private management, specifically Wise Towers on the Upper West Side. Brewer argued that federal dollars should be utilized to address the housing authority's funding shortfall instead. "We have to have a zero increase in terms of the Rent Guidelines Board," said Brewer regarding rent-stabilized units, adding, "We need an attorney for anybody that gets harassed." Brewer also voiced vague support for new developments that are heavy on affordable housing.
Danzilo said NYCHA funding for deferred maintenance and repairs should be prioritized first, and she was also critical of developments that don't reflect the needs of their communities. She did not offer ideas to tackle these issues.
Gold identified rents that are "too damn high" as the root of several housing issues in the city, including high vacancy rates and rent-burdened New Yorkers. Instead of building new developments, Gold said he would focus on lowering rents and creating paths to homeownership. He called for converting commercial buildings into housing units, which would require state action, and said the city should "tax the new development of very expensive homes," the revenue from which would fund rental assistance and home ownership. He concluded, "The legislation should include a target so that property taxes on the extremely wealthy gradually rise based on a formula until New Yorkers can afford to live in New York."
Lind took issue with Gold's point about vacancy rates. "The argument that we have enough housing is just not based in reality," she said, arguing that the vacancy rate in New York is lower compared to other cities, qualifying for "a housing emergency." She agreed with Gold that property tax reform should be implemented in the city.
In a rebuttal, Gold argued that building out the city's housing supply is "a very indirect way of addressing a problem," adding the issue of high rents should be prioritized first, and then the city should decide how and when to increase supply.
"I agree, David, supply is not the only answer, which is why I mentioned subsidies and rental support, as well," Lind replied.
Lind called for "a three-pronged approach to housing" that examines racial equity, climate change, and housing "as an interlinked issue." She called for increased protection for residents in rent-stabilized buildings and "a more robust voucher system," though she did not go into detail about how the existing system should be changed.
Asked if there were other ways to ensure affordable housing outside of mandatory inclusionary housing, which relies on upzonings that leverage market-rate housing to subsidize a portion of new units as rent-capped, Lind noted that affordable units under her plan would be controlled by a community land trust elected by local stakeholders, which would bring about permanently affordable housing. "Mixed-income development is the model we should use," she added. "I don't think we should be creating areas of concentrated poverty."
"We've got to start by increasing the supply," said Omura, noting that compared to other neighborhoods the Upper West Side has fewer building opportunities because of its density. He reiterated his plan to convert commercial spaces into affordable housing. Omura expressed support for a community land trust, saying, "The model that we've been using to create affordable housing for the last 10 years is through tax giveaways, tax incentives for developers."
Unlike Omura, Brewer was more skeptical of a community land trust on the Upper West Side. "In order to do it, you need to have the land. I'm a hundred percent, a thousand percent supportive. I just don't know if we could do it here."
She added that she would support additional rezonings in the neighborhood if they "produce mixed-income and more affordable housing."
Asked to identify what 'quality of life' means to them and what 'quality of life' concerns they would tackle in the neighborhood and how, candidates broadly touched on clean and safe streets, increasing the sanitation budget, improving public transportation.
"Quality of life, for me, is the West Side being the vibrant, thriving place with all of our businesses open," began Danzilo, "with safe and clean streets." To accomplish this vision, Danzilo said she would "make sure we're getting our fair share of public safety dollars and 'that we have a community board that needs to take public safety seriously." She said she would make sure law enforcement gets "the support they need" and also called for increasing "our budget for sanitation."
"It's important to make a real effort to reach out very broadly and find out what people in our district actually think about what makes their life better," said Gold. He proposed a few different ideas about what residents in the district might consider quality of life improvements, such as park maintenance, pedestrian-only areas, bringing back and supporting local businesses, and increasing bike lanes. He pointed out that his "democratic resource allocation" proposal would be useful in sifting out residents' needs.
Lind said that her conception of "safe streets" would involve protecting pedestrians from vehicles and traffic crashes. She agreed that sanitation funding should be increased and described some of her trash reform policy, which would remove piles of garbage from the streets by implementing trash receptacles on major commercial strips and cross-streets. Lind noted that this would invariably take up parking space. Lastly, Lind called for increased funding for mental health and other social services, as well as permanent affordable housing.
Omura called for increasing the sanitation budget, as well, but he mostly emphasized street safety in his response. His platform calls for additional priority busways along 72nd, 52nd, and 96th Streets "with select bus service, with transit signal priority at all intersections." He said the district needs "a resident parking permit system," so residents don't lose their parking spaces to commuters. He called for illuminating the streets at night using vacant storefronts so pedestrians feel safer and for a time limit on scaffolding.
Brewer called for increasing bike lakes and the number of public benches, as well as restoring the sanitation budget. She voiced support for the city's Open Streets program and emphasized accessibility measures in her response. She said she would push for accessible traffic lights at every single intersection and address the need for elevators in the subway.

On policing, Brewer said, "You need active NCOs [neighborhood coordination officers]," who serve as liaisons between the police and the community, though Brewer noted, "I don't find that they are being as active as they should despite the good community leadership from the 20 and the 24," referring to the local precincts. "You need to have serious mental health and social services," said Brewer.
Max asked if Brewer was supportive of containerization trash reform programs like Lind's proposing, and Brewer said only, "I'd be glad to look at it."
Lind referred to NYPD Commissioner Dermot Shea, who she said had the night before the debate said of the Upper West Side, "There are perceived quality of life issues, but they are not resulting in increased 911 calls or increased crime."
Weiner took issue with this point, saying, "There's an incredible spike in crime," which he decried for disproportionately impacting low-income communities and people of color, though he did not provide any data. Weiner called for "community policing" in order to "avoid police issues in terms of brutality" and said he would use the discretionary budget to fund "services that provide public health."
Lind reiterated that she was "literally quoting" what the police commissioner said. "I speak with the officers regularly. I look at the data every week," she added, explaining her role as the liaison to the 20th Precinct as part of the neighborhood policing program. The moderator and Lind both noted that increases in some crimes, even if others drop, can give the impression of crime rising overall or make people feel unsafe.
Candidates were asked to identify their top education policies and to explain how they would accomplish their goals given that the city's mayor has control of the public school system, thereby limiting the City Council's influence.
"Our number one priority has to be identifying those kids, bringing them back into the system and making sure that they have all of the resources they need to catch up academically," said Omura. He said this could be achieved through private tutoring, though he didn't explain how this would impact low-income families or how a City Council member would implement this, as well as increased mental health services and providers. He called for "robust summer school programs" and also said the city should prioritize school integration.
Weiner pointed to a gap between what students are taught in schools versus real-life application, placing emphasis on financial literacy. He said he has partnered with a retired hedge fund manager in the community to pilot a program that teaches "financial literacy using a stock market game with real cash results." Weiner pledged to expand this program "win or lose" the election.
Brewer cited her experience as Manhattan Borough President, a role in which she appoints local education council members and allocates funding. She called for several education reforms, such as smaller class sizes, which she asserted would be possible through recently-secured federal and state funding. She called for "two teachers in every classroom," as well as "culturally appropriate social workers in every school." She also pledged to tackle the issue of lacking internet and technological devices for students.
Danzilo voiced support for smaller class sizes, and said students should be prepared "to take on the jobs of the future that require a technical skill set." She called for "different kinds of options" to suit students' diverse learning needs, including early diagnosis of learning challenges. She agreed with Weiner's point about financial literacy. Danzilo identified "too much bureaucracy" as the root problem to the city's education issues.
"Mayoral control hasn't been a success," said Gold, adding, "It's something that we should lobby for, that the City Council should be part of the system." He said City Council members could also better represent their diverse constituents, as well as "empower parents and educators and students to have decision-making voices on educational policy. Gold called for smaller class sizes and more funding for after-school programs.
Lind highlighted school integration as one of her top concerns. She pointed out that the city's segregated school districts are reflective of residential segregation, which she pledged to take on. In light of increased state and federal funding, Lind emphasized the need for "baseline funding educational necessities," such as equal distribution of resources, two teachers in every classroom, nurses and social workers, library books, and more. And Lind called for integrating gifted and talented students in other classrooms, citing the integration of special education students with IEPs as a successful model.
During a brief lightning round, candidates were asked a series of questions, to which they had to answer either "yes" or "no" or give very brief answers, though candidates often had difficulty limiting their responses.
Candidates unanimously agreed that the city's schools should be fully reopened to all students who want to attend class in-person.
Asked how long they have lived in District 6, Brewer has had the longest tenure, with 51 years. Gold and Danzilo have lived in the neighborhood for 48 and 40 years, respectively, while Weiner has lived there for 26 years, Lind for seven years, and Omura for five years.
Candidates were somewhat divided on the City Council's informal yet powerful member deference policy, where local members get final say over major land use decisions that the entire Council votes on, with Omura and Weiner in support of it, while Lind, Danzilo, and Gold saying it should not be a blanket policy, and Brewer said it depends on the circumstances.
Asked which of the City Council's dozens of issue committees they would want to chair, Omura said the Committee on Cultural Affairs, while Brewer, Danzilo, and Gold all said the Committee on Finance, Lind said the Committee on Transportation, and Weiner said the Committee on Health.
Candidates were asked if they support NYCHA "infill development," utilizing public housing land to build new private housing. While Weiner outright said no, and Brewer said yes "if it's done correctly," Danzilo, Gold, Lind, and Omura said they were open to it as long as tenants were as well.
Asked who their favorite mayoral candidate was, Weiner was the only one who outright endorsed a single candidate, specifically Ray McGuire. Gold said he was undecided, while Brewer declined to endorse anyone. Lind said her top picks were Dianne Morales, Maya Wiley, and Scott Stringer; Omura expressed support for Stringer, Wiley, Morales, and Chang; and Danzilo said Adams, Garcia, Yang, and McGuire were her top choices. (The forum occurred before recent sexual misconduct allegations against Stringer, which he has denied.)
For the final lightning round question, candidates were asked to name who their second choice would be in this race. Danzilo and Gold said they were undecided. Lind and Brewer both identified Omura as their second choice. Wiener chose Danzilo as his second choice.