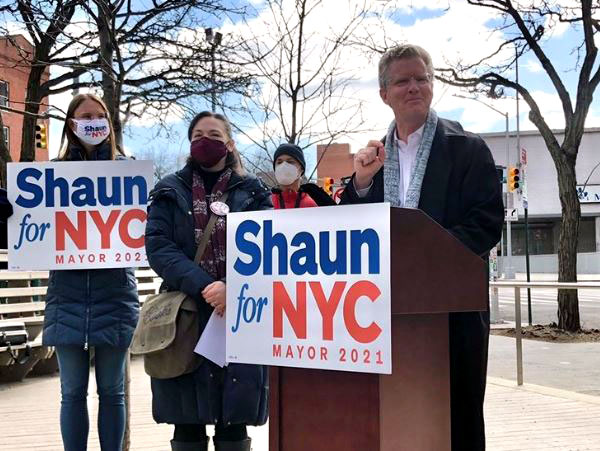 Shaun Donovan (photo: @ShaunDonovanNYC)
---
It's a common refrain that each New York City mayor is elected as a response to the previous one, and Shaun Donovan has clearly taken that to heart, perhaps spurred by the fact that the Democrat's campaign to replace term-limited Mayor Bill de Blasio is being run in part by veterans of de Blasio's campaign to succeed Mayor Michael Bloomberg as a rebuke focused on inequality.
Donovan, the former federal housing secretary and budget director under President Barack Obama and housing commissioner under Bloomberg, has an impressive resume for voters to consider as he runs in this year's crowded and competitive Democratic primary. But Donovan has struggled to gain traction, hovering in the middle of the top tier candidates in recent polling, significantly behind several candidates toward the top, though "undecided" has regularly led the pack.
With under two months till primary day, June 22, Donovan is now attempting to break through that morass with a tried and true strategy of running hard against the elected official you are trying to replace, even if that official is not on the ballot, and banking on it being a change election after eight years of the incumbent. Donovan has recently launched a new phase of his campaign with sustained criticism of de Blasio unlike any of the other candidates, none of whom are cozying up to the outgoing mayor. But the strategy could yield him mixed results in a city where de Blasio still remains popular among certain segments of Democratic voters.
Throughout April, with every new policy plan or proposal that Donovan has released, he has also overtly pointed out or alleged de Blasio failures on those issues with varying degrees of critique. Starting April 2, when he released a plan to revive the city's arts and culture industries, his campaign sent out a press release partly headlined in all capitals, "Shaun Donovan Criticizes De Blasio's Disregard for the Arts." Since then, most of his campaign press advisories and releases have been accompanied by some version of escalating admonition such as Donovan "Slams Mayor Bill de Blasio" for blaming communities of color for unequal vaccine distribution or he "Calls Out de Blasio" for failing to support the Open Streets program or "Blasts de Blasio" for leaving the next mayor with future budget gaps.
Though the other leading Democratic candidates have not shied away from contrasting themselves with the mayor, Donovan has been the only one placing de Blasio front and center in his campaign in recent weeks, trying to gain new traction and establish himself as the anti-de Blasio and antidote to a mayor seen by many as aloof and ineffective for much of his seven-plus years in office.
"This Mayor has proven that you can't be progressive if you can't make progress. Since taking office, Mayor de Blasio has failed to make good on his promises to New York City voters and yesterday's executive budget, including the $12 billion gaps for the first three budgets of the next administration, is yet another example of de Blasio passing the buck to his eventual successor and ultimately, the NYC taxpayer," Donovan said in a statement on Wednesday, in his most recent attack against the mayor. "Our streets are a mess, no significant progress has been made on police reform, and our schools remain as segregated as they were when he took office. Although the Mayor appears to be having a good time during his final days in office, too many New Yorkers are still struggling in the wake of this pandemic, including those who were struggling before it. New Yorkers deserve a mayor with bold and comprehensive plans, as well as the experience needed to make sure those plans are real in the life of every New Yorker—something this current mayor clearly lacks."
Donovan's more focused criticism of the mayor could be a response to his thus-far fairly stagnant campaign, which will need a broad coalition of support to emerge victorious with ranked-choice voting in place for the first time for a citywide race. The most recent poll released April 18 by NY1/Ipsos showed him well below the leading contenders. Entrepreneur Andrew Yang was the first choice for 22% of likely Democratic primary voters; Brooklyn Borough President Eric Adams was in second place with 13%, Comptroller Scott Stringer in third with 11%, and former counsel to the mayor Maya Wiley in fourth with 7%. Donovan tied in fifth place with former Citigroup executive Ray McGuire as the first choice for 6% of voters, just ahead of former nonprofit executive Dianne Morales (5%) and former sanitation commissioner Kathryn Garcia (4%). The poll was roughly reflective of almost all the others seen publicly to date, though "undecided" continues to poll higher than even Yang and the candidates are just starting to spend many millions of dollars to reach voters who have mostly not engaged yet with the consequential and fast-approaching primary.
"Since announcing his candidacy, Shaun has continued to contrast his extensive experience and bold ideas with Mayor Bill de Blasio's inexperience and continued failures," said Jeremy Edwards, a spokesperson for Donovan's campaign, in an email. Edwards did not say whether the approach may be because of Donovan's low poll numbers, and it's certainly likely that the strategy was one the campaign planned to employ all along. "This isn't a new strategy, but we are glad that more New Yorkers are beginning to see that Shaun is the only candidate that represents real change from the current administration as well as extensive experience leading through crisis," Edwards added.
While many of Donovan's criticisms of the mayor may have merit, they could backfire among those voters who still believe that de Blasio has done a good job at City Hall. In a Siena College poll from January, de Blasio only had a 41% approval rating among Democrats, but half of Black voters, who are the core of the Democratic base, approved of his job performance. That poll included voters from outside the city, however. An earlier NY1/Ipsos poll from October 21, 2020 showed de Blasio with 49% approval among New York City residents but did not include a breakdown of party affiliation.
"Ever yone is against de Blasio in this field save Eric Adams," said Neal Kwatra of Metropolitan Public Strategies in a text message. "That doesn't distinguish you in the eyes of voters, it just checks a box for those who already don't like de Blasio (mostly white voters)."
In at least one case, Donovan's newly-amped up targeting of the mayor immediately prompted reprisals, even from those who would, in most cases, criticize de Blasio. After the U.S. Census Bureau released its apportionment data on Tuesday, revealing that New York State will lose one congressional seat because it fell behind in counting just 89 people, Donovan trained his ire towards the mayor. "Bill de Blasio's incompetence has cost our city dearly, and could cost Democrats the House. This stunning revelation is another example of his inability to lead," he tweeted. "Instead of counting votes during his failed presidential run, he should have been counting New Yorkers here at home."
The statement was well off the mark, as those who worked on the city's count and many others quickly pointed out the historic and successful Census outreach efforts led by the de Blasio administration. The city, in fact, outperformed projections despite the many unique challenges of 2020, the pandemic being just one of them.
The barrage of social media pushback was extensive, with the city's 2020 Census director, Julie Menin, now a City Council candidate in Manhattan, telling him, "Shaun- you seriously need to get your facts straight. NY State did absolutely nothing. The city's effort equaled the 2010 number despite being in a global pandemic and beat almost every major city across the country. Expect better from a former Cabinet official." De Blasio himself called the critique "preposterous, honestly," and noted that his presidential campaign was over well before the Census count got going.
"Shaun Donovan's line of attack in this particular instance, was not just misguided but it was tantamount to spreading misinformation, which you know is a classic Trumpian approach," said Amit Bagga, who was deputy director of the city's 2020 Census campaign and is running for City Council in Queens. "[I]f Shaun Donovan thinks that that is going to get him elected in New York City, he should think twice," Bagga continued, referencing Donovan's attempt to use de Blasio as a foil but do so in misleading ways.
Many commenters noted that it had been Governor Andrew Cuomo, not de Blasio, who had undermined the New York Census count, with Cuomo failing to follow through on the promised state Census effort.
Donovan partially walked back the critique, praising city Census officials and outreach workers, but then took to critiquing de Blasio over his longtime rivalry with Cuomo, where Cuomo has largely been the aggressor, for depriving the city of needed resources for the Census. "NYC stood tall through the pandemic; the work done by so many to conduct the census was inspiring," he tweeted. "But the toxicity the Mayor (and Governor) have spent 8 years fostering ensured NYC would not get the resources we deserved. More NYers would have been counted w/ those resources."
Bagga said the point is simply off. The governor had promised a robust $70 million state Census campaign, but did not dole out any funds until it was too late and did not provide the state agency efforts he had pledged. The mayor, working with the City Council, put tens of millions toward the city's Census campaign as well as other city government resources. He also personally went door-to-door several times and made the Census part of his daily coronavirus briefings, while Cuomo virtually never mentioned the Census during his, despite his massive TV ratings throughout key counting months last spring.
"I would say that for someone who is staking their claim on the mayoralty of being an intelligent and experienced manager and administrator of government at the highest levels…this is undermining his own campaign and his own legacy, and it's embarrassing," Bagga said of Donovan.
"Shaun believes Bill de Blasio has drastically and detrimentally lowered expectations for what a Mayor should be able to do for New Yorkers--which is to get resources for the city, such as the $60 million in census funding that the state held back," Edwards from Donovan's campaign said. "The Mayor has created an adversarial relationship with everyone who does not agree with him, and this toxic environment, which the Governor has contributed to as well, has made him an ineffective leader and continues to inhibit his ability to get NYC the resources it needs and deserves from the State and federal government."
Even before his recently increased focus on de Blasio, Donovan has been making the case that he is the mayoral candidate best positioned to bring the city resources from the federal government, given his relationship with President Biden after having been in the Obama-Biden cabinet all eight years.
Donovan is clearly hoping that he can make a four-pronged pitch to voters that he is connected to both former President Obama and President Biden, has made significant contributions to the city through his work in the Bloomberg and Obama administrations, is ready with plans to bring New York City roaring back from the devastation of covid, and is the strong contrast to de Blasio.
He's working to get that message out through regular press conferences and by spending a windfall he recently received by qualifying for public matching funds, the release of which were temporarily delayed while the New York City Campaign Finance Board reviewed materials from the campaign and from the Super PAC that Donovan's father has funded with $4 million thus far. The two entities are forbidden from coordinating.