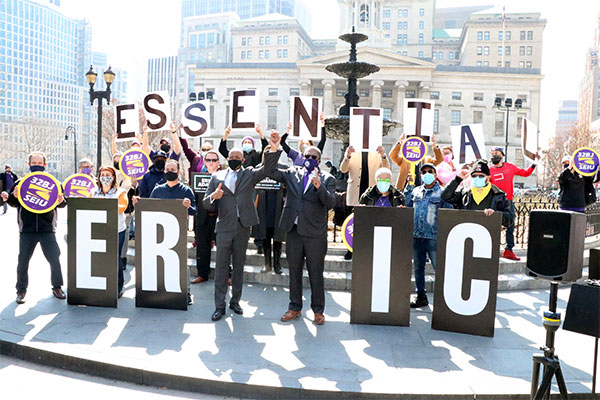 Eric Adams endorsed by 32BJ (photo: @ericadamsfornyc)
---
Brooklyn Borough President Eric Adams has amassed a wealth of support from labor unions as he runs for mayor, competing almost solely with Comptroller Scott Stringer for the label of "labor candidate" in the crowded primary field of Democrats. It is one key part of the coalition Adams is trying to build to prevail in the June primary, and he's hoping that his support from organized labor will come through with crucial help in the final weeks of a hotly-contested race where Adams and entrepreneur Andrew Yang have polled at the top of the field thus far.
Adams, a two-term incumbent with a long record of public service, has spent years building relationships with labor unions, including those that represent both city and state workers. His own blue-collar background as a two-decade NYPD officer, rising to the rank of captain, has helped endear him to union leaders who believe he will best represent the interests of working New Yorkers.
That's why Adams can boast a long list of union endorsements including some of the most powerful in the city. He has been backed by 32BJ SEIU, the property services workers union with more than 160,000 members, and DC37, which represents more than 150,000 municipal workers in New York City. The influential Hotel Trades Council, with more than 31,000 members and well-regarded organizing prowess, has also backed him, as have a series of others such as Transport Workers Union Local 100, which represents those who keep the buses and subways running, The Bridge and Tunnel Officers Benevolent Association, the New York State Court Officers Association, the Uniformed Fire Officers Association, several locals of the Amalgamated Transit Union (726-Staten Island, 1056-Flushing, 1179-Queens), and still others.
The question remains, however, exactly how much those endorsements really mean in the large electoral puzzle and competition among campaigns, including to what extent labor unions supporting Adams (or those backing other candidates, like Stringer and civil rights attorney Maya Wiley) can whip votes among their members and contribute in other ways, like independent expenditure advertising campaigns. And, less for the politics of the moment but more for the potential governing future should he win, Adams' alliances with labor also have major implications for city policy and budgets.
"Adams is the classic example in this campaign of people who came up the hard way and built real lives that are obtainable...He's the most logical candidate for labor unions," said Hank Sheinkopf, a veteran political consultant. Sheinkopf noted that Adams' heavy emphasis on public safety would particularly resonate with working New Yorkers. "Why? Because working New Yorkers are getting injured, shot, and assaulted...He is the protector of the people that need to be protected and the person that relates to more of the population. That's the strategy."
Though the strength of a union endorsement depends on the union, Sheinkopf said, pointing out that members of some unions largely live outside the city, those endorsements could be potent signals in a municipal election with more than 500 candidates on the ballot for various offices. "Union endorsements may in fact be a significant cueing device for voters who are confused by the valid number of candidates," he said. "So, in this case, endorsements will matter more. Therefore, Adams benefits more from union endorsements."
That could especially be true given the initial citywide run of ranked-choice voting, where in the primaries voters can rank up to five candidates for any given office in order of preference.
"Eric is running as the blue-collar candidate for mayor because he comes from a working class background and he himself worked blue collar jobs to put himself through school at night," said Evan Thies, a campaign spokesperson, in a phone interview. "And he is the only former union member in this race, as a member of the NYPD union, so he knows the values and the struggles of working people and thinks it's high time that City Hall had a leader that woke up every day thinking about everyday people and their problems."
The campaign believes union support could be instrumental in helping Adams claim victory in the June 22 primary, which will likely determine the next mayor of New York City because of the overwhelming number of registered Democratic voters in the city. Just over a third of Democratic primary voters in the 2013 election were from union households, according to exit polling from the New York Times.
"Eric is a known entity to us," said Kyle Bragg, president of 32BJ, in a phone interview. "We have a history with Eric as an elected official here in New York and we know he's committed to justice and equity for workers." The union endorsed Adams on March 11 at a raucous rally outside Brooklyn Borough Hall, with its members holding up giant block letters spelling out E-R-I-C. They have since released at least one Youtube video to boost his campaign, featuring several of its members praising Adams, and the union recently tweeted images of its branded signs promoting Adams.
In the interview, Bragg pointed to Adams' history of showing up and standing with workers, whether it was advocating for fast food workers demanding better pay or supporting airport workers rallying for improved health benefits. "Eric is committed to prioritizing a worker-led recovery, that we come out of this COVID-19 pandemic not on the backs of workers but workers at the center of this." And he praised Adams for his "unique balance of both understanding that the city needs to have safe streets and safe communities, but at the same time that there must be police accountability and equity and fairness in policing."
Henry Garrido, executive director of DC37, said in a phone interview, "We believe his values align with our values. He understands the difficulties of everyday working New Yorkers." He said that Adams brings a level of mutual respect and trust with the unions that are essential for fair bargaining in contract negotiations with mayoral administrations, something that he said Mayor Bill de Blasio's administration displayed but was lacking for 12 years under former Mayor Michael Bloomberg. The next mayor, due to take office January 1, will quickly be tasked with negotiating a wave of new contracts while also potentially managing the fallout of final de Blasio decisions around projected labor savings in upcoming city budgets, though much about the city's economic and fiscal picture is up in the air given the massive pandemic disruptions.
Garrido also noted that other candidates have talked about "concessionary bargaining" that would require workers to make more sacrifices. "If there's anything that we've seen about this pandemic is that workers have sacrificed it all, in some cases even paying the ultimate price with their lives to protect New Yorkers."
Garrido pointed out that Adams' mother was a member of DC37 "who went through many of the trials and tribulations that our members have been through. Her story, with his story, intertwine."
At DC37's endorsement announcement on March 25, Adams leaned into that history. "I am you," he told members of DC37, citing his own struggles growing up in a working class family. "We need a blue-collar mayor to run a blue-collar city and respect the people of this city. We've had enough white-collar mayors treating us as we're insignificant."
"I am not a new friend. I'm an old friend. We fought side by side for so many years. My walking into City Hall means you're walking into City Hall. I understand your fight. I understand your plight," he added. (De Blasio, who Adams is fairly close with, has been widely seen as a good friend of organized labor, though he has had some high-profile disputes, including recently with the teachers union that is supporting Stringer and throughout with police unions that have not yet endorsed in the mayoral primary.)
While many of the city's labor unions are predominantly made up of people of color, Adams is among the candidates in this year's race seeking to become just the city's second mayor of color.
Union leaders believe Adams balances an oft-stated pro-big business outlook with the interests of working New Yorkers in a way that will be necessary to reviving the city's economy after the devastation of COVID-19. "Eric is a blue-collar guy," Bragg said, "but he also understands the importance of having a strong economy in this city and having businesses flourish."
Adams was supportive of both the scuttled Amazon 'HQ2' deal for Queens (that 32BJ strongly backed but other unions opposed) and the Industry City expansion plan in Brooklyn, which 32BJ and others supported.
Garrido expressed concern that the election could turn into a referendum on what the city needs to do for businesses to recover rather than people. "When a disaster hits, and then the economic downturn that comes as a result of that disaster, [then] somehow businesses need more," he said, pointing to the post 9-11 era under Mayor Michael Bloomberg as an example. "Yes, we need to work with business to make sure that the economy recovers but we shouldn't be just so pro-business at the expense of working people," he added, insisting that Adams is the candidate who can bridge that gap.
Besides votes, unions also provide significant support to candidates they have endorsed ranging from campaign donations from members to canvassing activities like phone-banking, leafleting, and door-knocking to promotion through ads and mailers paid for by independent expenditures, also known as Super PACs and which are not allowed to coordinate with the candidate's campaign.
"We intend to use every arrow in our quiver , every tool in our tools shed because it's a new day and it's imperative that city workers come out and turn out," said Garrido.
On Monday, the Hotel Trades Council launched a $2 million independent expenditure campaign for Adams and their other endorsed candidates running for comptroller and City Council, according to Politico New York. Politico previously reported that Adams had earned HTC's support in part because he backs a key policy goal of the union: allowing non-unionized hotels to be converted into permanent housing.
Besides Adams, only Comptroller Stringer, a two-term Democrat himself, can claim to have significant labor support from several unions, though Wiley has been backed by the large and powerful health care workers union, 1199 SEIU. That union was the only major one to back de Blasio in 2013 and helped power him to victory.
Stringer has been endorsed by some prominent unions that include the United Federation of Teachers, the Building and Construction Trades Council and the Retail, Wholesale and Department Store Union (Stringer was an ally to RWDSU in its opposition to the Amazon 'HQ2' deal, among other instances). Other Stringer backers include, among others, Communications Workers of America District 1, Council of School Supervisors and Administrators, LIUNA-NY, Local Union No. 3 International Brotherhood of Electrical Workers, CUNY Professional Staff Congress, Teamsters Joint Council 16, and the United Auto Workers Region 9A.
Stringer did, however, see one of his union endorsements, from UFCW Local 1500, rescinded in the wake of sexual assault and harassment allegations against him by Jean Kim, a former campaign volunteer from his 2001 bid for public advocate. Notably, while many elected officials and some activist groups have rescinded their endorsements of Stringer, labor has largely stayed with him, and he's even picked up two additional union nods since the allegations were made. After losing many progressive backers, Stringer's path to victory appears inextricably linked to his labor support. The UFT, a longtime Stringer ally, in particular has begun spending money on his behalf.
Former city sanitation commissioner Kathryn Garcia has been endorsed by the sanitation unions including Teamsters Local 831, Teamsters Local 813, SEIU Local 246, SEIU Local 444 – Sanitation Officers Association, and the Uniformed Sanitation Chiefs Association.
Former nonprofit executive Dianne Morales was endorsed behind Stringer as the second choice (in a ranked-choice voting endorsement) by the CUNY Professional Staff Congress and the United Auto Workers Region 9A.
None of the other three candidates in the top eight leading Democrats -- Yang, former Citigroup executive Ray McGuire, and former federal housing secretary Shaun Donovan -- have received any labor union endorsements so far. They each can boast of other endorsers, however, and Yang in particular has amassed a vast donor and volunteer network without labor support.
Yet to endorse in the Democratic primary are the several police unions, which Adams has been a member of. Asked on Monday if he would accept the backing of the Patrolmen's Benevolent Association (PBA), Adams told NY1 he would not, citing its support for former President Donald Trump, though that day Adams had celebrated receiving the endorsement of the New York Post editorial board, which supported Trump. Along with the PBA, there are also unions for sergeants, lieutenants, and captains. An Adams campaign spokesperson did not immediately return an inquiry as to whether he is seeking or would accept the endorsement of any of those three labor groups.
Adams' current popularity with many labor unions extends a bit further than even the list of city-focused groups. The New York State Public Employees Federation represents state workers, but has also endorsed him. "Before he became a New York City politician, the work he did championed communities," said PEF President Wayne Spence, in a phone interview, in part referencing Adams' time in the state Senate. "I mean, when it comes to police brutality, what became the norm for society, what happened after George Floyd, Eric was doing that [advocacy] before as one of the founding members of 100 Blacks in Law Enforcement for years when it wasn't popular or sexy to talk about that."
"He didn't show up when he announced his candidacy. He's always been there for our members and our members will relate to him," he added.
Spence noted that the mayor doesn't have a direct impact on PEF workers, but nonetheless, "Eric sees the synergy and co-interdependency of what state workers do, and that is not removed from what goes on in the boroughs. And as mayor, he's going to bring a voice to Albany outside of the traditional voice. Traditionally, New York City mayor's don't really champion or advocate on behalf of my members in the state workforce. Eric has done that before, and I know he will continue to do that."
Ben Max contributed to this story.