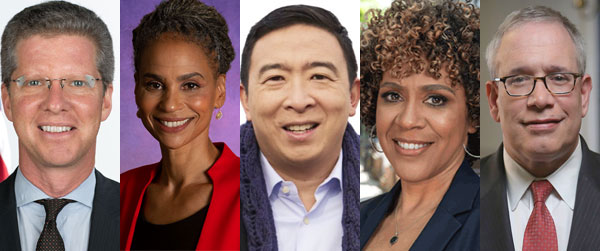 (l-r) Shaun Donovan, Maya Wiley, Andrew Yang, Dianne Morales, Scott Stringer
---
At a virtual forum on Thursday night, four of the leading Democratic candidates for mayor in the June primary weighed in on issues affecting New York City's large immigrant population, including housing, education, employment, and participation in the political process.
Hosted by the New York Immigration Coalition (NYIC), one of the largest immigrant advocacy groups in the state, the forum was the first one focused solely on immigrants and was simultaneously streamed in English, Mandarin, and Spanish. It was held in partnership with City Limits, Gotham Gazette, The City, CUNY School of Labor and Urban Studies, and NYIC Action, the immigration coalition's political arm. The four candidates who participated were former counsel to the mayor Maya Wiley, former nonprofit executive Dianne Morales, former Obama cabinet official Shaun Donovan, and former presidential candidate Andrew Yang. Comptroller Scott Stringer, who is continuing to deal with the fallout of sexual assault and harassment allegations levelled by a former campaign volunteer, was scheduled to participate but cancelled at the last minute.
The forum was moderated by Murad Awawdeh, co-executive director of NYIC, along with a panel of reporters – Gotham Gazette's Samar Khurshid, The City's Ann Choi, and City Limits' Daniel Parra – who posed questions to the candidates. The forum included questions from the moderator and panelists, a round of yes-or-no questions, a live Q&A from the audience, and ended with a discussion by the panelists' on the candidates' performance.
Brief Answers on Key Issues: 'Our City Our Vote,' Schools Chancellor and More
The forum began with just Wiley and Donovan, and they were quickly asked if they would support and implement the "Our City Our Vote" legislation (Intro. 1867), which is a bill introduced by Council Member Ydanis Rodriguez before the City Council in January 2020 that would permit lawfully present residents and those with work authorizations to vote in municipal elections.
Donovan and Wiley both committed to supporting the legislation and seeing it implemented, with Donovan touting his father as an immigrant and a green card holder in New York City for many decades, and Wiley pointing to herself as a descendant of slaves.
Wiley and Donovan were asked if they would commit to "appointing a [schools] chancellor who explicitly prioritizes the needs of immigrant families and students" and both said they would.
They were then asked if they would expand NYC Care, a health care access program launched by Mayor de Blasio in 2019 that guarantees low- or no-cost services at public hospitals to New Yorkers who do not qualify for or cannot afford health insurance, regardless of immigration status. Wiley said yes, and that she would try to expand it for the 600,000 New Yorkers who do not have health insurance. Donovan concurred, adding that he would have a public health care option so that "you can not only get care at Health and Hospitals Corporation, but also at providers that are culturally appropriate, speak your language, in your neighborhood."
The two candidates were then asked if they commit to defunding the police by at least $1 billion and redirecting the funds to community investments and infrastructure, particularly to help Black, Latino, and immigrant New Yorkers, and both Wiley and Donovan said they do. Donovan and Wiley were then asked if they would commit to funding no-cost lawyers for immigrants facing deportation "without any exceptions," and both said yes.
Lastly in the initial lighting round, both candidates were asked if they commit to fully funding adult literacy programs in the city, giving the example of immigrant parents who need to speak English to help their children succeed in city schools. Both also agreed to that.
Yang appeared mostly on his own later in the forum, and was asked the same rapid response questions as Wiley and Donovan. Citing concerns about whether the "Our City Our Vote" legislation would "pass legal muster," Yang said he did not support it. Awawdeh responded by saying that the NYIC is a major proponent of the bill and that it would pass legal muster, particularly given it is a re-authorization of legal-resident municipal voting rights.
Yang said yes to appointing a chancellor that prioritizes immigrant students and families, and to expanding the NYC Care program. While he said communities of color and immigrant communities are often underinvested in, Yang said no to defunding the NYPD by at least $1 billion to redirect that funding to those communities. He said yes to the question about providing lawyers for immigrants facing deportation with no exceptions. And Yang committed to fully fund adult literacy programs.
Health Care
Wiley and Donovan were pressed on how they would provide immigrants in the city with quality and affordable health care. Wiley said she would have the city use its bargaining powers to "create a health insurance card for those who don't have health insurance." Linked to her health-care expansion plans, Wiley would provide $100 million to ensure that community clinics in the city do not close, saying that she would have a "moral budget that invests in that." In addition, Wiley would support safety net hospitals and public hospitals, she said, noting that hospitals such as Elmhurst in Queens struggle financially in part due to the high number of patients they serve who do not have health insurance.
To ensure language access, Wiley would provide grants to community-based organizations in immigrant communities to help those who do not speak English navigate the health-care system and "make sure everyone understands that all our residents can navigate it without having to be worried about ICE." Wiley added that she would have the NYPD under tighter "mayoral control" so that New York City would be "nothing less than a sanctuary city," seemingly taking a shot at her former boss, de Blasio, in his deference to the NYPD and making exceptions around funding lawyers for those facing deportation after being accused of certain crimes.
Donovan pushed his public option proposal, saying that it would include private providers who can offer more culturally appropriate care as well as federally-qualified health centers. Donovan then pivoted to his signature proposal to create 15-minute neighborhoods, which would "ensure that every single New Yorker has within 15 minutes of their front door the health-care infrastructure they need in their community," and noting that it includes access to fresh food and parks.
Morales, who joined the forum slightly after Wiley and Donovan, said that one of the first things she would do is support the New York Health Act, a proposal before the state Legislature to create a single-payer health care system for the entire state. In her first 100 days, she said she would launch "NYC 5000," a "culturally-relevant and linguistically-appropriate corps of healthcare navigators" to help vulnerable populations get access to COVID-19 testing and other health resources. She then mentioned her proposal for "a network of integrated community health clinics" that would help New Yorkers access health care locally. She also pledged to establish "a multi-agency and community expert task force to design strategies to eliminate preventable causes of Black maternal and infant mortality."
Faced with the same question on increasing immigrants' access to health care, Yang circled back to introductory comments he had made about expanding neighborhood action centers and investing in NYC Care. He said he would "love nothing more" than to have a single-payer health-care option for the city regardless of immigration status, saying "that should be the vision" in the long-term.
The Covid Achievement Gap
Given the 23% dropout rate of English language learners and children of parents with limited English, the candidates were pressed on specific steps they would take to bridge the divide between immigrant and non-immigrant children.
Donovan said he would dramatically increase the number of dual-language programs in the city, promising to create 450 new programs in his first term. He also said he would hire and seek to retain more teachers of color, particularly multi-lingual educators. He would invest in adult literacy programs and keep libraries open seven days a week, he said.
Wiley said she would fund and implement NYIC's plan for communicating with school parents who have little to no proficiency in English, which includes provisions about updating city agency websites to display information clearly and concisely, communicating with parents across a multitude of platforms, and spending at least half of the annual print and digital advertising budgets on community and ethnic media outlets. She would hire 2,500 more teachers, create more multi-language learning programs, expand community-based schools, and have the city procure more human services from them, Wiley said. She added that she would form a commission dedicated to increasing "parent voice and engagement in our schools."
Morales, touting her experience as the only former K-12 teacher in the race, said she would eliminate all admissions screens that "act as barriers to keep our students from accessing our schools." She would redraw school district boundaries and ensure state education funding goes to increasing teacher diversity, she pledged. Morales brought up "implementing a culturally-responsive curriculum" and expanding student resources, and said she would redirect money from the NYPD to fund education. Her other priorities include reducing class sizes and hiring a chancellor who would be "a champion for transformative holistic public education."
Housing
The candidates were asked for their plans on housing and homelessness issues, particularly as they relate to the city's immigrants.
Morales reiterated her stance that housing is "a human right" and committed to "providing secure and guaranteed pathways to people for affordable permanent housing." She would look to repurpose empty hotels, storefronts, and office spaces into housing for homeless populations. She said she would appoint a deputy mayor to coordinate a cross-agency approach to housing opportunity and social mobility. This effort would include shifting $3 billion from the city's shelter budget to preventative measures such as providing permanent housing.
To allow people to stay in their homes, Morales said she would extend the eviction moratorium, cap rents, and provide housing vouchers to those that need them. Morales committed to using public land to create more affordable housing partnering with nonprofit developers. She would pursue reforming the city's Uniform Land Use Review Procedure towards a community-led planning process. Morales also said she would "discourage" the use of member deference in the City Council, where the Council defers to the wishes of the local Council member in land use decisions.
Donovan has repeatedly touted his housing policy experience during his campaign, including his time as federal housing secretary under President Obama and as housing commissioner under Mayor Bloomberg. At the forum, he said he would begin to address housing issues in the city by ensuring that people can stay in their homes, in part by distributing the recent federal rental assistance that was included in the American Rescue Plan and getting New Yorkers access to housing counseling and legal services. He also claimed he is the only candidate with a real plan for filling the New York City Housing Authority's $40 billion capital gap for maintenance and repairs, though he did not elaborate how he would do so at the forum. He focused instead on reforming the city's zoning so that every neighborhood "does its share to build more affordable housing," criticizing de Blasio for only rezoning Black and Latino and lower-income communities.
Calling home ownership the "forgotten part" of housing policy in the city, Donovan said building wealth was important for immigrants and that he would increase home ownership. He touted his "equity bonds" proposal that he said would help build generational wealth. The program would provide $1,000 to every child in New York City, and expand to annually give up to $2,000 to every public school student in the city.
Wiley spoke about how partnerships with grassroots organizations would be key to her administration's success in housing due to the deep distrust that many immigrants, especially undocumented ones, feel towards government. For housing, Wiley would use part of her New Deal New York capital spending plan — spending $10 billion a year in city capital funding — to build more permanent affordable housing. She echoed Morales on using public lands for more housing, to use hotels and other vacated spaces to house homeless populations, and focusing on preventative measures using the $3 billion budget annual homeless services budget. Wiley ended by touting her plan to give $5,000 care grants for family caregivers.
In the live audience Q&A portion of the night, candidates tackled issues such as immigrant worker centers, mental health services, segregation in city schools, gifted education programs, and the specialized high school admissions test (SHSAT).
Immigrant Worker Centers
Asked about their approach to immigrant worker centers, the candidates had little to offer.
Morales avoided the specific question, speaking more generally about her support for universal basic income relief, job creation through a green municipal jobs guarantee that would include immigrant and undocumented New Yorkers, and care economy jobs with better wages, benefits and worker protections.
Wiley said she would increase the budget for the Mayor's Office of Immigrant Affairs, which would assist immigrant worker centers. She mentioned her plan for universal care centers, which would support immigrant families by providing free childcare and eldercare, and would co-locate with other services. She also said she would expand the city's enforcement capacity to address wage theft, and partner with community organizations so that undocumented New Yorkers do not feel under threat from ICE when reporting wage theft issues. She ended by discussing her support for worker cooperatives and street vendors, many of whom include immigrants, in her plan for small businesses.
Donovan said he would expand investment in worker centers. He would reinvest $3 billion from the "criminal justice system" by the end of his first term to community purposes, which he said would include worker centers. He also reiterated his ability to work with the Biden administration to change the "safety net" for New Yorkers because of his work at HUD when Biden was vice president. Noting the importance of community organizations in acting as messengers for government programs, Donovan committed to expanding investment in nonprofits.
Mental Health Services
When pressed on providing culturally- and linguistically-appropriate mental health services to immigrant communities, the candidates retooled their previous responses on health care.
Wiley pointed out that immigrant communities have been "traumatized" by COVID-19, ICE, "unjust policing," gun violence, and sexual assault. She said her approach to mental health would begin with the provision of "trauma-informed" care in schools. She would use community-based partnerships with nonprofits to ensure that the care is culturally-responsive and to provide care not only for students but family care as well.
Morales pledged to ensure that "everyone has access to [health-care] coverage," reiterated her plan to create a network of integrated care providers to better provide health services to immigrant communities, and said she would partner with the CUNY School of Medicine to expand "the number of folks who actually look like us providing these services to our communities." As a mother whose daughter has struggled with mental health issues, Morales said she understood the value of representation in health care.
Donovan highlighted his dedicated policy plan for immigrants on his website and said that immigrant communities would have "a real partner at City Hall" were he elected. As it relates to mental health, Donovan would include emergency mental health services in his 15-minute neighborhood plan and mental health services in his public option health care program. He re-emphasized the point made throughout the forum that care should be provided by private providers as well as public hospitals, saying that they should be covered under a public option.
Yang echoed Wiley that mental health services should be expanded in schools, and added that he supports the expansion of NYC Care and opening more neighborhood health action centers. As a point of criticism towards the de Blasio administration, he noted that the two most recent neighborhood health action centers to be built — which co-locate health-care providers, New York City agencies, and community-based organizations — were not in the immigrant-heavy borough of Queens.
Schools Questions for Yang
About an hour into the event Donovan, Wiley, and Morales all had to leave and Yang, having just arrived, was the only candidate taking questions for a solo stretch. Over about 20 minutes, he took questions on desegregating city schools, gifted and talented education programs, and his approach to health care, among other things already mentioned.
Yang said the segregation of schools and the quality of schools are two "deeply interrelated" issues. He said that parents would be more likely to send their children to local schools if they delivered better services, indicating that his first priority is improving existing schools rather than pursuing direct, immediate efforts to desegregate the system. He did offer praise for a desegregation model being used in Brooklyn's 15th school district, where they adjusted a number of admissions policies to better integrate the middle schools. Yang turned to his well-known frustrations with the pace and quality of city school reopening and issues with remote learning during the pandemic, and said that addressing the learning loss created by pandemic-era schooling would be his "top priority" as mayor.
Yang has defended gifted and talented programs and the use of the SHSAT to determine admission to specialized high schools, though he is calling for multiple measures in addition to the exam, both policies which have been criticized for creating racial disparities in schools, particularly for immigrant students and Black and Latino students. Yang said the city has had a "disproportionate focus" on specialized high schools rather than looking at the whole system. He said he would expand language access education and touted his proposal for 10,000 AmeriCorps tutors to work in the city.