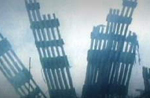 PBS's Frontline will show many documentarie, including Faith and Doubt at Ground Zero.
On September 10, 2002, ESPN, the all sports cable network, will air a special on the passengers that overtook the hijackers aboard Flight 93 which crashed in Pennsylvania. Why would a sports channel focus on airline passengers? "The four men, whose selfless acts revealed extraordinary character, had strong sports connections," ESPN said in a press release. For example, one had been a star high school quarterback and another was a national collegiate judo champion.
To mark the one year anniversary of the attacks, most of the television networks have suspended all of their regular programming in order to provide wall-to-wall coverage of the day's memorial events [See highlights of anniversary coverage by network or a schedule for 9/11/02.] The Country Music Channel will highlight patriotic songs and videos. Even the Food Network will suspend its cooking shows for two hours and run "a series of images, words, and music intended to inspire quiet reflection."
But this unusual programming is not just for the anniversary.
September 11, 2001 was a television event for most of the world, and even for many New Yorkers. For the last year, television has struggled to make the medium fit the events and has made substantial changes to its programming.
Viewers have witnessed an unprecedented amount of news coverage. Audiences have revisited the events through dozens of documentaries and benefit concerts. The story lines and opening credits of comedies and dramas have been altered to reflect the new reality in New York and the nation. Even sports events and late-night talk shows have been affected.
But while the phrase "September 11 changed everything" has been repeated over and over on television, some things on the small screen remain the same.
NEWS COVERAGE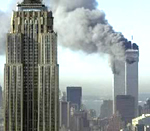 The History Channel will show a series of six specials on the attacks, the World Trade Center, the Pentagon and Islam.
Initially, the biggest changes in television occurred in the news industry as stations struggled to respond to the events then stretched their continuous coverage on for days. Several television news studios, including NBC Nightly News, even became the subject of the news when anthrax letters came addressed to their offices.
For the one year anniversary:

- NBC's Today show will have six hours of coverage before noon.
- ABC plans to reconstruct the events of the morning of 9/11 minute-by-minute.
- CBS will have an interview with President George W. Bush on 60 Minutes.
- Fox News has decided it will not air commercials for the entire day, responding to sponsors who were nervous about pitching their products on a national day of mourning.
Some critics argue that the anniversary coverage planned for the day - live reports from memorial services, documentaries, and extended TV magazine specials - is overkill. "There's a fine line between remembrance and mawkishness," wrote Wall Street Journal editor Daniel Henninger. "TV makes sure we cross it."
While the news, or at least the amount of it produced, has changed since September 11, studies suggest that while Americans followed the coverage in the first few weeks, they do not watch more news now than they did before the attacks. An April 2002 study by the Pew Research Center found that the total number of people who watch nightly network and cable news and follow international news stories continues to decline.
BENEFITS AND TRIBUTES
Artists, actors, and musicians have honored those who died in the attacks with series of lucrative benefit concerts and telethons over the last year.
The biggest television event was "America: A Tribute To Heroes," a telethon that aired ten days after the attacks on 30 different channels and was watched by 89 million viewers. The show raised $150 million, three times as much as any other television fundraiser in history.
It has also been impossible to show any kind of television event - sports, award shows, politics, or concerts - without honoring New York City. Television stations have also made it a practice of airing long and patriotic half time shows at sports events and the 7th inning rendition of "God Bless America" at baseball games instead of cutting away to commercials. The 2001 World Series had the strongest 9/11 sports connection as the New York Yankees played host to the fall classic while the fires continued to burn at Ground Zero.
Even the reclusive Woody Allen was convinced to make a rare television appearance at the 74th annual Academy Awards. Allen had never attended the show despite 20 nominations and 3 wins, but agreed to present a montage of movie clips celebrating his hometown.
The benefit concerts continue. On September 11, 2002, NBC will air the Lincoln Center's "Concert For America," and PBS will broadcast "A Requiem for September 11," a live concert event at Liberty State Park in Jersey City, New Jersey.
COMEDY AND DRAMA
Since September 11, comedies and dramas, particularly those set in New York City, have dealt with the attacks in varying ways. Some fictional shows chose to edit their scripts -- an episode of "Friends" that made light of an airline bomb threat was cut - or to remove the towers from scenes or the title sequence as HBO's "Sex and the City" did last year. Some have made small tributes to the lost - the creators of "Everybody Loves Raymond" placed a photo of one their friends who died in the attacks on the mantel of the set.
Still others, like "Third Watch," a drama about New York City emergency rescue workers, wrote the real life events of 9/11 into their fictional story lines. And many programs, like "Spin City," a comedy about the fictional mayor of New York City, simply avoided the subject. "We could never, as a sitcom, handle this in a real authentic way that would be satisfying to us or America," the show's co-producer Michelle Nader told the New York Times.
Some believe the tragedy has increased the demand for television shows that help viewers escape. Channels like TV Land which replay long-canceled shows like "The Beverly Hillbillies" and "Gilligan's Island" have seen their ratings increase since September 2001. New network shows for the fall of 2002 feature half a dozen shows built around nostalgia for better times. Both Fox and NBC will debut new shows where the main character falls asleep and awakens in the 1980s.
"I think right now we are at a time in our country of fear and economic pain, and we yearn for a simpler time," Warren Littlefield, a TV executive that oversaw hits like "The Cosby Show" and "Cheers."
LATE-NIGHT TALK SHOWS
In the initial weeks and months after the attacks, the usual antics and stupid pet tricks of shows like "The Tonight Show," "The Late Show with David Letterman" and "Late Night with Conan O'Brien" seemed inappropriate to both writers and audiences. For a while, the mood on late-night television remained somber. Critics hailed David Letterman's first show after the tragedy when the visibly shaken host paid tribute to police officers, firefighters, and Mayor Rudolph Giuliani in a heartfelt speech.
A February 2002 survey by the Center for Media and Pubic Affairs found that the number of political jokes on late night talk shows dropped by more than 50 percent in the first week weeks after the attack and that appearances by serious guests like news anchor Dan Rather and former Secretary of State Madeleine Albright became more frequent.
By the spring of 2002, comedy had returned to normal and political jokes actually increased.
However, Bill Maher host of "Politically Incorrect," argues that unpatriotic comments contributed to the demise of his show. On September 17, Maher characterized U.S. military actions as "cowardly." Advertisers immediately pulled their ads and ABC cancelled the show in June of 2002.
MADE-FOR-TV
Dozens of documentarieshave become a more regular part of television programming in the last year. The two-hour documentary "9/11" filmed by two French brothers was watched by nearly 39 million viewers, the most watched non-sports broadcast of the season. But as time progresses, television has increasingly returned to its pre-9/11 state.
"The war on terror has added new themes and concerns to our popular culture, but it couldn't make the old ones go away," Robert Thompson, a professor of media, wrote in a recent New York Times editorial. "For many people, getting back to normal includes making wisecracks and watching professional wrestling."
Later this year, television producers will construct their own made-for-TV versions of the events with two TV movies about former Mayor Rudolph Giuliani. One will be based on the biography by Village Voice writer Wayne Barrett and feature veteran actor James Wood in the title role. The other, entitled "Rudy Giuliani: Emperor of the City," will be produced by the same film company that did bio movies on Jesus and Moses.