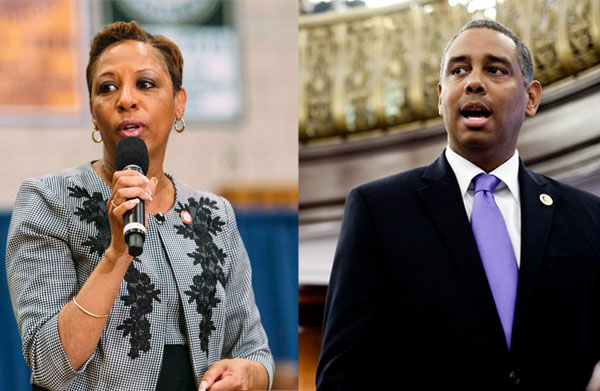 Adrienne Adams and Ruben Wills
---
City Council Member Adrienne Adams, a first-term Democrat, is among the several candidates seeking to become the next Speaker of the City Council. But her first hurdle will be defeating two challengers in the imminent June primary to win a second term representing Council District 28 in Southeast Queens. Among those challengers is her predecessor, Ruben Wills, who was expelled from the Council following a corruption conviction but was recently exonerated and is seeking a political comeback.
District 28 includes Jamaica, Richmond Hill, Rochdale Village and South Ozone Park, neighborhoods with a large Black population and diverse immigrant communities like much of the rest of the borough. The district is home to more than 240,000 residents, more than a third of whom speak a language other than English, including Spanish, French Creole, Hindi, Chinese, Urdu, French, and Tagalog. According to City Council data, the most requested constituent service in the district in 2018 was for assistance with citizenship applications.
Community District 12 in Queens, which is almost entirely residential and includes large parts of the Council district and other neighborhoods, has a population that is 42.4% foreign-born. Almost one in five residents live in poverty, about 47% are rent-burdened, and unemployment was almost 6% before the pandemic, higher than the citywide 4%. Richmond Hill, Jamaica, and South Ozone Park are among the neighborhoods that were hardest hit by the coronavirus and continue to suffer, and vaccination rates in Southeast Queens are lower than in the rest of the city overall.

Adams has the advantage of incumbency in the race. She won her seat in 2017 after a tight but low turnout primary where she received 3,499 votes out of 9,155 that were cast, defeating two other candidates to become the first woman to represent the district. She faced nominal opposition in the general election, winning about 80% of the vote.
The district 28 seat was vacant at the time, after Wills was automatically expelled from the legislative body following a conviction on charges of misappropriating public funds. He was sentenced to six years in prison and served two before being released in 2019. In September last year, his conviction was overturned by an appeals court – which found that he was deprived of his due process right to present witnesses of his choosing – and just last month, he was fully exonerated in New York State Supreme Court.
Adams is not daunted by Wills' return to politics. "I'm excited about my reelection. I am energized by it," she said in a phone interview. "I love what I do. I know that I'm born to do this work and as I always say, I wake up every day on purpose with a purpose."
Since December, Adams has chaired the Council's high-profile public safety committee, which includes in its purview the NYPD, the city's five district attorneys, the Civilian Complaint Review Board, the Mayor's Office of Criminal Justice, courts, legal services, and the Office of the Special Narcotics Prosecutor. In her time in office, she has been the prime sponsor of only five bills, four of which have been passed into law, including one that requires the NYPD to issue quarterly reports on vehicle stops and another regulating employment and layoffs in the fast food industry. The bill she hasn't been successful in passing would give the City Council advice and consent power over the appointment of the police commissioner. In all, she has been a sponsor on 29 bills before the Council, most of which have passed.
While she has pushed for more oversight over the NYPD and helped approve a recent package of police reforms by the Council, Adams was also one of the members who ardently argued against a major 'defunding' of the police department, saying that communities like hers want just but robust policing. Her voice on the matter, as a Black woman, was one that influenced the approach by City Council Speaker Corey Johnson and the final deal that was reached making limited cuts to the NYPD budget, despite intense calls by a number of Council members and thousands of activists who wanted to cut $1 billion from the NYPD's nearly $6 billion operating budget.
Adams' argument for reelection is that she has brought home more resources and investment for the district than previous members. "I have far superseded the work of any of my predecessors when it comes to bringing home the bacon to District 28," she said. "I've allocated more funding to this district than any other Council member before me. I have funded more CEOs and nonprofits in my first term. Over 40 of them that have never received funding before have gotten funding through me, through my office, and through my fight for them."
She also isn't running on her bid for the speakership. "I'm not going out touting, 'I'm running for speaker,' even though I am," she said. "I'm not touting that to my district as that being my priority. My priority is to make sure that my district is protected in leadership."
It's a clear pitch that, along with the name recognition that comes with incumbency, could convince voters. But Wills also has the advantage of name recognition and a history in the district. Adams will have to win broader support than her 2017 base given Wills' presence and that the election features ranked-choice voting, where voters can rank candidates in order of preference. If one candidate gets more than 50% of the first-place votes, however, the rankings do not come into play.
Adams has raised concerns about the new voting system, which was overwhelmingly approved by city voters through referendum, even joining with several Council colleagues in an unsuccessful legal challenge to postpone its implementation. They worry that outreach and awareness efforts have not been sufficient and that voters, particularly people of color, will be disenfranchised if it is hastily executed. "The powers that be are playing catch up and trying to get everybody up to speed," she said. "That is to the detriment of the voters across the board, across the city...When I go out and I speak to my constituents, they don't know rank choice voting from a hole in the wall."
Adams has the clear advantage in fundraising, with nearly $176,000 in campaign cash as of March 11. She also has a slate of prominent endorsements including the backing of the Queens County Democratic Party, led by U.S. Rep. Gregory Meeks, powerful unions such as the United Federation of Teachers, New York City District Council of Carpenters, PSC CUNY and the LaborStrong2021 coalition which includes 32BJ SEIU, the Communications Workers of America, DC37, Hotel Trades Council and the New York State Nurses Association and other groups like NYIC Action, the New York League of Conservation Voters and the Stonewall Democrats.
Adams' main competitor is Wills, who is seeking political redemption and wants voters to remember what he accomplished in the nearly seven years he served before being unceremoniously removed from the Council. "I can't be restored by the courts for something that a rogue prosecutor did, I can only be restored by the voters. And that's what I'm looking for," he said in a phone interview.
He noted that as a member, he had taken efforts to digitize classrooms and was working to provide students with laptops and free WiFi in underserved parts of the district. "If that work had been continued, I believe that it would've mitigated a lot of the negative impact that our students faced during this pandemic having to be at home," he said. He also led the Council's legislation on banning synthetic marijuana, known as K2, in 2015 after use of the drug increased dramatically and landed thousands of people in hospitals.
Wills' pitch is that he wants to continue the work that was interrupted four years ago, whether that's expanding the K2 ban to other synthetics, finishing the work he was doing for schools or accelerating affordable housing projects that he proposed years ago and stalled. "Look at what we've done, what I'm going to continue to do, and how we did it," he said.
He also explained that the one thing he was particularly known for in the Council, his chronic absence because of health issues, is no longer a problem. "My health is well enough for me to run and advocate and do the things I need to do for my community," he said.
His experience with the criminal justice system, including time in jail on Rikers Island, has also prompted new policy priorities. He plans to advance wrongful conviction legislation named after retired NYPD Detective Louis Scarcella, who was investigated for framing several people later found to be innocent. Wills' proposal would remove the statute of limitations for someone who has been wrongfully convicted to file a lawsuit in claims court.
With just $18,000 in campaign funds so far, Wills falls far short of Adams fundraising lead.
Japneet Singh, the third contender in the race, is a young, first-time candidate with no campaign cash as of March 11. The Sikh activist from South Ozone Park, who founded the New York Sikh Council community group, represents a growing South Asian population that has become more politically engaged, with several other candidates like him running for City Council and other offices this year.
"Almost since this district was made, there has been no voice from this side of the Van Wyck," he said. "Two-thirds of the district actually feels like they are left out from a seat on the table."
If he wins, Singh would be the first Sikh to represent any elected public office across the state. "I'm the first visibly turbaned man running for office," he said. He's hoping to get more members of his community engaged with city government, to give them a voice in everything from elections to land use decisions.
"I'm going to have constant dialogue with the people that live here, not just talking about community leaders, with the actual people...Why is it that we have 70,000 registered Democrats in our area and only 8,000 vote? Why is that? So we want to have a majority of those people come out and say what works for them and what doesn't, and that's how we're going to make decisions."
Singh says the lack of representation means that community organizations and houses of worship are losing out on nonprofit funding awarded by the City Council, a seemingly direct criticism of the record that Council Member Adams boasts.
Singh's top priorities are education and infrastructure. As a member, he would increase funding for public schools and after-school programs, he said, items always the first on the chopping block during times of fiscal uncertainty. His eventual goal is to make public college free as well. He was particularly concerned about adult education programs, which he said are essential for seniors in immigrant-heavy communities. "We would expand those and bring those back for sure and get them to a higher level," he said. And he wants to fund a new community center for youth and elders. "It's sad that we have Lincoln Park which is a renowned park in all of sports, but at the same time we don't have anything indoors."
He also said he would establish a new office in the middle of the district, providing easier access to residents seeking constituent services.