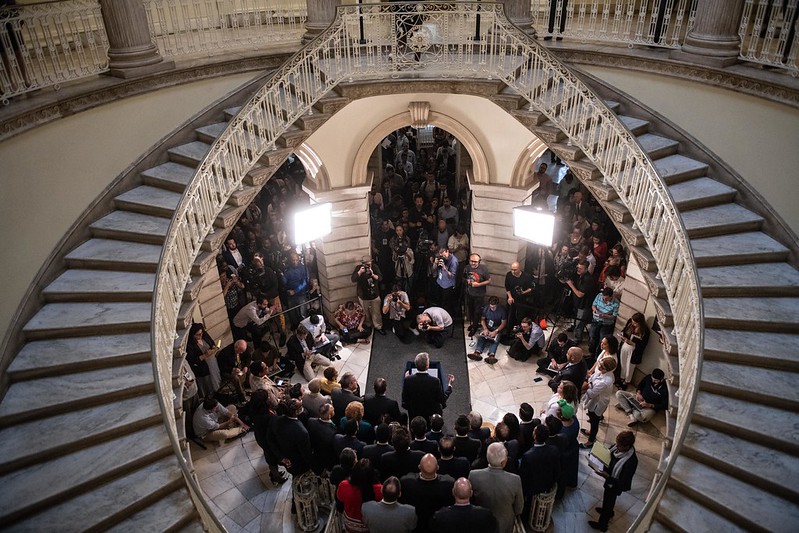 (photo: Michael Appleton/Mayoral Photography Office)
---
There is no one formula for victory in the Democratic mayoral primary and the top eight candidates are running vastly different campaigns. The popularity of each candidate's message and chances of victory depend not only on the strength of their personal appeal to voters but also their campaign infrastructure – including the tacticians, advisors, consultants, and campaign staff members who mostly go unseen but whose work informs the candidates' policies, positions, fundraising, advertising, and public appearances.
As to be expected, consultants, in particular, are having a lucrative year supplying the mayoral candidates with all manner of advice. The more well-resourced campaigns are spending hundreds of thousands, if not millions, on firms and individuals helping them hone their pitch. Leaner campaigns have had to be more creative as they try to curry favor with the electorate with fewer campaign professionals.
Typically, the consultants, advisors, ad-makers, and campaign staff on the winner's team get showered in accolades after the votes are counted, setting themselves up for future work and business. Sometimes, campaigns that are seen as overachievers, even if they are not victorious, also win accolades. Often, questions arise about campaign strategy and spending for those candidates who struggle to gain traction.
There has been, of course, much focus on Andrew Yang, the former Democratic presidential candidate and now among the frontrunners in this year's race. His campaign is being run by Tusk Strategies, the firm founded by Bradley Tusk, former campaign manager to Mayor Michael Bloomberg, and which has a prominent lobbying presence in the city, among ties to Tusk clients and other Tusk ventures. But other campaigns have ties with lobbyists as well, a natural consequence of the many multi-faceted political shops that offer campaign consulting as well as lobbying services.
As New Yorkers are paying more and more attention to the race for mayor with just a few weeks before voting will begin and end in June, getting to know the candidates better and liking or disliking campaigns' messages, here's a look at who is running the campaigns of the eight leading Democratic candidates and some of what they are spending money on:
Ray McGuire
McGuire, the former Citigroup executive, has far outspent the rest of the field, doling out a whopping $8.2 million as of the recent campaign finance filing, of which $4.3 million has gone to campaign consultants for advice, ad buys, canvassing services, targeted mailers, and more. McGuire, largely unknown to New Yorkers, was among the first candidates to air campaign ads and send out mailers this cycle as he sought to build name recognition.
Among the firms working on his campaign are AKPD Message and Media, AMLB Consulting, Assemble, Bellwether Consulting Strategies, Cadman Strategies, Connective Strategies, Daily Consulting, Deliver Strategies, DisruptX Consulting, Dunton Consulting, Effective Media Strategies, Greenberg Traurig, Hudson Pacific, LJW Community Strategies, Marathon Strategies, Marshall Consulting Group, McCarthy Strategies, Sheehan Associates and Yost Gold Consulting.
McGuire has several seasoned Democratic consultants running his campaign. His campaign manager is Basil Smikle, former executive director of the New York State Democratic Party. L. Joy Williams and Lupe Todd-Medina are serving as senior advisors; Todd-Medina is also the communications director.
Other senior members of the campaign include senior strategist Tyquana Henderson-Rivers, president of Connective Strategies, finance director Amanda Bailey, fundraiser Shari Yost Gold, and John Del Cecato, an ad-maker who worked on Bill de Blasio's 2013 mayoral campaign and was responsible for the famous ad featuring his son, Dante.
Muta'Ali Muhammad directed McGuire's campaign launch ad, which had a Spike Lee voiceover. It was created by Mark Skidmore, senior adviser for digital operations. Skidmore has previously worked for President Barack Obama, Gov. Andrew Cuomo and Mayor de Blasio.
Jason McGrath of GBAO Research and Strategies is the campaign's pollster. Anthony Hogrebe, senior VP at Marathon Strategies, is serving as a policy advisor. Greg Smiley, who previously worked for Senator Kirsten Gillibrand, is also a senior advisor. Adnaan Muslim and Nadia Garnett from Deliver Strategies are in charge of the campaign's direct mail outreach.
Patrick Denny, who previously worked for Kamala Harris' presidential campaign, is the deputy finance director. The campaign has also hired Stu Loeser and Co. as consultants. Antonya Jeffrey serves as deputy communications director under Todd-Medina, and Rasheida Smith of Dunton Consulting is the campaign's field director. Derrick Davis, a former executive director of the Brooklyn Democratic Party, is the campaign's political director.
McGuire has also spent more than $1 million so far on professional services including legal services, canvassing and petitioning work, taxes and ad production, and more than $565,000 on campaign payroll.
Eric Adams
Adams, the Brooklyn borough president, has been retaining much of his large war chest, and has spent about $556,000 on consulting services from firms including Fried CO Media, Hermelyn Group LLC, KA Strategy LLC, Pitta LLP, Pivot Group, Polliticly, Inc, Red Horse Strategies, Shapiro Consulting Group, Pythia Public, and Tiffany Raspberry Consulting. Overall, Adams' campaign has spent $4.4 million as of the recent May filing.
His campaign is being managed by Katie Moore, who was previously political director of the Hotel Trades Council, which has endorsed Adams. His deputy campaign managers are Pragya Nandini, who previously ran Adem Bunkeddeko's unsuccessful congressional campaign, and Chris Torres. Nathan Smith from Red Horse Strategies is the campaign's lead consultant.
Menashe Shapiro, founder of Shapiro Consulting Group, is a strategic communications consultant and rapid response advisor on the campaign. Evan Thies of Pythia Public is a senior advisor handling communications for the campaign. Working with him are press secretary Madia Coleman and senior advisor Jose Bayona, who is on personal leave from his position as Director of Community and Ethnic Media in the de Blasio administration. Adams' field director is Jugba Santi and Ben Tulchin, president of Tulchin Research, is conducting polling for the campaign. John Lapp and Jason Ralston of Ralston Lapp Media are the campaign's main TV consultants while Do Big Things is in charge of the digital operation.
Adams' campaign has spent barely $42,000 on professional services and about $362,000 on pay for campaign workers.
Shaun Donovan
Donovan, the former Obama administration housing secretary and budget director, has spent $665,000 on consulting firms so far including Adams Advisors, Alta PR Consulting, Hone Strategies, FM3, Mountaintop Strategies, New Blue Interactive, Peters Brovner LLP, Robbalaa Consulting, Tappan Research, and The Win Company. Overall, Donovan's campaign has spent $2.3 million on the race so far, as of the late-May filing.
He has staffed his team with several former members of President Joe Biden's 2020 campaign and Bill de Blasio's mayoral campaigns. They former group includes Donovan's campaign manager Brendan McPhillips, who served as Pennsylvania state director for Biden; organizing director Rameera Robbalaa, who was the president's northeastern states organizing director; and press secretary Jeremy Edwards, who worked for Biden's campaign as Georgia press secretary.
Donovan's field director Aicha Bamba was previously field director for Rep. Yvette Clarke's successful congressional campaign last year. His finance director is Ioanna Niejelow, who has previously served as adviser to the director of the federal Office of Management and Budget. Nandi O'Connor, also a former Biden campaign operative, is serving as digital director and Candace Wint is the director of operations.
Among other prominent consultants are The Win Company's Rick Fromberg and Bill Hyers, who were campaign managers for de Blasio's 2017 and 2013 campaigns, respectively. Amelia Adams of Adams Advisors and formerly of then-City Council Speaker Melissa Mark-Viverito's team, is a senior advisor to the campaign and Yuridia Peña of Alta Consulting is a communications consultant.
Donovan's campaign has spent just under $44,000 on professional services and about $488,000 on payroll.
Kathryn Garcia
Garcia, the former city sanitation commissioner, has spent about $601,000 on campaign consultants and has a relatively small team compared to other candidates. She has relatively few firms she has paid thus far, including Berger Hirschberg Strategies, Change Media Group, Strell & Co., The Strategy Division, Left Hook, Pantograph Labs and Core Decision Analytics.
She has spent more than $981,000 on professional services – $934,000 of that went for video production to Left Hook Strategy – and just $197,000 on campaign worker salaries. Garcia's campaign has spent just over $2 million in sum as of the latest filing.
According to a spokesperson, the Garcia campaign is in the process of doubling its team, in part doable because of a boost in funds available based on the response to the endorsement of the New York Times editorial board and public matching funds. The campaign's senior staff currently includes campaign manager Monika Hansen, deputy campaign manager Nicole Migliore, who also handles the field operation; political director Andres Pazmino; and communications director Lindsey Green.
Scott Stringer
Stringer, the city comptroller, drew on his long career in government and politics to tap prominent consultants for his mayoral campaign. He has spent nearly $753,000 on consulting firms through the most recent filing, including Aisle 518 Strategies, Fireside Campaigns, New Deal Strategies, Northside Research & Consulting, and Putnam Partners. He has spent $5.5 million overall, according to the latest filings.
His campaign manager is Micah Lasher, a longtime advisor who has served Stringer in previous campaigns and who formerly worked in the Bloomberg mayoral administration, as a charter school advocate, a state senate candidate, and running public affairs for Sidewalk Labs, a Google-adjacent company. Stringer's deputy campaign manager Maria Martinez previously worked for Elizabeth Warren's presidential campaign as national Latinx engagement director.
The Stringer campaign's internal polling operation is being run by Global Strategy Group, under Jefrey Pollock, a veteran Democratic pollster. His finance director is Jennifer Galvin; Drisana Hughes is the organizing director; Mark Putnam is a media consultant. Other consultants include Mark Guma, who runs his own eponymous firm, and New Deal Strategies' Rebecca Katz and Camille Rivera.
The campaign press secretary is Tyrone Stevens, who worked in the comptroller's office as communications director until leaving for the campaign and is a veteran of Governor Andrew Cuomo's administration.
Stringer has only spent about $179,000 on professional services and almost $760,000 on campaign salaries.
Maya Wiley
Wiley, a civil rights attorney and former counsel to Mayor de Blasio, has only spent about $475,000 on campaign consultants but that includes a long list of firms – Alternative Communication Services, Arete Public Affairs, Collective Impact, GPS Impact, Invictus Strategy Group, Left Field Strategies, MorrisAllsop Public Affairs, Perkins Coie, Perspectus Strategy Group, Precision Strategies, and Tucker Green Consulting, Inc. As of the latest campaign finance filing, Wiley has spent $3.4 million in total.
Though she has distanced herself from her former boss, her campaign is built up of many former de Blasio advisors.
That does not include Wiley's campaign manager, Maya Rupert, who was previously deputy campaign manager for Elizabeth Warren and campaign manager for Julian Castro's presidential race. It does include Jon Paul Lupo, who worked in the de Blasio administration and on his short run for president, is a campaign strategist and general consultant. Alison Hirsh, also a former top aide to the mayor and former labor organizer, is serving as a senior advisor. Wiley is also being advised by Patrick Gaspard, former president of Open Society Foundations and a once-close de Blasio ally (Gaspard was among the several outside advisors to de Blasio that Wiley had once termed "agents of the city" to protect their communications with the mayor from public disclosure.)
Wiley's finance director is Akilah Ensley, who worked on Andrew Gillum's run for governor of Florida and on Michael Blake's Bronx bid for Congress (Blake has endorsed Wiley). Matt Gewolb, a City Council veteran, is a policy advisor and Cathy Albisa is the campaign treasurer. Eric Koch of Precision Strategies is advising Wiley's communications operation, while Eunice Park is the campaign's communications director, Julia Savel is the chief spokesperson and director of rapid respone, and Abby Glime is deputy press secretary.
Wiley has spent about $394,000 on professional services and more than $1.2 million on salaries and wages for campaign workers.
Dianne Morales
Morales, the former social services nonprofit executive, is running the leanest campaign of the entire top tier and has spent only about $288,000 on consultants. Those funds are well spread out among nearly three dozen companies and individuals including Borough Strategies, Emergentes Strategies, Mainland Solutions, COMMIT, M. Ross Williams & Co., Pink Cornrows, Stoll Glickman & Bellina, TextSurge, Underdog Strategies and Valiente Strategies. In total, Morales' campaign has spent about $702,000 as of the recent filing.
Morales' campaign has been rocked by internal staff struggles that she publicly addressed on Wednesday. Morales released a cryptic statement acknowledging mistakes made by her campaign and her accountability for them. "We believe in transformative justice in our city and on this campaign," she said. "As such, we are taking the necessary steps to address harm caused by certain staff on our campaign and to build accountability, and will continue to work toward building a movement of dignity, care, and solidarity."
Politico New York subsequently reported that Morales' campaign manager, Whitney Hu, a former City Council aide who briefly ran for City Council in Brooklyn's District 38, had resigned in recent days over the mistreatment of Black and brown campaign workers by someone on the campaign. According to the report, Hu also raised concerns about wages and lack of health insurance for staffers. According to City & State, senior field advisor Amanda Van Kessel and organizing and relational director Ramses Duke also left the campaign.
Nia Evans, previously director of policy and advocacy at Harlem Children's Zone, is Morales' deputy campaign manager. Hadass Wade is her finance director and operations manager. Lauren Liles is the campaign's press secretary. Lauren Vega is the campaign's digital director. Amy Bettys is the fundraising and events manager.
Andres Bernal, an adjunct professor at Queens College, is a senior policy advisor, as is Ifeoma Ike, founder of Pink Cornrows.
Jiar Zeman, the campaign's creative director, has departed the campaign as well though it was unrelated to the issues raised by Hu in her resignation, according to City & State.
Morales has spent only $250 on professional services and $245,000 on her campaign payroll.
Andrew Yang
Yang has employed several Tusk employees who are managing everything from campaign operations to communications. As City & State reported, the Tusk employees working for Yang's campaign include co-campaign managers Chris Coffey and Sasha Ahuja, senior adviser Eric Soufer, senior communications adviser Alex Sommer, policy director Erika Tannor, and press secretary Jake Sporn. Of the $953,834 that Yang's campaign has spent on campaign consultants in total through the recent May campaign finance filing, $143,313 has gone to Tusk Strategies. Overall, Yang's campaign has already spent $4.7 million, as of the late-May filing.
A slew of other consulting firms are also working with Yang including AFM Strategy LLC, Blue Bonnet Data, Effective Strategy Group, GLD Strategies, GOFWD, Inc., JL Research, MJV Live, and Official Andrew, LLC. A bulk of Yang's expenditure has gone to firms for ad buys and ad production including Screen Strategies Media, Metro Square and Smuggler, Inc.
Zach Graumann, who ran Yang's presidential campaign, is a senior advisor on his mayoral bid. Yang's chief financial officer is Mathew Bergman and Joseph Arra is serving as treasurer. Matt Shinner, who was chief of staff on Yang's presidential campaign, is serving as a policy consultant. Alyssa Cass, who was previously at New Deal Strategies, is communications director for Yang's mayoral campaign. Slingshot Strategies has been conduucting the campaign's polling.
The campaign has spent $377,523 on professional services including a security detail for Yang, email marketing, video production, graphic design and legal services. Salaries and wages for 16 other campaign workers account for $529,792 of his campaign expenditure.
Note - this article has been updated with the latest information about departures from Morales' campaign.