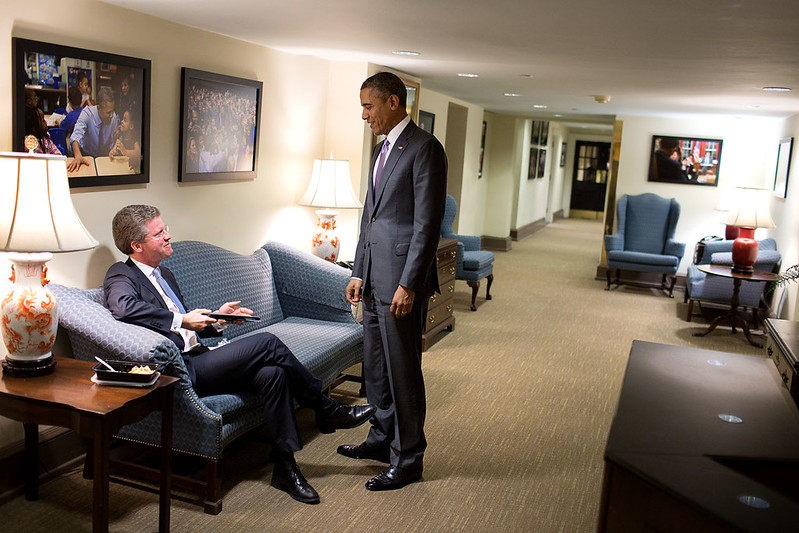 Shaun Donovan, seated, with President Obama (photo: The White House, by Pete Souza)
---
[This article is part of a series on the leading Democratic mayoral candidates' strengths and weaknesses.]
He has responded to major health and environmental crises. He has worked on large and complicated budget matters. He has experience with building housing and reducing homelessness, among the most pressing issues affecting life in New York City. But Shaun Donovan, an eight-year member of President Barack Obama's cabinet and former department head under Mayor Michael Bloomberg, remains near the bottom in the Democratic primary field in this year's New York City mayoral race. The bureaucrat with a deep wealth of experience, a dense and detailed policy platform, and monied allies supporting his campaign hasn't broken through to voters in a crowded field as he seeks to replace the term-limited Mayor Bill de Blasio.
Donovan entered the race banking on the combination of his Obama ties, deep government experience, thoughtful and detailed policy plans, and positioning himself as the "change candidate" best juxtaposed with de Blasio, who is seen by many as having been in over his head as mayor, a bad manager, and too political. But in a deep and diverse field, Donovan's wonky, technocratic approach and attempts to constantly cloak himself in Obama-ness or as the anti-de Blasio have landed flat, at least so far. Trying to be "the man with a plan" for everything, he has not 'owned' any issue, not even housing, his area of deepest expertise, nor has he fully attempted to make his top specific policy promises -- equity bonds for poor children and 15-minute neighborhoods -- really penetrate the public consciousness.
By most measures, Donovan's record and platform make for an impressive, if not ideal, first-time candidate for elected office. His work on housing policy began as early as his time at Harvard University, when he became an intern at the National Coalition for the Homeless. His first job out of college was with the Community Preservation Corporation, a nonprofit affordable housing developer, where he worked between 1995 and 1998. After that came his first stint in government, in President Bill Clinton's administration, where he served as deputy assistant secretary for multi-family housing at the Department of Housing and Urban Development (HUD) and as acting commissioner of the Federal Housing Administration until 2001. Following a few years in the private sector managing federal lending and affordable housing investments at Prudential Mortgage Capital Company, he went on to serve under Mayor Michael Bloomberg as commissioner of the Department of Housing Preservation and Development (HPD) from 2004 till 2009. He spent the next eight years working for Obama, first as HUD secretary, then as director of the Office of Management and Budget. He oversaw the federal responses to everything from the housing crisis that caused the Great Recession and the federal relief effort after Hurricane Sandy in 2012 to the emergency health response to the Ebola and Zika virus outbreaks in 2014 and 2016.
But while Donovan's policy chops are undeniable, he has no political base to speak of in the city and few major allies in labor or among the local Democratic establishment. His connections with the current president, federal cabinet officials, and governors and mayors in other states may prove useful for bringing more resources to the city if elected, but they appear insufficient in swaying Democratic primary voters. Short of endorsements from the likes of Obama, President Joe Biden, or Vice President Kamala Harris, those deep professional connections seem to be of little help, and Donovan often appears to try to shoehorn an Obama mention into any public commentary. It's unclear if more primary voters associate him positively with Obama or negatively with Bloomberg. Indeed, some of Donovan's challenges appear to relate to the fact that he's in something of a political no man's land. Despite his many progressive positions, Donovan hasn't been considered among the most progressive candidates in the race – a group including Comptroller Scott Stringer, former counsel to the mayor Maya Wiley, and former nonprofit executive Dianne Morales. He is on most issues to the left of the moderates like Brooklyn Borough President Eric Adams and entrepreneur Andrew Yang, who have led the polling, or former sanitation commissioner Kathryn Garcia, who has been gaining momentum as the race enters its final weeks before early voting June 12-20 and primary day, June 22.
"New York is so deep, so diverse, it's tough to simultaneously get known enough and to pick up enough support to win when you start with almost zero name recognition from the general public," said Bruce Gyory," a veteran Democratic strategist with the firm Manatt, Phelps & Phillips, LLP, in a phone interview.
"Politically, he's the odd man out in this race. And he didn't catch the lightning in the bottle that the editorial boards gave Kathryn Garcia," Gyory added. "And there's room for only one of what I call the competent manager technocrat to get oxygen, and she got all the oxygen from that."
In the final of three "Pulse of the Primary" polls by Fontas Advisors and Core Decision Analytics (CODA) released on May 26, Donovan was in tied for last place among the eight 'top tier' candidates with 2% of the vote, the same as former Citigroup executive Ray McGuire who, like Donovan, has spent a significant amount of money in the last few months on TV and digital ads to build name recognition. Donovan has been aided in that regard by New Start NYC, an independent expenditure committee, or super PAC, funded with $6.8 million from his wealthy father.
The Fontas/CODA poll had 50% of voters undecided and Adams in the lead with 13%, Yang and Garcia in second with 8%; Morales received 7%, Wiley got 5% and Stringer got 4%.
Even when accounting for the 23% of voters who were undecided but voiced their leaning towards a potential candidate, Donovan still shared the last space spot with McGuire at 4% of the vote; Adams climbed to 18%, Yang to 13%, Garcia to 11%. Wiley and Morales both came in at 9% and Stringer got 7% of the vote.
Donovon says he is a unique candidate because he has the boldest ideas and the broadest experience of anyone and represents a change from the status quo of the last eight years. "There's no other candidate in the race that combines those three things," he said in a phone interview on Thursday, following the second of three official televised debates in the mayoral primary held on Wednesday night. "You heard a lot of political attacks last night but what you heard from me was plans, real ideas, and a track record of getting those ideas, making those ideas real that is unlike anybody in the race."
It's true that Donovan has plans, dozens and dozens of them. He has repeatedly talked about his "campaign of ideas" reflected in a 200-plus page document with plans on racial equity, health, climate, transportation, jobs, criminal justice, housing, and education, among other areas. On April 13, his campaign began releasing a countdown of "70 Plans in 70 Days" leading up to the primary, highlighting the specific initiatives contained in that massive vision document.
"There's a difference between being a technocrat, and being a leader...This isn't just about competence, it's also about compassionate ideas and leadership," Donovan said.
Donovan's signature campaign idea involves creating what he calls 15-minute neighborhoods, providing equitable access to good public schools, fresh food, green space, health care, economic opportunity, and rapid transportation within 15 minutes of each New Yorker's home. It's as much a quality of life plan as it is a racial equity one, fixing the imbalance in resources between wealthier white neighborhoods and communities of color. He has also advanced an "equity bonds" proposal that would provide up to $2,000 annually to each child in the city, or more depending on family income, so that they would have $50,000 saved by the time they graduate high school. He has said he would pay for the program through a combination of city and federal funding and private donations. And though Donovan has not specifically embraced the "defund the NYPD" movement, he has pledged to redirect $3 billion in total from city spending on the overall criminal justice system towards underserved communities.
Ingrid Gould Ellen, a longtime friend and faculty director of NYU Furman Center, attended college with Donovan and helped advise him during the early days of the Obama administration. "He's extremely intelligent," she said, "...and he's got an incredible kind of curiosity about policy and not only about policy...he also really cares and believes in thinking hard about implementation and management and operational efficiency."
"He's sort of got a big heart and big brain," she added. "He's also very knowledgeable and experienced not only about city government, which is obviously critical, but I think his experience in Washington makes him very savvy and understanding kind of where the levers are and what relationships are important in maintaining. So I think he would be good at bringing resources to New York as well."
One area where Donovan has of course sought to set himself apart based on his expertise is tackling the lack of housing affordability and the crisis of homelessness in the city. Polls have shown the combination of the two as the most pressing issue in the city, and there are fears of a mass eviction crisis depending on the implementation of billions in federal rental aid that is flowing through the state as the end of the eviction moratorium looms.
On the campaign trail and in the debates, Donovan has repeatedly touted his work at HUD and HPD. He strengthened enforcement of the Fair Housing Act of 1968, including by creating a new rule called "Affirmatively Furthering Fair Housing" to proactively tackle the legacy of housing discrimination. He helped tackle homelessness among military veterans in cities across the country, "ending it" in 80 cities, he often says. He was responsible for the creation of the somewhat controversial federal Rental Assistance Demonstration program, which raises funds and improves living conditions by placing public housing developments under private management. It is now a key component of de Blasio's plan to rescue the struggling New York City Housing Authority (NYCHA, which needs roughly $40 billion in repairs and upgrades to its crumbling housing stock home to about half a million New Yorkers.
Under Bloomberg, Donovan created a program to provide Section 8 housing vouchers to people released from Rikers Island jails, a policy he often touts on the mayoral campaign trail, citing it as an example of how to shift from a "shelter first" approach to a "housing first" approach. Homelessness did decrease in the city while he worked for Bloomberg, though it drastically increased thereafter when key voucher programs were cut by the city and state amid the Great Recession.
He has promised as mayor to invest $2 billion to build 30,000 units of affordable housing every year, surpassing de Blasio's record. His housing plan has several other key proposals including increasing emergency rental assistance funding, improving the city housing voucher progran, creating a flexible rental assistance program, expanding free legal counsel for tenants, easing building code enforcement, investing $2 billion annually in NYCHA, increasing enforcement against housing discrimination, creating more supportive housing, assisting homeownership efforts, and more.
But, it appears challenging to try to run as the housing candidate when not only has Donovan not been trying to really make it his signature issue, but New Yorkers see crumbling public housing, a homelessness epidemic, and a deeply unaffordable city. Fairly or not, Donovan's housing resume may, broadly speaking, actually be a hindrance given how voters feel about the state of housing in New York City.
And questions have been raised about Donovan's record on housing desegregation and his commitment to integration as HPD commissioner and HUD secretary. At the crux is his presiding at HPD over the city's community preference policy, a Koch-era provision that reserves half of all affordable housing lottery units for people living within the district, which critics say preserves racial residential segregation. A group of African-American plaintiffs are suing the city over the policy, which they say violates the federal Fair Housing Act.
"It's odd what gets you a 'progressive' label these days," said Craig Gurian, a lawyer representing the plaintiffs. "Donovan never tackled segregation when he was HPD Commissioner; he didn't have the backbone to have the core provisions of the historic Westchester desegregation consent decree enforced when he was HUD Secretary; he still hasn't stood with the Lawyers' Committee for Civil Rights Under Law in supporting our challenge to the City's discriminatory 'community preference' policy in housing lotteries; and he hasn't said whether he agrees with the many civil rights organizations who oppose the secrecy of the coop admissions process."
"I thought it was an important goal to promote economic and racial integration," Donovan said, speaking broadly, in a 2018 court deposition reviewed by Gotham Gazette. But when asked whether HPD did any analysis of whether community preference caused a disparate racial impact or perpetuated segregation Donovan said he could not "recall specifically whether we would have or did do that kind of analysis" and later said he could not remember "having specific thoughts or considerations that cut against the policy." The city's Law Department later admitted during discovery that the city had done no such analysis of the community preference policy.
"A jury would reasonably conclude...that his insistence on claiming to having worked to promote residential integration while HPD Commissioner in the face of evidence that he had not done so reflects consciousness of guilt," wrote Gurian, the plaintiffs' lawyer, in a court filing.
When asked by Gurian whether he believed "the City had turned with all the purpose at its command to try to reduce and ultimately eliminate racial segregation in housing," Donovan replied, "I did." But in a discovery response from the city's Law Department in October 2019, he "admits that it did not have a policy specifically and explicitly identified as one to 'reduce residential racial segregation.'"
Overall, Donovan believes that his combination of policy and passion will hold broad appeal for the electorate, which will be key if he is to garner enough support under ranked-choice voting, which will be in place for the first time in a citywide contest. The new system will allow voters to choose up to five candidates in order of preference, with no winner crowned until a candidate surpasses 50% of votes. It will be essential for anyone with a shot to win to garner a significant number of first-place votes but also many second- and third-place votes. "This is a wide open race right now, with nobody having more than 20% of first place votes," Donovan said, insisting that he's been building momentum to sway pivotal undecided voters.
"I think the challenges are really about continuing to reach New Yorkers. This race began with a set of candidates who either were outsiders that had no experience or political insiders that haven't really changed over the last eight years but they had name recognition," he said. "And what we've seen is that, as we've made the case, more and more New Yorkers not only know me, they know my record and they're excited."
His support, he said, is strong among "disillusioned de Blasio voters" in brownstone Brooklyn, where he lives and is raising his children, and in the Bronx, where he began his 30-year career in housing.
But it's unclear if Donovan can appeal to everyday New Yorkers who haven't enjoyed the same privileges as him, and whether his campaign can really break through in the places he needs to in order to build the winning coalition he has in mind. He grew up on Manhattan's Upper East Side, attending the tony Dalton School. He has talked about the need for promoting racial equity, closing the racial wealth gap, and appointing a chief diversity officer at City Hall but he's running a campaign with major outside support bankrolled by his father and appeared at the first debate from his giant Brooklyn kitchen, none of which imply "man of the people." In a particularly ironic gaffe, in an interview with the New York Times editorial board, Donovan severely underestimated the median sale price for a home in Brooklyn, explaining later that he had misunderstood the question.
Among his staunchest supporters is Bishop Johnny Ray Youngblood, who Donovan met during his time at Harvard and who introduced him into the world of nonprofit housing development. "He has a level of experience that he can bring to this magnificent city of ours. I think he comes, because of that, with the resources that will help him to do the job," Youngblood said of Donovan, in a phone interview. "He has a heart for it. I don't think Shaun is necessarily jobless and looking for a job. I think that there is a passion in Shaun for the city, not just a passion for the position."
"The main weakness that Shaun has is he's never been mayor before," Youngblood said.
He emphasized that Donovan brings a fresh perspective to a city that has seen progress accompanied by pain. Skyscrapers may be going up in Brooklyn but homelessness remains a deep crisis across the city. "It seems that the progress of our city is still intensely trailed by the embarrassments of our city," Youngblood said.
To political observers, Donovan's policy bonafides may be commendable, but they might not be enough to win the emotional argument that convinces voters. "Donovan's got a very difficult way to go because he didn't start off with a natural base and he hasn't created one," said Hank Sheinkopf, a veteran Democratic consultant.
Time is certainly running thin for Donovan to make a big leap. Donovan was among the earliest to go on TV to try to build name recognition and his association with Obama, but it appeared to show limited impact. Now, the leading campaigns, and any outside groups supporting them, are flooding the airwaves with ads. There is just one final televised official debate, on June 16. Early voting will begin just before that, on June 12.
"Donovan is not talking directly to the issue. The issue is crime and disorder, not managing the city," Sheinkopf said. "People are much more visceral when they get a guy with a gun walking down the street, or they have to step over homeless people, and the garbage associated with that, and the chaos that they feel."
"Voters tend to vote for emotional jolts, not for rhetoric...There was nothing emotional to Donovan's argument," he added.
Donovan has tried to inject some emotion into his campaign. On May 25, the one-year anniversary of the police killing of George Floyd, he joined a Black Lives Matter protest in Downtown Manhattan and was arrested and charged with disorderly conduct for blocking the roadway. He has repeatedly talked about his commitment to civil rights, mentioning how he retraced the route of the Freedom Rides on the 30th Anniversary with civil rights icon U.S. Rep. John Lewis. He has also tried hard to contrast himself with de Blasio, launching and then seemingly-abandoning a sustained campaign of daily critique of the sitting mayor with the hopes that he wins the support of voters who are fed up with current leadership.
While the super PAC behind Donovan may be well-funded, his own campaign has struggled to raise money to the same tune as several better-funded competitors. Of the top eight candidates, he is second-to-last in fundraising when accounting for private and public funds. Most of the candidates chose to opt into new rules of the city's public campaign financing program, receiving an 8-to-1 match for qualifying small dollar donations. But Donovan is running under the older system (which will be phased out after this election) which gives him a 6-to-1 match on qualifying donations but has higher contribution limits. It was a decision indicative of an expectation that he would rely more on larger donors than smaller-dollar support from a larger pool. In total, he had raised only $2.7 million in private funding, with more than $1 million of that coming from outside New York City, and has received $1.8 million in public funds. As of May 17, the last campaign filing deadline, he had already spent $2.3 million and had about $2.25 million left for the remainder of the race as of the most recent filing. More than a third of his spending has gone to television ads and digital consulting firms.
Though Donovan is a lifelong New Yorker, his endorsements mostly read like a who's who of who isn't, though with some big names. He has been backed by the Washington D.C.-based 314 Action Fund, U.S. Senator John Hickenlooper of Colorado, former U.S. Secretary of Transportation Anthony Foxx who hails from North Carolina, former Philadelphia Mayor Michael Nutter, former New Orleans Mayor Mitch Landrieu, former Miami Mayor Manny Diaz, and former Fresno Mayor Ashley Swearengin.
He also has the backing of New York State Assembly Members Michael Benedetto and Charles Fall (who also co-endorsed Adams). He is the second-choice pick for City Council Member Fernando Cabrera and the League of Independent Theater and Resilience PAC. Actor Edward Norton lent his celebrity to Donovan's campaign as well.
"314 Action works tirelessly to elect scientists and candidates from STEM backgrounds because we know — and this pandemic has proved — that our country is stronger with smart, science-driven individuals in the halls of power. We are proud to endorse Shaun Donovan, who has a background in engineering, because we know as mayor he will implement a facts-first, science-based administration that will work smartly and effectively for all New Yorkers," said Shaughnessy Naughton, president and founder of 314 Action, in a statement to Gotham Gazette.
[This article is part of a series on the leading Democratic mayoral candidates' strengths and weaknesses.]
Ben Max and Ethan Geringer-Sameth contributed to this story.