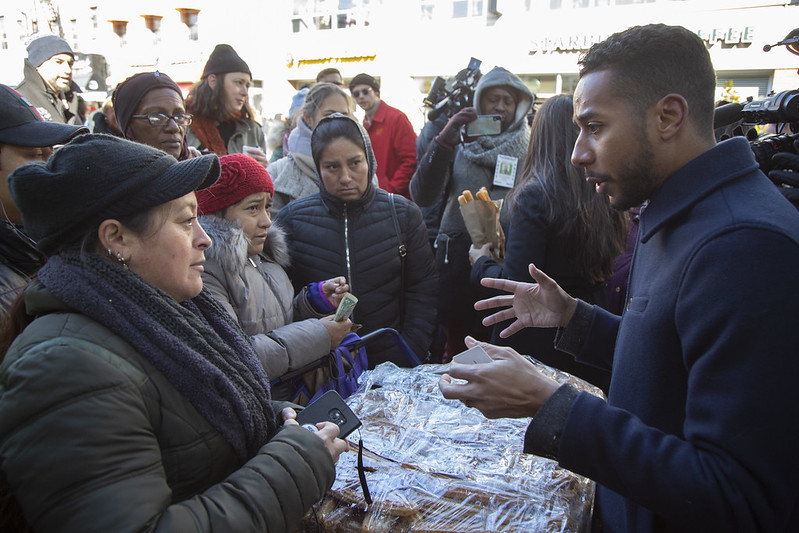 Council Member Antonio Reynoso (photo: John McCarten/City Council)
---
Brooklyn and Queens residents in the 34th City Council District must vote on term-limited Council Member Antonio Reynoso's replacement in this year's election. The first and most important round of voting takes place in this month's Democratic primary, the winner of which is all but certain to become the next Council member in January given the district's overwhelming Democratic enrollment advantage.
Voters have four candidates to choose from: Jennifer Gutierrez, Reynoso's chief of staff; Scott Murphy, a self-described small business owner and volunteer healthcare worker; Andy Marte, an ex-substitute teacher and affordable housing specialist with RiseBoro, a community revitalization group; and Lutchi Gayot, a contractor. As far as the candidate fields go in this year's many wide open City Council, borough president, and citywide races, the group of four in District 34 is relatively small, apparently indicative of Gutierrez's stregnth in the race.
District 34 spans Brooklyn's Williamsburg, Bushwick, and Greenpoint neighborhoods, as well as Ridgewood in Queens. The cross-borough district boasts some of New York's most quickly growing and gentrifying neighborhoods, with a large influx of newcomers, according to the City Comptroller's 2018 report. The growth and gentrification in the district has led to housing affordability challenges and changing demographics, with many newer white residents, though the district continues to have a large Latino population. As of 2010, according to Census data, of a total population of 158,141 in the district, 55% were Hispanic, 26% white, 9.9% Black, and 7.1% Asian. The NYU Furman Center found a 44% spike in average rent in Bushwick between 1990 and 2014, juxtaposed with a poverty rate 9% above the city average, or close to 30%. The Census data also shows that of the 58,086 housing units in the district, 86.9% are renter-occupied.
Along with the broader questions of a changing district and affordability challenges, specific issues related to housing development, zoning changes, and growth have been at the center of the district debates for much of this century.
The housing and affordability challenges most recently manifested in a Bushwick rezoning battle between Council Member Reynoso, who is now running for Brooklyn borough president, and Mayor de Blasio's administration that fizzled in stalemate. Reynoso's calls for community input, residency protections, and more limits on development were refused by the administration, which backed higher-density affordable housing construction. The lack of resolution leaves the next Council member with ongoing questions about the possibility of a rezoning amid the affordability crisis, a growing population, and little new housing development.
Among other ramifications of the housing crisis, the next City Council member will face a community scarred by the pandemic, including the human, economic, educational, and other impacts. Key issues related to housing, schools, and the economy will likely be in a different place when the next Council is seated in January.
As one of the districts with the fewest parks, the expansion of public green space was a focus for Reynoso, as was expanding protected bike lanes, and will be another issue to be addressed by the next Council member. As will other land use questions like extending the popular Open Streets program, decreasing waste hauling capacity, increasing access to efficient public transportation, and the fate of manufacturing space in the district.
Jennifer Gutierrez
A Bushwick native and daughter of Colombian immigrants, Gutierrez is the only woman and the only Latina in the race. With a fundraising lead, most of the important endorsements, and a history of government service in the district, Gutierrez is the apparent favorite in the race.
Gutierrez had filed $41,791 of funding from 596 separate donors and $160,444 of public funds as of June 3, according to the New York City Campaign Finance Board website (CFB).
She is supported by her former boss, outgoing Council Member Antonio Reynoso, and has secured the coveted endorsement of popular Congressional Rep. Nydia Velazquez, along with local Brooklyn State Senator Julia Salazar, and State Senator Jessica Ramos of Queens.
Gutierrez has also been backed by the United Federation of Teachers, Working Families Party, numerous local AFL-CIO and SEIU labor union chapters, New York Immigration Coalition Action, 21 in '21, a group dedicated to getting women elected to the City Council, Road to Justice Coalition, which is made up of grassroots organizations such as healthcare workers'' SEIU who advocate for people of color, the CUNY staff union, and Latino Victory Fund, among others.
In a phone interview with Gotham Gazette, Gutierrez argued that her experiences as Reynoso's chief of staff and an active community organizer position her to hit the ground running in a system she knows well for a constituency she has organized and defended throughout her career.
On housing, she said her focus is "helping people stay in their homes." Tenants need expanded access to legal representation to fight eviction and landlord harassment, she argues. Living in a one-bedroom, rent-stabilized apartment with her family, and growing up on food stamps, Gutierrez said she understands the need for tenants living paycheck to paycheck to have a safety net -- something further exposed by the pandemic, she said.
Valuing and encouraging community input is at the center of her approach, she said, and would be "at the core" of rezoning efforts in the spirit of Reynoso's support for the Bushwick Community Plan. Beginning with ULURP reform to address racial implications in the zoning application process, Gutierrez wants to focus on making sure that "affordable housing" units are actually affordable and kept that way.
Gutierrez is a proponent of expanding participatory budgeting (PB), which dedicates money to district projects voted on by residents. She hopes to increase investment into PB with the mayor's help and widen the parameters of project eligibility beyond city-owned properties to privately-owned properties and service-related projects, which she argues would allow public input in the creation of more parks and senior spaces.
Beyond housing, Gutierrez's other top priorities are strengthening schools and covid recovery. She wants to expand the community school model, already in place at schools like Bushwick High School, to the entire city public school system. It aims to maximize the utility of school buildings by making them a "hub of resources for the entire community," such as offering a dentistry clinic, counseling and eye care -- adding the model's potential to "[bridge] the health care gap."
Passing the Small Business Survival Act for commercial lease renewal regulations favoring tenants and supporting a public banking system that lets New York City invest in local communities are among her plans for covid recovery.
When asked how she would deviate from Reynoso, Gutierrez cited her disagreement with his support for the plan to close the Rikers Island jail complex and build four borough-based jails, saying the Rikers jails should close but that by incarcerating fewer people the city should not need new jails.
She also pointed to her perspective as a woman, which she said informs her public safety stance. Beyond combating police brutality, which she hopes to address in part by defunding the NYPD by $1 billion and investing in social infrastructure, Gutierrez spoke of the everyday dangers faced by women walking in the streets and taking public transportation. Recalling the numerous women in Bushwick who were attacked leaving the subway earlier this year, Gutierrez suggested adding better pathways and more lighting as ways that local government can address women's safety.
Scott Murphy
Murphy, who moved to New York from Chicago ten years ago, volunteers with the ambulance corps and works in safety and planning for scooter startup Revel. Before that, he was an account director for advertising giant McCann. Murphy is the third most-funded candidate in the District 34 primary, with $14,483 from 279 separate donors and $65,672 in public matching funds as of June 3, according to the CFB.
When asked in a phone interview why voters should choose him over other candidates, Murphy painted himself as independent, an outsider from the Brooklyn Democratic establishment, and pointed to the fact that no one in Democratic leadership had reached out or expressed interest in talking with him.
Murphy said that along with his advantageous business skills, getting to know his neighbors and volunteering in the community gave him the chance to directly observe the issues of district residents. From these issues, Murphy put solving the homelessness crisis, police reform, and ending alternate side parking as his top three priorities.
Although he wants to increase the gas tax and pay residents to take alternative transportation (such as Revel, he overtly added), Murphy held up ending alternate side parking, which he claimed is harmful to low-income residents, and the need to "ease the burden of car ownership."
On rezoning in the district, Murphy said he supports community involvement, saying that while Reynoso's Bushwick Community Plan "seemed like a good idea at the time," he questioned the success of its outcome, though he did not provide an alternative aside from "getting together the people who do have the answers."
A final pillar in Murphy's platform is police reform, which is laid out on his website as defunding the police by at least $1.5 billion, implementing bias testing for NYPD officers, and splitting the NYPD into demilitarized law enforcement and community-led social services. In the interview, Murphy also aligned himself with mayoral candidate Dianne Morales' Community First Responders plan, which, staffed by social workers, trauma-responders, and people with medical backgrounds, would respond to crisis calls concerning homelessness, mental health, and substance use.
Like Gutierrez, Murphy is a "huge proponent of expanding participatory budgeting," and hopes that it can be utilized to create jobs and support small businesses, he said.
But after a devastating year, Murphy said he wants to give residents the option to elect someone who wouldn't continue Reynoso's legacy. He hopes to make District 34 a place for testing new ideas, providing relief from the bureaucratic burden of "holding people accountable," which he claims limited Reynoso's tenure, though it was not clear what he meant beyond, perhaps, fines and fees from city government.
In a recent statement, Murphy and Marte cross-endorsed each other for the primary election, meaning that each said to rank the other second, in an effort to use the new ranked-choice voting system to their advantage against Gutierrez, a frontrunner whom the two candidates claim would continue Reynoso's "failed policies," though he again was not clear on specifics beyond mentioning the minimum wage.
Andy Marte
A substitute teacher and Riseboro social service agent, Marte promises on his campaign website to "get past the protesting and get solutions." Marte positions education and housing as his main priorities, hoping to mitigate "developers and displacement."
A recent boost in campaign donations according to the CFB brought Marte to a total of $16,670 from 228 donors and $93,351 from public matching funds as of June 3, second most funding in the race behind Gutierrez. Marte said in a phone interview that lifelong involvement in community and politics along with his government and sociology major from college will help him represent the district he grew up in.
Marte ran for the 18th State Senate seat in 2020, and lost to State Senator Salazar in her first reelection bid. During the campaign, Salazar accused Marte of campaign finance violations and criticized his Trump-friendly social media presence. In the interview with Gotham Gazette, Marte rejected Salazar's depiction of him as a Trump supporter, saying that he publicly endorsed and voted for President Biden in the 2020 election.
While Marte cross-endorsed with Murphy, Marte explained that the two split on police reform: Murphy calls to defund the police by at least $1.5 billion, while Marte sees the 'defund' slogan as an under-examined "catchphrase," and is "totally against the idea." Marte said that New Yorkers who went through the trauma of 9/11 "don't want zero protection," but rather a more accountable, still responsive police force.
There is a lot the two agree on though, such as increased supportive housing to help provide housing for people with mental health challenges and social reentry after imprisonment.
On rezoning, Marte said the de Blasio administration's plan to upzone parts of Bushwick to create an "extreme" amount of new housing units would have fed into the district's "rampant development." But Marte said he is for adding more housing to combat rent increases, but "it needs to be affordable, low-income housing."
Marte joins Gutierrez and Murphy in his support for the expansion of participatory budgeting, with Marte explaining the need for reform to address the favoritism of some Council members towards certain groups, which he claimed in the interview made PB more of "a facade in [his] experience."
Lutchi Gayot
Gayot is a Brooklyn-born Haitian-American small business owner who runs a local contracting business. After finding his education in music unmarketable, Gayot fell back on the carpentry skills he acquired in high school, eventually leading him to contracting. This experience, Gayot told Politics NY in 2018, founded his belief that "trades in the schools are very important" for providing "a safety net built right into your high school education."
On his campaign website, Gayot expresses his support for protection against foreclosure and eviction, and proposes the Open-Up New York Small Business package to create a "property tax abatement for occupied commercial storefronts."
Gayot ran for Congress against Congressional Rep. Yvette Clark in Brooklyn's 9th District as a Republican in 2018 and as a Democrat in 2020. During the campaigns, Gayot told Max & Murphy that he supported universal basic income and wanted to make rent tax deductible.
The NYCCFB shows Gayot's run is poorly funded with only $4,412 in campaign contributions as of June 3.
***
by Carmen Vintro for Gotham Gazette
@GothamGazette