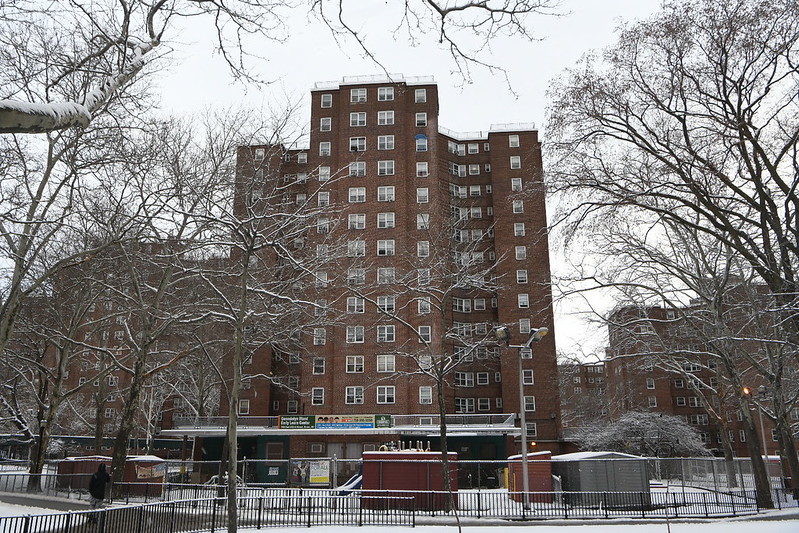 NYCHA (photo: governor's office)
---
The New York City Housing Authority, home to more than 400,000 New Yorkers, is falling apart. Long plagued by mold, lead paint, structural cracks, and failing elevators, boilers, and locks, the authority of over 177,000 units in 335 developments across the five boroughs is in need of a staggering $40 billion in physical repairs over the next ten years and faces an immediate operating budget deficit of about $300 million.
Long the victim of official neglect, NYCHA has become a focal point during the tenure of Mayor Bill de Blasio, who came into office with a significant focus on improving conditions at public housing. But while devoting more resources the current mayor has let some of his most ambitious plans stall while also facing investigations, lawsuits, and the appointment of a federal monitor. The Democratic candidates running to replace de Blasio in this year's election have staked out varying positions on how to address problems in the nation's largest public housing provider. Some -- like Eric Adams, Shaun Donovan, Kathryn Garcia, and Ray McGuire -- have supported multiple major reforms currently on the table or in motion, while others -- like Dianne Morales, Scott Stringer, Maya Wiley, and Andrew Yang -- have focused more on pursuing direct federal aid.
Nevertheless, the need for swift action on NYCHA repairs is urgent. According to a 2018 report from the fiscal watchdog Citizens Budget Commission, "[w]ithout dramatic changes within 10 years nearly 90 percent of NYCHA's housing units could be at risk of deteriorating past the point at which it is cost-effective to repair — a crisis from which NYCHA and the City might well not be able to recover."
NYCHA's needs are not in question but how to pay for the solutions, and to what extent revenue should be tied to major changes at public housing, has been a source of controversy. The current roadmap of reform is de Blasio's "Blueprint for Change," which calls for funding through a number of mechanisms for which candidates to replace him have expressed varying levels of support, opposition, and a desire to revise.
Of the eight candidates considered frontrunners for the Democratic nomination for mayor, two have particular experience with public housing: Donovan was a commissioner of the New York City Department of Housing Preservation and Development under Mayor Michael Bloomberg and Secretary of the U.S. Department of Housing and Urban Development then budget director under President Barack Obama, where he helped design one of the key public housing programs being debated in New York City today. Garcia, long de Blasio's sanitation commissioner, was also an interim chair of NYCHA in 2019 to help steady the ship amid major scandal. Stringer, meanwhile, has made NYCHA a focus of his audits as comptroller, and Adams has been no stranger to public housing as Brooklyn Borough President.
Despite conditions at NYCHA and its dire future without a massive influx of funds, public housing has not been a dominant issue in the Democratic mayoral primary. As voting nears -- early voting is June 12 to 20 and primary day is June 22 -- the Democratic mayoral candidates have offered varying degrees of specificity around their NYCHA rescue plans.
NYCHA's Current Plan and Hope for Federal Aid
The Blueprint primarily calls for creating revenue and repairs through two programs: Rental Assistance Demonstration (RAD), a federal initiative (created under Donovan when he was HUD secretary) to repurpose Section 8 housing subsidies for public housing, and a proposed New York State Public Housing Preservation Trust, which would be created through state action and funded with bonds backed by federal subsidies. The city is also looking to move ahead a number of "infill" development projects through which NYCHA leases unused or underused land to private developers to build new housing, a process that creates more housing, some of it under rent-regulated, and provides a revenue stream to the authority.
Another tool at NYCHA's disposal and part of the current plan is selling air rights, which allows developers to build higher. Those air rights can be sold as of right to adjacent properties, and city planners have been exploring the possibility of selling them to noncontiguous properties, which would require zoning changes.
Under the current plan, RAD, one of the more controversial avenues, would fund repairs for about 62,000 units, about a third of the city's public housing stock. RAD relies on a technical maneuver that converts public housing from the federal Section 9 to Section 8 voucher program, allowing them to be operated by private management companies, both for-profit and not-for-profit, while ensuring they are still owned by NYCHA and receiving federal funding. The program keeps rents capped at 30% of resident income but limits reporting on repairs and removes units from the oversight of the federal monitor appointed to address NYCHA's myriad problems. While RAD has been well received in some complexes where it has already been implemented and led to better resident services, renovations, and improved conditions, some tenants' rights groups and elected officials have raised alarms about privatization and threats of displacement via more aggressive eviction efforts.
Repairs and upgrades of the remaining 110,000 or so units, according to the Blueprint, would be paid for through the preservation trust, which does not entail privatization of any kind and has not seen much opposition. But the proposed trust hit a snag this past week when its sponsors in the State Legislature said they would hold their bill until the 2022 legislative session in order to gather more feedback. The news came after lawmakers revised the bill last month to limit the trust's reach to only 25,000 units, with the possibility to annually request a higher cap from the Legislature, though it lacks details on how that process could unfold.
"After consultation with public housing residents, the New York City Housing Authority (NYCHA) and other stakeholders...we have decided that further conversation, outreach, and negotiation are necessary before advancing legislation on this topic," read a joint statement from the sponsors, State Senator Brian Kavanagh and Assemblymember Steven Cymbrowitz, released June 2.
For the first time in many years, there is new hope that major federal dollars could flow to NYCHA that are not tied to RAD, which Donovan has said was a compromise program to get Republicans to dedicate any funding toward public housing. With a Democratic president and slim Deocratic control of both houses of Congress, some believe a major but potentially fleeting opportunity is at hand.
President Biden's infrastructure plan calls for a roughly $40 billion federal investment in public housing nationwide with much of it likely to come to NYCHA, given its size. A proposal backed by Rep. Nydia Velázquez and Senate Majority Leader Chuck Schumer would raise Biden's target to $80 billion with half or more earmarked for New York City. But after years of divestment, getting the full funding from the feds has become a holy grail and a moonshot for officials, residents, and many hopefuls on the campaign trail. Negotiations over a major federal infrastructure bill are ongoing and its fate remains unclear.
The other side of the financing coin is management and accountability for the authority. Like its predecessor plans under de Blasio, but with new elements, the Blueprint also calls for changes to NYCHA's governance and operations, namely that maintenance and repairs be decentralized and carried out by individual property managers, rather than through NYCHA headquarters. Doing so would create a more responsive and transparent system for making repairs, said Victor Bach, senior housing policy analyst at Community Service Society, an advocacy group for low-income New Yorkers.
"The next mayor needs to integrate NYCHA into [their] affordable housing plan," said Bach. "It's more than just appointing a deputy mayor," which CSS supports, he told Gotham Gazette. "It's actually setting NYCHA targets for all of those concerns...We would want metrics for NYCHA preservation, homeless reduction and the like," to evaluate any housing plan.
"To be at NYCHA and try to plan for the future...in a way that allows the authority to restore and sustain decent living conditions for residents means you have to plan independently, in a sense, on the assumption that Washington may or may not come to the rescue," Bach said.
Here is what each leading Democratic candidate for mayor is proposing for NYCHA:
Eric Adams
Adams, the Brooklyn Borough President, has proposals to fix NYCHA as part of his larger housing plan and has expressed positions on some key issues like RAD and infill. He has proposed selling NYCHA's air rights to the tune of $8 billion, which would be used for repairs. He wants to boost transparency in capital projects with real-time reporting on spending and the status of repairs -- both for individual apartments and whole buildings -- through an online dashboard.
Along these lines, Adams also proposes a so-called "NYCHAStat" system, modeled off the NYPD's CompStat, a citywide crime tracker and police department accountability system, which his campaign website said would help the authority take "a data-driven approach to asset management." Adams' NYCHAStat appears to be focused on the quality and integrity of public housing but the plan on his website doesn't provide specifics on what types of measures would be tracked. He has said his administration would deploy more surveillance drones to conduct building inspections at NYCHA and beyond.
Adams supports RAD, as long as tenants are engaged in the decision to convert developments to private management. He has said he would invest in free legal counsel for tenants going through a PACT to Preserve process -- the city's version of RAD -- and give tenants veto power over conversions. He is also supportive of infill development.
"I think that we should utilize the infill buildings," Adams said in a 2019 interview on the Max & Murphy podcast. "I believe that all of this should be done with a conversation with the NYCHA residents." At a forum in March of this year, he reiterated that position and suggested locating current NYCHA residents in the newly-built units and opening apartments at NYCHA to new residents.
Adams would seek federal funds to speed up lead remediation in NYCHA buildings. He wants to provide rent relief to households impacted by lead poisoning, and "ensure real accountability for any officials who are found to have misled tenants and the public about the extent of the problem" (that could be a long list of city government veterans, including high-level officials). Under his plan, the housing authority would "skip contracting procedures" and select any local company licensed to do lead remediation and paying prevailing wages. Adams would cancel rent for affected families until remediation is complete.
Adams has not committed to investing additional city funds into NYCHA, according to an analysis of campaigns from the Association for Neighborhood Housing and Development. He is calling for "tens of billions of dollars" in federal funds for NYCHA.
Shaun Donovan
Donovan has the most experience of any candidate working in the weeds of affordable and public housing as the former housing commissioner under Bloomberg and -- as he is more fond of discussing -- as housing secretary under Obama.
As mayor, Donovan would "fully adopt and aggressively implement" the current administration's "Blueprint for Change" plan to rehabilitate NYCHA and reform its governance structure, according to his campaign website. He will also pursue the policy recommendations outlined in United For Housing's "From the Ground Up 2021" plan to invest $4 billion annually in affordable housing, including $1.5 billion a year for public housing, with funding ideally matched by the state. Donovan has said he would allocate up to $2 billion a year to NYCHA from the city capital budget, up from the $248 million planned for 2021.
Donovan's commitment to de Blasio's "Blueprint" is not surprising, given he pioneered RAD during his time at HUD. But Donovan has said the de Blasio administration did not have to pursue RAD deals with for-profit corporations and that he would focus more on not-for-profit building management.
The Blueprint calls for about a third of the city's public housing stock to be converted under RAD. Much of the rest of the restoration funding would come from the proposed Public Housing Preservation Trust, which requires state legislation to create. Donovan supports the trust and has said he has the state and federal connections to push it through -- a common refrain of his campaign. Even with RAD and a preservation trust, NYCHA could still face a shortfall of billions of dollars, which Donovan says he would make up with annual investments from the city's coffers and other federal funding streams.
Donovan has expressed support for infill development to raise revenue and create new housing. To save on operating costs, he wants to speed up energy-efficiency upgrades, which he says could also mean jobs for residents and a step towards the city's climate goals.
Donovan also wants to reform the governance structure of NYCHA to give residents greater control and reduce political influence. He has proposed expanding the NYCHA board and appointing tenant representatives and making the chief executive officer an appointee of the board rather than of the mayor. He also wants to decentralize property management and give individual developments greater control over their budgets.
Broadly, Donovan would place public housing under the purview of a deputy mayor for housing opportunity and economic development, along with homeless services, education, children's services, and housing.
Kathryn Garcia
Garcia, a longtime sanitation commissioner and briefly interim NYCHA chair under de Blasio, has expressed strong support for the city's Blueprint for Change, which she says is in need of execution not revision.
"NYCHA doesn't need another plan," reads her campaign website, a conceit she's delivered many times on the campaign trail. "Residents have seen plan after plan after plan, including three plans under the de Blasio administration. Waiting around amounts to demolition by neglect."
"We know what needs to be done," she has said: fixing heating and water systems, which means hiring more plumbers, repairing elevators, abating mold, and so on.
Garcia supports RAD as a central component of the Blueprint and has also expressed tempered support for infill development. In an interview on the Max & Murphy podcast she said infill projects "would not be my first priority. My first priority would be to do the traditional RAD program as well as the plan that [NYCHA Chair] Greg Russ has come up with to use these vouchers and finance off of them. But I certainly would not turn away an opportunity that would generate money for NYCHA residents. Anything we can do to be creative, to generate money for them I think is very important."
According to the Association for Neighborhood and Housing Development, Garcia has not committed to investing additional city funds into NYCHA's capital budget.
"This allows us to leverage federal money. We don't have to use more city money," she said of current NYCHA plans, at a March forum. "We have tried going to the federal government since the Carter administration," she pointed out, "we've always come up empty."
On a broader level, Garcia wants to bring homeless services under the same deputy mayor in charge of housing, NYCHA, and economic development, which she says would eliminate siloing and conflicts among the city's housing goals.
Ray McGuire
McGuire, a former top Wall Street executive, wants to see NYCHA capital improvements prioritize security cameras, locking doors, and high speed internet connection in every development. His website, which outlines his NYCHA proposals as a piece of his broader housing platform, says his administration would provide annual updates on the status of capital projects.
To pay for the $40 billion capital need, McGuire supports RAD and other elements of the Blueprint for Change on a per-development basis, with significant input from residents. His platform says residents will be able to select their building management, should it be privatized, and be given access to legal services.
McGuire said he would allocate an additional $1.5 billion a year in city funds to NYCHA repairs. He would "sell or transfer" NYCHA air rights for private development to raise additional revenue, according to his website.
He also wants to increase services like youth and senior programming in NYCHA community centers and work to clean up shared space on campuses. The administration would target career opportunities and workforce development toward residents as part of the rehabilitation.
Dianne Morales
Morales, a former nonprofit director, has adopted the goals of the proposed federal Green New Deal for Public Housing Act, sponsored by Rep. Alexandria Ocasio-Cortez and Sen. Bernie Sanders. The rough outline of the plan includes investments in workforce training, upgrades for energy efficiency and water quality, power infrastructure like solar rooftops and windows, recycling and waste-reduction, and disaster preparedness. Her plan for NYCHA, part of her broader housing plan, includes those goals but few specifics on making repairs.
Morales has taken one of the hardest stances of any candidate against the city's current plan to repair and reform NYCHA. "As Mayor, Dianne will work to put an end to all current and future plans for the privatization of NYCHA, including A Blueprint for Change," reads her campaign website.
In lieu of RAD, Morales has said she would seek $35 billion from Albany and Washington. Her opposition to privatization also extends to NYCHA land-leases for infill development. Her website makes no mention of the proposed Public Housing Preservation Trust, which would not entail privatizing management.
Morales wants to appoint a NYCHA board that is majority residents, including the chair. She wants to enforce requirements to employ public housing residents on projects using federal funds and provide more job readiness services.
Scott Stringer
Stringer has focused a great deal on NYCHA as comptroller, issuing many audits of the authority, but as a mayoral candidate has offered limited vision for getting NYCHA to a state of good repair without massive federal dollars. He opposes RAD in favor of seeking full funding from Washington. He has expressed openness to infill development, as he did a forum in December, as long as tenants are engaged in major decisions.
In the meantime, he has proposed leveraging annual surpluses from the Battery Park City Authority to back bonds to pay for the most urgent NYCHA repairs (it's something he has pushed for since his first year as comptroller). He estimates the surplus to reach $450 million over ten years.
"Comptroller Stringer is against RAD and Blueprint because it is a doorway to privatization," wrote Halimah Elmariah, a campaign spokesperson, in an email, when Gotham Gazette inquired about Stringer's stances on NYCHA, which he has offered few details about during the several candidate forums of the race where public housing has been brought up. "We must have a roadmap for repairs that does not rely on private dollars or lead down a road of losing NYCHA assets."
With some openness to infill development pending tenant approval and additional focus on tenant input and buy-in, Stringer has proposed a development-wide ballot on which residents can clear or vote down major rehabilitation programs. He wants to create 15,000 units of housing for seniors on NYCHA property, and wants development on NYCHA land to go through the city's extensive land use review process, ULURP.
"Comptroller Stringer also does not support infill as a means to raise money for NYCHA, and believes we should work with NYCHA residents to identify their needs and desires," Elmariah said. "Any infill that occurs should only be to meet the needs of NYCHA residents – such as building senior housing or new affordable housing for NYCHA residents" by dedicating a portion of new units to NYCHA residents.
Stringer is proposing a system for tracking building complaints and maintenance issues and better reporting on NYCHA inventory, like working boilers and other assets -- ideas born out of the multiple audits of NYCHA his comptroller's office has done, according to his plan.
"As Mayor, Scott will manage the hell out of NYCHA, reforming its dysfunctional operation and investing billions to make badly-needed repairs," reads his housing plan, again showing an emphasis on management and operations but not the bigger picture of revenue and repairs.
Maya Wiley
Wiley, who served as counsel to the mayor and chair of the Civilian Complaint Review Board under de Blasio, has said she would invest $2 billion in public housing repairs and capital upgrades, including for energy efficiency and climate resiliency. She also wants to apply the city's code enforcement for privately-owned buildings to NYCHA. Advocates say bringing NYCHA under the purview of the Department of Buildings and Housing Preservation and Development for code enforcement would lead to more reporting on violations and shed a light on where conditions are worst. The details of her approach to NYCHA are outlined briefly in her broader housing plan.
Wiley is opposed to RAD and has not shown support for other financing schemes outside of direct aid from the state and federal governments. At a December forum, she said infill was a viable option but that it had to involve tenant input.
Like other candidates, Wiley also wants to increase services for NYCHA residents like workforce development and violence interrupter programs. "Investing in NYCHA means investing in job-ready skills and career pathways, promoting local hiring, and developing a model for long term sustainable safe and sustainable public housing," read a recent statement from her campaign. "Investments will be determined with the participation and input of NYCHA residents."
Andrew Yang
Yang, who led a test prep company, founded a nonprofit, and ran for president, supports a "Green New Deal for NYCHA," which his campaign website says would create jobs and promote climate resiliency "while saving nearly half a million units of affordable housing from falling beyond repair." NYCHA has just over 170,000 units in its portfolio. It is unclear what housing Yang's commitment to save another quarter million units or more refers to.
He has put forward two plans related to NYCHA, one on his green New Deal, and another on increasing resident input in public housing.
Yang's Green New Deal for NYCHA is different from the federal legislation of that theme sponsored by Rep. Ocasio-Cortez, which she pointed out when he released his plan. It centers around installing solar panels on every NYCHA roof by 2030 with the goal of converting power to 100% renewable energy. He wants to upgrade heating appliances, toilets, and refrigerators, and retrofit windows and facades for energy efficiency. Those upgrades, he has said, would reduce leaks -- a root cause of the authority's mold problem. He would also make the mold ombudsperson, currently a temporary court-ordered position, permanent and invest in public awareness campaigns for residents. His campaign estimates the upgrades could net $100 million to 398 million annually and create roughly 325,000 jobs over ten years. Those jobs would be coupled with training for which residents would be prioritized.
Yang has said he would seek funding from the federal government to the tune of $48 billion over ten years to meet the authority's capital needs. Like Donovan, Yang's campaign has said his administration "would use its deep relationships in Washington, DC" to get the full capital funding needed, ostensibly referring to ones he garnered in his bid for the White House last year and subsequent political organizing. He supports the preservation trust and has said he would work with the state to give NYCHA residents board representation and limit its impact on the authority's waiting list.
Yang opposes infill development for "luxury" housing and would push to require all new development on NYCHA land to go through the ULURP process. So far, all infill projects in New York City have been 100% affordable, according to Sean Campion, senior research associate at Citizens Budget Commission.
Yang has said he would pursue the expansion of the NYCHA board from seven to 11 members, with six seats reserved for residents. He said he would "appoint" a community based organization to provide services and allocate federal subsidies known as "tenant participation activity" funds in developments that don't have their own resident councils.