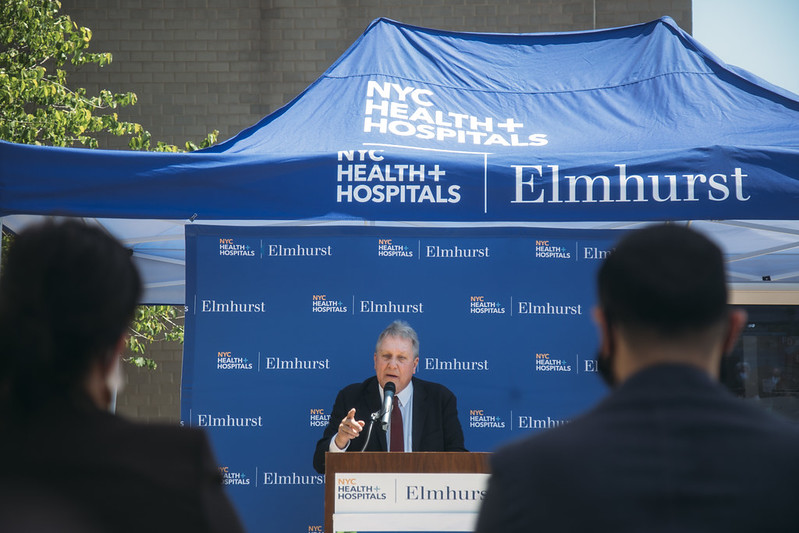 Council Member Danny Dromm (photo: Emil Cohen/City Council)
---
A crowded Democratic primary race is unfolding in Queens to select the successor for term-limited City Council Member Daniel Dromm, a trailblazing LGBTQ leader and powerful chair of the Council finance committee who has held the seat for nearly 12 years but is term-limited out of office. The primary race being voted on this month in the 25th City Council District, which spans Jackson Heights and Elmhurst, is all but certain to determine the next Council member who takes office in January given the district's overwhelming Democratic tilt.
The district was one of the hardest hit by the COVID-19 pandemic and became known as the "epicenter of the epicenter" as the virus took hold in the spring of 2020 and devastated the city.
Of the City Council district's roughly 162,560 inhabitants, according to 2020 Census data 42% of residents were Hispanic, 34.5% Asian-American, 15.2% white, and 5.8% Black. About two-thirds of the district's 56,945 local housing units were renter-occupied.
There are seven Democrats running, including Dromm's former chief of staff Carolyn Tran; civil rights lawyer Shekar Krishnan, who Dromm has endorsed; medical supply store co-owner Andy Yi Chen; local District Leader Manuel Perez; and Alfonso Quiroz, once deputy chief of staff to former Council Member Helen Sears and more recently a Con Edison spokesperson. Dromm's support for Krishnan, announced this week just ahead of the start of early voting, appears to be a significant boost to his campaign and a snub of Tran, who was on Dromm's staff for 12 years until a somewhat mysterious departure.
Access to health care is among the top issues driving the race, especially given the impact of covid and the horror experienced at Elmhurst Hospital last spring, while many have pointed to the closure of hospitals in Queens in recent decades and called for expanded local health care options as well as hospitals.
Open space and small businesses, including their combination through the city's pandemic-era Open Streets and Open Restaurants programs, have also been key topics in the race. The district is one of the city's lowest ranking in terms of environmental and health standards, in part because of a lack of green space, and outgoing Council Member Dromm recently voiced support for the creation of a linear park on 34th Avenue in Jackson Heights and Corona, part of the site of a much-heralded "open street" created during the pandemic to limit cars and allow more space for recreation, exercise, and small business operations.
Dromm has also been a voice focused on police reform and questioning the size of the police budget, an outspoken proponent of LGBTQ rights, and, as a former public school teacher, he's made schools and education a top priority throughout his Council tenure, including as chair of the education committee in the prior term to this one. As the Council member for a very diverse district with large Hispanic and Asian populations, Dromm has also been attuned to the needs of immigrant communities, and the next Council member will likely be expected to be so even more, while blending that fous with the issues, like education, that Dromm has paid the most mind to.
Shekar Krishnan
A civil rights lawyer and son of Indian immigrants, Krishnan has garnered considerable support among elected officials and community groups. He had raised $79,054 in private contributions from 658 donors and received $160,444 in public matching funds as of June 3, according to the New York City Campaign Finance Board (CFB) website.
He promotes his background in affordable housing preservation and advocacy for low-income tenants, as well as his co-founding of Brooklyn housing and racial justice legal organization Communities Resist.
Krishnan enjoys a plethora of endorsements from officials and groups, including: Congressional Rep. Nydia Velazquez, Rep. Alexandria Ocasio-Cortez's Courage to Change PAC, Assemblymembers Catalina Cruz and Emily Gallagher, State Senators Julia Salazar and John Liu, and Council Members Carlina Rivera, Justin Brannan, and Antonio Reynoso. He also has the support of labor unions including that of the teachers (UFT), hotel workers (HTC), property maintenance workers (32BJ SEIU), transit workers (TWU Local 100), Asian Pacific workers of the AFL-CIO APALA, communications workers (CWA), firefighters (UFA), the local AFL-CIO, municipal workers of DC 37 AFSCME, and health care workers of 1199 SEIU, and he's backed by groups like the immigrant advocates at Make the Road Action, the Black Lives Caucus, the National Institute for Reproductive Health, Community Voices Heard Power, NY League of Conservation Voters, the Jim Owles Democratic Club, NYC Kids PAC, and the Citizens Union good government organization, among others.
Dromm, whom Krishnan praises for his "historic and indelible" impact on the district, just added his name to the list. The outgoing Council member called Krishnan someone who "has the vision and the experience to be a leader who unites us all."
Krishnan is offering perhaps the most robust policy platform in the race.
At a candidate forum hosted by TBN24 and Epicenter-NYC in May, he cited covid recovery through health care, housing, and education as his top three issues.
At the forum, Krishnan said that the district was hit so hard by the pandemic as a result of decades of disinvestment. He vowed to advocate for more resources to be allocated to the district, such as full funding for Elmhurst Hospital. Expanded language services to increase health care access for members of immigrant communities is also part of a public health platform that Krishnan touted to have been written with Elmhurst Hospital workers.
Krishnan -- who says he is the "only candidate in this race who comes out of the housing movement" and that housing is a "human right" -- and argues that because of his unique experience with an issue of such importance to the district, whis is plagued by overcrowding and unaffordability, he is the best candidate for the job of Council member. On his website, Krishnan's plan calls for "permanently rehousing the homeless" in vacant units held by developers, a "community-rooted, comprehensive land use process" over private-interest driven rezonings, to protect tenants with an expanded right to counsel, and expanded ability to rent out basement units.
Krishnan recently co-authored an op-ed column at Streetsblog where he expressed support for the creation of a car-free linear park on 34th Avenue, a push the authors called a "people-led movement for safe streets and environmental justice" to address "historic deep-seated racial and economic inequities." Krishnan echoed this sentiment at the candidate forum, citing his experience working to help create community spaces such as the neighborhood's prized Diversity Plaza.
On his website, Krishnan also emphasizes community safety and justice. His plan to "defund and decarcerate" would move at least $1 billion of NYPD resources into mental health services, violence interrupters, and conflict resolution education, especially dedicated to supporting communities of color. Krishnan also believes in closing the Rikers Island jails without having to open any new jails and ending the school-to-prison pipeline by making schools police-free and implementing a restorative justice rather than punitive disciplinary model.
Asked at the forum about a second rank on his ballot, Krishnan voiced support for all of his opponents, especially those who "champion housing justice, public schools and immigrant communities." Although he has yet to determine his rankings for the district race, he likes Tran's policies, Quiroz's community work, Perez's work with the Latino community, and Chen's and Jaswal's work with immigrant residents, he said, diplomatically. Krishnan has yet to decide how he will vote for mayor, he said.
Carolyn Tran
As a single mother and daughter of Vietnamese refugees, Tran says women like her are "historically left out of the political process." The former Chief of Staff for outgoing Council Member Dromm, with whom she worked for 12 years, Tran is running to the far left in the race.
Tran was fired from her position with Dromm a few months ago, according to the Queens Daily Eagle, which published allegations of her misconduct and violation of Council policies. Council Member Dromm's office did not return Gotham Gazette's call asking for a comment on her departure. Tran stated in a recent phone interview with Gotham Gazette that she was "told that [her] services were no longer needed."
Tran wants to "leverage government to support our most impacted or marginalized communities," she said. She plans to do this by "amplifying community solutions" and hiring organizers from the district to work for her Council office.
According to the Campaign Finance Board website, Tran has received $47,062 in donations from 638 donors and $160,444 in public matching funds as of June 3. Tran is endorsed by State Senator Ramos, 21 in '21, a group dedicated to electing women to the City Council, Rep. Alexandria Ocasio-Cortez's Courage to Change PAC, Met Council Action, Tenants PAC, Roadmap for Progress, Women of Color for Progress, Progressive Women of NY, NYCLASS, National Association of Social Workers, Kids PAC, Muslim Democratic Club of New York, Bangladeshi Americans for Political Progress, Voters for Animal Rights, New York Pan-Asian Democratic Club, Peruvian PAC, Labors' International Union of North America (LiUNA), and others.
At the candidate forum, Tran disapproved of the city's COVID-19 response and lack of extra funding that she said should have been provided to the district as it was experiencing a disproportionate impact from the pandemic. A major pillar of Tran's public health platform is universal care, which she defines as "twinkle to wrinkle" care that includes access to childcare, after school care, and senior care.
Another central feature of Tran's platform is leading "in partnership with movements" in the spirit of co-governance, she said in the phone interview, as an expansion of local democracy. Connecting immigrant communities to city government and, for example, better educating people and groups on how to apply for government funding are also parts of Tran's plan to bring more people like herself into government decision-making.
On the creation of a car-free 34th Ave., Tran said at the candidate forum that while input from seniors and those who need more accessibility such as Access-A-Ride need to be considered, she is "a fan" of the plan, which she claimed gives access to open space to those who "can't escape to their second homes."
On policing, Tran pledges to defund the NYPD by $3 billion, about half the annual operating budget. She is also for "closing all NYC jails," along with increased support for the reintegration of formerly incarcerated people.
At the forum, Tran said that her campaign had yet to decide how she will be ranking her ballot for her race and the mayoral primary.
Andy Yi Chen
Chen, who immigrated from China 19 years ago, dropped out of college to support his family by co-founding a medical supply store, where he says he has seen first-hand the district's problems with insufficient medical facilities and access to health care.
Since then, Chen has become the executive director of an Asian immigrant empowerment group, BRACE, which touts 11,000 members. He has raised an astounding $132,835 from 955 donors and $160,444 in public matching funds as of June 3, according to the CFB -- the third most funding secured by any candidate for City Council this election.
At the candidate forum, Chen not only vowed to fully fund Elmhurst Hospital, as most of his opponents also support, but also proposed the reopening of St. John's Hospital, a Queens hospital that closed in 2009. If the community had a second hospital to lean on during the pandemic, he argued at the forum, think of "how many more lives could have been saved."
On his website, Chen argues for rent relief as well as the temporary suspension of property taxes and mortgage payments to fight for tenant protection against pandemic-incited economic ills and access to affordable housing.
Chen did not respond to a Gotham Gazette request for his positions on policing and public safety, which cannot be found on his website platform.
At the forum, Chen said he supports Ray McGuire for mayor, but is undecided on who he would rank second in this Council race.
Alfonso Quiroz
Quiroz is a spokesperson for Con Edison Energy, which provides electricity. On his website, Quiroz outlines his record of public service, which was inspired, he says, by parents involved in steelworker and railroad-builder unions. Having participated in political work from a young age, Quiroz eventually was appointed to Community Board 3 and became president of Queens' Hispanic Chamber of Commerce.
Quiroz raised $42,304 from 652 donors and got $149,196 in public matching funds as of June 3, according to the CFB website. He is endorsed by the Stonewall Democrats of NYC, United Probation Officers Association, League of Independent Theaters, United Probation Officers Association, JFK Democratic Club, a community political group, Victory Fund, an LGBTQ advocacy group, Manhattan Assemblymember Danny O'Donnell, former State Senators Thomas Duane and John Sabini, and former Governor David Paterson.
At the candidate forum, Quiroz said his top three issues are supporting middle-class working families, promoting small businesses, and increasing access to health care.
Quiroz also called for the reopening of St. John's Hospital in addition to increasing Elmhurst Hospital funding.
To address his priority of supporting small business, Quiroz proposes cancelling commercial rent so that immigrant owners aren't forced to close after the pandemic's blow, though he doesn't go into detail about financing the initiative beyond "increasing funding while cutting red tape" and "cutting waste in city finances."
Quiroz is a bit more skeptical than others about a 34th Ave. linear park, saying that while he is supportive of making 34th, where he lives, car-free, he wants to see a more fleshed out plan.
Instead of blanket defunding of the NYPD budget, as Krishnan and Tran support, Quiroz proposes on his website that police budgets must be prudently invested and "open to nascent ideas" in policing such as making "social workers, mental health workers and medical first responders" part of the emergency response system. Quiroz wants to focus on expanding neighborhood policing to fight "systemic racism," as well as decarcerate youth, communities of color, and those who commit low level offenses by "implementing alternatives to incarceration."
When asked about who of his opponents he would support at the forum, Quiroz said that the only other candidate he thought displayed "authenticity and honesty" was Tran. And he had yet to decide on his mayoral picks.
Manuel Perez
Perez moved to Queens from Venezuela when he was three years old and attended Bronx High School and NYU. From 1988 to 1999, Perez was the Executive President of Venezuela's Oil Advisory Group, according to his LinkedIn profile. Upon his return to New York around 2000, he became a teacher, and then moved toward local politics to become a Democratic committee member of the 34th Assembly District.
Without any endorsements listed and only $10,396 from 186 donors and no public funding as of June 3, Perez has shown limited traction in the race. His campaign website delivers critiques that range from the lack of safe public transportation to dirty beaches, but falls short of offering the detailed policy solutions most of his opponents have proposed.
At the candidate forum, Perez said that as a legally blind senior and 34th Ave. resident, he supports the creation of a car-free 34th Ave. In line with the other candidates, Perez voiced support for increased funding for Elmhurst Hospital and heightened government responsiveness to community needs, asking, "if Facebook, Google and Amazon can predict what we want, why can't our government?"
In a lightning round during the candidate forum, Perez was the only candidate who said he had supported the opening of an Amazon headquarters in Long Island City. And when asked who he would support in the race were he not running, Perez listed Tran and Krishnan.
For mayor, Perez supports Eric Adams then Ray McGuire. And for the district, he "respects Carolyn Tran's efforts and work" and Krishnan's efforts in housing.
Fatima Baryab
A young Queens native and daughter of immigrants, Baryab is also a co-founder of SUKHI NY, a non-profit with a mission to aid South Asian settlement in Queens. She has raised $30,113 from 446 donors and $160,443 in public matching funds as of June 3.
On her website, Baryab presents herself as the "people's choice candidate" by refusing "big money" and emphasizing seven individual resident endorsements. Baryab's website does not propose any platform or policies, although in a YouTube clip she stated that her primary campaign issues are "financial empowerment, the immigrant economy, and community health and wellness."
Baryab did not respond to Gotham Gazette's request for an interview and did not attend the candidate forum, although she was said to have been invited.
Liliana Melo
Melo was born and grew up in Bogotá, Colombia, where she was a Colombian National Naval officer from 1998 to 2004, and then a House Representative in the Colombian National Congress from 2011 to 2012. Between these experiences, Melo attended Brooklyn College and CUNY Lehman College in New York City, eventually returning permanently to the district to become a district leader in the 34th Assembly District.
As an immigrant to the city, Melo says she would support women- and minority-owned small businesses and create job growth, although she does not propose any policy solutions to these goals on her website. She positions herself against a property tax increase on owner-occupied family homes, for technical programs in schools, and for increased MTA funding.
She has raised $26,017 from 519 donors and $147,417 in public matching funds as of June 3. She does not list any endorsements. And like Baryab, Melo did not respond to an interview request nor attend the candidate forum.
***
by Carmen Vintro for Gotham Gazette
@GothamGazette