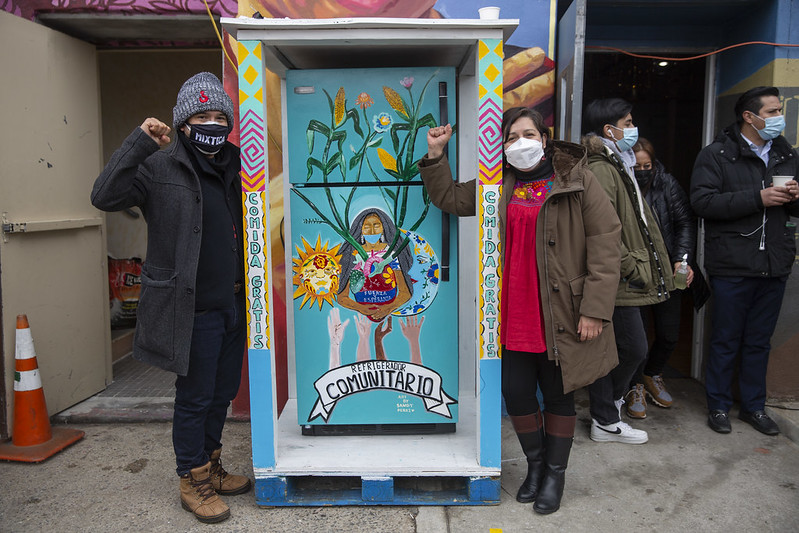 Council Member Menchaca & others at a community fridge (photo: John McCarten/City Council)
---
With City Council Member Carlos Menchaca among the three dozen members of the 51-seat Council facing term limits this year, there is a competitive Democratic primary unfolding to replace him in Brooklyn's 38th District, which is centered in Red Hook and Sunset Park, and also includes parts of Greenwood Heights, Windsor Terrace, Dyker Heights, and Boro Park. Menchaca, a Democrat, has held the seat for two terms, nearing eight years. Given the district's overwhelming Democratic voter enrollment, the winner of the fast-approaching June primary is all but certain to take office come January as part of the new Council and new city government being elected this year.
City Council members write, sponsor, debate, and vote on legislation that affects city life in any number of ways; negotiate and vote on the city budget in conjunction with the mayoral administration; perform oversight of city agencies and the mayoral administration; allocate discretionary funding to local groups and causes; weigh in on land use decisions — with particular sway, by Council tradition, over proposed projects within the member's district — and more. Constituent services and local problem-solving are also essential parts of the job.
As the Council member for the 38th District, Menchaca has focused on issues including immigration, affordability, and small businesses.
His work as chair of the Committee on Immigration for both terms includes securing budget funding for a public defender program for immigrants facing deportation and for adult literacy services. Menchaca also helped lead the effort on the establishment of the IDNYC municipal identification card program, which has been accessible to all New Yorkers regardless of immigration status, and he's run one of the more active participatory budgeting processes, including constituents regardless of immigration status. He was also part of the city's efforts on the 2020 Census, co-chairing the Council's task force.
At times controversially, Menchaca has been an opponent of what he sees as over-development. The most contentious example was the 2020 Industry City rezoning proposal, which he ultimately torpedoed. Some in the city, including fellow City Council Members Donovan Richards, Robert Cornegy, and Ritchie Torres, were vocal in their support for the massive plan, which would have overhauled some of the Brooklyn waterfront and created chain stores, academic space, and more with the promise of thousands of new jobs. Others, however, feared that the new complex would provide mostly low-paying jobs and spur gentrification in the area by bringing in high-end amenities that would lead to increased rents and overall cost of living.
As Menchaca's second and last term in office comes to an end, he ran for mayor for a time before dropping out of the race and endorsing Andrew Yang, whose potential administration Menchaca said he would like to work in.
Seven Democratic candidates are running to replace Menchaca in a competitive primary set to be decided through early voting June 12-20 and primary day, June 22, as well as absentee voting. Menchaca has not made an endorsement in the race.
According to 2010 Census data, the 38th City Council District had a population of 157,282 people. Of them, 43.9% were Hispanic, 32.7% Asian-American, 17.2% white, and 4.6% Black. Out of the 47,971 occupied housing units in the district as of 2010, 37,328 of them, or 77.8%, were occupied by renters.
Running to succeed Menchaca is a Scherman Foundation program director, the director of the Immigration Advocates Network, a small business owner, an adult day care center operator, an environmental designer, an NYPD lieutenant, and the director of research and evaluation at the ParentChild+. Below is a brief overview of each candidate, including excerpts of interviews with three leading candidates as judged by fundraising, endorsements, and campaign activity.
Alexa Avilés
Avilés is the program director for the Scherman Foundation, where she helps direct funds to local and national organizations working on human rights, the arts, and New York City community issues. She is also president of the P.S. 172 Parent-Teacher Association, a parent representative of the M.S. 88 School Leadership Team, and vice-chair of the education and youth committee for Community Board 7.
As of June 4, Avilés had raised $232,355 in private and public funds and has been endorsed by a long list of progressive and far left elected officials and groups, as well as others, including Congressional Reps. Alexandria Ocasio-Cortez and Nydia Velázquez; State Senators Julia Salazar and Jabari Brisport; State Assembly Members Marcela Mitaynes, Zohran Mamdani, Phara Souffrant Forrest, Emily Gallagher, and Jessica Gonzalez-Rojas; City Council Members Carlina Rivera and Antonio Reynoso; the New York City chapter of the Democratic Socialists of America, the Working Families Party, New York Communities For Change, the New York City Central Labor Council, and the United Federation of Teachers (UFT). Senator Bernie Sanders of Verment, a hero to many on the left, also endorsed Avilés this week, just after Ocasio-Cortez announced her support.
In a phone interview with Gotham Gazette, Avilés said that her two decades living in the district have connected her to the community and informed her campaign in ways that will benefit her constituents if she's elected. She stressed her policy work and active community membership.
"As a Latina, a mom, and your neighbor, Alexa is sensible and pragmatic — seeking to leverage what the district has to offer to the community's collective benefit," the candidate's campaign website reads in part. "Alexa's husband Frankie is a TWU Local 101 Member and lifelong resident of Red Hook and Sunset Park, and her intensely political 12- and 14-year-old daughters fuel her fight for a radically different world. Inspired by her family and neighbors, Alexa is fighting for a society where every person can live with dignity in a healthy and safe community."
Education, a people's budget, and affordable housing are what Avilés cites as the top three priorities for the district, calling them "intersecting."
"Working-class communities face compounding issues all the time — from not being able to pay their rent, to food insecurity," she said. "We need to address people's material needs, and budget justice, housing justice and education justice are all interconnected. Every working person deserves access to the social and essential services they depend on. What will be critical to addressing that is viewing these interlocking issues together, not a piecemeal approach."
On education, Avilés said the goal is to reach educational equity and justice, which would be achieved in part by fully funding public schools, including the City University of New York (CUNY). It doesn't end there though, she said, as the money has to go toward things that will benefit students and teachers, such as smaller class sizes and culturally informed education. Additionally, Avilés wants to expand and fully fund the Summer Youth Employment Program (SYEP) and other workforce programs; to bring more special education programs to the district, including bilingual programs; and to make CUNY tuition-free again.
To create "a people's budget," Avilés wants to cut NYPD spending in half and redirect the funding toward community services. She said she would like to reallocate $1.5 billion from the NYPD budget in her first year in office, and $3 billion over two years. This money would go toward health care, mental health care, and housing, she said.
On Affordable housing, Avilés wants to create a renter and small homeowner relief and recovery plan, to expand the right to free legal counsel to all renters in the city so they can fight against potential evictions, and to push for a "national homes guarantee."
"As a representative from our nation's most populous city, Alexa will join Sen. Bernie Sanders, Rep. Alexandria Ocasio-Cortez, and others in calling on the federal government to deliver a massive expansion in federal funding for public housing and the creation of new social housing," her housing platform explains. "The Guarantee also demands reparations to redress explicitly a national history of racist dispossession, exclusion, and exploitation of Black, Brown, and Indigenous people."
On the related topic of land use and development, the candidate told Gotham Gazette that she wants the city to totally redesign land use by making it community-led and giving the community control over the land and assets. She said that she sees this as a way to make more affordable housing and more opportunities for working class people to become homeowners possible.
On the Industry City rezoning proposal she said the proposal did not have community interest at the forefront and that there had not been meaningful enough community outreach on the developer's part to see what Sunset Park residents actually wanted. Avilés said that she would have done the same thing as Menchaca, but would have come out in opposition to the proposal sooner than he did.
On immigrant rights, Avilés said that she wants all adult city residents to have municipal voting rights. She also wants to get the city to provide more English language lessons, legal services, and immigration centers.
"District 38 is diverse and beautiful; I know because I've lived here for two decades," she said. "We have so many community members who do everything that a citizen does — they pay taxes, contribute to our neighborhood — but aren't able to vote. We need to open up democracy to enfranchise the residents who have been actively engaged in our community but barred from voting. Every [District 38] resident deserves a voice in the issues that affect their lives. And they're going to be the Council member's constituents. How can we serve and organize our constituents if they can't hold us accountable?"
When asked about Menchaca's tenure, Avilés said that, while he did spearhead important initiatives like IDNYC and participatory budgeting, she would have a different leadership style. She said she would work more to balance her citywide responsibilities with her local role and that she wants her office to be an organizing space for the community.
Cesar Zuniga
Zuniga is the director of research and evaluation at the ParentChild+ and chair of Community Board 7. He has raised $216,994 in private and public funds, according to the campaign finance board, as of June 4, and has been endorsed by State Senator Andrew Gounardes, Assembly Member Peter Abbate, and Council Member Justin Brannan.
Zuniga told Gotham Gazette in a phone interview that his experience makes him the best candidate to succeed Menchaca as the local Council member. His time at Community Board 7 taught him about the district's issues, but has also gotten him thinking outside the box for solutions. His personal experience living in the district prepared him for the role and the issues faced by the constituents, he said.
"From my own personal lived experiences growing up in a household of working class immigrants from Mexico, I really see a lot of my own lived experiences are some of the lived experiences of the people that I'm seeking to represent," he said. "I lived in a very overcrowded apartment with my immediate family and two other families, and those experiences sort of were seared into my consciousness around 'how could it be that in the richest country in the world that people are forced to live in such horrible conditions?' I also witnessed my parents wake up every morning and go to these underpaid jobs and really be sort of taken advantage of."
For him, the three most important issues for the district are housing, waterfront planning, and schools. On housing, Zuniga said that while the city can't completely cut out development, it's not the solution to New York's housing crisis. He plans to double down on tenant rights and resources, like rent and mortgage relief; to protect the existing stock of affordable housing; and to explore new tools that he believes the city hasn't been using enough, such as land trusts, a people's bank, increasing taxes on the wealthy, and a marijuana tax.
"Saying 'no' to development is not a plan," he said. "Engaging in responsible, people-centered, community-centered development — that is a plan."
As for the waterfront, Zuniga sees it as an opportunity for jobs and community-based planning.
"I see the waterfront as, perhaps, the most valuable physical asset that we have in the district, and so we need some comprehensive planning, again, planning that centers the needs of the community, that brings the community to the table," Zuniga said. "And, for me, if we do that, if we do it well, there are so many opportunities along our waterfront to generate economic development and job creation opportunities."
On the related topic of the failed Industry City rezoning proposal, he said he is proud of the way that he and the community board handled the situation, which was by centering community opinions and hearing from underrepresented members of the community. Zuniga explained that he focused on reducing barriers to universal participation in meetings regarding Industry City, including by having simultaneous translation at the community board meetings on the rezoning so that non-English speakers could participate and providing free dinner and childcare so working people and parents could attend the meetings. As Council member, Zuniga said he would use the same process to engage his constituents.
"The thing that we have to stop doing is we have to stop pretending that, somehow, developers don't have a much greater advantage in this rezoning conversation, and that's the thing I want to put an end to in structural reform and policy that are going to bring resources and build the community's capacity to actually engage in these conversations." He mentioned community-centered conservation and access to experts and legal counsel, among other tools and resources.
His education plan centers around the importance of infancy through five years old when it comes to development and future success. He wants new investments in education to benefit low-income students and students with disabilities, but did not provide details.
If elected, Zuniga wants to increase accountability within the NYPD, in part by dismantling the "white supremacy" that he said has taken root in the police force's ranks. He also does not believe that the police should be mediating domestic disputes and supports reallocating funds from the NYPD toward community services.
On immigrant communities, an area Zuniga says is very personal for him, his plan is to make municipal elections open to all, regardless of immigration or citizenship status; to invest in more resources that benefit immigrants, like adult literacy programs and removing language barriers; and not allowing the NYPD to work with U.S. Immigration and Customs Enforcement (ICE).
When asked what he thinks of Menchaca's time in office, Zuniga said that he has "a great deal of respect and gratitude for him" and that he's grateful for the funding he provided Community Board 7.
"I think he, overall, really represented the issues of the district in a way that I respect and am super grateful for," Zuniga said.
Rodrigo Camarena
Rodrigo Camarena is the director of the Immigration Advocates Network, an organizer with the Sunset Park ICE Watch, and a former executive director for business growth at the New York City Department of Small Business Services (SBS). As of June 4, he has raised $195,734 in private and public funds, according to the campaign finance board website.
In a phone interview with Gotham Gazette, Camarena said that he thinks he is the best fit for the Council seat because he has worked in government before as part of SBS in the aftermath of Superstorm Sandy in 2012, while also being an advocate and organizer.
"This is a moment where experience, a track record, and leadership really matters," he said. "It's not enough to just be progressive or to be on the right side of issues. We need people in office that are ready to execute on big plans and big visions, and I think I'm that leader."
For Camarena, the top three most pressing issues for the 38th Council District are housing, a just recovery, and a fair budget. His detailed "Housing for All" plan includes a number of policy ideas, including: repairing and fully funding NYCHA by passing a "people's budget"; reallocating funding from the NYPD and the construction of planned borough-based jails; higher taxes on large corporations and the rich; advocating for state and federal resources to retrofit and fully-fund public housing in New York City; and accelerating the Social Housing and Community Land Trust (CLT) movement.
"We live in the richest city in the richest country in the world," he told Gotham Gazette. "There's no reason why anyone should have to live on the street or why anyone should have to be burdened by the rent increases that we've seen in the city in the last couple of decades."
More of his plans for housing include making sure that new housing built is 100% permanently affordable; ensuring that New York City has the "right of first refusal" that would allow the city to acquire recently vacated land to use for public and community use; abolishing the tax lien sale; and ensuring that the Department of Housing Preservation and Development (HPD) holds landlords accountable.
Camarena's COVID-19 recovery plan consists of making municipal worker benefits portable so that they travel with the worker and aren't dependent on employers; funding universal childcare and 3-K; and encouraging young workers to take advantage of green jobs in the district, such as at Sunset Park's wind turbine assembly plant on the waterfront, by creating a Green Jobs Career Pathway program with the state. He also wants to invest in the city's union apprenticeship program; to have community-controlled retail and residential spaces to create permanently affordable rents; and to create a commercial rent stabilization program that would also allow tenants a 10-year lease with the option to have it automatically renewed. Camarena wants to invest $2 billion of the city's budget in new and existing community services.
On Industry City and the attempted rezoning there, he said that overall he is happy with how the situation played out, that the developer was imposing a vision on the community that it didn't have a say in. Camarena said that, while Menchaca ultimately did the right thing opposing the plan, he feels that the Council member could have been more clear on his stance from the beginning.
"I want to make it clear to developers that this community has its own ideas about how it should be developed, that we are not going to let any private developer just walk in and propose a rezoning as they've been very accustomed to," he said. "As Council member, I'll be even clearer that business as usual as it pertains to development and land use is not going to continue when I'm City Council member."
On immigrant rights, Camarena brought up the fact that he is an immigrant himself who became a citizen 10 years ago. He wants to extend the right to vote in municipal elections to non-citizens and to expand the New York Immigrant Family Unity Project (NYIFUP) — which offers universal representation for detained immigrants — and ensure it receives long-term funding.
On the subject of the NYPD and its budget, Camarena explained that he wants to reorient the $331 million in school safety officer funding toward school counselors, nurses, and supportive youth programs. He wants to remove the NYPD from homeless outreach. Overall, he has a goal of reallocating at least $2 billion from the NYPD's budget within his first term in the City Council.
"We have thrown every issue in our city for the NYPD to resolve, and that clearly hasn't helped or worked," he said. "Whether it's mental health, whether it's school safety or traffic enforcements or homeless outreach or street vendor enforcement and support, we have given license to the NYPD to be the service provider in all these spaces, and that's clearly not working and won't be something I will support."
When asked about his thoughts on Menchaca's two terms in office, Camarena said that while Menchaca wasn't as assertive on land use as he could have been, he was successful at championing the IDNYC and NYIFUP programs.
Yu Lin
Yu Lin is an adult day care operator who immigrated from China as a child. He has raised $201,256 in private and public donations, according to the campaign finance board. His campaign did not respond to an interview request.
"While it's literally been my business to take care of people, namely, the elderly and the most vulnerable, with my businesses forced to temporarily close, I turned my attention to public service, to lead the change we so need, to advocate for our community," Lin's campaign website reads in part. "There remains distance to go, when we talk about a 'good life,' so let's walk this walk together."
On the subject of environmental and public health, Lin wants to invest in garbage collection and sanitation, community resources, and parks. He also wants to speed up the delivery of vaccines in the district. His housing plan is to regulate processes between tenants and landlords, though he does not offer details. For education, he wants to keep the Specialized High Schools Admissions Test (SHSAT) and expand gifted and talented programs (G&T), as well as secure more funding for schools so that families have an affordable preschool option.
For business and the economy, Lin's plans include expediting COVID-19 reopening plans so that there's more indoor dining; establishing communications between "community enterprises" and the government to reduce red tape; promoting skills training and entrepreneurial loans; developing more unused land, such as into parking lots; opening private commercial buses; and developing the district's Industry City.
Regarding policing, Lin wants to increase the NYPD's resources in the district, cooperate with the police, and put up more street security surveillance cameras.
Victor Swinton
Victor Swinton is an NYPD lieutenant commander of the Detective Squad, an adjunct professor at CUNY's John Jay College, and a long-time resident of Sunset Park. As of May 29, Swinton had raised $119, 602 in private and public funds, according to the campaign finance board website.
"Growing up in Bedford-Stuyvesant and Sunset Park, Vic Swinton experienced how a strong and vibrant community contributed to the overall wellbeing and progress of the people who live there," his campaign website reads in part. "Now, more than ever, a strong, vibrant, resilient, innovative, and involved community is needed to effectively address many of the unique challenges facing us today."
Swinton's 'affordable, reliable, and humane' housing platform includes mandating that a portion of any new multi-unit residential housing has to be low-income and making sure that NYCHA doesn't lose any of its properties to privatization.
On immigration, Swinton wants to advocate for the Deferred Action for Childhood Arrivals (DACA) program and ensure it isn't repealed, as well as to "establish an expedited process to eradicate the bureaucratic red tape delaying immigrants from becoming American citizens," by working with the state and federal governments.
His health care plan includes making sure that COVID-19 testing and vaccinations are continually available to the 38th District; ensuring that the district has access to reputable and affordable physical and mental health care; and expanding community involvement and medical outreach to communities by the district's health care facilities.
On public safety, Swinton's plan says he wants to foster community buy-in and support for policing. Specifically on gun violence, Swinton believes precision policing and cooperation with the Brooklyn District Attorney office are necessary, and he wants people who were arrested for alleged gun violence to be ineligible for bail.
Jacqui Painter
Painter, a lifelong Red Hook resident, is an environmental designer, a county committee member, and the founder of Red Hook Relief, a neighborhood mutual aid group. She is also the vice president for communications and strategy at Lambda Independent Democrats of Brooklyn, which also endorsed her for the seat.
As of May 29, she had raised $110,414 in public and private funds, according to the campaign finance board website. According to her campaign website, she does not "accept any money from corporate PACs, corporate lobbyists, real estate developers, fossil fuel companies, Police unions, racist, sexist, anti-LGBTQ or xenophobic organizations, and any for-profit entity."
The top campaign issue for Painter is climate. Her detailed climate plan includes the goals of fully decarbonizing New York City and New York State by 2030; prohibiting the creation of any new fossil fuel manufacturing plants or pipelines; supporting the Green New Deal and the Green New Deal for NYCHA to prioritize affordable, sustainable housing with green roofs, rainwater collection, and solar energy; increasing funding for city parks, waterfronts, and gardens; and supporting the Upland Connector Streets program to connect Sunset Park to the waterfront more easily.
"Our district has seen firsthand the effects of climate change when Hurricane Sandy inundated us with a toxic sludge of oil, runoff, and seawater," her website reads in part. "Eight years later, Red Hook and Sunset Park still haven't fully recovered, with black molds and water damage threatening historic structures and affordable housing alike. Meanwhile, City Hall cares more about protecting the monied interests of multi-billion dollar boondoggles like Industry City than actually helping the most vulnerable in the district."
Painter's housing plan includes fighting for rent-stabilization and rent controls for small businesses; creating a citywide income tax credit for renters, with prioritization of renters with dependents living in their homes; establishing and implementing the NYCHA Preservation Trust; mandating scheduled soil and air quality tests financed by NYCHA; and requiring NYCHA to remove all mold and lead from its buildings, among other things.
For immigrant rights, Painter wants to bar the sharing of arrest records in New York City with the Department of Homeland Security (DHS) by "sealing the courts"; to ban U.S. Immigration and Customs Enforcement (ICE) officials from using any city buildings, including but not limited to hospitals, schools, subway stations, and buses; and to fully fund organizations that provide undocumented immigrants with free legal representation.
Her criminal justice plan includes making the Civilian Complaint Review Board (CCRB) an elected body with the authority to fire officers after investigations; creating a "Duty to Intervene" law to mandate that officers who don't intervene when another officer is committing an illegal act will face criminal penalties; banning facial recognition software and surveillance technology; closing the Rikers Correctional Center but not replacing it with new jails; and expanding CURE Violence programs, among other things.
"I support reducing the budget of the NYPD by at least 50% in the next fiscal year, with the ultimate goal of abolishing the NYPD and their budget," Painter's platform reads in part. "I support not just a hiring freeze, since with a 3%-5% rate of attrition per year, a hiring freeze is not enough; we need to substantially reduce the force that is currently working."
Painter's LGBTQ+ protections platform includes decriminalizing sex work; creating a task force to report human rights violations from the NYPD against LGBTQ+ people; expanding SAGE housing to create more affordable housing for LGBTQ+ people, including elders; and restoring funding to LGBTQ+ nonprofits that lost funding in the last fiscal year.
For public transportation, Painter wants to decriminalize Metropolitan Transportation Authority (MTA) fare evasion; to work toward a fare-free system; to pass a fare hike moratorium to prevent any increases to bus and subway fares; to expand the Fair Fares program to all essential workers, which would provide them with a 50% fare discount; and to expand the CitiBike and NYC Ferry programs.
Finally, her education equity plan includes expanding extracurricular, counseling, and tutoring programs in schools; removing NYPD officers from schools; making sure that all schools are accessible to people with disabilities by creating ramps, elevators, and other forms of accessibility adaptations; and eliminating screens based on state test scores, specialty exams, grade point average, SHSAT results, punctuality, ZIP codes, in-person interviews, and attendance.