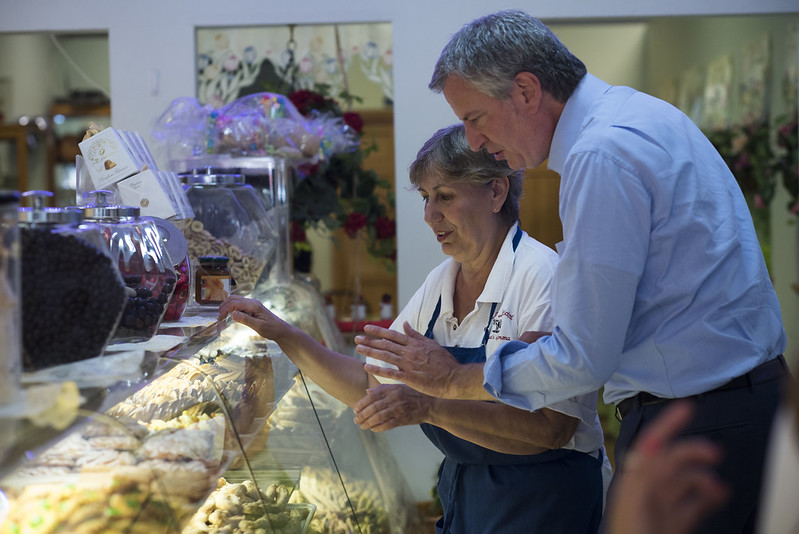 Mayor visits business (photo: Ed Reed Mayor's Office)
---
When the pandemic first spread through New York City in March 2020, Karen DiPeri stared at a list of events that her hospitality service company, HMG Plus, was scheduled to facilitate. HMG typically staffs corporate events — serving hor d'oeuvres, bartending, cleaning up afterwards — and as the city began to shut down, the company's future grew uncertain. On HMG's back-end software, active upcoming events show up in green. But as client after client canceled, DiPeri watched the orders turn into a stream of black text until nothing was left to plan.
The pandemic was "devastating" for HMG Plus, DiPeri said. After the cancelations poured in, she could hardly get out of bed for a week. HMG Plus lost all of its business for a time. While HMG received two federal Paycheck Protection Program (PPP) loans, aimed at ensuring that companies could keep paying their employees, it did not qualify for other relief programs. Pandemic funds directed toward the hospitality sector — like the federal Restaurant Relief Fund and the city's Shuttered Venue Operators grant — often did not account for HMG's niche in the industry as a staffing service.
Now, as vaccinations climb, HMG has started up again: staffing "welcome back" events and weddings, coordinating cocktail hours and plated dinners. The business, which once employed close to 500 freelance service workers, is now working with about 15% of that team. Many former staff members left the industry for good. "I think a lot of them felt blindsided and quite scared for their future," DiPeri said.
There are thousands of stories like HMG's. One year ago, as COVID-19 regulations constrained limited movement and business operations and decimated tourism, a wave of stores and restaurants shuttered, and one fifth of New Yorkers found themselves unemployed in the early months of the pandemic. Many small local businesses are straining to recover from the pandemic's devastation.
In 2015, the city's Department of Small Business Services (SBS) estimated that New York City had nearly 220,000 small businesses with under 100 employees. According to the Opportunity Insights Economic Tracker, which defines small businesses based on the federal government's revenue standards, the number of small businesses in New York City has decreased by 44.7% since January 2020, and the total revenue brought in by small businesses has decreased by 57.7% during that time frame.
A new report from Columbia University's School of International and Public Affairs (SIPA) and Department of Biomedical Informatics puts these widely-felt trends — and their nuances and consequences — into more specific numbers.
Of the small businesses surveyed for the report, 35% closed down during the first three months of the pandemic. During the phased reopening period that followed, only 14% of small businesses were able to start back up with full capacity; 60% of restaurants — and 25% of other small businesses — laid off employees.
The report calls for a more coordinated, systematized effort on the city's part to connect small businesses with resources — starting with developing a clearer picture of the status and needs of New York City's small business community.
"I think what's disconcerting about this problem is that we've got a lot of intermediary organizations who could be helping government better understand what is happening on the ground," said Ester Fuchs, a lead researcher on the report and Columbia's Urban and Social Policy Program director. She pointed to business associations, Business Improvement Districts, and Chambers of Commerce that can help the city more thoroughly survey the small businesses community. "We have a capacity to understand what's going on, and we're not using it."
The city should mobilize data to cater pandemic recovery policies to "what small businesses are saying they need," Fuchs argued — including more cash and rent aid, and to a lesser extent, help with health code compliance.
The report aims to jumpstart the process of surveying and listening that Fuchs calls for. It emerges amid relatively sparse data on New York City's small business landscape, even from before the pandemic. The survey is not comprehensive; researchers collected data from 366 New York City enterprises with 100 or fewer employees, including HMG Plus. The dataset skews heavily towards Manhattan businesses, which comprised 56.8% of respondents. (Given the severe drops in tourism and in commuting to major jobs hubs like Midtown and Downtown Manhattan, the borough's businesses have in some ways been uniquely impacted.) The percentage of Minority and Women-Owned Business Enterprises (MWBEs) surveyed — 45% — does resemble New York City's overall distribution.
One of the report's key recommendations is to run a citywide "census" of small businesses, which would provide a unified and comprehensive set of information about how local small businesses are faring. With more data, the city will be able to determine which businesses need aid most urgently, and what kind of assistance they could most benefit from, Fuchs said — allowing the city to build a strategic roadmap for the coming months.
Looking ahead to the post-pandemic recovery, the report issues a resounding call for more cash and rent assistance from the city to go directly to small businesses. Small businesses' largest barrier to recovery, according to the report, is overcoming the dramatic revenue loss they faced during the pandemic.
When asked about their most critical needs, a majority of small businesses (63% of those surveyed) said more cash flow. Restaurants expressed an especially strong need for both cash and rent assistance, with nearly three-quarters naming each of those forms of government aid as one of their immediate needs.
The report reflects a broad dissatisfaction with the city's small business aid efforts during the pandemic. It observes "a disconnect between policy proclamations and implementation," causing small businesses to grow "increasingly frustrated with the lack of government responsiveness to their needs." Of the surveyed small businesses, 49% rated the city as having done a "poor" or "very poor" job responding to the pandemic.
Shaina Coronel, a spokesperson for SBS, wrote by email in response to Gotham Gazette inquiries that "we have already fulfilled many of the recommendations made in this report – having connected over 5,000 businesses to $147 million in loans and grants."
Much of the aid available to small businesses over the course of the pandemic has come from the federal government, including the PPP loans that helped HMG Plus, and the Restaurant Revitalization Fund and Shuttered Venue Operators Grant that HMG did not qualify for. The city's role in pandemic recovery efforts has largely been to connect businesses to federal and state resources, including through a hotline and one-on-one grant application assistance. (The city cannot borrow money or raise taxes on its own, so it must rely on the federal and state governments for such measures, especially the federal government for major cash relief, which came for city government as well.)
In the upcoming fiscal year 2022, which begins July 1 of this year, the city plans to create and bolster a number of legal and cash assistance programs for small businesses, according to Coronel. These initiatives include a $100 million Small Business Recovery Loan program, which aims to assist 2,000 businesses (particularly in neighborhoods hit hardest by the pandemic) with low-interest loans of up to $100,000; a $100 million Small Business Grant Program, which will target businesses in entertainment, food, and hotel industries as well as businesses in low-to-moderate income neighborhoods; and an existing legal aid program for businesses, which will receive $10.4 million.
Restaurants were hit particularly hard by the pandemic. About half of the surveyed restaurants — 52% — closed down entirely during the "lockdown" period between March and June of 2020, and nearly all of those restaurants lost revenue streams entirely during that period. Three quarters of restaurants surveyed that remained open in some capacity during lockdown experienced at least a 75% decrease in revenue. These severe income losses led to a cascade of unemployment. According to the report, 60% of responding restaurants laid off employees, compared to 25% of other small businesses. Of the surveyed restaurants, 35% furloughed employees (compared to 18% of other small businesses) and 33% cut employee hours (compared to 21% of other small businesses).
Meanwhile, technology companies fared by far the best over the course of the pandemic. They were most likely to remain open and financially stable. While a minority of other small businesses transitioned to completely remote operations during the pandemic, 77% of technology companies ceased all in-person activities.
On average, MWBEs received smaller amounts of cash assistance than other small businesses. They also received significantly less rental assistance. Only 37% of responding MWBEs received rent aid, compared to 59% of other businesses. And MWBEs received rent deferrals half as frequently as other small businesses, at a rate of 7% compared to 14% of those surveyed.
While they received less government aid, minority- and women-owned small businesses tended to fare better than other small businesses, according to the Columbia SIPA survey. Only 22% of MWBEs closed down during the lockdown period, compared to 46% of other businesses. This positioned MWBEs to emerge from lockdown with more resilience. They laid off employees at three quarters the rate of other small businesses, and they furloughed employees two thirds as frequently. And MWBEs that remained open during lockdown were less likely to experience dramatic losses of revenue than other small businesses.
According to Fuchs, these stronger outcomes for minority and women-owned small businesses might be due to the overrepresentation of businesses owned by white men in commercial districts, which suffered an intense loss of traffic as many offices transitioned to remote work and tourism declined. In contrast, minority- and women-owned small businesses are more likely to be located in residential neighborhoods, where they found stronger community support and ongoing local activity.
MWBEs "took advantage of their neighborhood ties," Fuchs explained, and survived the pandemic with "ingenuity and creativity." Still, MWBEs had disproportionately less access to government support compared to other small businesses. "Given the right support, they seem like they have a really good chance of rebounding," Fuchs said.
Barbara Askins, the president of the 125th Street Business Improvement District (BID) in Harlem, who helped with the Columbia survey, suggested that other subsets of the small business sector need more attention: street vendors and businesses that operate from homes or offices rather than storefronts. The pandemic provides an opportunity to revisit licensing and regulation procedures for "informal markets" like street vendors, she said, especially as restaurants' outdoor dining setups have changed the way sidewalk space is used. The city was already on the verge of the first significant expansion of street vendor licenses in many years. Meanwhile, the "Open Restaurants" program has been cemented into law.
Despite losing nearly all of its revenue, HMG Plus has managed to stay afloat with income from a sister company, the Academy for Hospitality Arts, which created new COVID-19 readiness and compliance officer training courses suited for the pandemic. HMG also sent some employees to assist with the New York State Department of Health's vaccine rollout.
But DiPeri, HMG's president, worries about the hospitality industry. She worries that if New York's office culture does not revive, there won't be as much of a place for HMG's niche in the corporate event landscape, indicative of other businesses and sectors that could struggle.
Mark Fox, who oversees the Ragtrader, a Midtown restaurant serving American cuisine, has had a similarly challenging year. His restaurant reopened temporarily between June and December of 2020, before shutting down when the city stopped permitting indoor dining last winter. The restaurant once employed 75 people, Fox said; for most of last year, it employed 5. The Ragtrader could only open up at the end of March of this year, after receiving a second PPP loan.
In highly commercial Midtown, the effects of small business closures have been palpable. "Restaurants provide the vibrancy that makes it attractive to hold an office in New York City, to visit New York City, to come to New York City for a show or a concert. Shuttered streets and empty restaurants does not help the economic recovery of the city," Fox said. He hopes that as COVID-19 restrictions peel back and more small businesses reopen, the neighborhood will begin to bounce back. For now, he said, the public is beginning to recognize restaurants as "intrinsic to the stability and growth of the city from a curb appeal standpoint."
Now, the Ragtrader is earning about 65% of pre-pandemic revenue, and is back to around 45 employees, according to Fox. Starting wages at the Ragtrader are above minimum wage, at $19 per hour excluding tips, but in keeping with a national trend among restaurants, hiring more people has remained difficult.
The staffing shortage has been difficult on Fox's employees, he said, who have had to pick up the slack. "They're overextended and working longer hours." He urged customers to come in with patience. "When you have to wait that extra minute for a waiter, or the restaurant closes an hour earlier than it used to, just bring some empathy, because these people are stressed and stretched."
Despite these challenges, Fox sees a glimmer of hope for the restaurant industry as vaccinations spread and customers begin to feel safer eating indoors. "We can see a sense of relief and enthusiasm in our guests," he said. "Where before there was hesitancy and fear, there's an exuberance that's beginning to permeate."
***
by Laura Glesby for Gotham Gazette
@GothamGazette