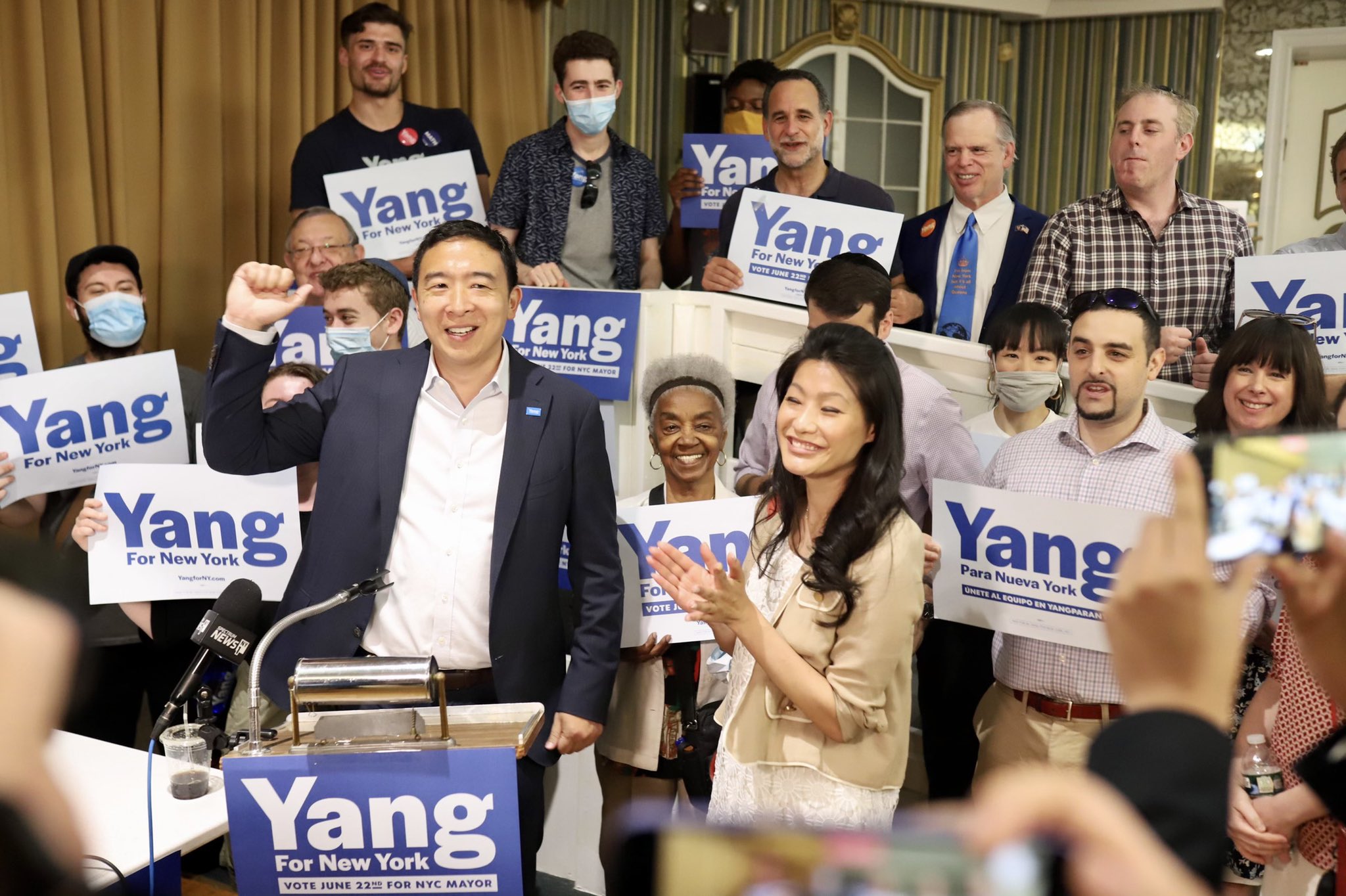 Andrew Yang at a campaign event (photo: @AndrewYang)
---
[This article is part of a series on the leading Democratic mayoral candidates' strengths and weaknesses.]
Andrew Yang, the entrepreneur and former Democratic presidential candidate, has consistently been among the frontrunners in the Democratic mayoral primary to replace the term-limited Mayor Bill de Blasio. Yang's charisma combined with a lack of previous political trappings have found appeal within the electorate among those exhausted by the current political leadership and looking for an energetic and innovative path forward for the city in the wake of the coronavirus pandemic. But as the race tightened heading into the June 12 start of early voting, the sheen of political novelty Yang enjoyed earlier faded, his poll numbers dropped, and the extent of his support is unclear in what appears to be a fairly wide open race with several candidates, including Yang, reasonably hopeful that the vote will break their way.
As is often the case for candidates, some of Yang's strengths are the flip side of some of his weaknesses: he is creative and spontaneous but can come across as inexperienced and naive; his lack of local political involvement indicates independence but leaves him with a knowledge gap; he is affable and eager to please, but can seem pandering and prone to switching positions. He is no ideologue, a fact he touts and can help him appeal to a wide swath of voters but also opens him to criticism from many angles and allows opponents to define him. He is a cheerleader and a salesman, a populist and an elitist.
Yang's political strengths also include high name recognition, a large online following and social media presence, and an extensive grassroots donor network, all of which were established during his White House run then built upon when he jumped into the race for Gracie Mansion. He is known for his devotion to 'getting cash into people's pockets,' attention on alleviating poverty, thinking about the future of the economy, and business-friendly outlook. Many people focused on revitalizing the city's economy like what he has to say about luring businesses and tourists back to the city and have appreciated his comeback tour of the city's reopening from the movies to Madison Square Garden, Coney Island to Yankee Stadium.
Yang's weaknesses also include the fact that he has never before voted in a mayoral election and that he left the city during the worst of the pandemic to stay in the home he owns in the Hudson Valley. While Yang has shown an ability to command media attention and is an exciting and potentially history-making figure as he seeks to become the city's first Asian-American mayor, it is yet to be seen if he can indeed establish the multi-racial coalition needed to win a citywide election.
"I think people sense that I'm fighting for them," Yang said in a March interview with Gotham Gazette when asked why he thinks many people respond positively to him, citing the popularity of his cash relief proposal. "I genuinely am just a person who wants to help. Unfortunately the trust in various elected officials and whatnot, I believe, has eroded over time...I want to improve the way of life for everyone in our city and I think there are really powerful things that we can do to help."
Yang was an unknown entity to the public before he launched his longshot bid for the presidency in 2018, centering his campaign on a Universal Basic Income proposal that would provide every American adult with $1,000 a month in cash relief. It was a populous idea aimed at directly tackling poverty and the effects of automation on jobs, and earned him a significant following (though critics raised questions about its cost and the extent to which it could supplant other public benefits).
Though he did not win any delegates and dropped out of the presidential race after the New Hampshire primary, Yang exceeded all expectations, qualifying for eight debates, raising $41 million, commanding large crowds, and becoming a well-known and well-liked national political figure, later landing a gig as a political analyst on CNN.
In January of this year, he announced a late entry into the New York City mayoral race, immediately establishing himself as a formidable force and throwing the election into far more uncertainty. Yang brought the excitement that he built during his run for president, including major fundraising chops to rapidly build campaign resources, and his cult of personality, the so-called "Yang Gang" of online supporters, boosting him and, in some cases, tearing down opponents and journalists on social media, behavior that can be both helpful and detrimental to the candidate. When asked, Yang has said he wants his large and devoted following to remain respectful online.
Yang is running in a crowded and diverse field of Democrats in this month's primary, which will all but decide who is the next mayor because of the overwhelming voter enrollment advantage that Democrats have in the city. His main opponents include Brooklyn Borough President Eric Adams, Comptroller Scott Stringer, former sanitation commissioner Kathryn Garcia, former counsel to the mayor Maya Wiley, former nonprofit executive Dianne Morales, former federal housing secretary Shaun Donovan, and former Citigroup executive Ray McGuire.
Prior to his presidential run, Yang had spent his life in the nonprofit, startup, and small business worlds. After graduating from Columbia Law School, he was hired at the firm of Davis Polk & Wardwell. But he left the firm after just five months and joined a co-worker in launching Stargiving.com, which connected celebrities with charities. When that failed, he worked at MMF Systems, a company that manages medical information, for three years.
Following that, in 2006 he joined Manhattan Prep, a business school test prep company where he eventually became CEO. The timing was fortuitous as Yang himself admits, though he also touts his management and vision. Enrollments skyrocketed as people lost jobs during the Great Recession and turned to business school. It was his first big success, making him a millionaire after the company was sold a few years later to Kaplan, a national test prep firm.
But he was later accused of gender discrimination by an employee of the company, Kimberly Watkins (who is now running for Manhattan borough president). Watkins said Yang fired her after she got married, saying she would no longer be ready to work as hard. Another female employee accused him of wage discrimination, saying that two male colleagues with comparable positions were paid far more and that Yang fired her after she raised those concerns with him. Yang has repeatedly denied both accusations. During his presidential campaign, complaints arose from employees who later described a "toxic" work environment dominated by "bro culture" and sexist and discriminatory behavior from higher ups. Asked about those issues, Yang has said that things could have been handled better. More recently, as he's run for mayor, he has indirectly answered such questions, whether from journalists or fellow candidates, citing what he says is a record of elevating women in organizations he has run. Yang gave similar statements and said he was just being "friendly" when in April of this year, he was seen on video laughing and playing to the camera when a comedian on the street asked him about choking women during sex.
In 2011, Yang launched Venture For America, a nonprofit organization designed to train ambitious young entrepreneurs-to-be to work in startups in underserved communities in cities across the country, with an initial goal of creating 100,000 jobs over 14 years, largely through companies that the VFA fellows would go on to found themselves. While still in its infancy, the project earned him recognition from President Barack Obama's administration, which named Yang a "Champion of Change" in 2011. In 2015, the Obama administration named Yang a Presidential Ambassador for Global Entrepreneurship. But, despite Yang's own repeated claims that VFA created thousands of jobs, a recent New York Times analysis found that it directly only led to about 150 jobs and that the program was seemingly biased against candidates of color. By Yang's own much more generous calculations, the number is at about 5,000. He has expressed both pride about Venture for America and acknowledges its struggles, saying it helped prompt him to look at universal basic income and other solutions. He has also faced questions about the VFA work culture and commitment to diversity.
After exiting the presidential race, Yang created the nonprofit Humanity Forward Foundation to launch pilot programs based on the ideas he touted during his campaign, particularly basic income, including $1 million given out in the Bronx. (The foundation's work has seemed to blend somewhat with Yang's mayoral campaign, which led Adams to file a complaint with the Campaign Finance Board. In leaked audio from soon after he left the presidential race, Yang appeared to discuss the effort as part of a way to keep followers engaged and "lie in wait" ahead of a planned 2024 run for president. "I'm actually pretty much planning on it," Yang said of running for president again.)
As a son of Taiwanese immigrants, Yang has been a trailblazing candidate who enlivened Asian-Americans during the presidential race and continues to do so in the mayoral race. If elected, he would be the first Asian-American mayor, a prospect that has prompted several prominent Asian-American elected officials to endorse his campaign, including U.S. Rep. Grace Meng, State Senator John Liu, Assemblymember Ron Kim, and City Council Member Margaret Chin. Yang is counting on expanding turnout among Asian-American voters, among others, as part of his path to victory.
"Anyone who has seen Andrew out on the stump realizes that there's more excitement, enthusiasm, and energy for him than for any of the other candidates," said Chris Coffey, one of two Yang co-campaign managers, in a phone interview.
On the mayoral campaign trail, Yang has seemed to tap into the insecurities of New Yorkers, whether they're about financial hardship or public safety, and has given voice to the concerns of voters who have seen the political status quo fail to improve their lives. He has made public safety and policing as much of a focus as his economic plans, connecting to the two and seizing on the spikes in gun violence and anti-Asian hate crimes. On the latter, he has spoken emotionally about the fears in Asian-American communities and his own family.
He wants to be the "anti-poverty mayor," refashioning his UBI proposal into a more limited cash relief program to, at least initially, provide 500,000 New Yorkers living in poverty with up to $2,000 every year, at a total annual cost of $1 billion. He has said he will pay for it with a mix of city and private funding, and grow the program over time.
He's also proposed a municipal "people's bank" to automatically enroll cash relief recipients and expand banking access to 350,000 households. "That's not something that frankly there are that many interest groups fighting for, because the folks I'm talking about, you know, aren't necessarily able to participate as political activists because they're just trying to make ends meet," Yang said. "But it's the right thing to do. It's going to help our city, help our economy help these people and their families. So people sense that about me is that I'm not someone who's walked around and then frankly just taken cues from like a particular person who's like pushing for a policy, I'm just trying to provide," he said in the Gotham Gazette interview, part of the "Decision NYC" series produced with Manhattan Neighborhood Network.
Yang aims to save 15,000 small businesses in his first year in office by appointing a small business czar, imposing a one-year moratorium on small business fines, and easing regulations. He wants to create a new position of Deputy Mayor for Public and Community Safety to oversee policing, criminal justice, and violence prevention efforts. He has made broad promises to cut street homelessness in half and build 25,000 new units of deeply affordable housing, including supportive housing and through conversions of vacant hotels. Yang has promised to finally overhaul the city's inequitable property tax system, though he has not released a plan to do so, while also proposing increased taxes on vacant commercial land to raise revenue and encourage development. He's promised to invest in green infrastructure upgrades to public housing. To improve education outcomes, he has proposed a Big Apple Corps education and job creation program, which would hire 10,000 recent college graduates as tutors to teach 100,000 public school students. He would also invest $100 million annually to expand broadband access in the city, he has pledged.
Influencing that platform, which includes many other planks, Yang brings the fresh perspective of an outsider to the political process. "His greatest virtue is his independence," said U.S. Rep. Ritchie Torres, co-chair of Yang's campaign and an endorser from the time of Yang's campaign launch, in a phone interview. "He's fundamentally independent of a political establishment that has largely failed the city of New York."
Torres said Yang, with his larger-than-life personality, projects an "infectious love for people" and much-needed optimism for the future of New York City. "Albert Einstein famously said the definition of insanity is doing the same thing over and over again and expecting different results. And Andrew represents a clean break from the insanity of New York City politics, represents an infusion of new ideas, new energy, new leadership, which is what we need in a moment of recovery," he said.
But Yang's outsider status has also lent itself to its fair share of campaign blunders and question marks, and there are also questions about his independence given the lobbying firm that is running his campaign. The gaffes came early, some small and others less so, that made Yang look out of touch with everyday New Yorkers and disinterested in the state of the city. Before he officially launched his campaign, City & State reported that he hadn't voted in the previous four mayoral elections. Politico New York reported that he had left the city when the pandemic was at its worst. Yang described it as best for his family but it seemed to indicate a limited commitment to the residents of the city, especially those who had no second home to flee to, and whom he would soon ask to let him lead the recovery on their behalf. When he defended the move as necessary to give his two young children, including one who is autistic, space for virtual learning while also trying to work, saying to The New York Times, "Can you imagine trying to have two kids on virtual school in a two-bedroom apartment, and then trying to do work yourself?," it led to broad criticism about his privilege and lack of empathy for those who experienced that scenario and much worse as covid ravaged the city.
Meanwhile, Yang faced misplaced and overwrought ridicule online for other more trivial matters, including what establishment he referred to as a bodega and whether he knew which trains go to the Bronx, two controversies that indicated how much of a lightning rod Yang's candidacy has been, how quick some people are to jump on his every word, how many news cycles he has dominated, and how he can also rally support from his fans when he's being taunted.
There have been more serious mistakes that display Yang's ignorance around the nuances of New York policy and government. He proposed building a casino on Governor's Island, which is explicitly prohibited by a federal deed restriction. In a forum on homelessness, Yang said the city should create dedicated shelters for domestic violence victims – which already exist; part of a pattern where he has suggested efforts that are in place. At a news conference, he seemed to be uninformed about section 50-a of the state civil rights code, which for years had been used to shield police officers' disciplinary records from public disclosure, has been the subject of intense yearslong debate, and was repealed just last year. He also proposed a municipal takeover of the MTA but, at a news conference to discuss his plan, could not provide details about how he would accomplish that monumental task and did not even seem to know which bridges and tunnels the city's Department of Transportation already controls. He has tried to make de Blasio's fiscal management an issue in the campaign, but has showed limited depth of knowledge about city budgeting and at times offered false information, like that the current administration has not mandated agencies to find efficiencies and savings.
Yang has sought to rebut the argument that he's a neophyte asking New Yorkers to take a major leap of faith. "I would suggest that having someone with varied experiences who's proven an ability to build relationships with, for example, the president, the vice president, the secretary of transportation, the Senate majority leader, who can activate resources for New York City, that is a safer bet...than taking someone who's been rattling around these systems that have not been coming through for us," he said on Decision NYC.
And what he lacks in experience, Yang says he will make up by surrounding himself with those who have it. "I'm the kind of person that just wants the best people around me and wants to create a culture where they can do their best work. They're not going to be fearful of frankly like a negative press cycle or that their mayor is going to like, you know, throw them under the bus if someone's mad about something, I'm going to be their heat shield," he said.
Though in some ways Yang has been clubbed together with the likes of moderates like Kathryn Garcia and Eric Adams, he doesn't fall neatly on the ideological spectrum and his policies range from far left to moderate or even conservative. He has, for instance, been hawkish on policing, saying that "defunding the police is not the right approach for New York City." He has said he would send more officers into the subways, indicated he thinks more people should be locked up pre-trial, referenced homelessness as a policing issue, and called for the NYPD to recruit more officers. But he's also said that recruitment should focus on diversity and that officers should live within the five boroughs, promised to hire a civilian police commissioner who hasn't come up through the NYPD and beef up police oversight through the Civilian Complaint Review Board. He wants to decriminalize sex work and personal possession of certain drugs like opioids and psilocybin mushrooms.
Yang has shifted on some issues. For example, at a mayoral forum on immigration, Yang said he did not support the City Council bill to grant municipal voting rights to noncitizens with green cards and work authorization because he worried it would not withstand legal scrutiny. But soon after he said he did support the bill and his website now claims that his administration would "wholeheartedly support the passage and full implementation" of that very 'Our City, Our Vote' bill.
In one of the most recent polls of the mayoral race, released June 7 by NY1/Ipsos, Adams led with 22% of the vote and Yang was in second place with 16%. Garcia came in third with 15%, followed by Stringer at 10%, Wiley at 9%, Morales at 5%, McGuire at 4%, and Donovan at 3%. (The poll was taken before Wiley saw a major boost in momentum as she was backed by Rep. Alexandria Ocasio-Cortez, Public Advocate Jumaane Williams, among others, and other endorsers have continued to jump from Stringer and Morales to her.)
Second place in first preferences isn't an unenviable position, particularly in an election that will be decided by ranked-choice voting, allowing voters to pick as many as five candidates in order of preference. Candidates will have to build broad support among disparate constituencies to pick up second- and third-choice votes and make it past the required 50% threshold for victory. Yang has shown some signs of having broad likeability and awareness that could lend itself well to pulling out a ranked-choice victory through winning many second- and third-place rankings.
But many earlier polls showed Yang with significantly higher numbers, and he has lost some momentum in the last two months of the election. As Yang saw his numbers dropping and those of both Adams and Garcia rising, he took a negative turn away from the "happy warrior" approach he had employed and touted for months. However legitimate some of the criticism, it became clear that Yang was more than comfortable on the attack, particularly when taking on Adams over ethical issues. In the second of three official TV debates ahead of the primary, Yang sparred with Adams repeatedly, clearly attempting to unseat his strongest opponent in the race. He's also taken to regularly referencing "trash piling up on our streets" as an apparent dig at Garcia, and has tied her to de Blasio, for whom she worked in several high-responsibility roles, in arguing it is time for change.
"Yang has had a very tough April and May. And I think that the narrative of the knowledge gap is really hurting," said Bruce Gyory, a veteran Democratic strategist with the firm Manatt, Phelps & Phillips, LLP, in a phone interview. "I don't think he turned that around in the debate."
"I think Yang benefited from this perception of, 'Hey Trump could get away with it.' Trump never provided substance but he was teflon," Gyory added. "Yang would have benefited from even six months of going to candidate policy school or candidate school, with a minor in policy, so that when the race got engaged, he knew things."
When Yang has been challenged about his bona fides, he has repeatedly mentioned that he helped re-popularize direct cash relief and that he campaign on the ground in Georgia during two pivotal runoffs to help flip the U.S. Senate to Democrats. But questions about his qualifications have persisted; when asked, Yang has regularly pointed to his experience running and growing the test prep company.
"He doesn't have a presence in the city, he's hardly voted. But his energy, his youth, and his newness make him someone that people want to be around or talk about or be next to," said Hank Sheinkopf, a veteran political consultant. "Those are strengths. That he has some policy ideas are strengths. That he has energy."
But, Sheinkopf said voters will decide whether they want an old guard politician with a record in city governance like several candidates including Adams or a young turk with limited experience but youthful energy and new ideas. "Yang and Adams are like this yin and yang," he said. "They're the fire that's keeping this campaign interesting and they both have an emotional argument. Adams' is 'I'm the New York City that you know and I'm the one who understands how to fix it, and by the way I'm a cop.' Yang's argument is, 'By the way, you may have been a cop but so what? You're not qualified for the moment. I am.'"
But he said a Yang negative is that he doesn't fit the mold of what New Yorkers have historically wanted in their mayor. "In the old tradition of New York City, the mayor was the person who turned on the lights in the morning when people wake up and shut them off at night when they go to sleep," Sheinkpf said. "He was the guy who was all over the place. He was Fiorello La Guardia with a fireman's vest. He was Rudy Giuliani on a drug bust. He was Ed Koch on a picket line. He was Mike Bloomberg in the way he ran the city."
One of the sustained criticisms levelled against Yang is that he is a consultant's candidate. His campaign is being run and managed by Tusk Strategies, the firm founded by Bradley Tusk, former campaign manager to Mayor Michael Bloomberg and the former lieutenant governor of Illinois. Tusk, who openly sought to find and back a prominent primary challenger to de Blasio in 2017 but was not successful, reportedly recruited Yang to run for mayor this year. The firm has a prominent lobbying shop, not uncommon among political consultancies in the city. But Yang's opponents and critics have seized on that connection, including in relation to some of Tusk's past clients like Uber and the largest police officers union, and believe Yang would be a boon for whatever corporate interests support his campaign and the lobbyists who represent them.
In a New York Times interview, Tusk himself called Yang an "empty vessel" without preconceived notions of city politics and policy, and how to approach them, giving greater fuel to those who look skeptically at the relationship and ammo for opponents to use at debates.
"If you're looking for someone who is the most knowledgeable insider on city government, Andrew's probably not your candidate," said Coffey, the Yang co-campaign manager who is also the New York lead for Tusk Strategies and a former member of Bloomberg's campaigns and City Hall. Instead, Yang is the candidate "who wants to turn the page on the last seven years."
"He doesn't have deep debt to a myriad of folks who have helped put him in office, unlike Eric Adams," Coffey added of the two-term borough president who was a state senator for several terms before that (and a police captain prior to that). "He hasn't traded favors over the years so that he can pay them back when he wins. And that's exactly what we should want in someone who is running for mayor. We should want someone who is independent."
Yang and his team have also been painting Adams, the recent polling leader, as de Blasio's favored candidate, which appears to be true, though the fairly unpopular outgoing mayor has not made an official endorsement, and pitching Yang as the candidate who best offers a break from the de Blasio years, a message that may resonate especially well with voters outside Black communities, where de Blasio has remained well-liked. In many ways both explicit and implicit, Yang has been promising a return to the Bloomberg years.
Coffey pointed to the more than 20,000 people who have contributed to Yang's campaign as a show of the breadth of support that he enjoys. Yang has, indeed, been proficient at fundraising, including leading among donors from within the five boroughs and setting the record for most individual contributions to any mayoral campaign in the city's history. In just the last five months, he has raised $3.9 million in private contributions and received almost $6 million in public funds from the Campaign Finance Board. As of June 7, he had spent $8 million and had about $1.8 million left for the end of the race. (More than $1.8 million of donations to Yang came from people who aren't New York City residents, indicative of his presidential campaign network.)
There is also an independent expenditure committee or Super PAC called Comeback NYC that has been airing ads to support Yang's campaign, one of a series of such entities that has popped up to support almost all of the top tier Democratic candidates. Yang's is one of two Super PACs, however, that is being supported by massive money from major Republican donors, leading to questions about why those donors are so enamored with Yang. The PAC's three largest donors include libertarian billionaire Jeff Yass and hedge fund managers Kenneth Griffin and Daniel Loeb, all of whom have donated many millions to Republicans and related causes. There are at least two additional PACs supporting Yang, according to a Politico New York report. Adams is the other candidate receiving significant financial support from conservatives via a Super PAC. Some donors have given to both. Three crossover issues for Yang, Adams, and the donors, it seems, are tougher policing, big business-friendliness, and support of charter schools.
The support that Yang is receiving from Republican donors is among the reasons that progressives are wary of a Yang mayoralty. To them, his commitment to progressive values seems thin and some believe he panders to voters purely for a shot at winning, as guided by the visible hand of Tusk Ventures.
In some instances, Yang has come off as tone deaf. After a wave of anti-Asian American hate crimes last year after the pandemic struck, he wrote an op-ed in the Washington Post in April 2020 calling on fellow Asian-Americans to "show our Americanness" as a way to curb the tide of hate crime. It quickly invited condemnation from Asian-Americans (and others) who said he was effectively placing the burden on the victims of hate and perpetuating the "model minority" stereotype. He later sought to clarify his remarks on Twitter. "Just saying that we need to do all we can to ease this crisis and step up in this time of national and global need. Lead and serve. Very proud of my heritage and know that different people will have different takes," he said in response to criticism from actor Simu Liu. In April this year, and in part due to the 2020 op-ed, more than 400 Asian and Pacific Islander American progressive activists and organizers signed an open letter opposing his candidacy.
He has had similar fumbles during the mayoral race. When Yang met with the Stonewall Democratic Club, the largest and most prominent LGBTQ organization in the city, to seek its endorsement, its members were offended that his remarks barely focused on salient issues and treated members of the LGBTQ community as some kind of novelty. His two campaign managers, Coffey and Sasha Neha Ahuja, who are gay and Yang held up as evidence of his friendliness to LGBTQ people during the endorsement interview, insisted the criticism was unfounded.
Yang also invited censure from the left when he called for greater police enforcement against street vendors. His past comments on abortion and friendly appearances on right-leaning podcasts, including some hosted by outward bigots, also added to the perspective that Yang isn't as progressive as he claims. That has also been a throughline as Yang aggressively pursued political support from the city's conservative Orthodox Jewish communities and leaders, which he has received in many cases, winning support that Adams thought he could count on after long relationships with some involved. Yang promised, first and foremost, not to interfere with yeshivas around whether they are following state law in offering an equivalent secular education as can be found in public schools.
Yang also won praise from many in Orthodox Jewish communities when he expressed unreserved support for Israel after a recent outbreak of violence in the middle east -- another instance where progressives were outraged, pointing to the Israeli military killing more than 250 Palestinians while attacks by Hamas killed 13 Israelis. Yang went on to "both sides" the issue when his remarks prompted a wave of criticism, and has retreated to mostly saying he simply wants fighting in the region to stop. Yang had previously also said the Palestinian-led Boycott, Divest and Sanction (BDS) movement is "rooted in antisemitic thought and history, hearkening back to fascist boycotts of Jewish businesses," in an op-ed for The Forward that was widely condemned by activists in the city. He then walked that back some by saying he "used a poor choice of words on BDS" and acknowledging that "it has caused pain to many people."
Regardless some of the clarifications and movement based on criticism from the left, Yang appears to be enjoying widespread backing from Orthodox Jewish communities and banking on a coalition along with more moderate or conservative white Democratic voters, Asian-American support, and breaking into Black and Latino communities, while also being ranked second or third by some number of progressives who like certain ideas of his or his fresh approach.
But many progressives politicos continue to warn against voting for Yang.
"The more people actually dig in, the more people learn about what he has done or really the lack of accomplishments, his numbers have continued to fall. And a lot of it is that he represented kind of like an empty, happy vessel," said Charles Khan, of Our City PAC, which is promoting progressive candidates in this year's election. Yang's candidacy is anathema to their interests.
"He's particularly scary to me because his positions look a lot like Bloomberg, the worst parts of Bloomberg," Khan added. "Really tearing down all of the regulations that we have about businesses and safety and privatizing the city, really leaning heavy in on the NYPD. And that reminds me a lot of Bloomberg but it's in a more palatable form factor which is what's so scary about him to me because it's just as dangerous, maybe more dangerous."
Yang has himself cited Bloomberg as a model for how he would lead the city in terms of a non-ideological management approach, including by bringing in the best and brightest to lead city agencies. During a recent appearance on MSNBC's Morning Joe, Yang said his model for running city government would be Mayor Michael Bloomberg, who Yang said brought in experts and governed focused on what is right, "free of ideology."
[This article is part of a series on the leading Democratic mayoral candidates' strengths and weaknesses.]
[WATCH: Andrew Yang Discusses His Run for Mayor]
Ben Max contributed to this story.